Browsing articles tagged with " hard"
Label: Relapse Records
Review by Warren Mayocchi
Royal Thunder have let our ears tune into what seem like songs of personal and emotional experiences. Looking through the lyrics and attempting to choose a theme, I will go with – freedom. There are many ways that a person may enter a crucible, however on exit there can be a few emotions, but a common one would have to be a sense of relief at having survived the experience and being free to live again. MLny Parsonz, Josh Weaver, Evan Diprima and Will Fiore show us emotions from the crucible and then the poignant relief of survival. The band is very competent, they will be a powerful force on stage, but the highlight for me is the voice of MLny Parsonz.
On "Crooked Doors" the band provide several musical styles, I would say that they generally have an alt rock sound. Continue reading »

Interview by Ary G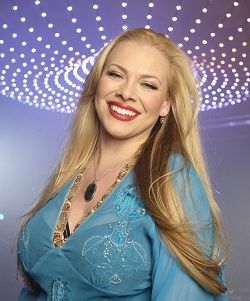 The corresponding commitments seem not to stop the couple (only in professional terms) Kiske/Somerville, that, after almost five years of silence, comes back with the second album of this project. On the occasion of the upcoming release of "City of Heroes", we had the opportunity to have a chat with the beautiful Amanda Somerville about future plans and this brand new, highly anticipated record.
Ciao Amanda 😀 Ary's here! Welcome back to Femme Metal.net! First of all, I'd like to congratulate with you and your husband and I'd like to congratulate for the baby! 😀 We've discovered that you'll be a great mom so congrats, really I guess you're super happy!
Ciao Ary! Thank you for having me once again.

And thank you for the well wishes! Yes, Sander and I are very happy. Continue reading »
Label: Frontiers Records
Review by Warren Mayocchi
Amanda Somerville and Michael Kiske have released a collaboration with a heroic title and similarly themed lyrical content. This is a fun album – combine a couple of great voices with a solid backing band, give them songs of heroism and inspiration, then listen to the powerful output. The music on the album stays with the rock sound displayed in the couple of videos that have been created for "City of Heroes" and "Walk on Water". To my ears, the latter is the best track on the album.
There is variety in the sound of the band with regular musical highlights from all musicians. Mostly the album has an energetic melodic hard rock approach. Continue reading »
Interview by Miriam C.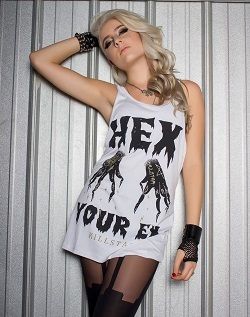 Los Angeles based singer Diamante, despite her young age, shows the power and grit of an experienced artist. It would be strange to you but Diamante, aside of a huge PR machine, has completely self-released her new debut EP called "Dirty Blonde" so we caught up the girl herself, just back from her successful Revolver's "Hottest Chicks In Hard Rock" tour. 
Hi Diamante, first of all, how are you and thank you for this special interview, we know that you are very busy promoting your new upcoming debut EP "Dirty Blonde". How life is treating you nowadays?
Life has been rad! I just returned from tour about a week ago and I've been soaking in as much of Hollywood as I can before I leave. It's been great seeing everyone and being able to rest, but I am excited to go back out on the road again. Continue reading »
Label: Atlantic Records
Review by Warren Mayocchi
"Into the Wild Life" takes Halestorm into familiar and new musical territory. The band continue to rock hard, however this album features notable additions to their previous material. There is a wider exploration of the rock sound, perhaps paying tribute to past masters.
Every time that I have listened to the first couple of seconds on "I Like it Heavy", I think that Deep Purple's "Smoke on the Water" is about to begin, but an anthem about rock music continues which reminds me of "I Love Rock n' Roll" by Joan Jett and "We Will Rock You" by Queen. There is a short, vocal only, soul style song at the end of that track that continues the lyrical theme – 'If there's a church it's rock and roll'. Later in the album, "What Sober Couldn't Say" has a 60's/70's keyboard sound in a short musical passage that begins, and is at times within the song. The lead vocal is almost country rock, and there are also backing vocal touches reminiscent of the era as well. Continue reading »
6 color styles available:

Style switcher only on this demo version. Theme styles can be changed from Options page.