Browsing articles tagged with " hard"
Label: Flaming Passion Music/AFM
Review by Tony Cannella
FYRE! is a powerful and energetic hard rock outfit fronted by Argentinean vocalist Alejandra Burgos. The band has released their debut album "Missy Powerful" via AFM and it features 14-songs and 50-minutes worth of infectiously rollicking hard rock tunes that are impossible not to like and have some affinity for.
Let's get started… Right out of the gate "We Are Here" is a great opening and introduction to this killer band. "Get the Hell Out" follows and it features a nice up-tempo, bouncy chorus and also includes a saxophone solo and some cool interplay between the lead guitars and sax. "Stay Until the Moonshine" has a bit of an acoustic base but is still an up-tempo rocker. Continue reading »
Interview by Miriam C.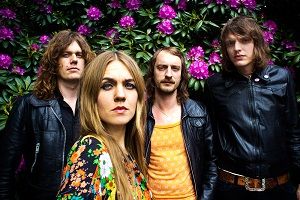 Lately, there are a few many current music realities that are trying to revive a musical genre that to some people is still interesting, the rock music, that allowed KISS, Lynyrd Skynyrd and The Doors to become famous. Spiders is the latest band in being successful in this hard task. Recently arrived on the shelves, "Shake Electric" embodies perfectly the spirit of the '70s that now is almost lost. On the occasion of the release of this brand new album, I had the pleasure of meeting the lovely Ann Sofie in the backstage of the Mostovna venue in Nova Gorica (Slovenia), where the band has had the opportunity to share the stage with Vidunder and Horisont. Continue reading »
Label: V2 Records
Review by Tony Cannella
From The Netherlands, theNAME are a hugely underrated band. They formed in 2000 and have just issued their fourth album, "Unchained". The sound is a mix of hard rock and metal with groove-laden riffs. They have toured extensively throughout Europe with some of hard rock and metal's biggest and best acts – most recently theNAME has shared the stage with Tarja Turunen.
From the opening track "Draw the Line", the riffs are so damn infectious and the songs boast a lot of power and energy which are contagious as well. The songs have a certain groove metal quality with the riffs. The production is very clear and in-your-face. Continue reading »
Label: Metal Mind Productions
Review by Tony Cannella
Wallner & Vain is the collaborative hard rock/metal project put together by English guitarist Will Wallner (former White Wizzard ) and Croatian power house vocalist Vivien Vain. Despite both being from Europe, Wallner and Vain met in America and secured a star studded line-up of guest musicians for their debut, "Rising".
While "Rising" boasts a ton of talent, the most important thing is the material and fortunately the songs are definitely well written and recorded. Each song stands on its own and with the likes of the Appice brothers on drums, Tony Franklin, Rudy Sarzo and Derek Sherinian to name a few, how could you go wrong. Throughout the 38-minute disc, Wallner & Vain delivers 9-songs worth of some guitar-driven classic style hard rock and metal. Will Wallner certainly brings back the guitar hero vibe that is missing from so much current metal. Continue reading »
Independent Release
Review by Tony Cannella
Forever Still is a melodic hard rock band with a decidedly fierce metal edge. Hailing from Copenhagen, Denmark the band was formed in 2009 and in the time that they have been together, they have already been receiving positive press and recognition. After listening to their debut 4-song EP, it is easy to see why.
So we begin with "The Key". It opens with a bit of electronic music before the heavy guitars come in. My first impression is the singer Maja. She's got a truly captivating voice. Near the end of the song comes this hell-ish screaming vocal part from Maja, which is quite impressive. "The Last Day" is a solid mid-tempo number with another bit of screaming from Maja. It is really disarming because it seemingly comes out of nowhere. Continue reading »
6 color styles available:

Style switcher only on this demo version. Theme styles can be changed from Options page.
Archives