Browsing articles tagged with " hear"

Interview by Si Smith
They say that two is always better than one, and this is definitely the case with Julian's Lullaby. The dynamic frontispiece of this band involves TWO female vocalists, equally enchanting and providing the band with a double dose of femme metal magic.The bonus is that the music is also as enchanting, involving romanticism but also a dose of heaviness and mystique. Femme Metal had the pleasure of the company of both Julian's Lullaby vocalists, so we asked them to spill the beans on the true nature of the band….
First thanks so much for joining us at femme metal for this interview, and welcome from all of us. The band formed back in 2004, were you both there at the start? How did the band build up to what we see today?
Margina:
Well, when I joined back in 2009 the band was already focused on "Sand on Your Hands" using male – female vocals. Then Elias thought it would be really fascinating as well as interesting, to experiment using 2 front female vocalists. So a few months later Aprilia joined us, and since then we all stick together successfully.
Aprilia:
I also joined the band in 2009, after a series of coincidences… The band was already formed as it is now at that time and they were recording "Sand on Your Hands". Elias had the idea that a second female voice would be interesting, so I joined in.

In the four years before the first demo release, you must have spent much time working on material and practicing together. How did the band go about building up its profile "out in the world" at this time?
Aprilia:
Most of the material is composed by our rhythm guitarist Elias. When a new idea comes in, all of us work together, through rehearsing, and everyone puts his own touch on the piece. In the end, though the initial idea is there, the result is something new, reflecting the whole band in it.
Margina:
The original ideas mostly come from our guitarist Elias as Aprilia already said. He composes and gives "life" to the songs. Good thing is we all work together as a team and each one of us has always some sort of a new idea to propose/add. So with Elias's implementation, team work and the personal touch, the final project is unique, and it certainly represents the whole team's expectations.
On your Facebook page you quote differing bands such as Slipknot, Epica and Queen as your influences. What elements would you say go into making a great Julian's Lullaby song?
Aprilia:
As I mentioned earlier, the major element of making a great song is the involvement of the whole band. Since each of us has different influences and likings as far as music is concerned, putting them all together, in the right amount, makes our songs what they are.
Margina:
Differing bands is because each one of us has a different musical background and that's what practically helps us in proposing new ideas and keeping experimenting on them. Now the exciting thing about teamwork is that we somehow manage to mix and match all these ideas/influences yet retain a balance, without having to "sacrifice" our original idea of the project. The basic elements are: the fact that we seem to interact in the best possible way and of course the fact that we are friends besides being Julian's Lullaby.
Your first demo "I Can Hear You Thinking" was released in 2008 – and then Julian's Lullaby tracks appeared on a number of compilations. How did these opportunities come about? Did it all come on the strength of the demo release?
Aprilia:
At first, the demo was the reason for our appearance in these compilations; we approached MNR guys initially and really jumped into this opportunity. Then Elias saw an ad placed by "Kiss Army" fan club and Rock-Hard magazine (GR) recruiting bands for an upcoming Kiss tribute CD, we recorded "Beth" they liked it so also joined! After that we were asked to join again on MNR's next volume CD with a song, this was the time when the whole line-up changed; so we decided to go on with something new, a song outside the demo and "Sand on Your Hands" came to be.
You guys seem quite "romantic" in your approach to music – from the artwork of the latest album cover to the quote on your website, "no angels, demons or dark desire can keep us apart". Where does that come from? Is this something you all share?
Margina:
This quote is from "Sand on Your Hands" and I must admit I really love this song probably 'cause it was my 1st song to record as a Julian's member. Well we all certainly have our "romantic" side and the artwork also proves that, still not all of our songs share this orientation. We try to keep a balance between "hard" and "soft" and our album proves that!
Aprilia:
Well, we all have our lyrical parts. And the combination of the compositions with the female voices brings out something "romantic". But don't be fooled. Not all of the songs are "gentle".
It must be a great support for each other to have TWO vocalists on stage together. Do you girls spend much time together outside of the band – get up to any mischief when no-one's looking…do you get time to work on your rapport outside of just live performances?
Aprilia:
The fact is that we do spend time together outside of the band – but no mischief done! Especially this past year we got closer, and we combine working out for the songs and having fun.
Margina:
Of course we share moments and have fun besides singing together, since we are good friends. Actually even on rehearsing we are having fun. On stage things are not different for us I guess, since we do share a nice chemistry and we fully interact. We generally combine practice with having a good time.
I notice from your videos that one of you moves around a lot more onstage whilst the other sings – does this represent quite different personalities for you both, or you both similar kinds of people and singers?
Margina:
Different personalities and music backgrounds I would say, yet the same goals. We both seek the best vocal output. I just go on stage and do the things I feel like doing (things I would probably do when rehearsing as well), while at the same time focusing on the best possible singing performance. Feeling "free" on stage is what good chemistry and interaction does like I mentioned before.
Aprilia:
We are different personalities but the "secret" of our performances lies elsewhere… I am very self-conscious about my singing performance onstage. So I prefer to sacrifice some movements to have the best result on the singing part…
Hailing from Greece must seem like a bonus, as the Greeks are well known for their classical and romantic traditions. Is there a particular Greek element to your music or lyrics would you say?
Aprilia:
I don't think there is anything in particular that connects us to the Greek classical and romantic traditions, apart from their being in our DNA of course.
Margina:
Classical and romantic traditions are part of our history and they are somehow in our nature. I have the impression though, that besides some romantic "stigmas" that you already discovered in our music, there is no other particular element.
Signing with STF Records must have been a great boost to the band's morale. Has it changed the way you work at all?
Aprilia:
Having a label deal is a good PR and really wonderful in the sense of additional promotion – guys at STF work right and serious – but I believe that with hard work and focus you can live up to your standards.
And so the new album is out now, "Dreaming of Your Fears". What is the significance behind the title?
Margina:
"Dreaming of Your Fears", just came to us naturally as we were deciding about the title. We all liked the idea since it had some sort of relevance with some lyrics and song titles in our album.
Aprilia:
There isn't any hidden meaning behind the title. It was just a brainstorming of what would sound "appropriate" as an album title. And like "I Can Hear You Thinking", "Dreaming of Your Fears" reflects the concept of the album in a beautiful manner.
You seem to manage to keep a balance on the album between the heavy and the melodic. Is this a hard balance to keep? Are there any in the band that would pull more in one direction than the other?
Aprilia:
You bet they are. But since we know our style the balance is easily preserved. In the end we all get to be happy with the outcome, whether it is heavier or more melodic.
Margina:
Keeping balance is never easy when it comes to different people with different opinions, preferences etc. Our intension was to compose the songs in a way so that any of us would be satisfied with the outcome no matter what. Since we are fully aware of what we want from our project we just collaborate and exchange ideas. This leads us to a more "heavy" or "romantic" aspect, but what matters is that we all like it.
For me "Would It Be" is one of the finest moments of the album, where all the elements come together in just the right way to create the perfect alchemy. What are the best and worst moments of the album for you? Were any of the songs particularly problematic in the recording process?
Margina:
Glad you like it! I love this song as well and I bet many people under certain circumstances have come to wonder… would it be that hard…I never had the chance to study music as much as I wanted to or take any vocal lessons thus I cannot say that I encountered problems during the recording sessions. It is well known that one cannot have the very same performance every day and of course there will always be songs that do require more focusing and effort. Actually recording sessions have been really fun, because Elias and Aprilia were always there to help when necessary so everything turned out to be ok.
Aprilia:
There were some difficulties, I admit that. But with the help and persistence of Margina and Elias in particular I overcame the obstacles, and I want to thank them for that. I wouldn't say there was a song that was particularly problematic. We all had our ups and downs during the recording sessions but everything came out just fine.
I have to ask why you have included two versions of the last song, is there something special about that song that needed emphasizing?
Aprilia:
The reason is that we all like the acoustic version as much as the original one. So we wanted to share this emotion with our audience.
Margina:
Oh I guess we all liked acoustic as much as the original one and we could not easily decide, so we thought it would be really nice to include both versions in our album. I believe listeners will like the idea.
Now that the new album is well out there, what are the next aims of the band? What are your next targets as creative individuals and as a band?
Margina
:
We will definitely need time to promote our album the best way we can. In the meantime we are already working on new songs and ideas…
Aprilia:
Once the recordings for the first album were finished we started working on new ideas and developing new songs. We have to work on the promotion of our album and after that, who knows?
Finally, thanks for talking to us. Are there any final messages to the world you would like to get out there?
Aprilia:
We would like to thank you too. And a thank you to everyone for their support: the audience, our label and the other members of the band for making this happen.
Margina:
It's been a pleasure talking to you, thank you for this interview. A big "thank you" goes to our friends, fans and our label for all the support so far. Thanks to the people who contributed to the album and every single member of Julian's for making this dream come true!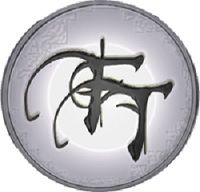 Interview by Si Smith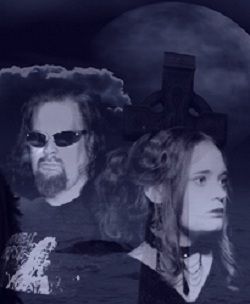 Fateless Tears hail from New Mexico, and considering that their first release was in 2005, it is no mean feat to have released their FIFTH full-length in 2010. When you throw into the mix a number of successful singles and an active side project, the illustrious pairing of Richard and S.Lee proves to be a phenomenon of great substance in the metal world. Femme Metal stole some of their precious time to uncover more….
Having featured on our "Ferocity and Femininity" compilation, and been reviewed and interviewed by Femme Metal already, there must be still some more we need to know! For a start, it is clear from your back-catalogue that you both have great musicality. How did you both get involved in the music at the start? Did you always know that this was what you wanted to do?
Richard: I knew pretty early on that music was something I wanted to pursue. I have several relatives who have played guitar and sang. One of my uncles has released a few country music albums, while another co-wrote and played on a couple of country music hit singles back in the '70s. I knew that I wanted to carry on their tradition, albeit doing it my own way in rock and metal instead of country.
S. Lee: I do not think that I have ever known a world without music and song. My mother sang to me, around me and with me. Wandering around singing little songs that I had heard, learned, or thought up are some of my earliest memories. As soon as I could write well, poems and lyrics as well as short stories and drawing became central focuses of my free time. I am not assured that any of these activities were truly separate from one another. I am told that I often sang in my sleep as a small child.
I believe that since we last spoke to you Paul has now joined you as a full member of the band. How has that affected the dynamic of the band, in the writing, recording and also the live setting?
Richard: Funny how that works… while Paul was a full member for "The Chaise", he went back to being a guest artist on our albums shortly after its release. Unfortunately, due to his very busy schedule, he was unable to be part of FT full-time. He is one of my closest friends and he will continue to have guest spots on our albums. Regrettably, he doesn't have the time to be more than a listening ear and helping hand. Chris from Amadeus & Demise of Gideon also guests on our albums covering vocal duties and some guitar. They are both very important to S.Lee and I, and we really appreciate their help on our music.
Richard, you have been active on The Demise of Gideon recently. Would you like to tell us about it? How does it relate to your work in Fateless Tears?
Well, one day I looked into my "Riffs" folder and I had a whole album worth of riffs that I felt were more in the vein of old school thrash metal. I didn't feel that they worked well for FT. At the same time, Chris and I started talking about doing a project together. Four months later, the album was done. It ended up being sort of an old school thrash/prog/death album. "Twingence", the 28 minute, seven-part epic, is one of my proudest moments as a composer/songwriter. Through it, S. Lee provided vocals on "Adagio", "Rondo" and "Coda". "Adagio" became part of the new album, because it is very much in the FT vein and we felt it would be a nice addition to the album.
The first song on the new album, "Primary" is a new song. Could you tell us a little about it?
Richard: "Primary" was originally written for the new FT album, on which we are currently working. When we signed with Blue Freya, Karl, S. Lee, and I wanted to get something new out there, especially out in digital shops like iTunes and Amazon. Consequently, we pulled "Primary" from the new album, as it was the song most completed and pushed it forward to HWYHBM.
S. Lee: The lyrics in "Primary" are very much a reflection on the dichotomy between the subconscious and conscious world within one's mind, thoughts and actions. I hope that they convey the truth of pieces of ourselves that we must subsume and the duality of faces we must assume to cope with and navigate the pressures, uncertainties, and pitfalls in the waking world. For me, "Primary" captures the essence of our true self, an ideal self, that is only unrestrained and dominant in sleep wherein we reconnect with who we are and rejuvenate to face daily life challenges.
The other songs on the album are all "retrospective". What criteria did you use to choose these songs in particular?
Richard:
Well "Cages" and "Inner Sanctum" were tunes that we both felt needed to be redone for various reasons. "MEDS", "Mesmerized", "Flicker" and "Cycles" are songs that are most often referred to as our best or favourite tunes by listeners. "Adagio" was included for two reasons: it was a new tune to FT's audience, by and large, and we felt it would fit better as a single for FT as opposed to DoG.
"Flicker" begins and continues with a quite striking keyboard "riff". How does a Fateless Tears song get birthed? And how does it begin to form itself from a simple idea into a complete song?
Richard:
Earlier I mentioned that "Riffs" folder. Every time I practice, I spend some moments just working on new riffs and those that emerge are all recorded, catalogued, and transcribed to the folder. That folder has a wealth of material in it ranging from metal to rock to you name it. Generally, I place things I think suitable for various projects in their place.
S. Lee:
I frequently write short pieces of verse, potential lyric lines, and random phrases in notebooks, a Lyrics folder, or scraps of paper lying around. Often, these snippets or full lyrics sets or poems emerge as Richard is writing and recording. I love to listen as a song takes shape and give feedback on different sound qualities and recording passes.
Richard:
In general, all of the music is written and then I give S.Lee finished mixes around which she tailors her final vocal lines, melodies, and lyrics. For the new album, S.Lee is working on a couple songs where she is creating all of the vocal melodies first and then we will work on arrangements together.
"Adagio" first appeared on The Demise of Gideon album. Did you change it much to turn it into a Fateless Tears song?
Richard:
By and large, the two versions are the same. I remixed it for FT, so, for instance, the rhythm guitars are eq'd differently and the drums are also a bit altered. Basically, it's just the difference between mixing it as a solo song compared to a part of a 28 minute story.
You have recently signed with Blue Freya Media Group. How will this affect the band in the future do you think?
Richard:
Karl is a great guy, and we are very proud to be part of BFMG. The only affect I can see has already started in that our music is now available in more places than ever before. Karl is a great promoter and he works very hard for his artists
.
Your last full-length album "The Chaise" was very topical, dealing as it did with economic crisis and how it affects the world. Are there any other topics you would like to get your creative hands on in the future? Any prospects of a completely new Fateless Tears album any time soon?
Richard:
The new album is currently underway. Due to the recording schedule of the studio, we are getting the music tracked now and then will go back in and track vocals and guitar solos in July. As part of the continued plan of us releasing our back catalogue in a unique way, there will be an album of our ballads from the first 4 albums titled "In the Midst of Sleep" that will be a digital release through BFMG. All of the old material has been remixed and remastered. It will also include two new tunes, one of which is an acoustic version of "Stasis" that is part of the new album along with the BFMG compilation "Born of Sand & Snow".
Just too completely throw in an odd question, I recently listened to "Dark Seasons of Sorrow" by Frozen Mist and noticed both your names in the credits. How did your involvement with Frozen Mist come about?
Richard:
Jamie and I met through MySpace, formed a friendship, and at one point we were both thinking of signing with Mournful Moon Production. Halfway through the recording of DSOS, things went south with his old band mates and they decided to leave mid project. He and I talked and we decided that S. Lee and I could help him finish that album. Jamie is a good guy and I was happy to help him out. I also played lead guitar on the next two FM albums.
S. Lee:
We are always happy to help out a friend and I find Jamie's lyrics intriguing in their visual imagery, so the experience was rather engaging.
Five albums on, this might seem a great time to look back over your musical repertoire and see the high and low points. As you look back, what have been the greatest and the worst moments of Fateless Tears' life? Any favourite song or lyric?
Richard:
Well, I think a couple of the high points are the inclusion of "My Doom Box" on several top albums of the year lists of radio stations in our genre and the worldwide reception of "My Endarkened Self". My favourite tune, including lyrics, is "Tapestry". I think it is a wonderful blend of S. Lee's voice and lyrics.
S. Lee:
I enjoy writing and singing, so recording, once I get past my initial self-consciousness in front of the microphone, is always a high point. The low point is finding enough time in the day to get everything done to a point where I can focus on our music. As for a favourite tune or line, I cannot truly name one as I generally find a line or turn of phrase that came out of a vocal take in each song that stays with me from the moment it is captured. One of my professors often spoke of "teachable moments" where the context of a moment leads to understanding. I think that these occur as we are recording when a vocal moment turns outré, teaches me something more about myself and crystallizes into an emotive vocal presence captured in the song.
I am sure many fans would love to hear the music performed live. Do you intend to do any live appearances on the strength of this new album? Or will you wait until a completely new full length?
Richard:
We have never been a live band. FT has always been studio only. This is due to multiple reasons, but the primary is that S.Lee and I both have jobs that require our attention daily. Taking any extended time to play live is simply out of the question.
S. Lee:
The daily grind and responsibilities of the modern world necessitate our studio only status for the foreseeable future. At least the experiences therein provide a wealth of material for future incorporation in our music.
There was also talk of a video of "Adagio" to accompany the new album. Did this come to fruition ?
Richard:

Yes there was, but it was shelved. There is a video for "Allegro"; however, we decided that to create what we wanted for "Adagio" and how it relates to the story simply wasn't feasible. Currently, a video for "Flicker" is being done. The song is being used in the movie "Dark of the Moon" and there will be a video released which ties in with the movie. We are hoping to have that available to people this summer.
Finally, it only leaves me to say a great thank you for answering to Femme Metal once again. We wish you success in 2011 whatever it may bring to Fateless Tears!!
Richard:
Thanks to you for giving us the opportunity to reach folks with this interview.
S. Lee:
We always appreciate the chance to talk about what we do and our enjoyment in sharing our music. We are grateful to you for extending another opportunity to do so.
Links
MySpace * ReverbNation * Facebook * Twitter * Site
Interview by Si Smith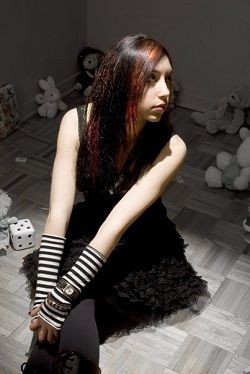 From the gothic wastes of Québec, Canada, come a band determind to put some melancholy back in your day – Endless Night cite some of their inspirations as "traumas, suffering, murder and mourning". Yet one listen to their debut CD "Haunted Lullabies" shows that not all is doom and gloom. There are also some hefty guitar riffs on here and some meaty solos. So what is it that drives Endless Night? I spoke to vocalist and keyboardist Emi to find out…
Firstly, thanks very much for the interview and a warm welcome from all at Femme Metal.
I also want to thank you! It's an honor to be interviewed by Femme Metal!
Endless Night is a four-piece at present. It can't be helped noticing however that a lot of the publicity focuses on you – how have you found it stepping into the role of front-person for the band? Is it a role that comes naturally to you?
First of all, I entered the band as a keyboardist. I had no idea I was about to become a frontwoman! But it soon became evident: we needed one. So I decided to give it a try. Since then, I have never stopped loving it! In everyday life, I am calm and introverted but with Endless Night I express myself and rock on! It's because music is very much like storytelling; and I've got a story to tell.
As this is your debut release, many of our readers may not yet be aware of you. Would you like to introduce your fellow band-members to us, and maybe tell us how they all contribute to Endless Night?
Wared is the guitarist. He is the strength in Endless Night's sound: pure emotions, no futile detours. He pays a huge attention to his sound. He is an excellent organizer and views the band not only as a member, but also with a manager's eye. Franky is a self-taught bassist. He brings to us an energized and fierce sound. For him, Endless Night is not only about expressing suffering and darkness, it's also an undeniable effort to bring his passion and music to a higher level. The drummer, Jay, is the most recent member of the band. He's a well-grown musician we can always count on. He's been studying his instrument for a long time now and knows how to bring a catchy melody to life. And as the signer, I am the member who is the most in touch with the band's concepts and moods. Everyone takes part in the songwriting process, but I am the only lyrics writer.
The band was formed "officially" in 2008 with you on vocals and piano. How do you manage to put your all into the vocal performance when you are also the musician at the piano? Does it pose problems live?
I have learned the piano for more than eleven years now, so I am able to coordinate my hands with my voice without any problems. It just takes a little practice. But I don't find it interesting to see a front person locked behind the keyboard, so we have most of the pianos and choirs on playback. I like to move on stage!
You managed to get a track featured on the World of Glass compilation. In what ways did that help you?
It gives us visibility in a different context than MySpace or Facebook. Because it is an all women-fronted metal bands compilation, our music can be listened to by people who have more chance of loving it but would have maybe not find us without this. It also gave us some contacts with very great people we are very thankful to, Raquel Senra, for instance.
Your debut CD is self-financed, something that is becoming more popular these days. If you don't mind me asking, what was the most expensive part of the process (just to warn any up and coming bands that might be heading that way) ? What were the main advantages or drawbacks of doing things this way?
The most expensive part of the process were the recording sessions. The main advantage was our independence: we had the choice to do whatever we wanted to with our sound. Obviously, the main drawback is the production's cost.
On your Facebook page you quote contrasting bands such as Evanescence and Rammstein as some of your influences. In what way do other bands such as these influence your sound?
We draw inspiration form a great variety of bands, because every member of Endless Night has different influences. However, some of these influences are common. These show in subtle ways, sometimes in the musicality of the melodies, in the drum lines, in the "catchiness" of the guitar riffs, or in the visual aspect.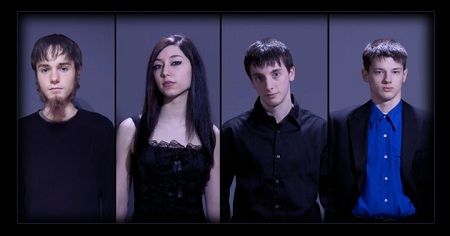 Across the album you seem to have a preference for the lower register in your vocals. How do you think that assists in conveying some of the emotion of the songs?
This low register gives a heavy mood to the songs. It can express anger or sadness. However, since the album recording, my voice has evolved a lot, as has my higher register. But even in high notes, my voice is never crystal-clear, it always keeps a deep, round sound; I'm a mezzo-soprano.
"Hear This Now" is one of your heavier songs. What is it you would like us to hear in this song?
It talks about unhealthy habits that we all have that make our world worse than it should be; that make our world darker and darker, but also, this is one of our songs that, as of today, has been rethought a little bit to be more catchy to make a stronger contrast with the lyrics.
Like many bands before you, you have included a ballad on the album, "Burial (for My Mortician)". As this is mostly you and the piano, does this song have any particular personal meaning for you?
Yes, it is the first song I entirely wrote the musical parts and the lyrics, as all my lyrics, have a deep meaning. They are basically a story of lost friendship.
As the album is quite a melancholy offering, how would you hope that a listener would feel after listening to your album?
We wish that the listener would enter into our mood and musical environment but not necessarily feel depressed: we only wish the listener to find himself and to travel in our music, so that he lives the story we tell in each song.
Bands often develop and mature as they produce more albums. How would you envisage Endless Night developing by the time of your next release?
Our next release will be less eclectic; it will have a more defined sound. We worked very hard on defining what we want to stand out in our music and in which way we want to tell our stories, but now, I think we have found it. A heavier sound with more catchy vocal lines, less experimental structures and powerful, but not overloaded drum lines is where we have headed.
The band has stated that its intention is "Établir un contraste entre l'enfance et l'horreur, la nuit"…how do you think this album fulfils that?
Lyrically, most of the songs fulfil this goal, for instance, "Trauma", "Winter Cloak", "Childhood Prejudice". Musically, it's the combination of soft piano melodies with more heavy guitars that brings us there.
I went on to Pixule.com where fans can vote for their favourite band on CD3 of the World of Glass compilation. (of course I voted for you…) The results so far is that you are third from the top!! Far above more "well-established" bands such as Pythia, Echoterra and Ancient Bards, who only managed to scrape 1% of the vote each. How does that make you feel?
Thanks for voting for us! We are pleased to see these results! It shows that we have wonderful friends and fans. We always try to make strong bonds with them, because the human experience is important for us. As I said before, that music can be about storytelling, but it's also about giving, and we give all that we can!
One final question before we leave: you are a four-piece, but would you introduce us to the fifth member of the band that we see you holding in your myspace photo?
Haha!! This is a little doll we had for a photoshoot and we thought it showed well the innocence and the sensibility of childhood. However, we don't have it anymore: it has been replaced by a teddy bear with a blue bow. It is on our album cover and I bring it on stage in every show, it is like our mascot! Haha!!
Thank you once again for your time, and we wish you well in the band's future!!
Thank's to YOU!!! I wish long life to Femme Metal!
Links
Interview by Roberta Ilaria Rossi
Gone Til Winter is a melodic metal band from Manchester (UK) with some progressive and power melodies embodied in the sound. Still "unknown" to many people, this band is trying to enlarge their music and trying to get a name all over Europe. With a new album that will come out this year, Gone Til Winter is proudly spread the word and for this reason, we met Talena Cuthbert, the vocalist of the band, who kindly presented the band and said something about her future goal. Check it out!
Hi Talena, today you're our guest on Femme Metal. First of all, how are you doing? Would you like to introduce yourself and the band, saying something about your biography, how were this project born for those people who haven't had the chance to get in touch with your music?
Hi Femme Metal! We are: Talena Cuthbert (Voice), Jonathan Gruzelier (Guitar), Rosie Smith (Keyboard), Shirezy (Bass) & Ollie (Drums), collectively known as Gone Til Winter. Jonathan & I started this band about 10 years ago now. I have always been in bands from about the age of 13…It is totally in my blood to perform so I don't think I'll ever be stopping! If you are searching an in-depth biography, check our site

Gone 'Til Winter comes from Manchester and that mainly plays melodic metal, but your influences also involve the most various genres like progressive, power and gothic. What were your biggest influences?
Gone Til Winter has evolved quite a bit since the beginning, seeing many lineup changes as well as a darker, heavier sound wash over us. We now like to describe ourselves as UK Dark Melodic Power Metal. We have so many influences from many different genres, I guess because we all are in to slightly different things. Some examples are Iron Maiden, Katatonia, Led Zepplin, Heart, Skunk Anansie, Kamalot, The Mission, Opeth, Warlock and so many more!
"Deconstruct The Season" was the first EP and it got lots of positive reviews. Did you get the same "treatment" with the self-titled EP and with the record "The First Season"?
Yes. Both have had mixed feeling but generally people are very positive…even people that aren't it to metal have said they like it!
From "Gone Til Winter" you've published the single "Hear Me" and it has been recorded a video clip for it. How have you lived this experience?
We all really enjoyed making the music video for "Hear Me". It was something that none of us had ever done before so we were quite nervous but it was so much fun too!
A new record is scheduled to be out this year and it will be called "Hiding from the Sun". What can you tell about it?
This new album is what we have all been waiting to do! It is a dark, powerful heavy moody album, full of great riffs melodies and an atmosphere that will leave you with goose bumps. We are all so excited about his as we are doing it all on our own – no record company telling us what we can and can't do – so it is exactly who we are!
Along with the official release of the new record, it is also schedule a tour in the UK. Would you like to tell us something?
We are hoping to put together a UK tour for May 2013 and then maybe get a few shows in Europe too.
Your sound is quite influenced by bands like Lacuna Coil, Nightwish and Evanescence, just to name a few. What did cause this choice? They are so famous bands in the metal panorama scene…
We don't 'choose' what we are going to sound like as our song writing process is very embryonic. We are all individually influenced by many different bands and we write the songs all together. I hope that each listener finds themselves hearing many influences of their liking.
Listening to "The First Season", I've noticed a few influences related to prog and medieval melodies, especially in "Distant Places"… but I've also seen that that are some softer songs as well. What could you say about the recording process of this album and what about the music and lyrics instead?
"The First Season" is a mixture of earlier Gone Til Winter songs…something for the fans. The first two tracks ("Solemnise" and "Heat Signal") are the most recent, both being recorded as demos in 2006. We were hoping to put these two songs on to our self titled EP but they never made it on there. They are probably the most heavy songs on the album and defiantly leading toward the sound that we now create. The next three songs ("Kill Me", "Utopia" & "Deep Sleep") were all recorded in 2004. They were the first three songs that we ever recorded! It was with the original members of the band. The last three songs, the acoustic tracks ("Distant Places", "Release –Acoustic" & "Constant Retreat – Acoustic") were recorded around 2005. Jonathan & I went through some pretty tough times and ended up writing "Distant Places". We decided after a while that we would like for our fans to hear this as it was such an emotional thing for us to do, so we recorded all three acoustic tracks.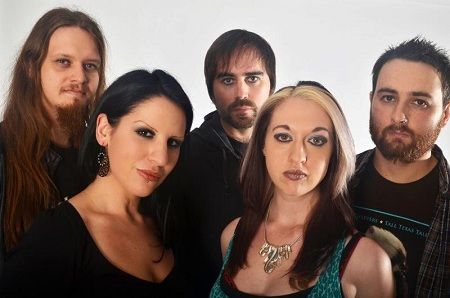 Inspiration is something that is quite "difficult to get". How do the music and lyrics branded "Gone Til Winter" come to life? Do you also make that so-called team work or does each band member do his own work?
To start off with, one of us will come up with an idea – a riff, a beat, a lyric – and then we throw it at the rest of the band. Sometimes we'll go away and work on parts on our own but mainly all the music is jammed out. Lyric wise, I do like to take myself away from everyone else and write. The lyrics are sometimes quite personal so I need to get myself in to the right frame of mind to get the creative flow.
The artwork of the album is very curious. I don't know the reason why but in a first moment, it reminded me the artwork of the movie "The Silence of the Lambs"

Who has taken care of the cover of this record? What is the concept that is behind that image?
Actually for "The First Season" we ran a competition in schools and colleges across the UK for someone to come up with the artwork. We thought it would give up coming artists a chance to showcase their work!
In this record your potential is clearly visible and I assume that we will hear from you soon in future. Have you already decided your next goals? I know that you'll play somewhere in the summer season…
We are all taking things one step at a time. We are really looking forward to the summer show across the UK before we take a break to get our new album finished off.
As I mentioned before, you'll play at Bloodstock on August 11th. What can you tell about this gig? I know that lots of your fans are waiting for this moment for so long…
We are so excited! We are playing on the New Blood Stage (unsigned artists). Because of the buzz that always seems to surround the New Blood Stage there is always going to be an element of pressure to deliver the best you can. I'm so looking forward to it though, hoping to release our sound to a much wider audience!
If I'm not mistaken, you've also signed a deal record with Headroom Records. Are you still working with this label at the moment or are you searching for something else?
We signed a licensing deal with Headroom back in 2008. They were very good with us, getting our music video made and getting our first release out there. We are no longer with Headroom Records. Everything we do, we do on our own so it does take a lot of time, but I am so proud of where we have got too.
Ok, let's change the topic for a while. Along with Rosie Smith, your keyboard player, you're the only woman inside the band. How do you face this situation? Do you manage to assert your own opinion among the guys?
Always…I am the boss! Haha! The guys in the band are great. We all have equal opinions and we are all equal in the decision making too. It is very difficult being in a male dominated industry so even the guys in Gone Til Winter feel the frustration that us ladies get when confronted with discrimination. We are like a family really. All best friends with no egos, it's great!.
Talking about fronted female bands: is there any band you would like to start a collaboration with or would you like to work with?
I would love to collaborate with Heart. Ann & Nancy Wilson are amazing!
Thanks so much for your willingness. You have carte blanche to share some words with our readers and your fans. See you soon

And thank you!
Links
MySpace * ReverbNation * Facebook * Twitter * Site
Latest Multimedia
Label : BlueFreya Media
Review by Tony Cannella
New Mexico's female fronted Gothic Progressive Metal duo Fateless Tears has been plying their trade since 2005. In the span of 5-years Fateless Tears has managed to release four albums. For fans who may be new to Fateless Tears, the band has just issued an 8-song retrospective CD titled "Hear, What You've Been Missing". "Hear, What You've Been Missing" begins with the one new song included on this collection. "Primary" is a pretty good track to start things, it is centered around a infectious riff and a killer melody. After that it's a stroll down memory lane as each album is represented. "Cages" from "My Doom Box" is one of the stronger tracks, as Fateless Tears display their knack for writing a powerful, melodic tune. "Inner Sanctum" from "NightBorn" is next and is a solid ballad that gives the listener a change of pace. "Flicker" and "Cycles" both from the last Fateless Tears album "The Chaise" are up next, "Flicker" in particular, is a huge favorite and one of the very best songs this collection has to offer. Other highlights include: "My Endarkened Self", "Mesmerized" (both from "My Doom Box") and the closer "Adagio" from "The Demise of Gideon". At only 37-minutes long "Hear, What You've Been Missing" is a brief retrospective look into the career (so far) of this talented duo.
Rating – 75/100
Tracklist
Primary
Cages
Inner Sanctum
Flicker
Cycles
My Endarkened Self
Mesmerized
Adagio
Line Up
S. Lee Baysinger – Vocals
Richard J. Baysinger – Vocals & Instruments
Paul Evans – Lead Guitars (Guest Member)
Chris Riggins – Melody Guitar on "Adagio" & backing vocals
Links
MySpace * ReverbNation * Facebook * Twitter * Site
6 color styles available:

Style switcher only on this demo version. Theme styles can be changed from Options page.