Browsing articles tagged with " heart"
Label : Zen Hill Records
Review by Tony Cannella
It is difficult to get a feel on a band based on one song. Such is the case with Portland, Maine's Heart Shaped Rock who has just released a one song single titled, "Brought it On". They do have an extensive catalogue of music, which you can find at their ReverbNation profile, but to my knowledge they have only released singles thus far and "Brought It On" is their third following, "Dream Sequence" and "Karma". Before getting into the review, I have to say that I love the cover art work, so that is definitely a plus in their favor.
Heart Shaped Rock has an eclectic array of influences and it definitely surfaces in the music. Continue reading »
Label : Ravenheart Music
Review by Tony Cannella
From Italy, the Gothic metal band Armonight formed in 2008. In 2011 their debut "Suffering and Passion" was released. The band has recently signed with Ravenheart Music and has unleashed their newest offering "Tales from the Heart".
The narrative intro "Into The Deepest Dream" kicks things off and leads us into "With Your Knife". Armonight also made a pretty cool looking video for this track, which can be viewed on You Tube or their official site. There is a lot to like about this band. The songs are melodic, accessible and vocalist Sy delivers her lines with a great deal of passion and emotion.
She is definitely not of the operatic variety; instead she stays in a mid-range style that compliments the music perfectly – which is always a huge plus. "Dancing With Ghosts" has an up-tempo, symphonic sound and would make a great choice for the second video, in my opinion. "Always By Your Side" starts of as a beautiful, piano dominated ballad before picking up the tempo and quickly becoming another favorite. Continue reading »

Interview by Matteo Bussotti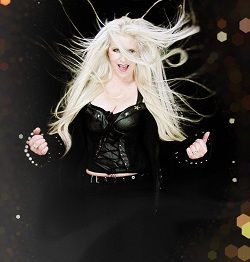 WildeStarr second release, "A Tell Tale Heart", came out not so long ago, so we decided to ask the band's founder and frontwoman, London Wilde, some questions. Being an extremely experienced musician, and having worked in pretty much all the fields related to music, we had the chance to ask her about pretty much anything which came to our mind; and her answers were very satisfying, it has to be said. So, here we present you the interview with London Wilde, from WildeStarr! Enjoy!
Hi London, welcome to Femme Metal! We are very pleased to have you with us here. My first question is: you pretty much did everything regarding to music, you composed the soundtrack for an independent movie, you were a sound technician, and now you sing with WildeStarr. How do these aspects of music differ from each other, and, on the other hand, are they similar in some way?
Thank you Matteo, it's great to be speaking with you! When someone hires you for a specific task, the goal is to present their vision to the best of your ability. In WildeStarr I am presenting my own vision, which is far more satisfying for me. It is also more challenging.  ALL my musical skills are required in the band because I sing, write melodies and lyrics, play keyboards, record, produce and mix. WildeStarr is the amalgamation of all my experience in music, and is much more personal.
Why did you choose to dedicate "A Tell Tale Heart" to E.A. Poe? Has Poe played an important role in your personal and artistic life, maybe?
The album is about a broken heart, and the journey it takes. The Edgar Allen Poe influenced stories are used as a metaphor for that journey and tells a new story. My writing in this theme happened organically without specific intent.  It could have been Tennyson, or Saki, other writers/poets I admire, but the subconscious creative mind chooses it's own muse. Horror and macabre themes really lent themselves to what I was feeling at the time. Continue reading »
Label: Black-Listed Productions
Review by Tony Cannella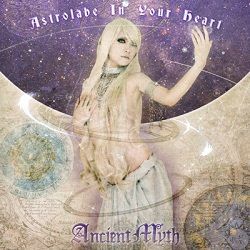 "Astrolabe in Your Heart" was the debut full-length album from the Japanese Cinematic Symphonic Metal Band Ancient Myth. Prior to that the band released a number of singles, EPs and demos, but this would be the first full output from Ancient Myth.
"Astrolabe…" opens with the majestic intro "Culmination" and leads into the powerful "Astrolabe in Your Heart". As with all of their material the vocalist Michal sings all of her parts in Japanese. The music maintains a high caliber of cinematic, neo classical metal. The third track (the title is written in Japanese) is a mid-paced orchestral number, which sees Michal bring her vocals down a notch to compliment the song. "Astrolabe in Your Heart" has no shortage of highlights like the fast paced gallop of "Mortal Heaven", the brilliantly complex and diverse "Canis" and the straight-forward power metal euphoria of "Unlaced: Emergence".
I hate to compare albums, but while "Astrolabe in Your Heart" is a solid debut their second album "Akashic" is perhaps a tad better, but that is debatable. In the end, there is not much to differentiate the two and fans who like "Akashic" should be pleased with this debut from Ancient Myth as well. Continue reading »
Label : Scarlett Records
Review by Tony Cannella
Very few authors lends themselves to the metal treatment more than the great Edgar Allan Poe (Stephen King and H.P. Lovecraft also comes to mind). On their second album, the San Francisco based band WildeStarr have turned to Edgar Allen Poe for inspiration, the title ("A Tell Tale Heart") and the songs are inspired by his works.
From the opening Judas Priest style riff of "Immortal", WildeStarr is simply not fooling around as they come charging out of the gates hard. Lead vocalist London Wilde just dominates with her powerful vocal presence – this isn't operatic stuff, it's straight for the jugular, full on metal, more akin to the likes of Rob Halford, Ripper Owens or Ronnie James Dio. The addition of new drummer Josh Foster also packs a huge presence. Following the metal assault of the opening song, WildeStarr follows that up with the equally heavy but slower in tempo and more grinding track "Transformis Ligea". "A Perfect Storm" features a substantial riff and more excellent singing from London Wilde. "Last Holy King" begins as a ballad, but quickly transforms itself into a Dio-era Black Sabbath style metal track. Other highlights include: "Not Sane" and "The Pit or the Pendulum". Also not to be overlooked is the work put in by Dave Starr who pulls double duty of guitar and bass, his riffs are huge and heavy as hell.
Following their 2009 debut "Arrival", WildeStarr has brought up the intensity a few notches and created an albums worth of songs, which are both heavy and intelligent. "A Tell Tale Heart" is utterly impressive. Continue reading »
6 color styles available:

Style switcher only on this demo version. Theme styles can be changed from Options page.