Browsing articles tagged with " heart"
Label: Warner Music Canada
Review by Tony Cannella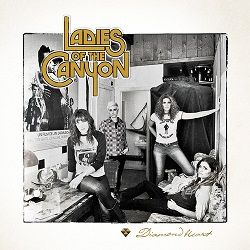 It's time to deviate a little from the norm of what we usually cover here at Femme Metal. The all female band Ladies of the Canyon hails from Canada and they play roots rock with a definite country vibe. If nothing else it shows how vast the female fronted musical genre is and can be. The band released their debut album "Haunted Woman" in 2010 and now without further adieu, lets delve into their sophomore release, "Diamond Heart".
"Diamond Heart" is 49-minutes worth of roots-y rock music with a definite country influence as I mentioned above. The album ebbs and flows flawlessly and there is no doubt that these ladies have mastered their craft to perfection. Overall this is a quality musical output from the opening of the excellent "You and All Your Famous Friends" to the closing number "Alameda, 1947", Ladies of the Canyon brings back a 70s vibe and give it their own current twist. Continue reading »
Label: Southern Brigade Records/Scarlet Records
Review by Tony Cannella
This is the 3rd album from the Italian symphonic rock band Godyva. The band formed in 2000 and released their debut album in 2006, followed by their sophomore effort in 2008 and now after a lengthy gap has just released album number three. There seems to be different categories that Godyva gets lumped into. Progressive, gothic, symphonic metal, etc., etc., I guess there are elements of all that in their sound, but to me they are just a good symphonic rock band with tons of melody. Lead singer Lady Godyva does not go the operatic route; instead she stays more in tune with the song, but also demonstrates that she has a wide range to work with.
From the opening keyboard driven intro and into the hard rock riffage of "Apocalypse Fire", Godyva presents an instantly catchy and likeable hard rock and metal cocktail. Continue reading »
Label: Legacy Recordings/Sony
Review by Tony Cannella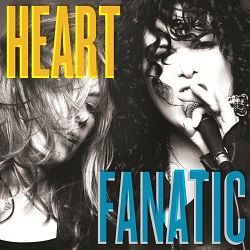 The Wilson sisters have been an iconic rock band for many years and they are one the first female fronted rock bands to have any lasting success. They have recently been inducted into the Rock and Roll Hall of Fame – which is a pretty cool thing, even the Rock Hall lost all credibility years ago, it is still good to see Heart get the recognition they deserve. On their new album "Fanatic", Heart remains as vital and inspired as ever.
It is good to see all of the endearing traits that Heart possesses are still in-tact. Vocalist Ann Wilson still is one of the most elite vocalists on the planet and is complimented by guitarist Nancy Wilson throughout the 13-track disc – which sounds very much like classic Heart with a few different nuances thrown in to keep things fresh and relevant. Heart balances classic rockers like "Fanatic" and "Dear Old America" with more ethereal softer type of songs like their duet with Sarah McClachlin on the song "Walkin' Good" and "Corduroy Road". Continue reading »
Label : Zen Hill Records
Review by Tony Cannella
It is difficult to get a feel on a band based on one song. Such is the case with Portland, Maine's Heart Shaped Rock who has just released a one song single titled, "Brought it On". They do have an extensive catalogue of music, which you can find at their ReverbNation profile, but to my knowledge they have only released singles thus far and "Brought It On" is their third following, "Dream Sequence" and "Karma". Before getting into the review, I have to say that I love the cover art work, so that is definitely a plus in their favor.
Heart Shaped Rock has an eclectic array of influences and it definitely surfaces in the music. Continue reading »
Label : Ravenheart Music
Review by Tony Cannella
From Italy, the Gothic metal band Armonight formed in 2008. In 2011 their debut "Suffering and Passion" was released. The band has recently signed with Ravenheart Music and has unleashed their newest offering "Tales from the Heart".
The narrative intro "Into The Deepest Dream" kicks things off and leads us into "With Your Knife". Armonight also made a pretty cool looking video for this track, which can be viewed on You Tube or their official site. There is a lot to like about this band. The songs are melodic, accessible and vocalist Sy delivers her lines with a great deal of passion and emotion.
She is definitely not of the operatic variety; instead she stays in a mid-range style that compliments the music perfectly – which is always a huge plus. "Dancing With Ghosts" has an up-tempo, symphonic sound and would make a great choice for the second video, in my opinion. "Always By Your Side" starts of as a beautiful, piano dominated ballad before picking up the tempo and quickly becoming another favorite. Continue reading »
6 color styles available:

Style switcher only on this demo version. Theme styles can be changed from Options page.