Browsing articles tagged with " heaven"
Label : Robo Records
Review by Tony Cannella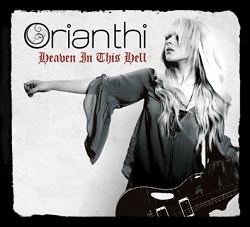 Orianthi Panagaris is a 28 year old singer-songwriter guitarist from Australia. Previously she had been best known as the lead guitarist for Michael Jackson on his "This Is It" tour, a tour that never materialized due to his untimely death. From one legend to another she can be seen as the lead guitarist for shock-rock icon Alice Cooper on his current tour. In 2010 she won the award for "Breakthrough guitarist of the year" from Guitar International Magazine. In 2007 she released her debut album "Violet Journey" and followed that up in 2009 with "Believe". Now Orianthi returns with her 3rd solo album entitled, "Heaven In This Hell". Continue reading »
Label : Trisol Music Group GmbH
Review by Luisa Mercier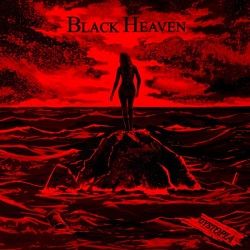 Black Heaven is the side project of mastermind Martin Schindler, which tried to complete the gothic rock played with Mantus through this electronic project. After the release of their last record in 2009, Black Heaven completed their fifth album and in no way they have lost the dark mood of the founder main band. "Das Tor Zu Welt", the opener, is an up-tempo song full of keyboards and completely sung by Martin while the following "Lächelnd geht die Welt zugrunde" is haunting and the vocals are delivered by Thalia. More slow-paced, it will find its place in the gothic clubs all over Europe.
"Die Zeit Die Bleibt" is more gothic, decadent and romantic with strings and its piano break that seems coming out of a movie soundtrack. Going back to danceable rhytm, "Mensch" is maybe the fastest song on the album and once again the keyboards have a main role. Continue reading »
Interview by Alessandra Cognetta
Today's guest here at Femme Metal is Elina Laivera, the voice of Seduce The Heaven, one of the newest rising talents from Greece. Their debut album, "Field of Dreams" is definitely worth listening, a strong release that gives us all the elements to be sure we will hear only better and better stuff from them in the future (they got a 97/100 on our review for a reason!). Elina kindly talked with us about Seduce The Heaven, her own personal experience as a singer, a person and a songwriter, record labels and much more…
Hello and welcome to Femme Metal Webzine, Elina! I've been really looking forward to this interview since I first got the chance to listen to Seduce The Heaven's music. So, how are you and how's it going for the band so far?
Hello dear! Thank you very much for having me. I am doing pretty well and so does the band. Our debut album "Field Of Dreams" has been released a couple of months now and we are enjoying an amazing feedback!
Continue reading »
Independent Release
Review by Tony Cannella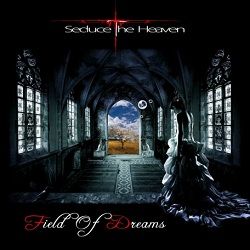 2013 could be a big year for the Greek melodic thrash, death metal band Seduce the Heaven. In 2011 the band released a well received 5-song promo CD, now the band has finally released their full-length debut album "Field of Dreams".
Seduce the Heaven utilizes the duel vocals from Marios Mizo (male growls) and Elina Laivera on clean female vocals. They use these styles as well as – if not better – than most bands. The songs are aggressive, but not so aggressive that they are unlistenable.
Elina is excellent and the chemistry she shares with Marios is one of the main highlights for me. Some highlights include: "Reflection", "Leave Me Alone" and the wonderfully, non-stop energy of "Field of Dreams". Those are just some key examples, some other favorites are: "Illusive Light" and "Falling". From the word go, "Field of Dreams" is a relentless exorcise in aggressive, yet melodic and beautifully crafted songs. I was so impressed by their promo CD and saw a lot of promise in Seduce the Heaven; with "Field of Dreams", that promise has been fully realized.
Independent Release
Review by Tony Cannella
Holy crap! I had no idea what to expect from the Australian band Heaven the Axe. Heaven the Axe is a strange name for a band, but the title of their debut album "Sex, Chugs & Rock'n' Roll" is just flat out weird. So based on those few things I wasn't expecting a lot – shallow, I know – but man was I ever caught with my guard down and was treated to 38-minutes worth of ferocious hard rock with a punk rock intensity and attitude.
From the very first song, "Enemy" any doubts I had about Heaven the Axe were quickly laid to waste under a barrage monstrous guitar riffs and a confident swagger. The album simply does not let up for the duration and there are very few quiet moments until the obligatory ballad "Unconditional Love". This song actually starts of as a sensitive ballad but as the song progresses it gets heavier and heavier, before ending on a sensitive note once again. Lead vocalist Phoebe Pinnock has a voice that is brimming with attitude and is a perfect complement to the hard driving music performed by the band – which is balls out, straight-ahead hard rock and roll. Highlights include: the aforementioned "Enemy", "Electric Wire" and "So Nirvana". The final song is the dreaded hidden track that starts at about five minutes in. I thought this practice was long gone? Anyway, the hidden bonus track is probably the weakest song on here; it is a slower song but is nowhere near the quality of the songs that came before it. With "Sex, Chugs & Rock'n'Roll", Heaven the Axe has released a pure Rock and Roll with more than a little bite. Continue reading »
6 color styles available:

Style switcher only on this demo version. Theme styles can be changed from Options page.