Browsing articles tagged with " heidi"
Label: Escape Music
Review by Tony Cannella
The Finnish symphonic metal band Amberian Dawn parted ways with their popular longtime singer Heidi Parvainen late last year. Now that her replacement has been found the band continues on, with an odd way to break in the new singer. First of all, her name is Capri and instead of working on new material Amberian Dawn has chosen to introduce her to their fan base via a re-recording of some favorites with Capri on vocals.
The kind of soaring power metal that Amberian Dawn plays deserves a vocalist whose voice soars with the music and with Capri they have found just that. "Re-Evolution" contains 11-song that encompass all of their albums and it would be impossible to say that anyone does them better than Heidi (she was the original, after all), Capri acquits herself quite well and she quickly put my fears to rest. You can hear her take on songs like, "Valkyries", "Incubus", "Lily of the Moon", "Come Now Follow", "River of Tuoni" and my favorite all time AD track "Charnel's Ball". Continue reading »
Interview by Tony Cannella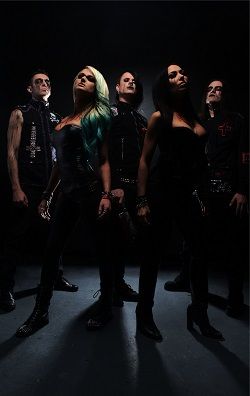 Hailing from Los Angeles, California, Butcher Babies have just released their debut album "Goliath" which promptly landed at number one on the Billboard Magazine Heatseakers chart and now they are a part of the touring Rockstar Energy Drink Mayhem Festival which is blazing a trail across North America. The band – which consists of the duel lead vocals of Heidi Shepherd and Carla Harvey, guitarist Henry Flury, bassist Jason Klein and Chrissy Warner on Drums – have been creating a huge buzz on the tour and have become one of the most anticipated bands on the bill. Following their live performance at the Hartford, Connecticut stop of the Mayhem Festival, co-lead vocalist Heidi Shepherd and guitarist Henry Flury were nice enough to sit down and answer a few questions. Here is what they had to say…
How have things been going on the Mayhem Festival so far?
Heidi: This was better than we expected, especially today in Hartford. Every time we've ever played in this area the kids go crazy, but today was above average. Continue reading »
Interview by Laura Medina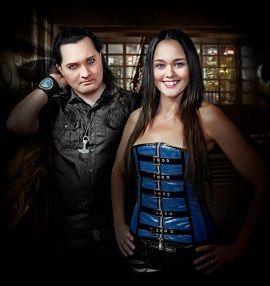 Amberian Dawn, a symphonic metal band from Finland, announced via their official website that they were parting ways with their longtime female vocalist, Heidi Parviainen, in early 2012 soon after their magnifying, superior and outstanding performance at the Metal Female Voices Festival (MFVF) X in Wieze, Belgium. Flash forward to December 2012, it was announced via their official website that the band would release a compilation album consisting of songs from their four previous albums that would be re-recorded featuring their new Finnish female vocalist, Capri!
With the release of "Re-Evolution", their new female vocalist Capri poured out her own mix of classical and rock styles as well as raw emotions into those Amberian Dawn songs. Continue reading »
Former AMBERIAN DAWN singer Heidi Parviainen has launched a a new project called DARK SARAH. She plans to release a promotional CD with two songs in early 2013 along with a music video for the song "Save Me".
Says Parviainen: "I used to look at the world with blue eyes, I used to love with an open heart but I was naïve; the world needed to show it to me. I got angry for my weakness and angry with the world. In the darkest swirls of my mind, I got stronger and meaner and started to change. I worked with my fear and I became DARK SARAH. I'm not bitter, I'm just bittersweet."
A teaser for the "Save Me" video can be seen below.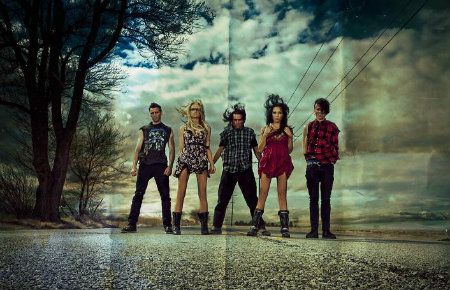 November 18, 2012 – Century Media Records is proud to announce the signing of the BUTCHER BABIES to their worldwide family of artists. Hailing from Los Angeles, the BUTCHER BABIES have emerged as one of the biggest draws on the Sunset Strip, their incendiary blend of heavy metal and horror-inspired theatrics inciting crowds worldwide. Fronted by Carla Harvey and Heidi Shepherd – named two of the year's 'Hottest Women In Rock' by Revolver Magazine – the blood-splattered band left their mark on the United Kingdom in June, appearing on the Download festival and supporting Anthrax in Cardiff. They returned to America as direct support for Otep in fall, and are wrapping up their first headlining tour tonight in front of a hometown crowd at the Roxy on the Sunset Strip. The band – vocalists Harvey and Shepherd, guitarist Henry Flury, bassist Jason Klein and drummer Chris Warner – will be performing with labelmates In This Moment tomorrow night in Las Vegas. "Century Media has been a huge supporter of BUTCHER BABIES for a long time, and it feels natural to join their tight knit family," said the band of their signing. "It's an honor for us to be on a roster amongst many other bands that have inspired us for so long. We couldn't be more excited about the future of this union." The Butcher Babies' track "Axe Wound" is currently in rotation on Sirius XM Liquid Metal, and their short movie/video fo the track "Mr. Slowdeath" can be watched here. The band are currently at work on their full-length debut, which is slated for worldwide release in summer 2013 via Century Media Records. Tour Dates: 11/19/12 – Hollywood, CA @ The Roxy 11/20/12 – Las Vegas, NV @ Vinyl (with In This Moment)
For more information on BUTCHER BABIES, please visit:
www.facebook.com/butcherbabiesmusic
6 color styles available:

Style switcher only on this demo version. Theme styles can be changed from Options page.