Browsing articles tagged with " helena"
Label : P-Dog Records
Review by Tony Cannella
Never judge a book by its cover or a band by their name. I was way surprised when I first listened to the 2nd album "Bitten" by New Jersey based hard rock band Spider Rockets. Odd name, I thought. With a name like that they must be some 80s style glam rock band. This is why you should never go into listening to new music with preconceived ideas – I couldn't be more wrong. Sure they add some of the best elements from 80s hard rock, combined with some modern metal riffs to create one of the more surprising albums of the year, "Bitten".
Spider Rockets comes at you straight-ahead with all the enthusiasm and swagger of punk combined with melodic hard rock which helps make the album instantly memorable. I liked the vocals of Helena Cos. She has very a rocking approach that is perfect for Spider Rockets. Continue reading »
Interview by Roberta Ilaria Rossi
AC/DC, Metallica, Five Finger Death Punch and so on. These are a few names that inspired the New Jersey band Spider Rockets, back on the metal scenes with the new record "Bitten", which is welcoming the band to return soon in Europe. A record that already obtained lots of great feedbacks and much more. The kind and pleasant Helena Cos is proud to introduce a couple of things that no one did not know yet.
From New Jersey, we welcome Spider Rockets' lead singer Helena Cos. Welcome Helena. Let's start our chat talking of the band. Spider Rockets was born as a duo, formed by Johnny Nap and you and then some other band members joined the band later. Would you like to tell us how was this project born?
Johnny and I started doing cover gigs as a duo, playing every dive bar in NJ and New York. We played our original songs in between covers of GNR, AD/DC and Metallica. I remember playing this one gig in Asbury Park on New Year's Eve where we played 5 sets and finished at about 4 AM. Soon we expanded to a full lineup and released the band's first CD. We've played all over the USA, performed in Europe and can't wait to do it all again to support our new CD, "Bitten". Continue reading »
Interview by Ed MacLaren
If music is a reflection of the soul then Imperia's fine new album gives you a wide-open look at the inner spirit of vocalist and lyricist Helena Iren Michaelsen. With "Secret Passion", the Dutch metal band lays bare Helena's emotions on a bed of darkly gothic yet surprisingly accessible melodies that ebb and flow across the album's 13 tracks. To get to the heart of her secret passions, Femme Metal talked to Helena about the album's evolution, her inspirations and her relationship with Imperia's fans. Congratulation on "Secret Passion"! It's a stand-out album and definitely your strongest release yet. Are you pleased with the results?
Thank you for the flowers. (Laughs) I'm very pleased with the positive feedback we get from fans and media, and personally I agree with you that this is the best release of Imperia until now.
"Secret Passion" is a very accessible album. It's still full of driving gothic melancholy – heavy and dark – but the melodies and vocal lines will definitely attract a new group of fans. Was this something you set out to do with this album?
Yes and no; it's not a change of direction we really made on purpose, but it rather came naturally in the process of making the album. We didn't steer into a different direction intentionally. But indeed, most of the songs turned out more accessible than in the past, and probably also more catchy. So I suppose a lot of them also appeal to a more mainstream-orientated audience this time.
"Secret Passion" features some eastern influences and a killer chorus – it would make a fantastic single. When you record to you think in terms of singles or "hits" or is it creating a cohesive collection of songs as a whole?
I try my best in general to always have a chorus that people can sing along to. I don't want to make things too complicated or hard to follow. I believe that a simple, catchy and touching melody will still reach people's hearts the easiest. "Secret Passion" is a good example for that kind of chorus. Then again it's not that we really thought much over which song might make a good single or not, basically we try to have every song as good and catchy as possible.
Vocally, with this album, you seem to be moving more and more away from a strictly operatic performance into a more diverse vocal style punctuated with a very emotive and unique tone. Tracks like "Suicide" sound like you were doing some real vocal experimentation. Were you consciously expanding your vocal palette?

The music is different this time and so of course that strongly reflects in the singing. We kind of moved away from the opera-metal direction and to me as a singer it felt kind of like putting myself in a cage being limited to only use this one kind of singing. I love to explore the different colours of my voice, since it gives room to put many different emotions into my vocals. It's not that I dislike the opera voice, but it's just one option out of many others. So to me it's a lot more satisfying as an artist if I can use all colours instead of just one, and on the new album I had the chance to do it that way.
Even with the vocal changes, you can still pull out the operatic vocals when you need to. Your voice is so versatile that using the operatic register more sparingly actually seems to give more weight and drama to the vocal. What effect are you trying to bring to your music with these vocal changes?
I think you gave the answer already. It's exactly as you say it, when putting the opera voice in the right moment it makes a really dramatic effect and it can put a real climax to a song. Using it only in those spots where it really fits perfectly actually enhances the effect you can create with it.
"Mistress", the digipak bonus track, has some strong electronic/dance elements. Your vocals are very well suited to this style. Is this a musical area that you want to pursue?
It's not that I really have a clear plan to do anything like that. But I like to dance and there's a lot in dance music which I actually like. Let's say I certainly don't see it as a future direction to take for Imperia, and also I am not planning to do a dance-album in the near future. But as an extra-thing it was great fun to make, and I think it's cool to have it on the album.
Your lyrics are intensely personal. During the recording of "Queen of Light" your daughter was born but you had also dealt with some negative things happening in your life which also infused themselves in your lyrics. Where is Helena now and what has your life experiences brought to your writing for "Secret Passion"?
The life I have now is a lot more peaceful and safe than I had it at the time of doing the previous albums. So I think this also reflects in the lyrics of the album very much, there is much more room this time also to sensitive or romantic lyrics. My past still is and always will be a part of me, and this is what lyrics of songs like for instance "Violence" or "Suicide" spring from. But this time they can stand right next to a song like for instance "Secret Passion", and to me it feels perfectly natural and right that way. The biggest difference to the life I used to have is that I don't feel afraid anymore. And this changed a lot, of course.
You open yourself up to your listeners in your music and lay yourself bare in your lyrics. Is it difficult to share those parts of your and let people in to that?
No, it's no problem for me to share these things with the fans that listen to the music. Making music and writing lyrics is extremely personal to me. It's like a world of its own, where I can let out all the emotions I feel inside of me, and it's these emotions that make it intense and touching to the people listening. Singing can feel like a relief at times but also it can be extremely exhausting. Some songs are really hard to do, just because of the topics they deal with and the emotions I feel when singing them. It can give relief at times but also it can really drag me in to the mood of a song and then be really painful. If you want, you could say that sometimes the music kind of is my shrink or my therapy. And I know from letters I got from fans, that it can also be a therapy to others that have been going through similar experiences in their lives. But in particular with those songs that actually are hard to do, it feels like the music that goes with the words gives something back to me, gives comfort if needed. If you feel like crying, the music can wipe the tears away. So all in all I consider it kind of a healing process, and out of all therapies, music is probably the best there is.
Listening to your lyrics, it's pretty obvious that you have a romantic spirit. Is there room for romance in metal when lyrics in this genre tend to lean towards the dark, aggressive and fantastic?
I am a romantic person, so it reflects in the music automatically. As for what the rest of the genre does, or what people think is the right kind of lyrics for metal songs or not, I don't really care much to be honest. I think there is room to everything in every genre, if you choose as an artist to give it room. There are no rules that everybody is obliged to follow, unless you choose to accept those rules. And I obviously don't!
You speak often in interviews about living in the forest. It seems to have a profound influence on your musical perspective. How do the trees and the woods influence the dark gothic nature of your music?
My reason to choose a life in the forest is that it gives me peace – I simply love to be in the middle of nature. So there it does have kind of a parallel to the feelings I get also from making music, both appeal to the same side of my character. But it's not that I make this music because of living in the forest. Both the music, and the kind of life I chose for, just reflect the person I am.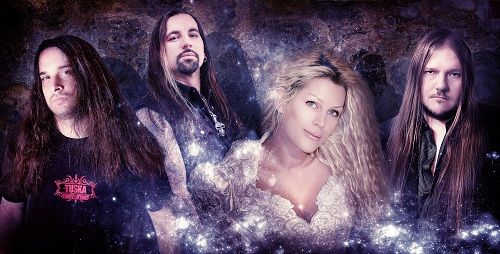 Imperia sports one of the most international line-ups in the business – no one even lives in the same country. How does that arrangement work? You can't just ring up the guys and say, "We're jamming at my place tonight. Bring the beer!"
No indeed, that would be a long trip and I suppose the beer would have gone warm before, let's say, Steve arrived from Germany. (Laughs) But still thanks to technology nowadays it's not much of a problem, you can work on the same piece of music while everybody is in a different country. Twenty years back probably this would have been completely impossible, but nowadays you can just send files all across Europe in more or less real time.
How do you guys create an album without spending any time in the studio together?
The basis for the recordings was the guide tracks that our guitar-player Jan had provided. To those the drums were recorded at Spacelab studio in Germany and at the same time Oliver Philipps was working on the orchestrations already. When all this is done, the songs sound pretty much complete already. These are the versions we used when recording the vocals, actually here at my house in Norway. At the same time Gerry was laying down the final bass-tracks at a studio in Belgium, Jan was recording the definitive guitar-tracks for the album in Finland. So at the end of every evening there was a lot of files being sent across the globe, so at every place the projects could be updated with the latest tracks recorded. It sounds a bit complicated maybe, but in practice actually it's not. It actually all worked perfectly fine and could not have been any easier if all being in the same place at the same time.
Does the distance impact the creative process in any way?
In a way I think it gives more space to everybody's creativity. Let's say when I work on the vocals, I like to try out a lot of different things. When having the whole band around, of course everybody has an opinion, and sometimes that can feel like a limitation. I feel a lot more free in trying out whatever comes to mind when doing it this way. And still you can, of course, change things again later if not everybody is satisfied with the result. Everybody's opinion, of course, is relevant and should be respected, but it's not always helpful to get all the opinions while still being the creative process. I liked the freedom I felt in these recording sessions, working at my own house, working at my own clock, and whenever I felt in a creative mood. I am not entirely sure Oliver always liked it the same as much, let's say he didn't exactly get a lot of sleep. (Laughs)
Kids and family are obviously important to you. With recording and touring, is it a sacrifice to do music in a way because it takes away from your family time?
Actually, there isn't a lot time for me that I could spend on the band. So I don't sacrifice family-time to the music, but rather do the exact opposite. The priority is to my children, and also all the animals that share life with me on my little farm in the forest, so basically it's impossible for me to just go on tour for a couple of weeks for instance. Of course, I sometimes miss this feeling of freedom I had back then having less responsibility, being free to go on tour whenever there comes a chance, doing things spontaneously without much planning needed in advance, basically just going wherever the wind may take you. It's just a completely different life now, with much more responsibility, and a much higher need for stability also. But I don't want to complain actually. I think there is a time for everything in life, and right now, I am actually happy to be where I am.
Do you have any advice for any of the other Metal Moms out there who are trying to achieve a level of stability with family and career?
Actually, my advice would be that if you choose to have a family, you should give priority to that. I think it's near impossible to combine being a mother to excessive touring activities, at least not as long as the children are small. And certainly not as a single mother, I don't see how that should be possible.
You're a very interesting contradiction – very sensitive, emotional and compassionate yet onstage you're aggressive and powerful. Is it difficult to balance? What does each side impart to the other?
I don't see a contradiction there at all. I'm a really emotional person, and in the music, all these different emotions find a place and come out.
Imperia also records as your musical "alter-ego" Angel. That band was originally developed as an outlet for some of your musical idea that didn't quite fit under the Imperia moniker. As Imperia's sound has evolved is Angel still a viable musical outlet for you?

Yes, I think it still is, but right now there is no concrete plans for a new album or anything like that. But there certainly will be one as soon as there is time for it.
What's happening with Angel right now? Will we be seeing some new material from that band anytime soon? Maybe Angel could be the vehicle to vent some of the electro gothic sounds you're developing?
Maybe so, maybe not. How could I know in advance? Actually anything is possible, and the music and lyrics will come naturally when starting to write the album. As said before, I don't plan much in advance or put limitations to my creativity. I try to give room to just about any inspiration that comes, and then I let myself be surprised with the album that comes out in the end.
What are Imperia's tour plans for the summer? Will you be venturing away from the European continent at all?
It may be we'll do a couple of gigs in Holland and Belgium in summer, but there will not be a full European tour. It's just not possible at the moment.
Have you ever thought about having Angel open up for Imperia in a kind of Leaves' Eyes/Atrocity kind of concert? That way you could cover your entire musical catalogue.
Actually, we even did that once a couple of years back. And it was fun to do, but in I don't think it's a good idea as a general concept. The audiences Angel and Imperia are appealing to are quite different from each other actually; with Imperia we have a real metal-crowd and Angel appeals a lot more to people that are into much more mellow kind of music, like acoustic arrangements and more of a pop-approach. So I don't think it makes more sense to present both bands separately than having them on the same night in the same venue.
(Famous) Last words?
Music is my passion. And you are the air that keeps the flame still burning.
Links
Interview by Si Smith
From the first chord to the final drumbeat, a Crimfall album is an aural spectacle to behold. Orchestrations and sound effects only serve to focus the listener on the music that is on offer: a rich tapestry of metal and gusto that transports the observer to another world, complete with swords and battles. But if this is escapism, than it is a guilty pleasure, as this album proves. Moving on into darker more wintry territory, it proves to touch on themes closer to our hearts, but still always that firm foundation of epic folk metal. I braved the cold and sat by the campfire with Helena to discuss the band's progress so far…
First of all thanks so much for talking to us Helena, and a warm welcome from all at Femme Metal.
Thanks! It's my pleasure.
I understand that the band began as a one-man project of guitarist Jakke Viitala. What did the music sound like at that early stage? How did you become involved in the whole scheme?
Jakke had heard my voice in my former band, Tacere's debut album, and he asked me to try out some vocals for the three song demo "Burning Winds". The material was pretty much ready at that time, and when I came in, we only arranged some melodies to fit my voice better. The music itself wasn't that far away from how it came out on our first full-length album, but of course some arrangements were made, and the overall production of "As the Path Unfolds…" sounds much richer than the first demo of the band.
"Burning Winds" was your first recorded opus – how did you feel the recording went for this early work?
I can only answer from my part, since the first evening we recorded my vocals was the first time I met Jakke, so I don't know how the process was for the others. For me the situation was relaxed, laid back and I felt secure and appreciated. We didn't do anything in a hurry, 'though it only took a couple of evenings to get the demo vocals done. Jakke and his wonderful wife Heidi first welcomed me with their heart-warming manner of stuffing all their guests with delicious food and wine, and since I also loved Jakke's music, I decided to continue working with him after he asked me to take part on a full-length album.
Two of the songs from this demo were re-recorded for the first full-length "As the Path Unfolds…". Were these tracks changed much in transition?
The other one, "Where Waning Winds Lead", has now a slightly different touch melody-wise, and it's intro is completely recomposed. If I remember correctly, there weren't such big changes for "Wildfire Season", but if you guys really want to compare, I suggest hunting down one of our demos and checking the differences out yourselves.
There were many session musicians on the first album, including Trollhorn (Finntroll, Moonsorrow). How was it working with all these guys on the project?
Did they understand well the general idea behind what you were trying to create?I never actually saw any of our brilliant session musicians during the making of the album, nor can I tell you what exactly was Jakke's vision behind everything. "As the Path Unfolds…" came out as it did, and I hope our dear composer is also as satisfied with it as the rest of us are.
Your voice soars on this first cd – you are clearly very versatile in your approach to the vocal lines, what is your background in singing?
The flexibility of my voice was one of the main reasons Jakke contacted me in the first place. He wanted a singer, who could awaken many different kinds of moods and feelings, without getting stuck on one style only. I've been singing my whole life. I've done classical studies with many different teachers as well as I've taken vocal lessons from one of the best jazz singers in Finland, Sanni Orasmaa. Of course that all has molded my voice, but no-one has ever taught me to sing heavy metal, so on the other hand I'm self-taught. Distortion for example.. I've wondered how does one teach that kind of stuff to another! I learned to use distortion and that Janis Joplin-like rattle mostly on my own and by listening to good singers who tend to use it – men and women alike.
You and Mikko clearly have a great working relationship when it comes to your vocals. What's it like when you guys hang out together outside of "work" times? What does Crimfall do to relax?
The whole band has a good, family-like vibe going on. We concentrate best on what we're doing by not taking things too seriously and joking a lot – teasing each other like sisters and brothers do. We rarely meet outside gigs, band rehearsals and meetings, but when we do, it's usually about celebrating and enjoying the life "the finnish way" – sauna, beer, good music and good company. Actually after our first rehearsals with our drummer Janne we all ended up just chilling out, going to the sauna and after that continuing our rehearsals butt naked between the times we sat in the sauna. (God I hope the guys won't see this, ha ha..)
Some labelled you "soundtrack music" because of the orchestral parts and the sounds of horse, blacksmith, etc, in between tracks. How important were the "sound effects" to the overall meaning of the first album? Did you intend the album to seem like the soundtrack to some immense fantasy film?
You should definitely ask Jakke about this, since I have no clue about any overall meanings behind any of our music. I just create some of it myself, sing it and enjoy it. I think with Crimfall the music comes first, and all the sound effects remain extra. But our music wouldn't be the same without the orchestrations and the choir parts, so in my belief they're at least almost as important a part of our music as the guitar walls and the bass lines are. Of course the movie-like sound effects help the listener to reach the battle fields in a more detailed way, and I think that is a nice spice to our records.
Where do you feel that the band fits in in today's metal scene? Do you pay much attention to the other bands that might be playing similar kinds of music to yourselves, or do you deliberately keep yourself separate so as not to be overly influenced?
Oh no, I hate to box music! We all listen to many different kinds of stuff, but also quite a lot of epic folk metal, which probably would be the closest genre to box us into.. What can I say: we love what we're doing, so I think it's quite logical that we enjoy music with similarities as well. I don't think finnish bands are too eager to stalk one another – of course we're interested if something big happens to a band we know people from, but otherwise we just mind our own business'.
The year 2011 has brought a new album in the shape of "The Writ of Swords". Could you explain the title to us?
The new album is much darker and gloomier than the first one, and somehow the lyrical and the musical themes are much more hopeless as they were on "As the Path Unfolds…". I think "The Writ of Sword" is an excellent name for an album handling all the horrors of war and the pain of the loss it brings with it.
The last track on "As the Path Unfolds…" was "Novembre" and the first track of the new album is "Dicembre"? Was this intended to follow on almost directly from the first album? Is there a direct thematic link between the two?
As you can hear, the musical theme of "Novembre" is also the main theme on "Dicembre". And yes, as the winter follows the fall, so does our second album follow chronologically our debut album both thematically and musically.
In this interviewer's humble opinion, your voice sounds particularly beautiful on the some of the more folky songs like "Frost Upon Their Graves". If you could produce an album solely according to your own personal tastes and vocal preferences, what kind of album would it be?
I'd probably make something a cappella. In fact, I've had a dream of a vocal group for a long time. Something like finnish folk music or maybe even metal. But if I'll ever find time to arrange stuff for a metal a cappella group, I'll definitely make it very rough and try to produce also the drums only with human voices, unlike for example Van Canto does.
Now that the band is fully-formed, is this the way it will stay now? Are you all pretty settled in your roles within the band, or is there room for some flexibility?
This is the best possible "casting" for Crimfall. Five members is a great amount of people in a band and since we've all sort of found our places and accepted our responsibilities within our team, I don't see us reforming anytime soon.
Since your music is so "epic", how do fans respond at gigs? Do you get the viking helmets from the Finland connection, or maybe the more "serious" fan rather than the diehard mosher?
I'm glad to say we have both! And may I add, they're equally pleasing to play to: the hard core fans in the front row, the nasty looking pit forming in the center of the crowd and last but not least the people standing a bit further away but still clearly enjoying our music, fists held up high.
I must say that "The Writ of Swords" is one album I would have loved to have on vinyl. Are there any plans to release this album on vinyl format?
We did discuss the vinyl possibility with our record company, and I'm happy to say they didn't turn it down – as a matter of fact they brought the idea on the table. "When", on the other hand, is a question I don't know the answer to.
As we draw near the end of the interview, I have to ask about your plans for the future. Touring is a given and I hear you are supporting Turisas on their "Stand Up and Fight" tour. Did you meet these guys already when Olli played violin on this album? What are you looking forward to most about touring? What do you miss the most when touring?
Yes, we did support Turisas on some of their gigs on that massive tour: we got to perform in London, Nottingham, Vosselaar, Paris, Amsterdam, Hämeenlinna and Helsinki with them. And I tell you, it was a blast! Although only some of us had met Olli and Mathias Nygård while recording the violins and guest vocal parts, we all got along so well with them on tour. They and their awesome crew were just absolutely great! I think we're looking forward to do some more touring with a band yet to be announced. While we tour abroad, we might miss our closest ones and the luxury of sleeping in our own beds, but at the same time the best thing in it is definitely to get to play for different kinds of crowds and people not from our cold country. It's amazing to find such blood brothers and sisters who dig the metal we play. It's a very uniting feeling!
Links
MySpace * ReverbNation * Facebook * Twitter * Site
Interview by Roberta Ilaria Rossi
Many are her collaborations in the metal scene, such is her reputation in Europe. After having released an album for her new project, Trillium, the peppery Amanda Somerville is back to town. We had the pleasure to chat with the blonde American singer, who told us many things about her latest work. Here is what she has revealed to us!
Hi Amanda and welcome to Femme Metal.net. Recently, you've released the album "Alloy" for your last metal project, Trillium. In my honest opinion, it is a very good album. Would you like to share with us something more about this project, for those who haven't listened to the album and/or to be updated about your last work(s)?
Thank you very much; I'm happy and honored that you like it! I tend to call the music on Trillium singer/songwriter metal" because most of my songs started out as piano/vocal demos from me and have a lot of emotion and heart in them, in addition to the hard edge and heavy guitar riffing that's so typical of metal. Also, since I've traditionally been a singer/songwriter and have worked in the metal scene for so long, it was bound to happen. I think there are several subgenres of metal represented here, as well as rock. Elements of melodic, gothic, doom… I like diversity! Still and all, this is the single most straight-forward album I've ever released, stylistically speaking. Being that I'm as much a writer as I am a musician, the lyrics are of utmost importance to me as well as the music that goes along with them. My songs are always very emotional because I don't believe in writing or performing anything you don't totally believe in or can't make people feel along with you. On the most basic level, they're all about human struggles and relationships; something we can all relate to, but many of the songs have a very violent streak in them. All of my songs are personal-based, whether it was something I went through or a dream that I had or someone/something that inspired me. My songs are little windows into the innermost workings of Amanda Somerville.

Which is the concept behind the creation of this band?
It's debatable whether to call this a project or a band. For me, it's simply a new facet in my work as a musician. I wanted to keep it separate from what I release under my name for the simple fact that I'd like to keep it as "pure" as I can, genre-wise. For years now, I've been asked by fans who know me from my work in the metal scene when I would either form my own metal band or release a metal album. The idea had to grow on me because I simply wasn't ready for it until just the past couple of years and I don't do anything I don't believe in 100% and can give 110%!
Was the Trillium project born randomly or was something already created in your mind since a long time ago?
I think I kind of summed up that answer in #2, however the true turning point in the desire to make my own metal album came when I was working on HDK with Sander Gommans in 2007. I loved writing and performing metal music (which only continued to grow after I went on tour with Epica in 2008 to fill in for Simone Simons when she was ill and then with Avantasia) and had planned to make my next solo album more uniformly in that direction. But after some careful consideration, I decided to make it a project to keep it totally separate from my solo music so that I can still put a jazz ballad or Jamaican drinking song on my next solo album and not have to explain or apologize to anyone.

It's still 100% me and those who know me as a solo artist are used to me being rather musically schizophrenic, but since I'm relatively new in the metal scene, I wanted to keep it more clear-cut. The ideas kept coming together and about a year and a half ago, I had everything lined up the way I wanted it to be and Trillium as it exists today was born.
Listening to the album, I've been surprised about the second "half" of this record and I've noticed that there's a great cooperation with an artist I really admire: Jorn Lande! I know that there's a good friendship and a professional relationship with him, moreover he also took part in the Avantasia project. How was the cooperation with him born? What did make you choose him for the track "Scream It"?
Since working with him on Avantasia and touring with him, he's become a very good friend and won my utmost respect as a musician and vocalist. The man is an incredible talent and I adore his voice! He's also a wonderful person and can play a role perfectly. I had him in mind when I wrote the antagonistic role in "Scream It" because his voice and character fit so well and I was fortunate enough to have him gladly take part. He did an incredible job and it was exactly what I had in mind!
How did you choose your music partners? I know that there's a strong feeling between you and Sasha Paeth (since early days with "Virgo") since so many years now…
I've been working with Sascha so long now and we know each other so well, both professionally and personally, that our work flow is always very smooth. Sascha's the "Big Boss" and so we all (everyone involved with the Gate Studio) owe everything to him. He's absolutely brilliant and one of the hardest working guys I've ever known and I love, appreciate and respect him dearly. Miro and I have a similar taste musically and being that we're both keyboardists, he catches on very easily to whatever I deliver to him demo-wise. I can give him a very rudimentary piano-vocal demo and it seems like he reads my mind in terms of what I'm imagining arrangement-wise. Robert Hunecke and Olaf Reitmeier I met in 2001 and we've done lots of things together, both in the studio and playing live. Those guys can play anything!! Simon Oberender came into our team around 2004, I believe, and he was an amazing asset to our team. Mat Sinner and I got in touch through Kiske-Somerville and we've also toured together with an outfit called "Rock Meets Classic". He's a powerhouse, a good guy and a big talent and has come to be another close friend of mine in the scene. Sander Gommans and I have worked together for nearly 9 years and we complement each other quite well as songwriters, even though we're so completely different in the way we approach songwriting. I guess opposites attract and this particular constellation works out beautifully in our cooperation with one another! Sascha and Sander add a totally new aspect to my songs very much of the time for the simple fact that they're guitar players and take a different approach to song structure and instrumentation than I typically do. It's a great balance!
I've noticed that, inside your crew, there's also Sander Gommans, ex After Forever former guitar player. How are the working relationship with him that, however, has been a good member for a band that made history in the Dutch metal music?
Yep, he's pretty great. I call him my Riff King and anyone who knows After Forever, HDK or Kiske-Somerville can hear what an incredibly talented songwriter/musician he is. But I rambled on about that in the previous answer!
Is there a song taken from "Alloy" to which you feel more connected to? If so, why?
I'm really bad with "favorite" questions because my songs are like my children and it just doesn't seem fair to call one out over the others. That being said, it's also difficult for me because each is special in its unique way and I'm constantly changing my moods. So one day, I'll be like, "Man, "Coward" is seriously such a great song!! I think that might be my favorite yet," because it's so decadent and the line, "Justice comes to dance upon the graves of cowards" so aptly sums up my belief in karma. Then the next day, it'll be "Justifiable Casualty" because it's so emotional and makes me cry every time I hear it, especially the line, "She said there's no one who can declare a war on warfare." I don't know why – it gets me every time!!! Then another day it'll be "Scream It" because Jorn really nailed the metal "Romeo & Juliet" tragic love story vibe I was going for and it turned out so perfectly. Then the next day, it'll be "Machine Gun" for its powerful imagery and empowering anger it encompasses Then the next day… do you see a pattern here?

Anyway, I love and treasure each song in a different way for a different reason because each one also has its own unique story and personal connection for me.
How the recordings have been so far? How long did they last? How long it took to write the lyrics and music?
Some songs I wrote already a couple of years ago, some I started working on just before we started on the production. All in all we were demo-ing, recording, mixing & mastering from March until August 2011.
On a technical level, "Alloy" is an album based on a deliberately obscure and chilly production, ingredient that combined with the songwriting process could already predict a masterpiece itself, sounding pop/rock, which also shows a great elegance. If you were to describe the album just with three words, what adjectives would you use?
Emotional. Loaded. Dark.
You will start a tour with Trillium in the next months and you will visit so many cities in Europe next to another Dutch band, which was born in these last years: Delain. How did the choice to support this band for the very first Trillium tour happen?
Sander and I have been in touch with them for a while regarding various aspects. I think they're a good fit to Trillium and it's something new, so I'm really looking forward to the collaboration.
What are the expectations for this tour?
I'm not a person who believes in having expectations. I like having a blank slate and filling in the spaces as I go along. In my opinion, expectations can only get you into trouble. If you let yourself simply enjoy the experience as it comes along, it's much more fulfilling and you'll never be disappointed.

I'm just looking forward to the tour and am grateful that I have the opportunity to do what I love to do and share the experience with some great people. I hope for the best and that's all.
What do you expect from this band?
Ah, yes. See my previous answer on the subject of expectations.

Besides being an excellent mezzo-soprano and composer, you're also a vocal coach. You've been the teacher of many singers (like, for example, Simone Simons from Epica), what have you learned from your pupils? What is it left of each of them inside you?
First of all, thank you very much for your kind words. I must correct the statement, however, that I'm a mezzo-soprano. Though my range is actually all the way from tenor to soprano, I feel most at home as an alto.

I'm not quite sure where this whole"mezzosoprano" description came from that someone placed on my Wikipedia page but I can assure you that's not the case. And that being said, I'm a student of life. Each person I've worked with, each project I've been involved with has presented me with new challenges to change and grow, both as a person and as a musician. I think it's important to always find new stimuli to keep you on your toes and strive to always be better. In the same turn, I also learn about how I would not like to be and things I definitely don't want to do. It works both ways!
You've started singing from the early age. How your passion for music was born? How did it happen?
I grew up in a very musical family where music was a very basic and essential part of life. According to my mother, I was singing before I was talking. It was always a "learning-bydoing" process and I was fortunate to also have very good music mentors in both my family and at my elementary school, so I learned to read music and play piano at a rather young age. There was no sudden moment or conscious decision in my wanting to become a musician; that's all I ever wanted to be and do. All throughout my life, I was giving concerts, performing in talent shows and competitions, even DJ-ing, hosting karaoke & singing in cover bands and jazz combos to earn money when I was in university. It's just always been a part of my life!
Which are the artists or bands who have most influenced your artistic growth, your music and your Arts education?
I never did study music formally, nor was I classically-trained in singing. My grandmother taught me how to read music and gave me the basic foundation that I still use for composing today. As far as turning points go, the big milestones were: starting to work with Sascha and the Gate Studio team and releasing my first solo album in 2000; then writing "Aina" in 2002-2003; doing more and more work for and with metal bands; writing thrash metal in HDK with Sander Gommans; getting involved in Avantasia; releasing "Windows" and now working on Trillium. I'd say those are the big ones!
We could say that you have a great long path behind. You've worked with artists like Kamelot, Michael Kiske, Epica, Avantasia and so on. What these people have given to you on an artistic level and/or a personal level?
Every new album, each new project or band or artist I work with or write and record is a further step in my growth process as a musician and as a person. So each one has changed my life because it left a lasting influence on me that's led me to who I am today.
How do you feel, at this point, in your career? Are you satisfied about the work done until now? Do you have some other expectations or some other project you would like to do in your artistic career?
I'm very satisfied. I get to do what I love to do, travel all over the world, meet and work with some wonderful and amazingly talented people and I can pay my bills from that. I don't think anyone could ask for anything more fulfilling on a professional nor on a personal level. I would love nothing more than to just keep the ball rolling!
As I've said before, you are best known for having worked with so many bands, in particular one of these bands reflects your fame: Epica. How do you feel like working with this famous Dutch band?
I've been working with them since before they were even called Epica (back then, they were Sahara Dust and had Helena Michaelsen as their singer!). They've joked that I'm the not-so-secret 7th member of the band and it's been great being involved.
In 2008, you've had to replace Simone Simons, who was facing a serious illness which has forced her to retire herself from the music scene for a while. How did you feel like replacing one of your most famous pupil? I remember that, in the same year, you both performed together in Italy (for the festival called Rock In Field) in a beautiful duet. What could you tell us about it?
It was certainly a logical choice for them to ask me to fill in for her since I'd co-written all of their songs, coached Simone, produced the vocals and sung on every song. For me to agree to it was because I didn't want my friends to have to miss out on a huge opportunity because the tour was going to be a very important one for them. It wasn't easy, however, because I had no idea what to expect from the fans, whether I'd get tomatoes thrown at me or what because it's always a tricky thing to replace a lead singer and not everyone is interested in the details or background story. However, it all worked out great and the fans were very gracious. Our duet in Italy was simply natural since we were both playing at the same festival; Epica and Avantasia. We had a good time!
Having mentioned one of the most famous female fronted metal bands of Europe, what is your thought about bands with female singers? Are you in favour or against the bands that use a girl for their own music? Which is your thought in general?
Haha!! Is this supposed to be a "new" concept, having a woman fronting a musical event? Being a "girl" myself, why on earth would I be opposed to it?

I think the term "femalefronted" is a rather laughable one, to be honest. You never hear the term "female-fronted pop" or "female-fronted jazz", or "female-fronted R&B", right? So what's the big deal about it in metal? I think some guys need to get over themselves a little because chicks rock just as much as – and sometimes, quite frankly, even more than – dudes do.
Talking about collaborations and cooperations, in 2010 you've released an album with another famous partner: Michael Kiske and last year, you've also took part in the new Serenity album, called "Death & Legacy", where you've played the role of the Queen in the amazing song "Changing Fate". How was for you interpreting musically speaking a so important historical role? Which were your impressions when this Austrian band asked you to cooperate?
I loved the song and thought the musical portrayal was beautiful. I'm a bit of an actress and a lot of a romantic, so it was fun and fulfilling. I think Serenity is a very talented band and wish them tons of success.
As I've quoted before, you are also a great composer. In 2003, you've been the backbone of the band Aina, for the album "Days of Rising Doom", in which you've done most of the work: you wrote the lyrics and the music and you've also taken part as a singer. What do you remember about this experience? Was it hard to do everything by yourself?
It was scary but extremely exciting. That was my first real, big project I did in the metal scene and I had no idea how I was going to do it, I just thought, "I'm going to accomplish this, come what may!". And I did. I didn't do everything by myself, just the concept, story and lyrics and I co-wrote a minimal amount of the music. That was my initiation into the Gate Studio team and I proved myself and was soon a steady member.
How does a work, created by Amanda Somerville? Where does the inspiration for the music and lyrics come from?
I've never really been able to force a song. I don't believe in doing anything contrived, especially when it comes to songwriting. I think it's a blasphemy to one's art. Music is my emotional outlet and I let it take me wherever it leads. If I have an idea that's just not moving further, I set it aside and wait for it to "speak" with me again. Some songs have taken months or even years to finish for that reason; they just need their time. And sometimes, a deadline can be a miraculous motivator.

As far as songwriting goes, I don't really have a "normal process". Sometimes a song will begin as a chorus or a verse, or just a melody, or some chords. Sometimes it's just lyrics and the body of the musical composition comes later. And sometimes a song will come to me from start to finish in its entirety; chords, vocal lines, lyrics and all! So every time, it's different. Being that I'm as much a writer as I am a musician, the lyrics are of utmost importance to me as well as the music that goes along with them. My songs are always very emotional because I don't believe in writing or performing anything you don't totally believe in or can't make people feel along with you. On the most basic level, they're all about human struggles and relationships; something we can all relate to, but many of the songs have a very violent streak in them. All of my songs are personal-based, whether it was something I went through or a dream that I had or someone/something that inspired me. My songs are little windows into the innermost workings of Amanda Somerville.

Which is the most beautiful part in creating an album, entirely written by you?
My albums, my songs are like children to me. It's a huge labor of love, filled with soaring highs and sometimes horrible depths. Music is my highest form of emotional and personal expression. It's very fulfilling to see everything come together and wind up being a work of art and rather a snapshot of myself at a particular stage in my life.
Do you have already something new in your mind after the tour that will see you around Europe with Trillium or are you going to take a little rest and work, later on, on new projects?
Nope, I'm going to keep on truckin' and keep the ball rolling! Not to sound greedy, but I want more, more, more!
Thanks so much for the great chat, Amanda. I really hope to see you on tour with Trillium very soon. Is there something you would like to tell to your fans and to Femme Metal users?
Thanks so much for your time and interest! I really hope I can see some of you while I'm out on the road – it would make me super happy!! xx Amanda
Links
MySpace * ReverbNation * Facebook * Twitter * Site
Latest Multimedia
6 color styles available:

Style switcher only on this demo version. Theme styles can be changed from Options page.