Browsing articles tagged with " hit"
Interview by Si Smith
Do you ever long for the lost days of hair metal, of Motley Crue and Guns'n'Roses? If you do then you could do far worse than checking out the new album from Hollywood Groupies, a rock quartet with a penchant for raunchy tunes like rock used to be, down and dirty. Femme Metal spoke to singer Foxy to dish the dirt on the band…. First thanks for talking to us, and welcome to the Femme Metal Webzine!
Hi everybody!!

I must say that it was a breath of fresh air to hear your debut album, it is nice to hear this kind of music being played again loud and proud. So who's was the idea of forming this band in the first place?
Thank you so much!! I can say that the idea came from me and Kelly..
The band now consists of yourself, Kelly, Ace and Condor. Was it easy to come to this line-up or were there different people along the way?

Well it's been a long trip..but it sure has worth all our efforts..there's always been me, Kelly and Ace, along with other people who thought to go on their own way..and that 's how our paths crossed with Condor..

Your sound seems well-defined and clear to listen to. Who does what in the band when it comes to writing songs like these?
Everyone has an important role when it comes to give birth to a song, because we want everyone to feel a song like his own baby, but usually Ace writes the music and I write the lyrics..

As front woman all eyes turn to you when the band plays. What is your vision for the band?
I don't really have a vision or an idea, everything comes from what you feel and what you want to prove to the audience at the moment, anyway most of the people who bought the album and then saw one of our show said we're a lot better live, and I agree with them, we're able to express ourself in a better way..
You must all have gone through different life experiences to get to where you are today. What do you feel each member brings to the band?
Sure..everyone had different life experiences.. emotionally and working adventures, these experiences make everyone the person that they are today, we formed in 2006 so I can proudly say that each one of us is important for the other ones in the band, that's what makes us special, to share joy and sorrow with your band mates is one of the best things ever. So I can't really tell you what each members brings to the band but I can surely tell you everyone brings something important to be a special band..

A demo was released in 2007. What happened to this demo?
What do you mean..has it become a gem?! If so I'm gonna sell it on eBay right now! hahah! There were not so many copies, there were just a few songs and just one is still alive and kickin' in our setlist nowadays which is "Swallow This.." but we we're thinking about "covering" one of the songs featured in that demo..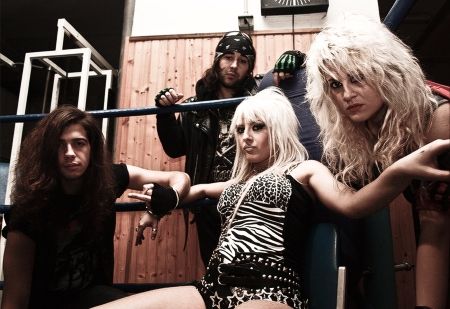 It was 2009 before the band began to get noticed in Europe and the USA – what were the stages along this journey for you?

It was a kind of surprise, we were working to get noticed in Italy and suddenly a lot of people from the U.S. and the rest of Europe started to contact us to say that they appreciated our music..

Getting included on "Glamnation Vol 4″ must have been a smart move. How did this deal come along?
Yes it was! They contacted us thru MySpace (which is a powerful way to get noticed for every musician) and we didn't think about it neither for a second..we said yes!

"Punched by Millions, Hit by None" is now out and about on the music scene. What does the title of the album refer to?
It refers to every enemy that tries to put you down, everyone has at least one, someone who said to you in your life "you're not gonna make it ", trying to discourage you.. the ones who try to throw a monkey wrench in the works.. hehe.. the title is the clear answer for that, you can hit me but you can't beat me..

Last year you played the Free Wheels festival in France alongside many established acts. What are your live plans for this year?

That' s weird to hear about it now, because right now while I'm answering to you, it recurs one year from Free Wheels festival and I feel pretty melancholy since it was one of our best band experiences and one of the best days of my life.. we're gonna play a few gigs here in Italy and then we're gonna play in L.A. on the 4th November at the Whisky a Go Go!

Your singing is very striking in its power. How do you train your voice?
I don't train my voice at all and that's one of my biggest mistakes but I don't feel the need of doin' it, i just drink a couple of drinks before go on stage..

Have you any funny stories from your band to share with us? Or does all go smoothly with you all the time…..?
It never goes smoothly! hahah!! Most of the times it ends up with me and Condor arguing for something.. I think the funniest stories are from our beginning but I can't remember one in particular, maybe I was not that sober..hehe..

Finally, do you have any words of wisdom to share with your audience? We are listening…..
I'm never the wise one.. the only thing I tell you is always fight for your dreams, if you win you'd be satisfied and if you lose you wouldn't have any regrets..

Thanks again for the interview, we wish you success in the future.


Thank you so much and thank you for the awesome interview!
Links
MySpace * ReverbNation * Facebook * Twitter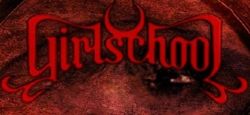 Interview by Tony Cannella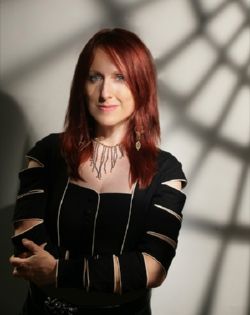 For over 30-years Girlschool has been one of the more iconic and influential bands to emerge from the legendary New Wave of British Heavy Metal (or NWOBHM, as it is affectionately known) movement that began in England in the late 70s and early 80s, but pretty soon engulfed the world and helped revitalize Heavy Metal worldwide. Throughout the past 30-years Girlschool has had their share of ups-and-downs but have continued persevere and continue to record some truly solid material to this day (just check out 2008's "Legacy". Now, on the 30th anniversary of "Hit and Run", which is quite possibly their most legendary work the band has decided to re-record this classic for a new generation of fans. Recently, bassist Enid Williams was kind enough to answer our questions in an interview conducted via email.

First question, why did you decide to re-record the classic "Hit and Run" album in 2011 and are you happy with the results?

It's the 30th anniversary of our most popular album. We wanted to capture the spirit of the old album and we feel we achieved that.
I must say that I think "Hit and Run"
(2011) is great! What has the feedback been like from the media and especially die-hard fans?


Thank you! We've had a very positive response from everyone.
How do you feel it differs from the original version?
Well, I sang most of the original album and of course we're without Kelly, so I'm doing the vocals on "Hit and Run" and Kim's singing her other songs. Our voices have changed over the years as well. I'm now playing a 5 string and although the bass parts have the same feel, the runs are different and some lines are in a different octave. The solos are similar but with variations.
Any chance of playing
"Hit and Run"
live in its entirety?
Only if enough people ask the band! We keep getting requests for "Watch Your Step" but we'll have to see!
You included a bonus version of the song
"Hit and Run"
featuring Doro Pesch. How did this collaboration come about, and what was it like working with her?
We've known Doro for a while now and she asked us to sing on one of her tracks, so it was great to be able to return the compliment.
You had the opportunity to work with Ronnie James Dio on the "Legacy" album. What was that experience like?
Ronnie was one of our heroes and such a great man as well. It's a real honour when someone you admire respects your work.
Actually, the "Legacy" album featured a number of guests. What was that whole experience like? Brilliant! We were recording in Wales and the guests recorded their parts in LA and New York and then sent them over. It was incredibly exciting hearing their contributions for the first time.

Are you currently working on new material and can you give us a preview of what the next Girlschool album will sound like?
No! We're touring this album next year and working on a DVD
.
What inspires the band when writing new material?
Hearing great tracks and wanting to come up with something as good.
What is your opinion of the current crop of female singers and bands?

There are many good ones, but very few greats!


Do you feel like you helped pave the way for women in rock and metal?

For many years we had a male following but since music on the internet took off we've had lots of women say we've been an influence. The world still has a long way to go though before women have the same opportunities as men.
Over 30 years and Girlschool is still going strong. What do you attribute the bands longevity to?
Passion and stubbornness.

Girlschool has released so many albums. Do you have any particular favorites?
"Demolition" and "Legacy".
Is it gratifying to realize that Girlschool has made an impact and influence on the metal scene?
Yes, it's always good to feel you've made a difference to someone.

What are your immediate plans for the future?
Sorting through DVD footage.
Thank you for taking the time to answer these questions. Is there anything you would like to add? The final words are yours.

Thank you to all our friends and fans for their support over the years. As long as you're there for us, we'll be there for you!
Links
Label : Mascot Records/earMusic
Review by Davide Torresan
I confess that I knew nothing of Beth Hart, until yesterday. Bad, very bad. Searching for a bit of information about this singer, with surprise I found a very good voice, and a genre that I never thought that I would have liked. Yes, because Beth's songs are truly unique and original. During her musical career she was good enough to surround herself with talented musicians to match her lyrics at times painful, sometimes happy and carefree. They perfectly describe her life, her personal experiences, both positive and negative, suggesting all with influences that range from pop to rock to jazz and blues. Fame and success came thanks to the smash-hit "LA Song (Out of This Town)" which aired during Episode 17 of the 10th and final season of the telefilm Beverly Hills, 90210. In 1999, her career was stopped by drug addiction and an unmedicated bipolar disorder. As a result of this bad period, redemption came, thanks to a new love, and of course her music . A live DVD, some albums, and the collaborations with famous artists such as Slash, in the beautiful "Mother Mary", and with famous guitarist and rock/blues singer Joe Bonamassa in the album "Don't Explain" in 2011, have contributed to spread her charismatic voice and her talent as a musician in the whole world. "Bang Bang Boom Boom" is her eighth album and gives us a broad overview of her potential. Piano, guitar and drums accompany her voice, at times soothing, as in the song that gives the title to the album, other stronger, as in "Caught Out in the Rain", which shows off her versatile voice, a voice very strong and powerful. It's definitely worth mentioning the work of guitar and Beth's keyboard that "lull" the listener languidly. The atmosphere is that of a dark, gloomy room, at the bar, with a glass of whiskey in front of us. The melodies of songs like "Better Man" or "Swing My Thing Back Around" with its jazzy rhythm are easy to listen to and addictive. "Spirit of God", with its easy-going rhythm is definitely the best track of the lot, to which is impossible to stay indifferent. Every time I listen to it, I am not able to stand still on the chair, moving my head to the music. The gospel insert is very nice. But there also some sweet and quiet songs like "Everyday With You" and "There in Your Heart", in which Beth clearly speaks of love. It' a new subject for her, as in previous albums she had never written about it. They are hymns to love. I can recomend you to take a look at the video of "Bang Bang Boom Boom" to realize the enormous work behind this album. A work full of shades and colors, sad and lively. Those of the life of Beth Hart.
Rating – 80/100
Tracklist
Baddest Blues

Bang Bang Boom Boom

Better Man

Caught Out in the Rain

Swing My Thing Back Around

With You Everyday

Thru the Window of My Mind

Spirit of God

9. There in Your Heart

The Ugliest House On the Block

Everything Must Change
Line Up
Beth Hart – Vocals, background vocals, keys & acoustic guitar

Jon Nichols – Electric & acoustic guitars & background vocals

Tom Lily – Electric & acoustic bass guitars & background vocals

Todd Wolf – Drums & percussion
Links
MySpace * Facebook * Twitter * Site
Label : Nomadism Records
Review by Tony Cannella
Now for something just a little bit different. Hollywood Groupies is a Female Fronted glam metal band from Italy. On their debut album "Punched by Millions, Hit by None" fans can expect 30-minutes and 9-songs worth of hard driving, relentless music that boasts a mish-mash of different styles, from glam to punk to metal. Hanoi Rocks meets Motorhead is how I would describe them. With a playing time of only 30-minutes, there is simply no time to rest or catch your breath. From the opener "Babylon Hotel", Hollywood Groupies comes out the starting gates all full of attitude and swagger, with vocalist Foxy Deville sounding almost like a female version of Vince Neil. Given the relatively short playing time on "Punched by Millions, Hit by None" don't expect anything epic. Following the rip-roaring opening track the band follow that up with the, oh so subtle "Pretty Bitch". Hollywood Groupies has definitely brought their brand of rock n' roll back to basics, as can be heard on the songs "High Voltage Electric King", "Crucified Love" and "Swallow This". Whether you like this sort of thing or you don't (and I'm guessing that reviews will be mixed), there is no denying the ferocity in which Hollywood Groupies plies their craft.

Rating – 70/100
Tracklist
Babylon Hotel

Pretty Bitch

High Voltage Electric King

Crucified Love

Thru the Fire

Good Girls Overload

Destroyer Commando

Swallow This

Carcrash 666 (Raw Version)
Line Up
Foxy Deville – Vocals

Kelly McCoy – Guitar

Condor – Bass

Ace – Drums
Links
MySpace * ReverbNation * Facebook * Twitter
Label : Wacken Records
Review by Tony Cannella
It is no secret that legendary all girl band Girlschool were at the forefront of the metal changing New Wave of British Heavy Metal (NWOBHM) in the late 70s / early 80s. The fact that this band still exists while many of their peers fell by the wayside is a testament to their endurance and staying power, not to mention the quality of their tunes. You simply do not last this long unless you have a strong catalog of music. Now Girlschool have decided to give one of their classics "Hit and Run" the re-recorded treatment. Sacrilege you say? Re-recording a classic album isn't exactly a new trend, but it is one that many die-hard fans wish would go away. So, let's 'revisit' this NWOBHM classic. It is now time for "Hit and Run – Revisited". The original "Hit and Run" was released in 1981 and was the second album to be released by this seminal band. The raucous "C'mon Let's Go" gets things started and is as powerful as I remember it. "The Hunter", "I'm Your Victim" and "Following the Crowd" are classic examples of a band firing on all cylinders. Next we have a cover of the ZZ Top classic "Tush". Other highlights include: "Hit and Run" (probably my favorite Girlschool track of all time), the Motorhead vibe of "Watch Your Step" and "Future Flash". Two bonus tracks are available here. The first one is a re-recording of "Demolition Boys" that originally appeared on their debut album "Demolition" in 1980 and the next one is another version of "Hit and Run" featuring none other than Doro Pesch on vocals. I'm still not sure if I like the whole re-recording a classic album thing, but "Hit and Run – Revisited" has reminded me what a great album this is, and what a criminally underrated band that Girlschool was and continues to be. It does my heart good to see these girls still out there and kickin' ass.

Rating – 90/100
Tracklist
C'mon Let's Go

The Hunter

I'm Your Victim

Kick It Down

Following the Crowd

Tush

Hit and Run

Watch Your Step

Back To Start

Yeah Right

Future Flash

Demolition Boys

Hit and Run (with Doro)
Line Up
Kim McAuliffe – Lead & Backing Vocals, Rhythm Guitar

Jackie Chambers – Lead Guitar & Backing Vocals

Enid Williams – Bass, lead & backing vocals

Denise Dufort – Drums & Backing Vocals
Links
6 color styles available:

Style switcher only on this demo version. Theme styles can be changed from Options page.