Browsing articles tagged with " holopainen"
Professionally filmed video footage of NIGHTWISH performing the song"Ghost Love Score" on December 14, 2012 at Teatro de Flores in Buenos Aires, Argentina can be seen below.  Continue reading »
Label : Nuclear Blast
Review by Davide Torresan
After almost a year of waiting, finally the soundtrack of the movie connected to the last Nightwish's album,"Imaginaerum", is out. After its release the album had a global success, giving reason to the ambitious project of Tuomas Holopainen of creating a film with some new songs written by himself. Riding the wave of enthusiasm, Nightwish decided to leave for a long tour that took them first in Europe and then in North America. In October the waiting for the film's release has been ruined by the premature split with the singer Anette Olzon. It caused the panic within the fanbase of the Swedish singer and an increase of hope to see the return of Tarja Turunen for the nostalgics of the "Old Era". None of this happened. In no time Anette has been replaced with the talentuous Floor Jansen (Revamp, After Forever) to finish the tour in North America. To celebrate the end of the first part of the tour and the end of the works on the film, Nightwish decided to do a final concert at the Hartwall Areena in Helsinki. And the premiere of the film took place immediately after the show.
"Imaginaerum" (The Movie), directed by Stobe Harju, tells the story of Thomas Whitman, an elderly songwriter with an otherworldly imagination. During sleep, the old man fights to find the most important memories of his life and to relive the experiences of his youth. He must also contend with the fact that, due to a serious illness, his life is in danger. Only the dreams are the "sanatorium" to cure his imagination and soul. Continue reading »
Interview by Ed MacLaren
From her groundbreaking contributions to the seminal goth metal band Theatre of Tragedy to even bigger success fronting the eponymously named Leaves' Eyes, Liv Kristine is one of a few women who have truly earned the status of femme metal icon. With the release of her third solo album, "Skintight", Liv continues to offer fans a new and diverse musical perspective along with her unique vocal skills. Femme Metal had the privilege to speak with Liv about her creative process, the secrets to her longevity, and her dreams for the future. Congratulations on the release of "Skintight"! It's another fantastic showcase of your creative talents. Listening to a new Liv Kristine solo album is always an interesting pleasure. What you hear is always unexpected but at the same time it's totally you.
Thank you so much! This album is me, straight from the heart, just very down-to-earth, natural and personal. It really deserves the title "Skintight".
Your solo efforts don't come along that often – although in your defense you're a pretty busy woman. What happens that points you down the solo path? Does the mood just overtake you and you have no choice but to focus your creative energies in that direction?
My solo work and Leaves' Eyes have the same status for me, however, I've needed more time in between the releases of my solo albums than when it comes to Leaves' Eyes releases. There is no explanation for this "rhythm", though. My first solo album "Deus ex Machina" was released eleven years ago, the second one "Enter My Religion" in 2006/2007. However, "Skintight" is my most personal album so far and the one I appreciate the most. I need my solo albums next to Leaves' Eyes. I never plan an album, the songs, or the percentage of slow and fast songs. I just compose it and record it and then when it's released, the audience decides what to think of it. I hate trends and forced ideas. I'm glad my record label trusts me and lets me do my own thing and follow my own instincts. "Deus ex Machina" is probably the one album that had the most influence from the label, external producers etc. and it mirrors a very young "myself". I hate the picture on the cover, though! Something went wrong when printing the booklet, I guess. "Enter My Religion" is the album that celebrates the freedom I felt after winning my artistic freedom back after a terrible time spent in court. And I was happy becoming a mother! With "Skintight", I have taken a big step and gained more independence and self-confidence. It feels really good to release this album, and I am really looking forward to my next one!
What was your goal when recording "Skintight"? Did you accomplish what you set out to do?
I was aiming at one thing: making an album that's ME – just listening to my inner voice. Concerning the song-writing process for the album, I never really "plan" a production. Most ideas just appear unexpectedly, like for instance when I wake up early in the morning at 6.a.m., or perhaps they come along with a glass of red wine when all is quiet in the house. I always carry a little book for notes with me, just in case. The next thing is to call Thorsten and meet up in the studio, which is, luckily, close to where we are living.
The lyrics on "Skintight" are very personal reflections for you as are your lyrics for Leaves' Eyes. Do you have a different mindset when you're writing for one or the other or does it all come from the same place?
My solo work is where I put all my childhood memories, my experiences being a young woman, ideas about love, marriage, memories from travelling, and becoming a mum. Leaves' Eyes has a special concept to every album and I sing in up to seven languages. All lyrics on "Skintight" were written in English. I guess it's just a matter of feeling comfortable in my own artistic "expression" both lyrically and musically.
"Skintight" is a Liv Kristine solo album but you're working mainly with Thorsten Bauer and your husband Alexander Krull from Leaves' Eyes. For a solo effort, why did you decide to keep your collaborations within the "family"?
As I already mentioned, I only want to be independent being an artist, so I would chose any label that would let me do whatever I want, in my own studio, with the musicians I choose to work with myself. I don't care so much about what the trend is like; I'd rather listen to my inner voice and pay attention to my artistic development and my own goals.
Did the writing and recording experience evolve differently than working with Alexander and Thorsten on "Skintight" than on a Leaves' Eyes project?
The composing period and recording period of "Skintight" was much, much shorter than any Leaves' Eyes production. The complete production of "Skintight" was stripped down to a few instruments to make the album warm, focused and intimate. That was my thought from the very beginning.
Was it still essentially a mutually collaborative effort or did you ever have to put your foot down and say, "This is my album and we're doing it this way !"?
This time we did it MY way! I am so grateful that Thorsten, Alexander and my label supports me doing this – achieving my goal!
Does releasing a solo album give you an opportunity to indulge your diverse musical influences in the context of your own music? "The Rarest Flower" has a wonderful Tori Amos flow to it.
Thank you, that's a really nice compliment! I have a varied taste in music: Coldplay and One Republic in the car, Black Sabbath at every party, Tori Amos when relaxing, Edvard Grieg when cleaning, Amorphis when typing interviews and Madonna when cooking! Tori Amos inspired me to record in the way we did. I think she's a genius!
"Skintight" gives you an opportunity to make use of your full vocal range in a more "natural" sounding environment. As a singer, was it a specific goal to experiment with your voice on this album and try some things that just didn't "fit" Leaves' Eyes?
First of all, Thorsten (co-song writer), Alexander (husband and producer) and myself, rebuilt one of the recording rooms so the engineer and the one being recorded are in the same room. The room also has a fantastic view out on the southwestern forests and wine yards! Both music and voice were recorded in a "one-take" procedure to keep the songs real and natural, like Tori Amos, because we wanted to intensify the emotional flow in a natural way. I hate recording little bits and pieces and making pauses between verses and choruses. I would like my friends and fansto hear that this is me. I really don't need to polish my vocals, nor my identity.
You're releasing "Skintight" at the same time as the special edition of "Njord" and on the eve of a Leaves' Eyes tour of the United States. What was the rationale of releasing the solo album now instead of waiting until next year and back it with a solo tour?
I was just eager to have it released as "Skintight" was completed in January 2010. I just couldn't wait! "Skintight" along with "Enter My Religion" and "Deus ex Machina" gives you three full albums of solo material.
Do you think that you've established a unique identity for yourself as a solo artist separate from being the lead singer or Leaves' Eyes or Theatre of Tragedy?
If I take a look at the progress between all my albums, I feel good about it. Album by album I've become more independent and gained more self-confidence. After "Deus ex Machina", which ended in a terrible court case, I have learned to speak out when I feel that something is not all right, fair, or my taste. "Enter My Religion" was a very important step towards freedom for me after a very tough and exhausting period, the ups and downs with Theatre of Tragedy and endless touring. I have been around for 17 years now and I can thank my friends, fans and family for that!
It's also been 15 years since the release of Theatre of Tragedy's self-titled debut "A Distance There Is" still gives me chills every time I listen to it. An amazing vocal performance! Do you ever reflect on the progression and evolution of the musical genre you helped define? Did you have any idea it would explode the way it did?
That's really a wonderful compliment, thank you from the bottom of my heart. No, we would never guess back in 1995 that we would be the trigger and founding band of such an explosion in metal – creating a new metal genre. At first, we were really screamed at by music journalists for mixing extreme contrasts of beauty and the beast in metal, however, the metal fans voted for us to become the band of the year, best new comer a.s.o. world wide. Then the explosion came! Some time ago, I met Tuomas from Nightwish. He really made me blush, he said, "There would have been no Nightwish without you". That went straight into my heart!
You're considered one of the definitive voices of the metal genre – gothic or otherwise – often imitated but never duplicated. Your musical contributions helped open doors for many women to express themselves musically in a genre then dominated by men. Did you think, at that time, that women would ever become such a fixture on the metal scene?
I had no idea! I am so glad that my members of Theatre of Tragedy back then let me step out of the background-singer position and into the front-vocal position! I guess that was the important step to take.
With more and more female-fronted metal bands appearing all over the globe, is there any advice you could offer any young woman wanting to strap on a corset and jump onstage?
Speak out for yourselves and listen to your inner voice! Do not pay so much attention to the money and the fame, because it can hurt you really bad! Be yourself! Be creative, always develop! And stay healthy.
You were still a teenager when you started performing professionally and even now you are still able to keep your music relevant with a fresh perspective and point of view. How do you do it?
I've always had a great passion for music and art in general. I was born with a very creative mind and a voice that can do multiple things. Moreover, I take good care of myself, stay in shape, and have a very healthy living style. I'm 34 now and just won a 10 km run in south-west Germany and my winning time was the best I ever achieved. That's nice! Being a mother also gives me so much power in my daily life. Having my own wonderful family is the greatest luck on earth! I consider myself a very lucky person: I'm able to combine family and music! I never earned the big money, however if I ever do, I have huge plans. My ultimate goal with my solo work is to sell "millions" of albums so I can start my own foundation, helping children in need worldwide. Moreover, I'm dreaming about starting a bilingual/trilingual music kindergarten for kids with special needs and abilities, children that have a "handicap" somehow and do not fit into the typical, official kindergarten concept. Music can help these children in a social, psychological and physical way and they have so many "hidden" abilities that we need to discover and trigger! This is only possible in such suitable, loving and stable surroundings like a "special" kindergarten or school. This is my dream for the future.
You've had an incredibly diverse and prolific career. Are there any songs from any stage in your career that hold a special place in your heart? What makes them so special?
"A Distance There Is" (ToT), "For Emily" (Leaves' Eyes), "Irish Rain" (Leaves' Eyes), "Blue Emptiness" (Liv K.), "Twofold" (Liv K.) and "The Rarest Flower" (Liv K.). They're special because they're all linked to happenings in my life and they make me cry every now and then. It's like holding up a mirror to my own emotions.
What next for you after the Leaves' Eyes US tour? Will you try to do some "Skintight" promotion in the new year?
My next tour will probably be an acoustic tour, some shows in December and the rest next February or March, in intimate locations, with chairs, candles… Let's call it "A Night with Liv Kristine". I will bring three musicians and play songs from my solo albums, some acoustic Leaves' Eyes pearls and maybe "A Distance There Is". Vocals, guitars, piano and percussion.
(Famous) Last words?
"My greatest luck is to give some happiness and love to others". This is what my mother always told me and she is so right! Through my art, I am able to do this and my fans and friends have made my dream come true. I have the best fans in the world! Thank you!
Photo Credit
Photos by Stefan Heilemann
Links
MySpace * Facebook * Twitter * Site
Latest Multimedia
NIGHTWISH's long-awaited "Imaginaerum" film — based on the band's album of the same name — will be released theatrically in Finland on November 23. The movie had its premiere on November 10 at Hartwall Arena in Helsinki, Finland, where the audience was treated to both a full-scale NIGHTWISH concert and the first-ever public screening of the movie. The "Imaginaerum" screening at Hartwall Arena was preceded by a show by the musicians in NIGHTWISH themselves in what was their last concert in Finland this year. Professionaly filmed video footage of NIGHTWISH performing the song "I Want My Tears Back" at the Hartwall Arena can be seen below.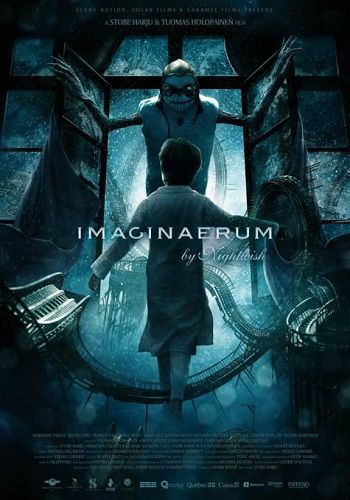 Interview by Miriam C.
Transcription by Robin Stryker
This was my second phoner interview that I've made in my life, this time I was more calm and relaxed. Enjoy this funny interview (sometimes during the interview she has got line telephone problems and I was going to repeat the questions) with a kind and relaxed Jonsu, vocalist and violinist from rock all female band Indica.
Let's start, "A Way Away" is coming in the stores the 25th June on Nuclear Blast. Why choose this label? I mean Nuclear Blast isn't the typical label that sign rock melodic bands.
When we were touring with Nightwish, Nuclear Blast was the label that was interested to do the English album, and they had showed some passion towards our music. I loved the way they worked and how they put their whole soul and heart to it. So it made us be sure that it is the perfect label for us. Also I have to say that it was a good thing that Tuomas told me before – you know Tuomas [keyboardist] from Nightwish, they have been with Nuclear Blast for many many years – and he told me that "I have no bad words to say about that company". So it was a good recommendation.
Obvious question, how's born the collaboration between Nightwish mastermind Tuomas Holompainen?
It was great. The first thing I did with them was "Erämaan Viimeinen" (The Last of the Wilds), one of their songs. After one of our shows, Tuomas came to ask me if I would like to sing that song, and he said he has been a fan of our band since it started. And I said like "yeah, yeah, let's try it". It went well and then they asked later if we would come on the Scandinavian tour. I think Tuomas and the whole band is great. Tuomas is a really talented musician and composer, so it was great to work with him. And later, of course, to do albums with him. Also on "A Way Away", he wrote lyrics to one song, "Precious Dark".
I found a bit strange to publish an entire album with translated lyrics in English, when take for example such metal acts like Ensiferum, Korpiklaani,they publish without problems album in Finnish language. Why take this decision?
Why did we do an English album? When we started about nine years ago, we did songs in English and in Finnish, but then we had to choose one language. Finnish sounds more natural, but we knew that someday we probably will do anyway an English album. When we started touring abroad, the fans started to request if we could do some songs that they would understand too. There was only really crappy YouTube versions they could listen to. So that was the main reason why we did it now. I think it was a big challenge for us, too, because we have seen every single corner of Finland and every single club, and we have been working there and touring there and doing albums like "Ikuinen Virta" in 2004. So it was a big challenge for us, and also really interesting to see new places and meet new people. Also with the language, I would say that the English language is maybe, when sung, it sounds more beautiful and it's flowing totally differently. Maybe Finnish is more exotic, but anyway the music sounds totally different, so we found it really interesting.
Your last album was called "Valoissa", right? And if I'm not wrong the English translation is "light".
Yes, you can say "in the light". In the song, we are really talking about like traffic lights. It is a little bit ironic text about "what if I die in the traffic light" and you can't just mourn. Don't be sad.
Are "Valoissa" and "A Way Away" titles connected?
"Valoissa" and "A Way Away" … no, there are a couple of songs from the "Valoissa" album in "A Way Away", but otherwise those albums aren't alike. Those aren't connected anyhow.
If I ask you to define Indica's music style what do you reply?
It's a funny question because, as a composer, it's really hard for me to describe the music because somehow I think it's impossible to describe music in words. But, I can say what other people have told. So, some people – like all reporters in Finland – call it like mystic-romantic pop rock, and it was funny how it started. One reporter just said like, "oh, this sounds like mystic-romantic" and suddenly all the reporters were writing it's mystic-romantic. Yeah, one interviewer also said, "it sounds like Disney on acid." (laughs) I think it was a funny description. I'm sure there is some films, movie soundtracks and a lot of movie composers.
On 30th April you've published out the videoclip "In Passing", what is the story behind the video and how was work with Patric Ullaeus Team?
Yeah, in Sweden in Gothenburg. You are talking probably of the "In Passing" video. The story behind the song is that it is kind of a letter from an older sister who is dead to her little sister, and she is trying to encourage her and telling her that "you must go on with your life and move on". It was great to work with Revolver Team, and Patrick Ullaeus I think did a great job. We shot it two videos in Gothenburg. "Islands of Light" I think it isn't published yet, but it will come out soon I guess.
Watching your promo shoots I was astonished about your dresses. Who's the creator of it?
Sometimes we are using different kinds of designers, but there is one Finnish, Anne-Mari Pahkala, who has done many of our dresses. Some dresses we are found from our grandmas' closets or somewhere, like anywhere where we go. But Anne-Mari Pahkala is a girl with whom we have worked the most.
Before "In Passing" video there was another one video called "Snakes and Arrows", I've seen it, have you shooted it in Tokyo?
We had one. It was kind of, you know, zero budget. We deal with just one friend's photographer wanted to do one because he wanted to do some photo shootings there, and we had a show in Tokyo. We spent there a week, so we were shooting the video at the same time. But it was a great experience. I really liked Tokyo, but I couldn't believe that I would live there.
Which is your favourite song from "A Way Away" and why?
My favourite song from the album is, I guess, the ending track "Eerie Eden" … "As If" is also one of my favourite tracks. I always fell in love with the slow songs, so that is why maybe "Eerie Eden" and "Children of Frost" and "A Way Away" are one of my favourites. The girls are always angry to me because I always try to do a slow album where there is only slow songs on there like that. "You are killing the audience! They will fall asleep". (laughs) So, it's good that we have different opinions in our band too, because otherwise it would be only 10 slow songs on the album.
I know that's very very early to talk about that but are you working for the next album with brand new songs?
Composing is my lifestyle, and I'm all the time composing something. But we really haven't sat down yet with the band and talked about what we are going to do, what kind of direction we are going to go in. Maybe after this album comes out, we can sit down and talk about that with the people that we work with and do some planning.
What are the next band planes?
In the near future we are going … tomorrow [the interview was done on the 20 May 2010] we are in Italy doing something and going to Rome, then we go to Leipzig to do one gothic festival and then I go back to Finland to do some TV programmes. Then we are playing in Rock am Ring and Rock im Park (it's in Germany).
It's a very famous festival, with groups from every genre, and MTV is there.
It will be interesting and I think they said that they are shooting the show too. So we are doing some festivals in summer, but mainly touring will start in the autumn. Then the plan is to tour pretty much before Christmas and go around Europe. Let's see, I have a meeting with my gig agents next weekend, then they tell us some ideas.
Italy is in your plans?
Yeah, I'm sure Italy will be on the list. But really, I would love to, I'm waiting to come back to Italy. These days we are doing some acoustic performances in the radios but to do a real live show because I think Italian audiences are great. They are so free and open.
Greet our fans freely!! And thanks!
Thank you very much for the interview! It was really nice to talk with you, and I hope to see you somewhere.
Kiitos! [Finnish word for thanks]
Oh, you know it! Great.
Links
MySpace * Facebook * Twitter * Site
Latest Multimedia
6 color styles available:

Style switcher only on this demo version. Theme styles can be changed from Options page.