Browsing articles tagged with " holzmann"
Label : Massacre Records
Review by Danny Robertson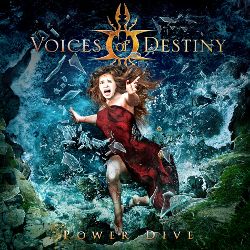 VOD's press release for "Power Dive" describes them as having a sound somewhere between gothic and symphonic metal, and it's not wrong; at times sounding like a heavier Nightwish, or during their more restrained moments sounding reminiscent of Within Temptation, but without sounding like a cheap copy of any act within those genres. Their combination of sounds gels together well without sounding forced – the keyboards don't overpower the rest of the instruments, whilst the guitarwork is especially impressive, epic without being pompous or gratuitous, and Maike's vocals work well with the instruments rather than relegating them to the background, thus avoiding the pitfalls others within the genre occasionally find themselves in. Tracks such as the title song and "Dedication" show off their more operatic side, whilst standout track "Kami" is a nice demonstration of the band's range in a single song, with some heavy riffing throughout. Voices of Destiny have delivered a strong second album here, one that should see them win new fans in further territories. If you're fan of big, bold, unashamedly epic metal, then try this album out!
Rating – 80/100
Tracklist
Intro

Power Dive

My Separation

Dreams Awake

Kami

Untouchable

Being Worth

Dedication

Your Hands

Red Winter's Snow

Outro
Line Up
Maike Holzmann – Vocals

Chris Gutjahr – Guitars

Lukas Palme – Keyboards/vocals

Jens Hartwig – Bass

Erik Seitz – Drums
Links
MySpace * Facebook * Twitter * Site
Interview by Matteo Bussotti
As soon as their new album, "Power Dive", came out, we had to ask Voices of Destiny's singer, Maike, what's behind this album, the creative process behind it. She was very nice and answered politely to all our question, making Voices' style and history clearer. So, let's take a "Power Dive" into their new album and this interview!
First of all, have you ever been to Italy? And if you have, what differences have you found from your homeland?
Yes I've been to Italy many times but only on holidays with my family when I was a child. Of course a big difference is the climate, the beach and the sea Italy has. I also liked the temper of Italian people a lot.
What was, in your opinion, the best country you've ever been, especially while touring with Voices? How one country differs from the others?
Well, that's very difficult for me. We've just been on tour through some countries in eastern Europe by now and we had great experiences everywhere. I liked it very much to play in Budapest (Hungary), where the people were remarkable friendly and generous. We could visit the city as well and it was a great day there. Besides touring I love Ireland and Wales a lot. There the people are so hospitably and the landscape is beautiful.
Let's talk about "Power Dive": what do you think is the strongest point of your second album?
I like to listen to the album as a whole artwork, but there are some songs I listen to more often. For me that's "Power Dive", "The Untouchable" and "Your Hands" at the moment. I like the structure of these songs, the way I could interpret the lyrics and the heavy parts in it.
How do you think you've changed, as a band, but also you as a solo, from your first album "From the Ashes"?
All in all the album is much more aggressive and there are more strong feelings to be found I'd say. We decided to reduce the orchestral elements a little bit and give more room to the guitar and the growls. For my person I think I improved in expressing the feelings that I have about the songs.
Looking at the future, in what ways you think you can evolve, what do you think you can improve?
I'm still young and I think I can improve in many ways. I'd like to get even more volume and hope to improve my breathing technique as well. As band I hope we can play some more live shows to get more confident on stage.
There are bands which really struggle themselves to give the best during concerts, making every one of them a unique experience. On the other hand, there are bands which see concerts only as a "showcase" of their songs, like "These are our songs, we are great and powerful. Now go buy our cds.". What's your point of view? What do you think about concerts? Do you try to give your fans a unique experience, maybe delivering some sort of message?
That's a very good question, thank you for that. Well, we've just been on tour and for me it should always be the goal to make the audience happy and give them a good time during your show. We always have a great time on stage and I hope the people realize that. I feel happy when the audience seems to like the performance or when I see people singing along. But what I like most about concerts is to get in touch with the fans afterwards. I really enjoyed talking to different people from several cities and get to know them. For me it's very important to keep in touch with the fans and not just think of them as (potential) consumers.
Is there any crazy thing you've done, or you'd like to do, during a concert?
Not until now. But you never know what the future brings

You are very into social networks, in fact, on your band's website are linked you facebook, twitter and youtube pages. What's your opinion about them, and the opportunity they give the fans to interact with the artists?
For us it's a great opportunity to stay in touch with our fans and to spread our music all over the world. We all like it to get to know bands we listen to and therefore we want to enable our fans to get to know us and our music as well.
If you had to describe the other members of Voices in…let's say 30 words, how'd you describe them?
Chris is our idealist and organizer, Jens is the critical one and cares for the finances and Lukas is the genial musician. All of them are very crazy and funny and some of my best friends. (Sorry, now there are 36 words

)
Who you usually writes the lyrics in the band?
Most of the songs and therefore the lyrics are written by Lukas, two songs on "Power Dive" were written by Chris.
Is there some particular theme you'd like to sing about in your songs? What's your favorite song you've written so far?
No there is no special theme that occurs over and over again, but most of the songs deal with daily problems and often the lyrics are about interpersonal relations.
Last but not least…is there something special you're looking forward to in the next few months?
Yes we will start to work on new material in summer. We all are very excited about what comes next.
Links
MySpace * Facebook * Twitter * Site
Latest Multimedia
Label : Massacre Records
Review by Tony Cannella
Germany's Voices of Destiny play symphonic heavy metal and features Maike Holzmann on lead vocals. Their debut album is titled "From the Ashes" and has just been released via Massacre Records. "From the Ashes" features 12-songs and 46-minutes worth of classy, bombastic, symphonic power metal. To put it quite simply, "From the Ashes" is an excellent debut. Maike Holzmann is the female lead vocalist for Voices of Destiny and her style is clean and sometimes operatic and very expressive. Her vocals are very well done and it is possible to understand every word she is singing. "From the Ashes" also includes its share of extreme male vocals (reminiscent of Epica) and there is some cool work done with the two styles, but the majority of vocals are handled by Maike.The songs on "From the Ashes" are melodic and very theatrical, dramatic and – at times – progressive. Highlights include: "Ray of Hope", "Twisting the Knife", "Icecold", "Apathy" and "Red Winter's Snow II: Blood and Stone". With "From the Ashes", Voices of Destiny are sure to appeal to fans of bands like Epica and Within Temptation and other female fronted symphonic metal bands. This is a good debut, that will hopefully catapult Voices of Destiny to the upper echelon of the symphonic power metal genre. Very well done.
Rating – 83/100
Tracklist
Ray of Hope

Twisting the Knife

Return from the Ashes

Relief

Icecold

Apathy

Endeavour to Life

All Eyes on Me

Bitter Visions

Hourglass

Red Winter's Snow II: Blood and Stone

Not the One
Line Up
Maike Holzmann – Vocals

Chris Gutjahr – Guitars

Lukas Palme – Keyboards & Vocals

Jens Hartwig – Bass

Erik Seitz – Drums
Links
6 color styles available:

Style switcher only on this demo version. Theme styles can be changed from Options page.