Browsing articles tagged with " home"
Interview by Lindz Riot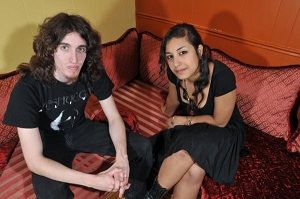 When people hear of Quebec, Canada they immediately think of Montreal, but to the east lays Quebec City where many good things are happening for Metal and Ambient experimental music alike. There you will find a gem, a diamond in the rough by the name of Manahil. Arabic for "The Sources" they are a duo that describes themselves as "Ambient music for Metal Heads" and from listening to them you can hear the concept. It is very refreshing! Fronted by the soulful and exotic voice of Hind Fazazi alongside piano wiz and musical visionist Mathieu Fiset, they are definitely adding something new to the music world. During their Ontario, Canada tour I have had the privilege to house them and sit down with them to get into their minds about what Manahil is and what they are doing that is so different.
Welcome to Femme Metal guys! Thank you so much for doing this interview with us. It's a real pleasure. So how are you two liking your Ontario tour so far?
Mathieu: Great ! So far only one show down, but we played here last October with Stream of Passion and Unexpect and that was great. I can't wait to play Toronto tonight and Oshawa next week with Mary and the Black Lamb and Modified.
Hind: I cannot judge for the moment! But at least, people here are friendly …let's see if the Toronto gig tonight will be as nice!
How did you two meet?
Mathieu : Through a friend of ours. I asked Hind to come up to record a Steven Wilson cover song just for fun, but we ended creating music with an ambient instrumental track I had. This first song is the opening track of our first album.
Hind: I was fifteen years old at that time, and I already knew Mathieu was a great piano and keyboard player. We tried some covers together, in English first, but then we rapidly decided to experiment something new in Arabic, because we both were curious, open-minded and tired of traditional music!
How did you decide on your sound? Was it a vision or something that just came out through jamming together?
Mathieu: We never planned anything really, but of course with the knowledge that she could sing in Arabic and the fact that I love exotic music, we just ended up doing lots of oriental stuff in the beginning. But later we added the pop, rock, electronic and progressive stuff.
Hind: We just ….let ourselves do whatever we wanted to. We knew that our two energies were going to give something unique. We jammed a lot in the beginning to see what we could create together, and then just continued that way until now!
What are your musical backgrounds?
Mathieu: As a kid I was in love with the soundtracks of my favourite movies and then the music of Alegria from Cirque du Soleil really had an impact on me when I was 5 or 6. I took some piano lessons then stopped because the lessons were not what I imagined it would be. Later on, when I was 14, I started listening to metal so my interest in music came back. At 15 I joined my first metal band and slowly became a professional musician.
Hind: When I was a young little girl living in Morocco, I loved…Celine Dion! Then, when I moved to Quebec, I switched radically to thrash metal, Nu Metal and female fronted metal bands! Slayer, Sepultura, Korn, Within Temptation, Evanescence…afterward, I began to listen to Opeth and opened my mind to non-purely metal music, such as Nine Inch Nail, The Cure and Indian music.
What artists have really influenced Manahil?
Mathieu: That would be a long list! But I can say that my favourite bands are Tool, Nine Inch Nails, Porcupine Tree, Opeth but also some other artists have had a major impact like Peter Gabriel, Rachid Taha and Hans Zimmer.
Hind: For me, singers like Amy Lee, Tori Amos, Norah Jones and Susheela Raman, a folk-indian artist, influenced my interpretation.
You say you are ambient music for metal heads, what do you mean by this statement? Are you both heavily into metal?
Mathieu: Yeah, as you might guess by now, we both listen to a lot of rock and metal music, but we need something to balance it all, so we create kind of an ambient or electronic version of the metal music we want to hear.
Hind: As I have already said, we LOVE metal and listen to metal bands, but we hate to categorize ourselves as metal heads. Also, we don't want to get bored by doing the same old style all the time and we absolutely adore oriental music and mixing styles that every open-minded metal head should appreciate.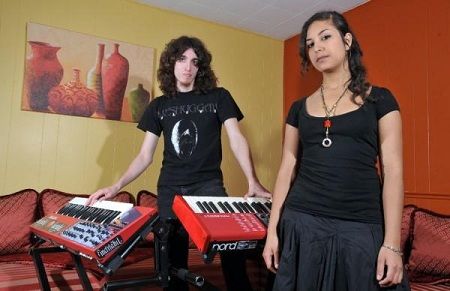 Would you ever consider making Manahil a full band project?
Mathieu: No, because from the beginning we decided Manahil was the two of us, the creative force we are, and not a musical style.So even if we often have collaborators and live musicians, we prefer to keep the basic of Manahil as the two us.
Hind: Manahil, in Arabic, means The Sources, it's only us two and we are the sources of the music we create!
What has the respond to your music been like in the Province of Quebec?
Mathieu: I don't really know, to be honest. It's a positive response for sure, but since it's a really personal music, everyone feels different to it.
Hind: It's particular! Manahil is a very introspective music and in a show context, where people are used to scream, it's weird. It's as if the crowd finds it special to just listen and let the music enter in their hearts.
Do you think you will be well received in Europe?
Mathieu: I guess!
Hind: I really think so. The North American audience is definitely different. The expectations are different, and I think, honestly, that the cultural aspect will be positive for us. We are a non-typical band, and maybe, I say maybe, it will be fully understood in Europe.
Why do you feel the metal scene in Quebec has been progressing so rapidly as of late compared to the rest of North America? Do you agree with this statement?
Mathieu: I guess it's mainly because there's a lot more metal heads in Quebec so with a bigger crowd, you can have more bands, more shows…but I mostly feel there's too much of the same thing. We certainly have some of the best extreme metal bands in the world.
Hind: I agree with Mathieu on that, particularly in Quebec City…Quebec, metal city! But yeah, there is too much of the same: too much black metal bands, classic Hardcore bands… it's not very diversified!
Tell me a bit about your new album, where did you record it? Who produced it? What can we expect to hear?
Mathieu: I produced, recorded and mixed it myself, mostly in my home studio but you'll like to know that we recorded the vocals in Cardinal, Ontario. Musically, it's a new experiment, more than a new direction. As much as we love the new album, we won't do the same for the next album, just like every recording we've done and will do. It's even more "Ambient music for Metal heads" than the first album. It's a deeper, more sophisticated production which I'm really proud of and we went in musical areas that we never dared to explore yet, opening the door for more experiments in the future. We're growing up I'd say!
Hind: Yeah, the composition of this album was a nice and refreshing experience. First, Mathieu sent me what he had done…the musical tracks sounded less melodic and more electronic to me… I didn't know, at first, what I could sing on that! Then I experimented to write my melodies in a totally different way, and the result is amazing: a mix of very melodic vocals mixed with dark-electro-industrial-oriental music!
I noticed a hint of a Jazz influence on your most recent EP, can we expect to hear something like that on your next album?
Hind: No, or maybe inconsistently in a few back vocals. We both love jazz, but we already explored what we could do with that on "From Roots to Clouds", "Alouanou Sama" is totally something else!
Last question: Outside of music, what are your lives like from day to day living?
Mathieu: Music is my day job, but I'd say I don't play as much as I'd like to. Doing lots of planning, booking, promotion, paper work, I don't take much time off, but I like to change my mind from time to time playing games and watching stuff on YouTube. I'm a complete nerd, so I don't have of a much social life.
Hind: I'm going to University, studying philosophy and politics. Those subjects are my main passions with music. I am involved in my community, and I try to be active to promote a provincial political party by the name of Quebec Solidaire. I'm a part time musician, but a full time good citizen, I think. I read a lot and love to party with friends!
Photo Credit
All the photos by Fred Laroche
Links
Interview by Erwin Van Dijk
An interview with Lotus from Sin7sinS, update Summer 2009. Last year I had an interview with Lotus, the singer of Sin7sinS. They have released three new tracks on MySpace so I thought it would be time for an update interview.
Your last two gigs were in March (in the cities of Antwerpen, Belgium and Dordrecht, Holland) What have you and the band done since then? Besides spending a lot of time in the studio

We were after those gigs very busy with writing new material and rehears this (we have a kick ass new set list!) Further as you said we spend a lot of time in recording the new songs. And we have done a new photo shoot…
You have recorded three new songs. Ronald Landa from Delain was responsible for the producing and mixing while Ad Sluyter (of Epica fame) did the mastering. How did you get in touch with these two guys Ronald Landa and Ad Sluyter and how was it to work with them?
Ronald Landa is a friend of Paul and me, we played before Delain and Sin7sinS in the same band. Ronald is very good in producing, so he wanted to help us. Ad Sluyter is a friend of Ronald and he is into the mastering…
And, did they have any influence on the sound of the new songs? This is because Delain and Epica are not exactly in the same genre as Sin7sinS.
Not really, the songs were already written before recording. But of course they did help create the sound which we were looking for.
Song by song: what can you tell us about the new songs? Music & lyrics? ("Dead World", "Eye Want All", "Insult #7″)
The new songs are louder and better then our older work. We tried to focus more on the songs as a whole. This implies that vocal work (etc etc…) follows a more natural path. Each song has a different meaning which is best hear able in the lyrics, most songs are inspired by things and events going on in our own lives.
Are these songs much different from your older work?
As an artist you naturally grow, however the songs are still in the same line as our older work. But due the fact that we have grown as a band our music has grown to.
This was not your first time in a studio. What have you done different this time?
We recorded most of it ourselves this time!
And which studio did you use this time?
We used the home studio of Ronald Landa.
Will this stay an online affair or will there be a possibility to legally download it or even a CD version?
The meaning of this promo CD, is to score a record label! We are ready for this next step! So a CD will be there when a record label signs us. The 3 new songs are listenable but you can not download them.
This is maybe a bit of topic but do blondes have more fun? Because you have changed your hairstyle since the last time I saw you on stage (at the Mix, Uithoorn).
Hahaha, no I don't think blondes have more fun. I like a change from time till time… not always the same look! But I still have as much fun as I had when I had black hair. The only good thing about it, is that my bathroom has a chance to become white again (as it was before I started painting my hair black, 2 years ago).
Links
MySpace *Facebook * Twitter * Google Plus * Site

Interview by Miriam C.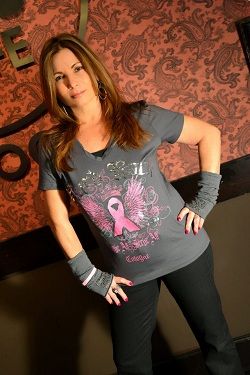 If metal impersonate as a queen the German Doro, instead in the melodic rock/AOR territory the true deal is the US Robin Beck. Known for the uber huge hit single "First Time" in 1988 born from a jingle of a Cola Cola commercial, after 6-years-break from the last album "Livin' on a Dream", Robin do her comeback with her 9th album "The Great Escape" on her own imprint, Her Majesty's Music Room. Want to know more? Continue to read this extensive interview…
Hi Robin, first of all thanks so much for accepting this interview! For me is a real pleasure to host and promote you in my webzine and I thank you for finding time out of your busy schedule to reply this humble questions.
Thank you Miriam I am happy to.
On your official biography, you stated that since you're a little child you wanted to be an artist and when you were 10 yrs old you have written your first lyric. Now, being passed so much time, did still keep it and what you think about it?
This is not a secret lyric. It's a childhood song about love of course… "Key to My Heart" Sort of a country song. I think it was pretty good for a kid.
Despite the fact that you are world famous singer, during your break for raise your daughter Olivia, you have still recorded album as a background singer. From this experience what you have learnt? Any good memory to share with us about that period?
I don't have anything but good memories… and still more coming. My daughter is the light of my life! You do learn from being a mother how to be a parent from your children. If they are happy… then you've done a good job… so I give myself a gold star. I will also say that from having Olivia that I became more conscience of how important school really is… this something I took for granted while I was growing up. I hated school but it's the most important part of our lives to begin with.
Let me get you to the early times of your career, at that time what were your favourite musical acts and are your musical tastes changed now?
Ha… Janis Joplin, Joe Cocker, Aerosmith, Queen, the Beatles, Stevie Nicks, Carol King, Crosby, Stills, Nash, Taylor and Reeves and the Supremes. Just to mention a few.
Your debut top hit single "First Time" in 1988 was a spin off for a Coca Cola commercial, how you got involved in it? Also the video clip was different in EU and in the US, why?
I was chosen to sing "First Time" the jingle… then the song was written and it just flew high by popular demand first in the U.K. – They then did an American Version since Americans don't speak English I guess! LOL It was perfect the way it was first created… then we simply rocked it out for the simple reason that I was noted as rock artist and that's the way they envisioned it for the States.
How was the genesis of your last album "The Great Escape", when you have started to nail down the first lyric?
Hummm… really don't remember specifically. It just came when it came… and out popped the entire album. We worked for about 5 months straight on it.
Your latest studio album was 2006′s "Livin' on a Dream" (now I'm excluding the re-release of "Trouble or Nothing"), why it passed so much time since then?
I was putting together my own label and time was just flying by. I was also managing a band at that time and devoted a lot of attention to them.
How's born the partnership with Tommy Denander and James Christian (that's your husband)?
I met Tommy during a "Radio Active" invite to sing a song… and from there it was a relationship of 3. Me, James and Tommy. We are all very tight. James my husband is in House of Lords. He might be the best producer I've ever worked with. Not just because he's my husband, but because he really gets me and knows better what I can do than even I do sometimes… it's great to have these 2 men by my side.
What's your personal meaning and what do you want to express with the title album "The Great Escape"? Or it's simply related to a lyric present in the album?
For me it's meaning was simply to take a break from life and listen to some great music. But the song is literally about getting away or escaping the trappings of a bad relationship. The title of the album really has nothing to do with the song I'm afraid. I kept it because I just loved the image I had created in my own head. When I'm listening to music that I love… all my cares vanish. That's what I want for my fans.
Two songs that totally hit me are "The One" and "Don't Think He's Ever Coming Home". What are the subject of this lyrics?
You hit the nail on the head with these two songs Ms. Miriam. "The One" is clearly about the love of my life and how to let him in on it. "Don't Think He's Ever Coming Home", is a whole other story… this is an unhappy ending for a girl who tries to keep a man that truly wants to be with his intended. Some girls are just lying to themselves and this song spells it out for them in a most unforgiving light.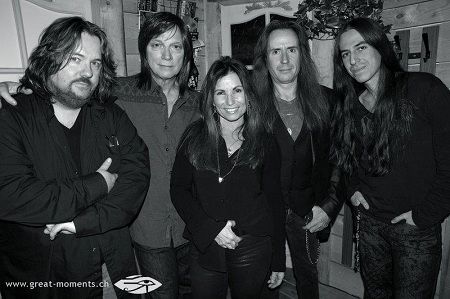 On "That All Depends" you sing with Joe Lynn Turner, how do you feel to realize such a dream? How was standing literally (and singing) beside him?
Ha… that's funny… I've known Joe Lynn Turner and have sung with him for years and years… you'd think I'd be immune'd by now … but he's dreamboat. I've always loved his voice and his way. I can't say enough nice things about Joe Lynn Turner. It was great that he took the time to do this with me. Hopefully we will do another song together in the future.
In February 2009 you founded your label Her Majesty's Music Room, why? I mean you haven't no more faith in the labels?
Yep! That's it in a nutshell. It's a smaller system but much more satisfying. I mean really… working with a label can make you or break you… but working with my own label makes me happy.
The re-recorded release of "Trouble or Nothing" include 4 bonus tracks. If I got it right the songs are original from that session and why at the time weren't included into the album?
No no no…. these songs were not from that time period. They were fresh newly written for the re release of "Trouble or Nothing".
In the 80′s MTV was the leader in broadcasting and promoting AOR bands/singer like you now after 20 years or so we find that internet, with its connections of webzine and sites dedicated to music, is taking the lead. What do you miss of the 80′s from this point of view? And also how much do feel confortable this all this new technology? Have you already notice any pros and cons for your activity?
It's great… no matter what this is how we evolved. For me it's wonderful. I have much more exposure… sometime not the exposure that you want but as they say… all press is good for the artist… good or bad.
Watching your long, stellar career what it is missing is a full concert DVD. Any plans to record it?
Yes… we almost did it at Firefest. But I'm looking to do something that spans my career, not just a rock concert. This takes time but I can assure you not too much longer.
Finally your EU fans have the chance to meet you during your upcoming "Here Comes Trouble Tour" made of 10 dates running thru Germany, UK, Switzerland and Austria. Any project for a full European tour?
I am trying to put that together already. It was only the beginning to start this year after so many years of being missing from the touring circuit. It will take some more time to build up the audience awareness… let's start here. Tell everyone to keep an eye on www.robinbeckrocks.com for coming tour dates in 2013 and Facebook as well.
After this EU tour, what are your next plans and if yes, are you involved in other musical related stuff?
I am in the middle of making a new album right now. We are also discussing new tour for 2013.
Olivia, your daughter is following your artistic footprints, would you mind present her and her songs?
She's amazing and living her dream right now as an actress… but this girl has pipes and she can do anything she wants to. I would be proud to see her live her life and use her talents to make her own dreams a reality.
I've a just a little curiosity to fullfil, you know I'm from Italy and time ago you have recorded a duet with Pupo (that's a real famous songwriter/singer here). Do you mind tell me how's born this collaboration? To me, discovering this was such strange because Pupo doesn't really represent the attitude of a rock star.
Well there's not that much to tell… he reached out to me to do a duet with him and I did. It was fun… and Olivia was only 10 months old at the time so she was in my arms the whole time I was with Pupo singing.
Well, Robin, we're at the end. I really thank you for your time. Please greet your fans and our readers as you like. Really thanks, Miriam.
Please come visit me at my website www.robinbeckrocks.com and on Facebook. I would love to see you there. If I'm in your area please come out and say hello. Watch my website for any details in the coming months. All my love.
Links

Interview by Erwin van Dijk
An interview with Liv Kristine from Leaves' Eyes. This interview is all dedicated to the forthcoming album "Njord".
"Njord" is the third full length Leaves' Eyes album. (the other two were "Lovelorn" and "Vinland Saga").
I am absolutely happy and satisfied with the album. We've never worked this hard before with a production, but we've reached our goal. I would even say, we even went further than we thought was possible, technically seen. It has always been important to me that our sound and art is authentic, i.e. that you can hear from the very first tunes that this is Leaves' Eyes! We also want that our audience really get the feeling of being on a wonderful journey. I feel that our music needs a special well-written and interesting concept which is just as important as the sound, and "Njord" gives you all this.
"Vinland Saga" introduced the Viking elements in Leaves'Eyes. But "Njord" also seems to have some Irish themes, like the songs "Emerald Island" and "Irish Rain" . With "Njord" comes the EP "My Destiny", which contains besides the song "My Destiny" in two versons also an acoustic version of "Scarborough Fair" and two non album tracks.
"My Destiny" is a song you can easily "tune into". It's a good way to introduce the album (out 28.08.), although you will of course have less commercial songs on the record, too. On "My Destiny" is actually an EP, for the price of a single, with four non-album tracks, and one extra album song.

"Vinland Saga" was a concept album. Is "Njord" written with the idea to tell a story or are it twelve individual songs?
The lyrics mainly deal with characters from northern mythology (e.g. "Njord", "Fröya's Theme", "Nine Wave Maidens", "Ragnarok"), or with places and historical happenings (e.g. "Scarborough Fair", "The Battle of Maldon", "Emerald Island","Irish Rain", "Les Champs de Lavande"). This is why I found it necessary to deal with all these different languages. "Vinland Saga" is based on Leif Eirikssons discovery of America, even the EP, "Legend Land", which followed soon thereafter. "Njord" has a much broader concept, travelling through history, and into Nordic mythology. It has always been important to me that our sound and art is authentic, and that our audience really get the feeling of being on a wonderful journey.The lyrics are written in 8 languages (english, middle-high german, old-english, gaelic, norwegian, icelandic, french and one "self-made" linguistic fictional phonetic sequence)… I even sat down to study a bit French to be able to write one French lyric. I did study Old-English and Middle-high German, so it was really nice to be able to use this knowledge. Gaelic is completely new to me, though, but fortunately I found a wonderful person who helped me. "Njord" is an album that demands an expansion in linguistic terms.
This is your third album. What are the differences between "Njord" and "Lovelorn" and "Vinland Saga"?
Our debut "Lovelorn" was very refreshing and a wonderful start for the band, also the press and the audience were surprised. However, you shouldn't forget that we all have a huge experience and knowledge as musicians of Atrocity and former ToT (Theatre of Tragedy) to rely on. This brings Leaves' Eyes a wide step forward, so we were really no newcomers in our genre. Moreover, I really have to say that Atrocity + Liv Kristine is a magic formula! I took my experience from my favourite ToT releases "Velvet Darkness They Fear" and "Aegis" as a basis for Leaves' Eyes music. Our second album "Vinland Saga" was a manifistation of the music of Leaves' Eyes – we had "settled" in the genre gothic metal with female vocals. "Njord" is the perfection of both our 2 former albums. Since the first demo recordings for "Njord" we have been able to achieve goals that we thought back in 2007 after the "Vinland Saga" release would be quite impossible. I am so proud of my band members – "Njord" is a dream coming true, and all the hundreds of sleepless nights were worth it. We all have developed as musicians and technicians and this is experience that is unpayable. "Njord" (producer: my husband Alexander Krull) has a power to it that even is more intense than any previous production I've been part of. Technically, we constantly have new ideas and aims. We have our own studio and therefore we have the opurtunity to specialize in technical tasks concerning album and DVD productions. "Njord" has even a more bombastic but delicate sound that "Vinland Saga", because techniques allows it. We recorded the classical parts in Minsk (Lingua Mortis, supervised by Victor Smolski), we had a complete local choir (Al Dente) singing the choir parts, moreover, a special artist playing solos on special instruments like the uillian pipe and the whistle. All this makes this album a multilayered and highly interesting experience for our listeners, for your ears, hearts and minds. If I should describe "Njord" in four words I would say bombastic, emotional, contrastive, and pure.
Where do you get the inspiration for the songs. Some sources are clear, like Ireland and the Norse mythology but what really inspires you to write a song?
It's first of all my love for my homecountry, the Norwegian Nature, history, my family, the culture – everything I grew up with! I feel that our music needs a special well-written and interesting concept, and I want to travel through time and space. For me history has always been extremely interesting, and even when I left my homecountry Norway and moved to Germany 12 years ago, I had more books about the Vikings with me than clothes and shoes. I have travelled a lot and been able to see a lot of the world. History, languages, and geography has always interested me. Thorsten is the main composer of Leaves' Eyes, he works out his ideas on his guitar. "Irish Rain", however, was an idea I had one early morning. I hurried to the studio and worked out the tunes with him. Sometimes, ideas just appear to my mind, like a complete "song".

And can you tell us something about the songs on "Njord" and "My Destiny"?
We recorded 18 (eighteen!) songs, and all of them are placed on the single "My Destiny" (out now) or the album "Njord" (out late August). Our listeners will get a lot for the money. That's a way for us saying "thankyou" to our fans and friends all over the world. To mention a few examples, "Fröya's Theme" is one of my favourites on the album, too, next to "Irish Rain". "Fröya's Theme" is about eight minutes long, it includes five languages, inclusive two "speaking" parts done by Alex and myself respectively. It tells the story about Fröya, the Goddess of sex with her extreme power of beauty. However, her lover Od leaves her as he has "wandering eyes" for other beautiful women. Fröya travels around and through the worlds in Northern Mythology to find him. Her tears are made of gold and they heavily strike the earth. This song is an epic masterpiece composed by Tosso, our guitarist.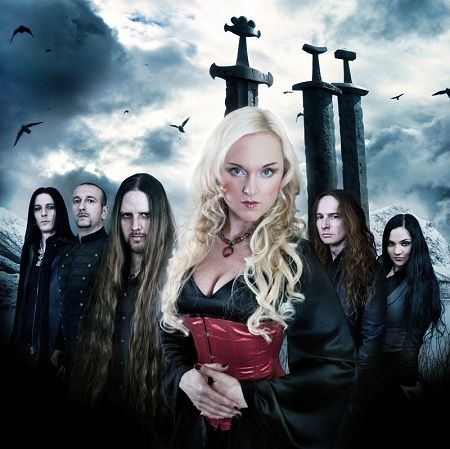 Is "Scarborough Fair" a Simon and Garfunkel cover and if it is, why did you choose this song?
I was an exchange student in the English town Scarborough, and I got very interested in their culture. This song is a folk song sung in the middle ages, also by the Vikings, on a trading market, in Scarborough. I wanted to rewrite the tune into a more heavy version and I am very happy with the result!

"Les Champs de Lavande" is a French title. Lavande means Lavender and the South of France (the Provance) is famous for its wide fields (champs) of lavender.
Can you tell us something about this song and why is it a bonus track?
As we had composed the instruments for this song, I thought about France immediately! I immediately sensed the smell of my favourite flower and scent, lavender! The Provance Lavender was famous already in the Middle Ages. I sat down and tried to put together a Franch lyric, and a friend of mine in France corrected it. This song just had to be about Lavender, and it sounds more authentic and special when it is sung in French.
While recording "Njord" you were supported by The Lingua Mortis Orchestra under the aegis of Victor Smolski and a classical choir. Most people will know Victor Smolski from his work with Rage. And this band does not exactly belongs to the same genre as Leaves'Eyes.
How did you find him and what was his influence on "Njord"?
We met Victor during a Rage/Leaves' Eyes' show in Greece in 2007. We are so happy that he liked the idea of working with us. It adds the important depth and bombastic character in our music.
The Special Edition will have a Drakkar (viking ship). What can we expect?
This is a way for us saying thank you to our fans and friends. Remember, many of them are collectors. I used to collect Madonna and Black Sabbath/Ozzy special merchendise objects.

One of the things that would make a lot of fans happy is a duet between the Espenæs sisters. (think of Beyonce and Solange Knowless doing a duet). Have you ever considered this for "Njord"?
It's not that easy since my sister moved back to Norway a couple of years ago, however, I am planning a duet on our fourth album, which will be a folk-oriented album, planned to be released in summer/fall 2010.

Do you already have some details about an upcoming tour?
Europe in November 2009, USA/Canada December 2009, then Europe and Russia in the beginning of 2010, and another long tour in the Autumn of 2010. Moreover, we have planned an acoustic tour between 28.08.-02.09 (please check the news!). We will play a capella in some of the Media Markets, for free for our fans, and we will have a lot of time to make photos with everybody, have a chat with our fans and friends and write some autographs. I enjoy acoustic tours. It's a nice way to keep up our close relationship with our audience, moreover, we are able to show that we are good musicians and can play live without a huge stage with a huge technical plan behind everything.
And which songs can we expect live?
A set-list still has to be decided on.
Although I think you will be very busy with the promotion of "Njord" this year and 2010 I would like to ask when we can expect a new Atrocity album and a new Liv Kristine solo album?
It's been 3 years since "Enter My Religion", and it's always good to gain a different aspect of your own art after some time has passed by. Right now, I am just about to finish the final recordings of my third solo album, and I see things in a new perspective now. "Enter My Religion" was an expensive production on a major label, however I made the decision in 2008 to release my third solo album on a another label, with a smaller budget, but having more freedom about the whole process, from the very first demo track, until the final master. I am very proud of "Enter My Religion", however I have developed as an artist and technician and my third album will be a huge step forward. I have put my focus on sounding just like myself, recording songs in one take, so you "get" me with everything I am, my character, my emotional level, my breathing, sometimes perhaps perfect, sometimes maybe not. I just want the audience to hear ME, not some singing lady with a pretty nice voice. I want to creep up inside your hearts and senses. I wrote all the songs together with Torsten (guit. Leaves' Eyes), all the lyrics myself, and my husband Alex is the producer of the album. Atrocity are already finishing their next Atrocity feat. Yasmin "Calling the Rain", which will be out end of 2009/beginning of 2010.
Links
MySpace * Facebook * Twitter * Site
Latest Multimedia
Interview by Roberta Ilaria Rossi
Symphonic metal is one of the most fashionable among the music metal genres and surely it has got a very special care, becoming the "landmark" for lots of emerging bands. This surely is the case that concerns the Croatian metal band Downcast Art which recently brought its music around Croatia and now is trying to enlarge the boundaries. Here's what the lovely Jelena revealed to us.
Hi Jelena and welcome to Femme Metal.net. Let's start our interview talking about the project Downcast Art. Would you like to introduce some more detail to our readers?
Of course!

We are a symphonic metal band from Croatia and this year we released our first album called "Forbidden Memories". The band consists of five members, Kristijan (guitar and vocals), Davor (bass guitar), Zdravko (keyboards), Lukas (drums) and me (vocals).
Downcast Art is a Croatian band which makes symphonic and opera metal music. How did this band start?
The band was formed by our keyboard player, Zdravko, in 2005. During the first few years, they played covers of the well-known bands of the genre, but with time, they started to develop their own musical expression. I've been in the band since 2011, so I don't know too much about the years before, only some general stuff the guys told me

The band was formed in 2005, the path was long but before releasing the debut album, something happened in the band: there were a lot of lineup changes, you've released an EP, "Downlight", containing 3 songs only and then, you've found a stable line up. How is going on your musical path at the moment?
Well, I'd say. We have live concerts often enough to promote our debut album. Along with live shows, we are working on some new songs and ideas.
Before your entrance in the band, there was another singer, Iva Grdić. How did you get in touch with the band?
We got in touch via a Croatian forum dealing with music, instruments and playing in bands. I wasn't registered there (I did not know the site even existed), but my best friend decided that I needed a band, and made a post on the forum about a certain classical singer searching for a band, preferably symphonic metal

Zdravko saw the post and contacted me, I listened to their music, liked it, and before you know it, I was having rehearsals with them.
Let's talk about your album. It's called "Forbidden Memories". Could you please tell us how was this record born and could you please say something about the album title?
When I came in the band, the music was finished, only the vocal lines had to be completed. All the instruments were already recorded (only a few things had to be fixed in the studio), so I got the lyrics and the music and started working. In five or six rehearsals (lasting 3 to 5 hours each

), I sketched the vocal lines with the help from the guys (sitting on the floor and saying: "Yes, that's it!!!" or "No, could you do it…. somehow different"

). It was recorded and mastered, and after finishing the booklet, the album was complete. Its title refers to the idea which binds all of the songs together: something lost, perhaps living in the past, where all the things are brighter; our memories of that place and everything in the present that connects us to it.
Did the record obtain good reviews and good feedbacks from medias and fans?
It did, we are still extremely proud of the American review in which we received 11 of 10 points, and other reviews, from Canada and Croatia, where the number never went below 8 of 10. The fans are great, they are mainly getting in touch with us and commenting our music on the band Facebook page after the live shows.
I've noticed that there is a lyric in your mother tongue, called "Miris Prošlosti" and the remaining ones are written in English. What about this choice?
Well, so that we could say there is a symphonic metal song in Croatian.

Just kidding, there was the idea of translating the song to English, but it just sounded better in Croatian, I suppose. The other songs are in English so they are understandable to the fans in the world. And our songwriter likes to write in English

In the track "Miris Prošlosti" we can see and read these lines: "Drugi svijet u tišini vremena, sve, sve što sanjam ja, negdje u meni, Čuva tajnu zvijezde daleke". What do they mean?
Literally translated: "Another world in the silence of time, everything I am dreaming of, somewhere in me, keeps the secret of a faraway star". As you can see, it also has a reference to the past and the secrets it keeps.
"Forbidden Memories" is the song that gives a name to the record and it sees a duet. What could you tell us about this song?
As much as I know about the process of making of that song, it was made to be a "catchy" song

Thematically, it deals with memories defining who you are, which defined you as a person, your individuality.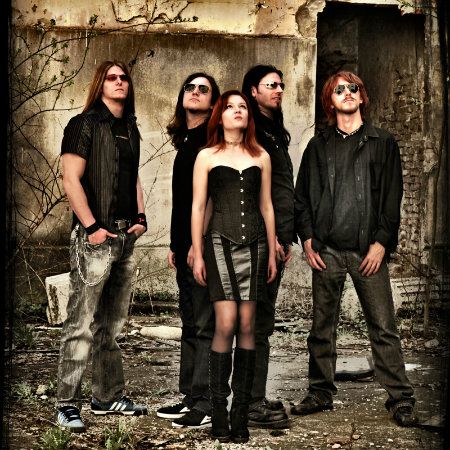 The lyrics of this record are well-written and they show off a very good skill in writing. How does a lyric branded Downcast Art come to life?
The only person writing the lyrics in the band is Zdravko. Since I joined the band after all the lyrics for the first album were written, I can tell you only that, at the moment, we have a great amount of music and ideas for the second album, but the lyrics are kept in secret until the very end.;
If you could pick a song taken from this record to identify the sound of the band at its best, what song would you choose? I would say "Whisper of a Dying Rose"…
Hmm, I'd choose "Home of Silence". It is soft and sad at the beginning, it gives you hope on the chorus and it fully awakes the whole band (and the audience) after the guitar solo.
"Chants from the Deep" is an instrumental track and it fits well on the album. What could you say about this song? Who did compose it?
That song is made to recall the song of the lost captains and sailors of the seabed. A deeper meaning would be that it's a song from the bottom of the heart, pure and untouched by empty words of this world. It was composed by Kristijan and Zdravko.
You mainly are a soprano, what did your adventure in music start?
It started off at the age of 7 at the School of Music in my hometown, where I studied piano and music theory. At the age of 15, I changed my major from piano to classical singing and vocal techniques. After finishing high school and the School of Music, I continued my education on the Faculty of Humanities and Social Sciences in Zagreb, thus completing my formal musical path.
What were your biggest influences?
Classical opera singers had the biggest influence over me and my singing, mainly Maria Callas, Anna Netrebko, Cecilia Bartoli… Their tone and the ability to portray a huge number of completely different characters in the opera inspired me to think, to act and to feel as a protagonist of the songs I'm singing on the stage. It is the most important task of the singer, to be in the song and to pass it on to the audience.
Now that the album has been released, what are your future goals?
In the near future, we would like to perform live as much as possible, especially outside the Croatian border. Also, at the moment, we are trying to improve and fill in our merchandise offer with T-shirts and similar stuff. Later in the future, we are planning to release the next album, of course

What could you say about your fanbase? Are you accepted by the Croatian public?
Pretty much, yes. Croatia is not the country where metal and symphonic metal are popular and well accepted music genres. With that in mind, we are receiving surprisingly positive feedback from many people who aren't even fans of the genre, but still like to listen to our music in the car, or at home relaxing after work, for example

That is a great compliment, if you ask me, to satisfy the needs of the people who aren't used to the sound of metal and operatic voice.
What about the European one?
We still didn't present the material from the album live in Europe, but judging by the reviews and individual feedback we got, the European public might like us

I'm very optimistic.
Will we ever see Downcast Art touring Europe one day?
Oh, I certainly hope so

It will probably be an exhausting and beautiful experience and I can't wait for it to happen!
Ok this was my last question. Thanks for your time Jelena. Do you want to say and share something with our readers and your fans out there?
Thank you for the interview and for your interest in our music! To readers and fans: listen to good music, love and respect each other and visit www.downcastart.com every now and then

Links
MySpace * Facebook * Twitter * Site
6 color styles available:

Style switcher only on this demo version. Theme styles can be changed from Options page.