Browsing articles tagged with " hoogendoorn"
Label : Metal Mind Productions
Review By Tony Cannella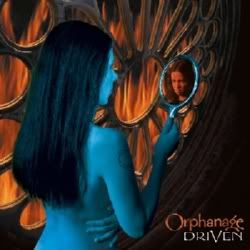 Holland's Orpanage have long been one of the most influential and respected bands in the Dutch gothic metal scene. Unfortunately, the band called it quits in 2005 after releasing 4 widely praised full-length CDs. Their final release "Driven" is considered one of their best by the bands loyal following, now that final piece of work by Orphanage has been re-issued, thanks to the great Polish label Metal Mind Productions. Orphanage is centered around the duel vocals of George Oosthoek who handles the grunt vocals and the angelic vocals of Rosan van der Aa. This is clearly the case as soon as the opening number "The Sign" kicks in. The two vocal styles work well together and the rest of the band adds in their talent as well, painting a complete picture of atmospheric metal. "Black Magic Mirror" continues things with a disarming intro, that is really a surprise for a band such as this before getting heavier and maintaining a consistent pace throughout the duration of this 4-minute song. "Cold" is another strong track, that has almost a psychedelic vibe to it. This one quickly became a favorite and it shows that the band were not adverse to adding different influences to their sound. The 3-minute intro track "Back Gate" is also really cool, it begins and ends with the sound of rain falling and some tribal sounding drums are played and it brings us into "In Slavery" – one of the heavier songs this CD has to offer. There are many strong moments to point out, to name just a few: "Truth or Lies", "Driven" and the closing track "Ender's Game" - which, all things considered is probably an appropriate end to the last CD that this band would record. The whole 14-song opus clocks in at over an hour long, and it is definitely time well spent. After listening to "Driven", it's a shame that Orphanage called it a day when they did, and it is easy to see why they were so influential. "Driven" is a great final statement for the band to make and thanks to Metal Mind for not allowing this great CD to fade into obscurity.
Rating – 85/100
Tracklist
The Sign

Black Magic Mirror

Cold

Prophecies of Fame

Dead Ground

My Master's Master

Back Gate

In Slavery

Truth or Lies

Driven

Infinity

Addiction

Beyond the Fall

Ender's Game
Line Up
Rosan van der Aa – Vocals

George Oosthoek – Grunts and Screams

Guus Eikens – Guitars, Keyboards and Vocals

Lasse Dellbrugge – Synths

Remko van der Spek – Bass and Guitars

Sureel – Drums
6 color styles available:

Style switcher only on this demo version. Theme styles can be changed from Options page.