Browsing articles tagged with " horror"
Label: Bakerteam Records
Review by Tony Cannella
Are you ready for some Horror Metal? That is the name of the new album from Italy's masters of the macabre, Cadaveria, and that is exactly what you get. Actually, "Horror Metal" has been out for about a year, but it has just received the re-issue treatment (dubbed the "UnDead Edition") with a couple of re-mixed versions of songs as an added bonus. This is actually their fourth album but their first since 2007. Cadaveria mixes elements of Gothic metal combined with thrash, death and black metal, stir it up and you get "Horror Metal".
"Horror Metal" (UnDead Edition) is a 60-minute dark, gothic, melodic and often times chaotic whirlwind of an album. The almost 7-minute opening track "Flowers in Fire" sets the tempo and the course "Horror Metal" is about to take. Continue reading »
Interview by Roberta Ilaria Rossi & Miriam C.
Young and talented, with a big desire of doing lots of new things, the Canadian band Mortillery is proud their second album "Origin  of Extinction", a pure thrash old school metal quite inspired by Overkill sound. In occasion of the official release sponsored by Napalm Records, we've got the chance to exchange a few words with the frontwoman of the band, Cara McCutchen, who brought us in a world of powerfull riffs and guitars that spit fire. Here's our chat!
Today our website has the great pleasure to welcome Cara McCutchen from Mortillery. Welcome Cara. How are you doing?

I'm doing awesome! Thanks so much for having me here!
For those who still don't know anything about you, would you like to introduce a little biography of yourself/of the band?
Sure! I am the singer for the band Mortillery from Edmonton, Canada. I started singing in metal bands 10 years ago. It has always been my and Mortillery's intention to play old school thrash metal. Continue reading »
Independent Release
Review by Luisa Mercier
Visioni Gotiche is a dark-horror Italian band that has already released four records and several soundtracks for indie horror movies. "Cancellata del tempo" has been self-released by their own choice and it is not easily labelled. It mixes different genres like gothic metal and ambient with prog and new wave influences. The atmospheres are quite gloomy, thick and lead the listeners into another temporal and spacial dimension that recalls other Italian groups like Jacula.
The album is based on a concept written by the keyboardist Roby Tav. The story tells of a very beautiful girl kidnapped by the local lord who tortures her. She will be helped by a handmaid to find some old magic books and eventually find revenge and her true love. The opener is the title-track played by Andrea Cardellino from doom band Impero delle Ombre that sets the mood of the record. Continue reading »
Label : Note Volanti Edizioni Musicali
Review by Luisa Mercier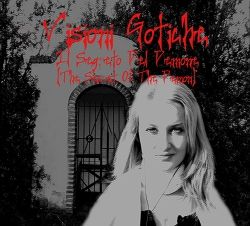 Visioni Gotiche ("Gothic Visions") is an Italian project born in 2007 having as creative aim the composition of dark ambient mixed with electronics and a little bit of gothic metal. In "Il Segreto del Demone" ("The Secret of The Demon"), the music is entwined with a horror short story of the same name, which is contained in the album artwork.
Amazing decadent atmospheres, gothic scenarios and Halloween movies are the main sources of inspiration of this sort of audio-book. In the beginning two CDs should have been released separately, but now they have been released as one double album and some tracks have been rearranged to let Laura's vocals shine throughout it. Claudio Simonetti (composer of most of Dario Argento's movies soundtracks) is at the foundations of their sound and you can hear several different influences: metal, rock, progressive, ambient, horror so it is quite difficult to label it, but the result is very original and female vocals are quite versatile, beautiful and distinctive.  Continue reading »
US Power Metal band In Virtue and Femme Metal Webzine are proud to present exclusively the premiere of "In Service to His Madness", their debut videoclip from the self released album "Embrace the Horror".
Tune into http://www.youtube.com/invirtueofficial to see it at 12 PM PST (9 PM EST) on December 21st, 2012.
Join us at this event @ http://www.facebook.com/events/474438185928354/
http://www.facebook.com/invirtue
http://www.facebook.com/femmemetalwebz
http://www.femmemetalwebzine.net/
6 color styles available:

Style switcher only on this demo version. Theme styles can be changed from Options page.