Browsing articles tagged with " hti"

Interview by Danny Robertson
Come and check out Decadence, the female-fronted thrashers from Stockholm, Sweden. We talk to frontwoman Kitty Saric about the band's history, and the forthcoming new album "Chargepoint".
Who first influenced you to become a vocalist?
That was and still is James Hetfield of Metallica. He has always been my biggest inspiration as a vocalist, guitarist, lyricist and song writer. I'm a great fan of Metallica and that is the band (as for many others!) that got me into Metal. Hetfield's unique style got me into guitar playing at first, and later singing, especially when I started developing my Thrash influenced vocals. Ever since that time, Thrash has always been closest to my heart.
How and when did the band first get together?
I'll try to summarize the (long!) story for you. Finding and founding what later became Decadence all happened quite unexpectedly. It started in Stockholm, Sweden in 2003. By coincidence I found a nameless band looking for a growling vocalist and, being a guitarist and clean Thrash vocalist only at the time, I came to the audition by impulse. My decision to turn to growling is something that still puzzles me but that choice is something I do not regret because it lead me to the beginning of Decadence. The reaction at the audition was very positive and so it all began. Kenneth Lantz often followed me to band practices and after a while he ended up being the session bass player. The rest of the story is too long to be summarized here but as most of you probably know, since that time, I and Kenneth Lantz are the only members left from that original line-up and we have been working with the development of our sound since then as the main song writers. Our current line-up is: (me) Metallic Kitty (extreme vocals), Kenneth Lantz (guitar), Joakim Antman (bass) and Erik Röjås (drums). Here you have some of the story as an introduction at least!
Did it take long for you to get noticed by labels, and a wider audience?
Just before "3rd Stage of Decay" was released for the first time in 2006 (it has been released in three editions in total) I started the work with Decadence' own label HTI Records. Due to that, "3rd Stage of Decay" could be released and classified as a real album and it (and the band itself) also gained the exposure it needed to reach out to other labels and more people. HTI Records licenses Decadence' music to other labels and is our support in everything. In 2007 we were contacted by the Japanese label Spiritual Beast with whom we also cooperate with now with the release of "Chargepoint" on October 14, 2009. So, in 2007 HTI Records and Spiritual Beast joined forces and so the 2nd edition of "3rd Stage of Decay" (with a guest appearance by Chris Astley of Xentrix) was unleashed. Earache Records heard the rumors and soon after that we were on the 2007 new school Thrash compilation "Thrashing Like a Maniac". The next year 2008 followed with Massacre Records hearing about us from Maurice Swinkels (Legion of The Damned) and so the final and 3rd edition of "3rd Stage of Decay" was released worldwide. During these years, we've had a tight underground audience that has been following us ever since the start and that feels really amazing.
How long did it take to write and record "Chargepoint"?
The whole music material was written back in 2007 actually! We planned to have this album released in the fall of 2008 but since the unexpected re-release of "3rd Stage of Decay" by Massacre Records appeared, the release was postponed and we apologize to all our fans who have been waiting since 2006 (!) and our first release of "3rd Stage of Decay" for it. Massacre Records insisted on re-releasing "3rd Stage of Decay" first so we decided to prolong the whole recording part because of all sudden extra-time on our hands. So, we started recording the drums the summer of 2007, took it easy and stretched out with the guitars and bass and finally finished off by recording the vocals in the beginning of 2009. Since Spiritual Beast had its next fitting release period in October it was decided and set during this summer.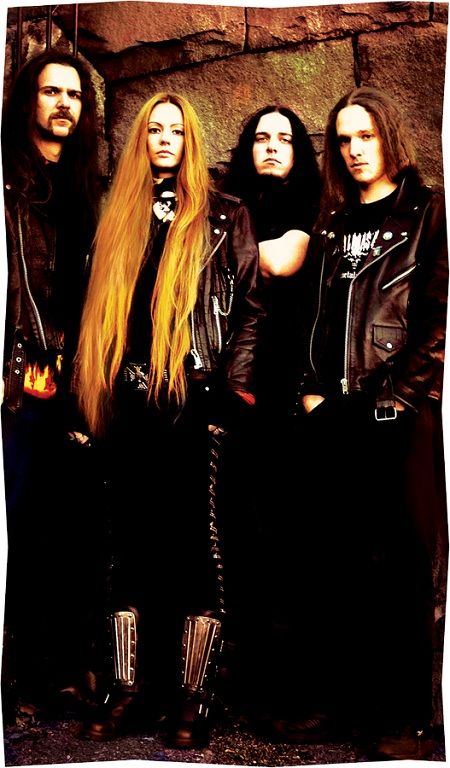 What are the main themes and influences behind the tracks on the new album?
Our influences have not changed during the years! Being the main song writers both I and Kenneth Lantz always have Thrash as our main influence and inspiration in music. In Decadence we're always experimenting with speed, rhythms, sharp vocals and technicality whilst being influenced by bands such as Death, Kreator, Testament, Metallica etc. Talking about the main theme on "Chargepoint" then, I'd describe it with words such as strength, power and intensity. One review called the new tracks and the album as a whole: "charged" – I like that!
You recently shot your first video – how did that go? Will there be more videos in the future?
It sure has been a long road to find the right people to help us out, the right song, the right plot, the right everything to finally put it into action and record our first video. We never wanted to record something rushed just to have a video because in that case our live clips are much more representative and good to watch to see (not only hear) the band behind the music. The whole recording process behind this video was great though and we had lots of fun while recording it as well! I want and hope to have more Decadence videos in the future!
Which track will the video be released for, and when/where can people expect to see it?
The chosen track is still a secret! The video is however planned to be unleashed sometime before the actual release on YouTube to give you all a preview of what there is to expect of "Chargepoint". We chose a track that we feel has lots of Thrash and Melodic Death twisted together in a Melodic Thrash Metal whirl as we like it!
What have been your career high points so far?
That's a hard question because since my life is so entwined with this band, so I have both general band career high points as well as moments that I consider personally memorable, but to mention some general ones I'd say Decadence's first big (insane and self-financed) show in Stockholm, Sweden 2005, that was our first big breakthrough that will forever remain in my memory and also all behind the scene work that was put into making that show possible. It was also a high point when we began our cooperation with Spiritual Beast/Universal in 2007 that could help us continue growing on something that has always been an entirely lonely process.
Who are your favourite current bands? Anyone you'd like to recommend?
Good old 80's Bay Area Thrash…always! To mention a bunch of bands that I recommend in general I can say: Metallica, Death, Kreator, Testament, Megadeth, Volbeat, Vader, Cannibal Corpse, Behemoth, Annihilator, Tankard, Sodom, Pantera, Slayer, Exodus and so on. As you can see, the list mostly consists of various Thrash Metal bands with some exceptions.
Whereabouts will you be touring in coming months?
The schedule for our upcoming shows is not complete yet so the best way to stay updated is through our official website www.decadence.se for news and upcoming events. Decadence works without an agency so to be able to keep up I take bigger things like this to plan one at a time – video, album, gigs! Good strategy isn't it!
Any last messages for people?
Most of you readers out there already know what to expect of my final line! I'll end it by saying something that I say quite often to myself: If there's a will, there's a way.
Links
MySpace * Facebook * Twitter * Site
Latest Multimedia
Label: HTI Records/Massacre Records
Review by Lithium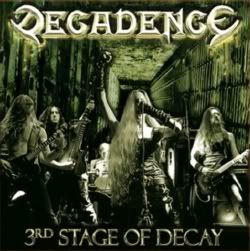 Well, it's about damn time this band got a decent label behind them. Swedish band Decadence, founded in Stockholm in 2003 by female vocalist / band manager Kitty Saric (a.k.a. Metallic Kitty) have already released three full-length albums and one demo and are currently in the process of recording their fourth full-length. While recording is underway, their new label – the German metal purveyors Massacre Records- have wisely decided to re-release their 2006 album "3rd Stage Of Decay", giving the group a much wider distribution than they had previously enjoyed. And I for one am thrilled because – to voice my professionally unprofessional opinion - Decadence kicks ass. Now when you take a quick glance at a photo of the group – angry-looking musicians, long-haired blond female vocalist with a skull-shaped ring and an 'I'm going to rip your face off and eat it when you aren't expecting it' expression – and associate Sweden with them, one name will immediately pop into your head: Arch Enemy. If you go in expecting a clone of Angela and the Amotts, though, you're in for a surprise. Oh, yes, there are nods to AE here and there, particularly in the distinctive Swedish-metal melodic breaks, but rather than melodic death metal, Decadence focuses on what they like to call melodic thrash. From the first few seconds of opening cut "Corrosion", the band's influences are clearly on display – razor-sharp hook-laden thrash riffage blended with some technical harmony passages, furious drumming, and snarling, spitting, just plain vicious vocals from Metallic Kitty instantly call to mind any number of the masters of the style, but most prominently two of the titans of German thrash – the mighty Kreator and, to a lesser extent, Destruction. There are nods to the Bay Area bands and a few references to groups like Death and Vader but the German thrash influence, to my ears anyway, sounds much stronger. Decadence also reminds me a great deal of another unheralded yet exceptional Kreator-inspired thrash group, the Japanese buzzsaw known as King's Evil. Production is sharp and clear- guitars, vocals, even bass all sound well-defined. Perhaps in a couple places the kick drums sound a bit too obviously triggered, but for the most part, it avoids most of the pitfalls of modern over-production. Equally good when blazing along at full throttle like on the explosive "Claustrophobia" and when slowing down to a more melodic yet still hammeringly-heavy crunch like on the title track or personal brutal favorite "Settle the Score", the album doesn't have a single weak point. Just make sure your neck is in fairly good shape before listening because you're bound to give yourself a case of whiplash. At just under 35 minutes total, the album doesn't wear out its welcome, either, providing just enough of a dose of angry energy to keep you hooked without hanging around long enough to make the experience seem exhausting. Interestingly enough, Metallic Kitty's vocals add nicely to the 'not just more of the same' factor, for in the field of thrash where all too often the vocals tend to be montonous, she manages to infuse plenty of variety into her style, ranging from a Schmier-like higher-pitch howl on the brilliant "Temple of the Absurd" to a Mille Petrozza-esque snarl to a few gutteral deathgrowls, but always keeping plenty of evocative fury in the delivery. No, obviously, Decadence isn't a band for everybody, but if you like classic thrash with an injection of Swedish melody, you absolutely cannot go wrong with "3rd Stage Of Decay". If you weren't able to find it when it first came around in 2006, you've got a second chance thanks to Massacre now…don't waste it!
Rating – 85/100
Tracklist
Corrosion

Claustrophobia

3rd Stage of Decay


The Theatre of Absurd

Settle the Score

Sculpture

Invert


Endgame
Line Up
Kitty Saric – Extreme Vocals

Kenneth Lantz – Guitar

Joakim Antman – Bass

Erik Röjås – Drums
Links
6 color styles available:

Style switcher only on this demo version. Theme styles can be changed from Options page.