Browsing articles tagged with " I"
Label: Adversum
Review by Luisa Mercier
Alexander Nordgaren, already member of the Norwegian black-avant-garde metal band Fleurety, is the mind behind the project I Left the Planet. He has been joined by other Fleurety collaborator : Ayna Beate Johansen on vocals, Per Amund Solberg on bass and Mari Solberg on saxophone. The present release is a 3-track EP which might be compared to the main project Fleurety because the members are always the same, but has its own features of course. There are no black metal hints, nor the electronic which can be found in Fleurety. The avantgarde of I Left the Planet is more leaning on the jazzy/prog side. You can hear it starting from the opener "Diamond. Hazard", a short track with chubby riffs and a long instrumental break enriched by the saxophone played by Mari. It is a nice mix of metal and jazz made even more effective by the weird, but versatile vocals of Ayna. Continue reading »
Independent Release
Review by Tony Cannella
The Los Angeles, California based Avant-Garde Progressive metal band Phavian released their debut in 2009, followed by the previously reviewed "Foreword" EP in 2011, now these musical wizards return with their sophomore full-length album "Meridian I". For a prog release the album last only 37-minutes and features 6-songs. I liked the previous EP, maybe a tad more than this one, but "Meridian I" displays some serious musicality and shouldn't be dismissed.
The band is only too eager to show off their musical chops like in the heavy, pounding instrumental opener "Slate". Phavian also plays with various tempos as the next track "Cobalt and Crimson" demonstrates with its slow, heavy and dreamy pacing, and also the introduction the clean vocals of Elizabeth Matson. Continue reading »
Label : Twilight Zone Records
Review by Tony Cannella
The Rain I Bleed is a fantastic symphonic power metal band hailing from Greece. Their debut album is called "Narcissist" and features guest appearances by Jeff Loomis from Nevermore and Jonas Kjellgrin from Scar Symmetry. But really, those guest appearances are just icing on the cake, the real star here is vocalist Mina and some seriously strong material.
The slow, grinding and heavy riff-age of the opening track "The Utter Me" begins this 39-minute disc. Lead vocalist Mina has an Amy Lee-esque vocal style that really drives home the melodicism of the songs on "Narcissist". "The Day After Tomorrow" is next and it picks up the tempo and the energy, before changing tempos a number of times throughout the song. Continue reading »
Label : SPV
Review by Tony Cannella
The Swedish band You Say France and I Whistle are as unique as their name. To call them metal definitely a stretch – I really don't see it at all. You Say France… are an eclectic band that is for sure. Their songs have a quirky sense of humor and musically they are a mix of alternative, ska and get this… Polka (they have an accordion player for heaven's sake).
You Say France's… debut is called "Angry Men" and from the opener of the first track you realize that there is something unusual about this band. The band utilizes both male and female vocals and it is easy to see that they don't take themselves too seriously, obviously they take their music seriously but some of their lyrics have an eccentric sense of humor. Continue reading »
Interview by Roberta Ilaria Rossi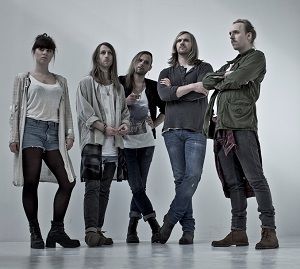 Indie pop music always has been a bit undervalued but it hides lots of great new acts most of the time. This is the case of the Swedish band You Say France and I Whistle, that already got the chance to perform at the Fashion Week in Milan and that got a bunch of surprises. Here you can find what the lead singer Ida Hedene said to us!
Today FM has the pleasure of having Ida Hedene from You say France. Welcome Ida.
Thanks, nice to be here.
So, let's start the chat talking about your band. It's a Swedish indie-pop band called You Say France and I Whistle. Would you like to introduce us the biography of the band and how was this project born?
The band was born out of the frustration to be cool. All the bands around us were really cool. We more wanted to release joy. So all become to be spreading joy. Continue reading »
6 color styles available:

Style switcher only on this demo version. Theme styles can be changed from Options page.