Browsing articles tagged with " ii"
Independent Release
Review by Tony Cannella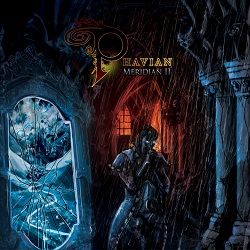 The progressive/avant-garde metal band Phavian returns with their third album "Meridian II". The band first came on the radar in 2009 with their debut "Kiena". After releasing an EP ("Foreword") in 2011, they released the epic "Meridian I" a few months later and have now released the follow-up.
The acoustic, melancholy of "Adam's Ale" begins the 6-song, 39-minute album on a beautiful note. Lead vocalist Elizabeth Matson shows what a diverse singing style she has and fits in perfectly with the music. The opening song clocks in at almost 3-minutes and is followed by two 8-minute tracks. "Purl" is next and is a nice mid-paced song, with tempo changes that goes from heavier, guitar driven and back to the acoustic style of the first song – in fact, it is almost like an extension of the opening number. Continue reading »
Interview by Alessandra Cognetta
If you've never heard about them, this is a good chance to get to know more about Sabbath Assembly, a daring musical project that focuses its works on the hymns and texts of the Process Church (which we're talking about right below). Their second album "Ye Are Gods" has just been released by Svart Recods and Ajna Offensive and we had the privilege to speak with mastermind Dave "Christian" Nuss and vocalist Jamie Myers about the new album and much, much more.
Hello and welcome to Femme Metal! It's a pleasure to have you both here. Sabbath Assembly's upcoming album "Ye Are Gods" will be released in a few days, how are you and how do you feel during such an important phase?
Jamie: Terribly excited!
Dave: We are excited and grateful for the opportunity to share this music with the world.
How would you describe "Ye Are Gods" to someone who still hasn't had the chance to listen to it?
Dave: "Ye Are Gods" presents hymns and liturgical text of the Process Church of the Final Judgment, a religious movement that began in the UK in the 1960′s. These are prayers and praise songs to the four major deities in Western religion: Christ, Satan, Lucifer and Jehovah. The album brings the listener through a cycle of spiritual death and resurrection.
There are a lot of guests on the album, with Genesis P-Orridge voicing the Sacrifist, Eyving Kang playing viola on "Declaration of Gods" and Imaad Wasif delivering a stunning performance on "We Give Our Lives". How were these collaborations born?
Dave: The project seems to attract a wide range of occult thinkers and performers, and we welcome this opportunity to bring many voices to the recordings. Genesis came on board via Feral House Books, who supported our first album and subsequently recommended Gen to the project. Imaad was part of the very first incarnation of Sabbath Assembly and was recommended by the publisher of Timothy Wyllie's book about the Process, to be discussed further below.
Jamie, let's talk a bit about your involvement with the new album. What was your approach on Sabbath Assembly's music (previous works included), and how much did you participate in the creation process?
Jamie: When Dave first approached me about the project we had many discussions about which direction to take the new material in. He was extremely open to new ideas and graciously allowed me the room to explore the music in my own way. Especially when it came to reinterpreting the hymns from a vocal standpoint. It was important to me that I approach the melodies and harmonies with a level of creativity that satisfied me, while still maintaining the authenticity of the original hymns. Dave and I seemed to bounce ideas off of one another with a certain amount of ease and I was appreciative of the freedom to experiment with "Ye are Gods". Nothing felt overly planned. There was good chemistry and the spontaneity just flowed.
It almost seems like you recorded the album as one whole piece, I admit I had to check a few times to see what track I was listening to. Was it in your plans to give the album this sense of, if I may say so, "unity" (integrity?), or was it a natural development of the writing process?
Dave: The album follows the structure and format of the Process' "Sabbath Assembly" liturgy. Our task was to blend together text and hymn in such a way that a rock album was made, rather than simply a document of a Church recording. We tried this more documentarian approach at first, and the results fell flat. Our hope is that the story of the liturgy is well-conveyed through the final result of weaving prayers and hymns into and through each other. The credit for the narrative flow must go to the writers of the Mass.
What drew you towards the Process Church in the first place? How did you find out about it and why did it catch your interest to the point that you decided to base your musical production on it?
Dave: In Timothy Wyllie's book "LOVE SEX FEAR DEATH", there are several reproductions of sheet music in with the photos and propaganda of the Church. These immediately caught my eye, and in particular one called, "Christ and Satan Joined in Unity." For some years I had been light-heartedly referring to myself as a 'Christian Satanist' — I just felt I could sympathize with both sides — and here was a hymn that was singing about this exact concept. It was a great moment of synchronicity; and thus a plan was hatched to bring these hymns into the world.
Your music is (please, correct me if I'm wrong) at present the only recorded version available of the hymns. Do you consider this a burden, a responsibility, or a pleasure, being able to spread Processean theology?
Dave: These are the only recordings of the hymns, and we do feel a great honor and responsibility in bringing them into the world. We've had many discussions in the arranging process about the question of authenticity. In the final analysis, Sabbath Assembly are interpreters, not historians. On the first album we printed the sheet music for two hymns in the cd booklet of the EU tour version, and on this album we print sheet music for 8 hymns, in both the LP and CD. Part of the intention behind this is to express that Sabbath Assembly does not hold any exclusive right on singing and recording this music; and others, should they feel inspired, can also participate in this movement. This is one reason we try to keep the focus of Sabbath Assembly as much as possible away from the personalities of the band; it's the message that's important, not the members.
The song "In The Time of Abaddon II" features words from the "Discourse of Abaddon" by Timothy I of Alexandria (Bishop of Alexandria between 378 and 384) and is the first track from "Ye Are Gods" to get a – very suggestive – music video. Why did you choose to implement part of this scroll and how is it linked to the Processean main theme of the album?
Dave: The first album has a song called "In the Time of Abaddon", so in the wake of performing that tune we embarked on some research into the myth and story Abaddon, the Angel of Death, and discovered the "Discourse". In terms of the album sequence, the song follows the hymn "Christ, You Bring the End", for Abaddon is the creature you meet at your "End"; he frightens your corpse with his hideous appearance so that you willingly give your soul to God. "Abaddon II" is actually not a Processean hymn but one we wrote ourselves because we wanted a moment with a particularly dark feel, and honestly most of the Process hymns are fairly joyful. On a deeper level, the "Discourse" presents an ambiguous portrayal of Abaddon and his interaction with Jehovah that leaves the reader wondering who's actually the "evil" one in the story. This moral complexity of what is "evil" and what is "good" also fits well with Processean ideas.
Jamie, what brought you to Sabbath Assembly? You performed with Hammers of Misfortune and Wolves in the Throne Room before joining forces with Dave, how would you describe these three phases of your career?
Jamie: I started out in music like many of my peers. I tagged along with my older sibling to a ton of metal shows and spent a lot of my youth going to DIY shows and playing in punk/hardcore bands. All the while, seeking out and listening to any interesting bit of music I could find. I would scour the dusty record bins at second hand stores for anything metal, punk, deathrock, even old country. It didn't stop there either, I made it my mission to seek out every prog rock gem I could get my hands on. So when the offer to play bass and sing for Hammers was laid on the table I snatched it up. I couldn't pass up the opportunity to play music that was influenced by some of my favorite musical genres. The level of musicianship that the members of Hammers had was unlike any other project I had been a part of. It really pushed me to better myself as a bass player and vocalist. My involvement with Wolves followed some shows that Hammers had played with them. I had a strong connection with the Weaver brothers and could tell that those guys were on the brink of something great. So when they asked me to work with them I happily obliged. In a round about way, performances with those two bands are what led to my involvement with Sabbath Assembly. Dave and I were familiar with each other's music and had come from similar backgrounds so it wasn't a stretch for the two of us to collaborate.
Timothy Wyllie (an original Process Church member) is featured on "Transcendence", his voice delivering words from "Gods on War" by Process Church founder Robert DeGrimston. Why did you decide to seek him out and what where his thoughts on Sabbath Assembly?
Dave: For the album sequence we needed a moment following the apocalyptic "Abaddon" to bridge us into the redemptive tale that is the last track, "The Love of the Gods". Timothy's homily about "the new beginning" that follows every death is absolutely inspiring. He has been a part of Sabbath Assembly since the beginning of the band, actually, as he and I and his book publisher, Jodi Willie, hatched the idea of the project together at a Book Expo in NYC that presented his book about the Process. Since then he has been a great support.
Have you ever received any particular or unusual critics or comments regarding your music?
Dave: We saw recently that a critic tore apart the last track on our album, "Love of the Gods" because of the positive vibes. It is important for people to know that while the Process did dress in black and preach about the Apocalypse, they also spoke with great joy of the inevitable reconciliation that awaits those who can unify good and evil in their lives — the Phoenix rising from the ashes. In some circles it's more acceptable to sing about death, and in others it's more acceptable to sing about life; Sabbath Assembly needs to do both.
Dave, I've read that playing drums and listening to rock music caused you some troubles in the past, to use an euphemism. It's no secret that religion isn't very fond of metal music. I'm Catholic and live in Italy, and I'd be redundant if I described the poor situation we're in, "metal-wise". Do you think there is a way to reach a sort of reconciliation, or maybe there's already some form of mutual understanding and we just can't see it (because having something to whine about is more entertaining)?
Dave: I really feel that what the Process teaches is a gateway for the future of Metal. We passed through the Satanic thrash of the 80s and the Church-burning black metal of the 90s. Karmically these steps needed to happen because of the history of the Christian Church and the repressive and destructive steps it took to control the darkness. Darkness of course can't be controlled or repressed; it is always there, even if you can't feel it for one moment it is waiting to resurface. So repressing is not the key as much as managing. In this regard, an explosive Satanic Weremacht may not be what the world needs today as much as a more balanced approach. I don't mean that stylistically music needs to become as tonal and folky as Sabbath Assembly at all, I just mean that thematically bands could potentially work more with the idea of balance. While the metal scene seems to be accepting of bands like us, we can imagine that — MAYBE — in about 1000 years, the Catholic Church will begin to acknowledge the wisdom in this approach.
What can we expect from Sabbath Assembly in the future? Will you still draw inspirations from the Process Church or do you intend to explore new paths?
Dave: There are still many more hymns and texts to explore within the Process Church, so as of now the plan is to continue sharing the depths of their theology as it is revealed to us over time.
That's it! Thank you both for taking the time to answer our questions. This is the "write whatever you want" space, so feel free to leave a message to fans and readers. We hope to see you soon on the road!
Dave & Jamie: Yes – see you on tour in Spring 2013!
Links
Latest Multimedia
Interview by Miriam C.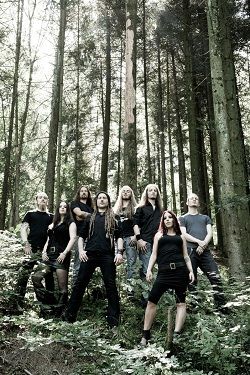 For the second time we give space to one of the last metal sensation of these years : Eluveitie. We asked to the singers and instruments players Chringel Glanzmann & Anna Murphy some news about their recent new album "Helvetios" and his concept behind. Enjoy!
Hi Chrigel and Anna, how are you?? I hope all allright!!! And thanks for reply at our questions!
Anna: Hey there! Fine, thank you. And that's no problem, thank you for the interview.
Ok, let's get delve into the brand new album "Helvetios". How was the genesis of this album, when you have started to compose it?
Chrigel: The idea of doing a concept album about the so-called gaulish wars we had quite a while ago. Somewhen in summer 2010 I started working on the concept for the album. I started composing the single songs somewhen in winter 2010, but most of the songs actually emerged in spring/summer 2011 though. I worked closely together with our guitar player Ivo. He's an amazing composer of awesome riffs.
First of all what's means the word "Helvetios" and is related to the lyrics inside the album?
Chrigel: "Helvetios" is basically the name of the celtic tribe that inherited the area of todays Switzerland: The Helvetians. The album tells the story of the gaulish wars – from the Helvetians perspective.
How's recording an album with a great legend like Tommy Vetterli? Is like a mentor, a friend or a little despotic (XD I'm joking now hahaha) ?
Anna : If somebody would have told me 7 years ago that I'd be talking to Tommy Vetterli on the phone on a regular basis I would have freaked out, haha. I've always been a huge Coroner fan so I was thrilled and a little nervous at first to record an album with him. We were quite overwhelmed by his perfectionism, the guy has insanely good ears and you can imagine that that can create quite a problem for him when dealing with tons of folk instruments that simply aren't perfectly in tune all the time. But soon enough we could work together really well and we got to know him as one of the nicest and funniest guys we've ever met. We're still good friends and spent some fun times on the 70'000 tons of metal cruise together. And more importantly, "Helvetios" is our best sounding album, I'm sure we will be faithful to Tommy for a while!
I really liked the historical in-depth explanation that you have published on Facebook and get me to assumethat "Helvetios" is a concept because I've seen quite a connection between the 2 lyrics. Who were the Helvetians and firstly when you have decided to focus on these topic? Also are a lot of historical infos that you have provided, where did you got it? You should have an encyclopaedia at home!
Anna: "Helvetios" tells the harrowing chronic of the Gaulish war. But it's not just a chronological account of this terrible war, the album tells the story from the viewpoint of the Helvetians, a Celtic tribe. This wasn't a very simple task, since history is mostly written by those who triumphed in war which in this case was the Roman empire, Gaius Julius Caesar to be exact. Most of what we know about the Gaulish war nowadays stems from Caesar's transcripts and that these do not convey the full truth is pretty obvious and also confirmed by historians. His scripture "De Bello Gallico" is political propaganda for his benefit to a great extent in which home and family defending Gauls become "belligerent barbarians" and sheer genocide over Gaulish tribes become "glorious battles" that were fought by Roman legions "heroically to protect the Roman people." So you can see it's not an easy undertaking to portray the Gaulish war as Helvetians (Gauls) would have. We still tried and cooperated with scientists to question historiography and let historical and archeological findings influence us in writing the album. But we also just let simple emotions and feelings speak by imagining what it really must have been like back then.
I'm getting so really curious about the various goddess and god workshipped by the Helvetians. Excluding Epona, who totally hit me, are you able to give us more cultural insights about this population?
Chrigel: First of all we have to face the fact that we don't know too much about the Celts religions today. All we can base on are historical literature on one hand (which is partly very vague) and archeological evidence on the other hand. The existence of diverse gods (such as Epona) is documented by the latter. All across Gaul there were small Epona temples found. Regarding this goddess there's also one note in historical literature, stating that there were usually fresh cut roses or rose petals offered to Epona in those little temples (that's also where the song title comes from, btw).
According to Facebook – "Helvetios is a concept album about the gaulish war (58-50 B.C.), the story of the war being told in a chronological timeline." – can you, somehow, explain the chronological timeline referring to the songs titles'?
Chrigel: To be honest, I seriously think that this would break the mold of an interview – it would be a bit too much (unless you're planning to publish an 8 page Eluveitie feature, haha

). But yeah, the story of the gaulish war is actually well documented and publicly accessible. So, just check a good scientifical book on the gaulish wars. If you're familiar the story of the gaulish wars, the song titles will make a lot of sense.

Talking instead about the cover album is really simple, white and black a badge. What's stands for? Who representing? And why opt for so simply cover? (You know, that badge remembers me a lot the Aurum from the 1984′s "The Neverending Story" film, never watched it?)
Chrigel: Haha, yeah I've seen the movie, when I was a kid. Well, the album cover just shows a traditional helvetic ornament, which has been found through archeological excavations (it was chased in a golden fibula). So, it basically represents the celtic tribe of the Helvetians. The black, simple cover forms kind of a "book cover", you know. The inside of the (btw quite extended) booklet pretty much elaborated. The idea behind the album artwork was to create something like a volume of art photography. You know, to create pictures as they would have occurred if a gifted art photographer – such as Andre Kertesz or Henri Cartier-Bresson – would have been there, 2000 years ago, and documented the events of the gaulish wars photographically.
Now for Anna only, which are the vocal part that you have enjoyed recording the most on the latest Eluveitie album? Also, not so time ago, you have joined Nucleus Torn, how happened and how you'll manage it?
Anna: That's a difficult question, I enjoyed everything of course. But in a different way, maybe. "A Rose for Epona" is probably the most difficult (and high as f***) thing I've ever undertaken, so my singing was taken one step further just by recording this song I'd say. "The Siege" is something completely new which was a lot of fun, but made me lose my voice completely for two days, haha. I guess I still enjoyed "Alesia" the most though, because I probably improvised more than half of my parts in the studio and Chrigel and I were still working on arrangements right before recording them… I really like doing things spontaneously. Yeah, Fredy asked me quite a long time ago if I'd like to do some guest vocals on his new album. We noticed that we work together very well and have similar tastes, so it came naturally that I joined as an official member. We're going to compose new stuff together very soon and I'm looking forward to it! I'll manage somehow, of course Eluveitie is Nr. 1, but that doesn't mean I can't be creative with other projects, I just don't have all the time in the world.
Chrigel, running down the list of the line-up and the instrument played I notice that you're playing the gaita too. I've never heard of it, can you explain its peculiarities?
Chrigel: Hmmm, check: http://en.wikipedia.org/wiki/Galician_gaita

The gaita is just a bagpipe. We're using diverse kinds of bagpipes in our music and among others also the galician gaita. It's a rather simple bagpipe. But really love it's sound and also the way it can be played (it allows much more "emotional" expression than a scottish bagpipe for example).
The band started as a merely studio project, Chrigel, when have you "understood" that Eluveitie was evolving into a proper live metal band?
Chrigel: To be honest – the only reason I formed Eluveitie as a mere studio project at first, was because I couldn't find dedicated fix members for a band back then. You know, back then the combination of folkmusic and metal was not common at all, there was no folk metal scene or something like that. It was new, unknown and most people considered it a pretty weird, crazy and pointless idea. But yeah, actually it has always been my wish and idea of have Eluveitie as a proper live band – which was possible later then, fortunately.

In your opinion(s) where lies the differences between "Everything Remains as It Never Was" and "Helvetios"? What is the step towards a musical evolution that you have accomplished on this last album?
Anna: I don't know Chrigel's opinion on this one, but I would never think about differences between albums. We just write music, do what we feel sounds good and if it sounds different from the last album, well so what? We don't care or think about these things. At least I don't, haha. I mean, our music has always been very diverse, though still creating a solid entity. That's what Eluveitie is.
Will be a an "Evocation II" in the near future?
Chrigel: There will be "Evocation II" for sure. But I can't say if it will come in near future or not (well, regarding the fact that we're just about to release a full studio album and thus we just started a world tour that will keep us on the road for at least 12 months, it's actually not very likely that "Evocation II" will happen in NEAR future

).
Anna, can you talk more about ThruByRed and Fräkmündt I must presume that are some other bands beside Eluveitie and Nucleus Torn. And by the way congratulations for being so diverse in your tastes, for being so really young (me and you we have tha same age hahaha) you rock.
Anna: Hey cool that you checked out my other projects, thanks! Well, Fräkmündt is my other band. It's Swiss traditional folk music, but still has a rather dark, atmospheric and sometimes even modern touch to it. We're all really good friends and do exactly what our music sounds like, we hike in the mountains for hours or days and then go get wasted somewhere and talk for hours from philosophical debates to complete and utter nonsense. I play the hurdy-gurdy, flute and acoustic bass, do some vocals and composing. ThruByRed started shortly after I joined Fräkmündt. Christoph Ziegler (who is also in Fräkmündt and apart from that the man behind Vinterriket, Atomtrakt, Nebelkorona etc.) and I really hit it off when we got to know each other and pretty much immediately decided to start an electronic project together. The plan was for it to just sound completely weird and have all sorts of musical elements and confusing lyrics in it. I think we managed pretty well, ThruByRed was born!
Well, guys I think we're at the end do you have any last consideration about your next projects?
Anna: We're touring our asses off this year to promote "Helvetios", that's project Nr. 1! Then, I guess we'll see what's next.
Chrigel: Yeah… couldn't add anything to that.

Just greet as you want your fans and our readers. Thanks so really much for everything! Hugs, Miriam x
Anna: Cheers to our fans and readers! You guys rock! And thank you Miriam for the cool interview and your interest!
Chrigel: Yep! Thanks! And see you on the road! Cheers
Credit Photos
Photos by Manuel Vargas
Links
MySpace * Facebook * Twitter * Site
Latest Multimedia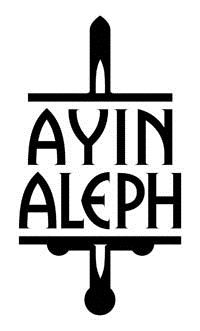 Interview by Ed MacLaren
Every once in a while an artist comes along that defies description, challenges convention and polarizes the listening public – like all great musicians should. Ayin Aleph's singular combination of metal, goth, and the classical culminates in a unique musical viewpoint that is at the same time attractive and repulsive. Her first album, "Ayin Aleph I", goes for the emotional jugular in full metal splendor while her recent "Ayin Aleph II" re-interprets much of the album in a more classically-based but equally chaotic manner. Recently, Femme Metal got a peek inside the fertile mind and imagination of Ayin Aleph.
It's been two years since "Ayin Aleph I" and you've recently followed it up with "Ayin Aleph II" – an acoustic album of sorts – with piano and harpsichord versions of the tracks on your first album. What was the genesis of this idea?
I had a few ideas. Firstly, I wanted to show that metal music can sound in a grandiose and immense way on a classical instrument without the electric effect (saturation and distortion) but of course in another sounding aspect and in another expressivity type. Secondly, I wanted to enlighten all the tracks played by the instruments of the metal band. (You know clearly that with distortion and saturation it's hard to hear clearly all the precise shapes of the melody.) My piano parts are playing the guitar and bass parts and sometimes even the pictures of some drums parts (percussive piano). Thirdly, I gathered all the choirs and songs into a monolith in order that it sounds like an drawing of a mini metal opera with an evolution of emotions that is the only topic: that means that this allegoric sense starts with the big choir and first song (the smallest in terms of sound effect) then the second song becomes bigger and more developed in terms of arrangement. All that evolves into a culmination and ends with a "soft death" of divino-diabolical emotions and with regrets about the future.
"Ayin Aleph I" is an elaborate album with layers and layers of densely structured harmonies and melodies. While "Ayin Aleph II" is not as intense, there is still a chaotic element that threads though much of the music on both albums. At the same time it feels natural and integrated. How does your music evolve from concept to completion?
It evolves like each suffering: at the beginning it is a shock because of something new that goes through your existence spontaneously like a bullet; the "swimming" period in some spheres with the hopes to find the source of that; and the tragedy of despair and love into eternity. All that is like inside life: of course it is highly intensive. Even if the musical period is less intensive, this strength is hidden simply in the depth in order to have its blast just after.
You see an affinity between metal, opera and baroque chamber music. What gave you the idea to integrate these musical forms and how did you know that it could be done so successfully?
I do everything myself on the level of inspiration. All the elements and musical norms are gathered between each other alone, like my music is asking for it. I do like it asks without digging into an analysis of the musical form or style. I am sure that all music cannot be "from" someone, even from its creator. I think that each creator is only a workman of inspiration that is coming down on behalf of Heaven.
With that said, "Ayin Aleph II" focuses more on the acoustic side of your music – "Ayin Aleph unplugged" so to speak. Your vocals are brought to the front and the music is softer while retaining its distinctive edge. If "Ayin Aleph I" was made for the avant-garde metal heads out there, who is the audience for "Ayin Aleph II"?
A much larger public. Because the sonority of metal belongs only to metal and the hard rock public. For the rest of the people this kind of sonority is not possible. I did this record like a transcription of my metal music. For me, in music, the first and last thing is melody. If someone doesn't accept the saturation or distortion, I can easily do without it which means denude my music and show it to the public that hates metal or rock with all the ingredients that are composing my metal cake. My metal public like this album no less than the first one. I also enlarged my public with the gothic-classical public and some jazz fans.
The trill in your voice gives you one of the most recognizable voices in metal. It can morph from a sultry whisper to a shrill cry instantly. There is such conviction and versatility in your vocals and you maximize the emotional impact on every track. How did you develop such a unique vocal delivery? Does it augment your music in a way that traditional operatic vocals wouldn't?
Of course, I don't sing in an operatic way except the very sharp notes where it is not possible to sing with my natural voice. In sharp sonority, if you don't sing with the head voice it is impossible. The vibrato of opera is essential: remember Freddie Mercury. The rest are only emotions that express with the means of the notes. I use my voice more like an instrument but not like a singer. My vocal sense evolves alone linked with the music and its requests. The idea is such: I search with my voice for the right musical expression that (sometimes very strangely) corresponds to the emotion involved. Of course, in opera there are too many codes and laws. It is divinely beautiful but this universe exists with a certain part of the public: a little elite of professionals or opera amateurs, but I, as a singer, exist for a much larger public and I search for the means of a direct liaison with those people.
Your music has such a theatrical aspect to it that it craves a visual component to complete the listening experience. The meticulous detail and staging in your videos and stage shows look to be so integrated with the music that in some ways listening to the music alone is incomplete. Do you compose with that visual performance component in mind or is the music meant to stand on its own?
My music is, of course, very linked with my visual realizations but all my videos are my sole point of view on this music. But with another individual that is listening to my music without watching my video can have completely different visions linked with his own experience and knowledge of this world and with his own luggage of emotional sensations. Here is my music. It exists completely without the videos in order to give the possibilities to each of us to create its own visual universe.
You project a strong sexual image in your videos and promotional materials but it doesn't feel like it's done in a gratuitous manner. We see you at times dirty, bloody and disheveled but you always maintain a potent sexual aura. What role does your sexuality play in expressing yourself musically and in the visual presentation of that music?
Not a very big role. But I think there is a blink of the eye at the very first moment. But for me it is an allegory of the human sin. All people observe beauty very quickly but at the same time don't want to understand the source of this beauty by transforming it into vulgarity. Vulgarity kills this sense of beauty. The source of exteriorized attraction and the beauty are simply love. But not the stupid use of this love like a satisfaction of low physical envies. Love and beauty like the consequence of this love disappear forever… And I yell into the space about that in all my videos.
Your lyrics contain the same detail and potent imagery as your music. Does the music infuse the inspiration for the lyrics or viceversa? How do they serve each other in context of your overall musical vision?
Of course, music gives birth to all my lyrical characters. It's like the lyrical drawing of all my sufferings and their history, mixed with my cerebral remarks. With the tools of my lyrics, I explain not only the mood or the subject.With them, I help go to the depth of emotions and you definitely know that emotions and sensations give birth to this sublime substance: music.
It's difficult to discuss your music without touching on the reaction it arouses. When your name comes up with metal fans there are generally only two reactions: love or hate. There is no ambivalence towards your music. It gets a strong polarized reaction – which is rare thing. Is it simply a matter of taste or are the detractors just missing something? Does it even matter if they love it or hate it as long as you achieve a reaction?
I know that people either love me or hate me and that's the same with my music. For me the people who hate exist in two categories: the ones that don't understand and they are disturbed; the second category understand everything and it's normal that they hate me because for human nature it is normal to love weakness – something lower in order to feel its own existence. The strength and beauty (of course I don't speak about myself) call only for love from individuals that have the beauty of soul and body and, of course, from individuals less strong and beautiful it's called jealousy. That is completely normal and about that I speak a lot in my videos. To love everybody and everything is not possible. Each person has his own taste, his color of love, his state of mind and his level of strength. To not understand is possible but the hate at the end kills the one who hates. If you don't like something, don't take it. Take something that is compatible with the chords of your soul and believe me you will not have the time to hate something.
Your music shares many musical ideas with the American musician Tom Waits. He hijacks traditional music forms, strips them of convention and injects a disorder and mayhem that creates a glorious musical noise that is only identifiable as his. His raspy vocal delivery is legendary as well. How important is it to evolve the musical form and push the boundaries of musical expression as an individual?
For me, Tom is an actor inside music. But me I am a musician inside cinema. It means that I do music and then I am transforming myself as she requests it from me. If this music takes or changes the expression or the shapes, I change as well in the same way and I hope that you can see that in my videos.
You go to great efforts to create a complete visceral experience for the listener. Is it more important to respond to music from and emotional level or an intellectual standpoint?
Only with the means of emotions: the highest in art was born from the emotion that sourced this envy or another envy. The envies have built that. The intellect can only do a very primitive and materialist analysis of the emotions.
In the movie "Bill and Ted's Excellent Adventure", Beethoven is kidnapped by two teenage time travelers and brought to the present. At one point they leave him alone in a music store and return to find him gripped in fervent compositional rapture using synthesizers and other modern instruments. Your music could have just as easily been used in that movie. Does that scene resonate with you at all? Do you have an attraction to taking older music and amplifying idea and form through modern technology?
'My music worn in a form of song is, of course, a music of cinema.
Your music can be a challenging listen for the uninitiated. What advice do you have for people who want to understand your music better who might not have the frames of reference?
Clean your eyes, clean your ears, understand what you like and what you don't like, exist in the place that you correspond to with the people that you like. Stop lying to your own soul because only your soul knows what is convenient for you and what is not. Throw out the concept "I must". Don't wear the shoes of others. The word "I must" should be changed to "I love" or "I like". Gather your pains with my pains, for instance, and you could see my music in a very different way. The point of view can change each time but your envies – like an expression of your love – will never change.
You have mentioned in the past that you've been working on a metal opera and a metal requiem. Are there any new developments or surprises in those areas? Is there an "Ayin Aleph III " looming anywhere on the horizon?
I already have some songs for the new album and some drawings for the video and the music of my metal opera.
With the contrasting styles of "Ayin Aleph I" and "II" and interacting with the crowds at your live shows, who do you see as your core audience?
The metal, gothic and classical public.
(Famous) last words?
Be in love or fuck off and die.
Links
MySpace * Facebook * Twitter * Site
Latest Multimedia
Label : Invencis Limited Records
Review By Tony Cannella
"II" is the title of the newly released second CD from Moscow born – and now – France based singer Ayin Aleph. Their first release, "I" saw the light-of-day in early 2008 and it was a unique slice of metal that – quite truthfully – was hard to define or categorize. Good luck finding a genre in which to put this band in and their second album – also released in 2008, is just as difficult to categorize. Musically, I guess there is a little bit of everything thrown in from Classical to Opera, Rock and more, all combined with the beautiful, poetic lyrics and vocals of Ayin Aleph herself. 18-tracks and a playing time of 49-minutes are what you will find on "II". The songs are all piano driven and the vocals of Ayin Aleph are quite versatile and operatic. Among the 18-tracks, many are short musical or choir interludes that serves as a bridge from one song to the next. The music and lyrics on "II" are darkly poetic and possesses a beauty that transcends your basic metal and rock music. Tracks, in particular that really stood out where, "My Bloody Marriage", "I Came", "Aleph", "Grey Ashes", and "Es Muss Sein". Ayin Aleph will no doubt be an acquired taste for some, but you really have to admire the fact that she/they set no boundaries or limitations for themselves. One thing is for certain, I have not heard another band quite like Ayin Aleph, and I doubt I ever will. An excellent second release from this very talented musician.
Rating – 78/100
Tracklist
Choirs "I Establish"
My Bloody Marriage
Choir "Water's Death"
Grey Ashes
Choirs "Foggy God"
Es Muss Sein
Bridge
Aleph
Choirs "Whispering"
I Came
Choir "Burned Forgotten"
Sebastian's Prayer
Choirs "Drowsy"
The Purchase of the Cathedral
Choirs "In An Old Bewitched"
I Miss You
The End
Choir "White Death"

Line Up
Ayin Aleph – Vocals, Piano & Keyboards
Anthony Scemama – Guitar
Mark Mynett – Guitar
Jean-Jaques Moréac – Bass
Yann Costes – Drums
Links
6 color styles available:

Style switcher only on this demo version. Theme styles can be changed from Options page.