Browsing articles tagged with " illinois"
Phoner interview & trascription by Robin Stryker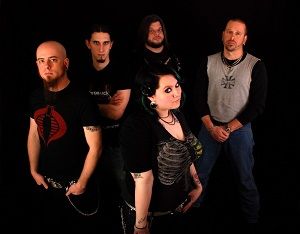 Well, this was a new experience … interviewing all five members of a band at the same time by phone. Please join Femme Metal in welcoming the members of Chicago hard rock band, Deadmanswake: Kryssie Ridolfi (vocals), JP Soule (guitar/backing vocals), Josh Barker (guitar), Troll (bass) and Kip Kiebles (drums).
Welcome to Femme Metal everybody! JP, I understand that Deadmanswake did not start out as a female-fronted hard rock band. How did you guys get to where you are today?
JP : Well, I was actually the original vocalist for the band,and that lasted right about until I heard our first recordings, heard my voice and decided I didn't want to sing anymore. (all laugh) Not as a main vocalist, anyway. I do fine if I'm blending with somebody else, but I just REALLY can't stand the sound of my own voice. After that, we went through a couple of different guys. At the time, I was kind of going for an In Flames, Dark Tranquillity kind of sound. Then it just really got to the point where screaming ended up sort of feeling like it was gonna be a trend that was eventually going to go away. I didn't want to be a band that was trapped in one specific era and I also didn't want to be limited by somebody who didn't have a strong melodic voice. So we let our screaming vocalist go, and started looking for other people. I wasn't looking for a female vocalist, but I was definitely open to the possibility. And by the time we ended up working with Kryssie, it was down to her and one other person. I personally was sold from the first audition; the rest of the band, it took a little bit more convincing. She showed up at this other guy's audition and just smoked him. I was already sold before that point but, by the time she finished that song, it was like "Okay, no one else need apply. We're done". That was the song "Screaming in Silence", which is actually not on any official recordings as of yet but we have played it live a couple of times.
Let's talk about the new album, "It Comes to This". Give folks an idea of what they will hear when they listen to your album.
Kryssie: I know vocally all of the songs are lyrically from my heart. I know every vocalist says that. But the reality is, when I joined this band, I was at a really big renaissance (as I like to call it) in my life. I had just lost a two-and-a-half year relationship, I had just gotten my own place. My first audition with this band was the day I signed the lease on my first place by myself, and it was this big rebirth in my life. And all of the songs that I wrote lyrics for were within the first month of being in the band. That's how emotional I was. Every single one of these songs is either about pain or about being confused about something or a personal loss or a personal gain, and all of that stuff was something I was feeling in the Fall of 2007 when these were written. So it's very personal to me and I hope that people who hear it really identify and feel connected to me through it because I want people to know and I want to convey that they are not the only ones feeling stuff like that.
I'm fascinated by the album cover. You all are cartoons, with Kryssie as a nurse looking rather alarmed to see over your shoulder the rest of the band as zombies coming after you. What's up with zombies?
Kryssie : A lot of us are really big fans of the horror genre and the name of the band Deadmanswake… when I first heard the name of the band… all I could think of was the walking dead. A friend of mine is a published comic book artist. I was talking to him one day when he popped into my work — which is ironically a horror collectible store — and he drew this quick little thumbnail sketch. It went through a lot of different incarnations, and the one that we ultimately ended up with I think is absolutely hilarious. I think all the caricatures look exactly like the boys. There are so many ways you can look at it… me being the only one who is not a zombie and everyone coming after me, you could go the cliché way of "oh, I'm a woman in a man's world and it's tough to not get eaten alive". Or you could just go with the fact that we are all big dorks and we all like horror flicks. It's probably a little bit of both if you want complete honesty.
If you could pick a horror film to have a Deadmanswake song in, or any film for that matter, which song would it be and which film would it go with?
Kryssie : I would choose the song "Back to Blood" and I would put it in "Shaun of the Dead" in the scene where they are beating the zombies with the pool cues in the Winchester. The Queen song, "Don't Stop Me Now", the fact that that's in there is amazing but if I could throw our own in there I would totally put "Back to Blood" at that exact spot.
Kip : Just to stay away from the mainstream, I would have to say "Fright Night" is one of my favourites. Kryssie could probably tell you who stars in it and then some, I'm guessing. As far as the tunes go, I would use all of them on the soundtrack.
Troll : Do you know how "Maximum Overdrive" is an all-AC/DC soundtrack? Replace it with the "It Comes to This" album.
JP : In keeping with the zombie theme, it would probably be "Save Me". I would use it at the end of the original "Dawn of the Dead", where the zombies bust into the mall and they are ripping the bikers apart. There are all sorts of guts being pulled out and limbs being chewed. It's just beautiful!
Quite the bloodthirsty crowd we have here. Guitarists – JP, Josh and Troll – tell us about your most prized instrument. (Keeping it clean, of course.)
Kryssie : My mind went there immediately. (laughs)
I knew it would, Kryssie. That last part was actually for you and not for the boys.
(all laugh)
Kryssie: I am seriously a fifth grade boy. I went right there, too. Okay, go on.
JP: This is actually a really easy one for me. Thanks to the miracle of Craigslist, I stumbled across a 2002 Ibanez Destroyer, an actual for real made-in-Japan Ibanez, and I managed to pick it up including the matched Ibanez case for less than $350. The Destroyer just sounds huge. I am one of the world's greatest living Iron Maiden fans and Adrian Smith played a Destroyer back in the "Live After Death" era. I thought they were the coolest thing and, of course, they are! Plus it has a similar shape to a Gibson Explorer, which was James Hetfield's weapon of choice, and he was one of the reasons I picked up the guitar in the first place. The Destroyer fills a whole bunch of guitar-hero rock star fantasies of mine.
Josh: To be honest, all of my ideal guitars, I don't own. Of the ones that I play, the two that I like the most are an LTD Explorer, which I got for fairly cheap when I got it. I was young and stupid and was like, "Oh my god, it looks like an Explorer!". It was the kind that James Hetfield played. Like JP already said, Hetfield was one of the reasons I picked up the guitar. I use that one pretty much for the bulk of the set. I also have an Ibanez SA that I recently put the new Steve Vai Evolution pickup into, which has improved its sound a whole hell of a lot. I just love Ibanez guitars overall. Ibanez has a pretty sick Flying V that I'd love to get my hands on.
Troll: My Kramer bass is definitely my prize possession. It's technically the second bass I ever owned, but my first real instrument. I had an old Cort P-Bass copy that was a piece of crap that I broke within two months. Then I got the Kramer in maybe late 1988 or 1989, when I'd only been playing for a few months. I still have it to this day, and the shop that I got it from still exists so I can still go there and get a free set-up whenever I want. That thing has just been through hell and back. It's my trusty at-home practice bass. I'd love to play it out, but it really doesn't sound that good. It is priceless to me, though.
Kip, what is it like to be the new kid in the band? Did they make you feel welcome; are you part of the family; are they sharing their beer and all of those things that one would hope of good bandmates?
Kip : They don't share beer. (Kryssie : We give him wedgies every day). The fact that they beat the hell out of me on a regular basis gives me the feeling that I'm loved, yes. Because that is what I did to my younger brothers, when I was younger. The band has definitely made me feel very at home. It's kind of difficult to put into words where I am at with this band, but ultimately I'm the metal cheerleader in the band. Saddle shoes, skirt, pom-poms … good to go! There were some benefits that I could offer to the band, like a rehearsal space and a big truck to pull the equipment trailer, but those were just circumstantial. So I guess, when it's all said and done and the smoke clears, we're all pretty lucky because they offered me things like a damn good gig that I could be proud of.
Here is something that I've been dying to ask. What was it like when you held the first copy of your CD in your hand?
Kryssie : Can I just tell you about the text message conversation Troll and I had when the UPS man was delivering? We had been texting that whole day because the CDs were supposed to show up that day. (It's common knowledge that, when we are not out doing things, Troll and I especially are huge advocates of pyjamas. We are always in our jammies, no matter what). Troll texted said something about the UPS man. I was like, gasp, "Is he coming?" And he was like, "The bastard just drove by!" I didn't hear from him and I was getting nervous. Then I got a picture message with just a photograph of all seven boxes of our CDs and I screamed like a little girl … it was amazing! All of us have been musicians for so long. Before I was a vocalist, I used to be a guitar player. I was playing guitars since I was 10, so I've been in the "business" for 15 years almost. This is the first actual, physical, honest-to-god, pressed from a factory CD I've ever had. This is a HUGE emotional thing for me, and it was nice to show it to my mother and give her a reason why I quit college.
Deadmanswake is having a pyjama party gig. Is this just another excuse for Kryssie and Troll to appear in public in pyjamas?
Kryssie: More or less. It is a CD release for another band, and their frontperson sent me an e-mail and was like,"The theme of this show is freakshow. Take that and run with it, and do what you will." We were tossing around ideas for playing at a different venue on a different day, and we were like, "Oh, we should show up in our pyjamas." And then it dawned on me … how funny would that be for the freakshow theme?!? I have a feeling that Troll is going to show up with pigtails and the whole nine yards and I'm digging out a special pair of slippers. It is absolutely another excuse to be seen in my jammies in public.
JP : I'm not totally familiar with everybody in the band's sleeping habits, so I'm just really hoping that no one in the band sleeps naked.
Kryssie : I'm not totally familiar with everybody in the band's sleeping habits, so I'm just really hoping that no one in the band sleeps naked.
With as diverse as your musical tastes are, how hard would it be to decide what the cover song would be on a new album?
Kryssie : We've actually had pretty good luck — with this incarnation of the band, anyway – we've had a really, really easy time picking out covers. We do have diverse influences, but when it comes down to it, if there is some silly, ridiculous deep-cut that one of us mentions that everyone thinks is funny, we go for it. The one that we are talking about putting on the album is one that lots of people on our Facebook page – people that I've never met – have mentioned that they would really like to hear us do. It's kind of cool that if we make that happen, they'll hear it and be like, "Oh, I suggested that."
Okay, album is out and you have dates lined up. What is your tour scheduling looking like for the summer? Will you be travelling away from Chicago? Will folks in other parts of the United States and perhaps our friends in Europe have a chance to see you too?
Kryssie : We did an interview last week where we were asked a similar question about whether we would like to get out to Europe. That's a frustrating question because I would tour there tomorrow if I could afford it. Realistically speaking, if we were able to do it, it would have to wait until next summer. Hopefully by then, we can create enough of a buzz and maybe after our A&R showcase get people who are willing to invest in us to go over there. But that is, realistically, something that we can't even think about this summer, which really, really is painful. We have got another band that we are hooking up with. None of the dates are set in stone yet, so we are not announcing them. But we are going to have a two-and-a-half week tour towards the end of the summer that will take us from Chicago all the way as far south as Florida, then we are going to come back. It is just going to be a two-and-a-half week run. We definitely are going to make it a point to travel this summer, and get out there. We can't keep doing all this Internet networking if we can't put our money where our mouth is and go play in front of people..
Links
MySpace * ReverbNation * Facebook * Twitter
Interview by Erwin Van Dijk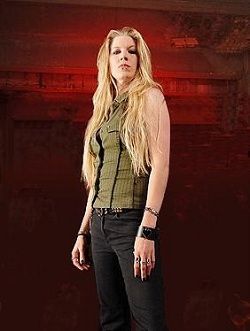 On June 1st the compilation double cd "Demonic and Divine" is released by Femme Metal Records. The cd is to support the Macmillan Cancer support and Cancer research UK. A.D.D. appears with the song "The Path". For full tracklisting checkout Femme Metal Store. A.D.D. is a rock / metal band from Lockport, Illinois (United States). The band was formed in 2002 and has released the album "Elements of Emptiness" at January 13 this year. This album includes eleven tracks including the song "The Path" that will be also featured on the "Demonic and Divine" album. This interview is with Margaret Young, the singer of A.D.D
Did you always wanted to become a singer?
Not always. I started really getting into it at about 13 years of age.
Who are your favourite singers and musicians?
There's too many to name so here's a few: Doro Pesch, Sandra Nasic, Skin, Ann Wilson, Linda Perry, Jeff Tate, Dawn Crosby R.I.P., Angela Gossow, Nikki Sixx, Zakk Wylde, Rob Halford, Tony Macalpine, Kings X, Steve Vai…it goes on and on.
And to what kind of music do you listen yourself?
Mostly the heavier genre but I do throw on some Janis Joplin every now and then.
Did you sing in any other bands before A.D.D. and do you any other bands right now?
Before A.D.D. I was in a band called Ballistic. A.D.D. is my full time gig right now.
What does the band name means? Attention Deficit Disorder maybe?
You would think right? It isn't though. We came up with Analog Digital Disorder. A little old a little new…
How would you describe A.D.D's music? Because Rock/Metal covers about everything with a guitar, bass and drums.
Hard rock with melodic vocals.
And what makes A.D.D. different compared to all the other female fronted bands in the world?
We have a unique approach and sound with the vocal harmonies and mix of heavy and clean guitars. It keeps us diverse and able to utilize our wide range of musical influences that all of us have.
Who are the other members of A.D.D.?
Dave Adams – Guitar, Randy Berg – Bass, Jeremy Sparta – Lead Guitar/Vocals, Ron Bailey – Drums.
Why did A.D.D choose the song "The Path" for the "Demonic and Divine" album?
Because the song is a good representation of all the different elements of our music all in one song. I also think it fits the album conceptually from a lyrical standpoint.
And how did you (the band) got in touch with Femme Metal?
I think we discovered the label through MySpace and Carrie Sharp contacted us.
Is song writing teamwork in A.D.D. or is there a mastermind behind the music?
It's all teamwork. Everyone puts a little something of themselves in every song we write.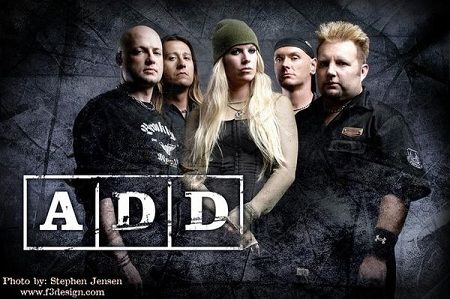 Can you tell us something about the songs on "Elements of Emptiness" ?
"The Path"
Jeremy came in with most of the music and some of the lyrics for this one. Perfect track to start the album.
"Vacant"
Took a while to write this song. Everyone can relate to these lyrics about the emptiness you feel when you feel like you've been taken advantage of in a relationship.
"Maybe"
One of the earliest songs we wrote. Originally released on our first EP, we changed the intro and bridge sections, as well as added some vocal harmonies. Jeremy did not play or sing on the original version. A fan favorite that never seems to get old.
"Can't Breathe"
This song was inspired by a show we played at a well known venue in Chicago early in our career. We were opening for a trendy band at the time, and their crowd had that arrogance about them as we were playing. The heavy part in the middle always catches people who haven't heard it off guard.
"Too Late"
This is the last track we wrote for the record. Dave had most of the music written, but lyrically and melody wise, we struggled with this one for a while. Finished it while we were in the studio. A good opening song for us live. I went from hating this one while I was working on it to it being one of my favorites.
"Half of Me"
One of our more melodic songs. Tadpole (producer) worked us pretty hard on this one to get all the little syncopations and changes right.
"Bridges Burning"
A riff that Dave had for a while and Tadpole helped us turn into a song. We called it the "European song" before we had a title, since it has that kind of feel to it.
"Silence"
This song always brings the house down live.
"Don't Say"
Another one of the newer tracks we recorded. Randy wrote the heavy chorus riff. Jeremy has a rocking solo in this song. Another song that translates well live.
"Waiting"
The only real ballady type song we have. Dave has a solo in this one. We have rarely played this one live.
"Letting Go"
This is the second song Dave and I wrote together when we first started. Dave, Ron, and I are the only ones who played on it. We didn't have another guitarist or bassist yet. The engineer who we recorded with in his basement played bass on it. The rawness and energy of the song come through on the recording. I would hope the listener would interpret the songs for themselves. They have many different meanings for different people.
What does the album title mean?
It describes the lyrical content of the record, which is pretty dark.
And what is your favorite song?
"Too Late" at the moment.
What are A.D.D. plans for the future?
Tour the world.
And the last question: Is there anything the reader should know that I have not asked?
Yes, that we greatly appreciate all the support that our fans give us……..
Links
MySpace * ReverbNation * Facebook * Twitter * Site
Independent Release
Review by Tony Cannella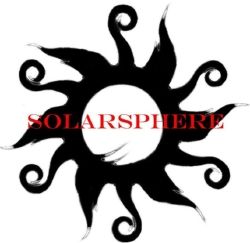 From Chicago, Illinois, the band Solarsphere plays melodic symphonic metal, adding a touch of other influences here-and-there to create their debut 3-song demo. Solarsphere is led by vocalist Rachel Sabine. She has got a beautiful, melodic slightly operatic style to her voice. "Eternal Hunter" opens the CD. This is a good start and my favorite of the 3-songs. Starting off with drums, bass and Rachel's vocals, the song slowly builds as a rock solid guitar riff joins in. This song has loads of atmosphere (thanks in part to the haunting keyboard arrangement) and a simply addicting melody. "Eternal Hunter" is a Beautiful start to the 13-minute demo. Next is "Sick Pleasure" and it is really not too different stylistically than the previous song. Rachel's voice sounds great and the song is perhaps a bit heavier, but if you liked the first song, than "Sick Pleasure" does nothing to bring the quality down. The final song, "Inner Demons" is perhaps my least favorite song, but it still packs quite a punch and is the heaviest thing on here. On their debut demo, Solarsphere plays symphonic metal with all the conviction of a veteran band. This is a positive step in the right direction for this young Chicago band.
Rating – 78/100
Tracklist
Eternal Hunter
Sick Pleasure
Inner Demons
Line Up
Rachel Sabine – Vocals, Keyboards
Brett Zweig – Guitar
Scott Dittmer – Guitar
Mike Rutledge – Bass
Adami Gordon – Drums
Links
MySpace * ReverbNation * Facebook * Twitter
Independent Release
Review by Tony Cannella
On their debut EP "Solarium", Chicago, Illinois's Shield of Wings offer up a satisfying cocktail of Symphonic Metal that is sure to please fans of the genre, not to say that Shield of Wings should be lumped into one style of music. There is plenty here that can – and should – appeal to fans of other areas of the metal hierarchy as well. "Essence and the Moon" is a frenzied opener and one the heavier, more chaotic tracks to be featured here. Female vocalist Grace Meridan has a vocal style that soars along with the music. She is joined at certain points throughout the CD by the extreme vocals of James Gregor, giving the band a kind of similarity to another great band Epica, that is the closest comparison I can think of, but it is also obvious that Shield of Wings are well on their way to developing their own identity. The next track, "Solarium" is an energetic, galloping track that keeps the momentum on the rise. Next is the almost 7-minute "War and Rapture". That is followed by the Celtic influence of "Malady". The just over 1-minute "Threshold" serves as a bridge to the final song "Carnival Mirror". Throughout the 6-songs and 26-minutes worth of material provided on "Solarium", Shield of Wings really has released a piece of work that should separate them from the crowded symphonic metal field.
Rating – 87/100
Tracklist
Essence and the Moon
Solarium
War and Rapture
Malady
Threshold
Carnival Mirror
Line Up
Grace Meridan – Vocals
James Gregor – Guitar & Vocals
Jeff Olsem – Bass
Pat Eulitz – Drums
Links
Independent Release
Review By Tony Cannella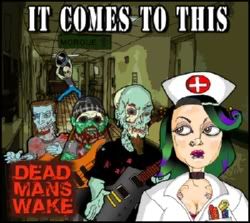 Deadmanswake come from Chicago, Illinois and they play a mixture of good Hard Rock, Metal and Alternative. It is these styles that can be heard on their debut release "It Comes to This".What you get on "It Comes to This" is 11-songs and 45-minutes worth of straight-forward, melodic and energetic hard music from this Chicago band. I have to admit that I loved the simplicity and directness of the songs on "It Comes to This". There is simply no fooling around or wasted energy on the music as the band gets going, right from the opening of track 1, "Amy". "Back to Blood" continues the intensity with it's heavy riff that gets this one off to a crunchy start. This song features a great, catchy chorus that really helps make this one of the best songs on "It Comes to This". Other highlights include: "Far Be It From Me", "Murder", "Partner in Crime" and the acoustic "Homeless" which closes the CD.The songs on "It Comes To This" deliver an energy and aggression that really does come through on these 11-songs. Deadmanswake features a CDs worth of material that is very punk rock like in intensity and raw energy, while still being able to appease hard rock fans with it's melodic-ism, diversity and musicianship.
Rating – 80/100
Tracklist
Amy
Back to Blood
Far Be It From Me
Murder
Running Behind
Flowers (Stand Between Us)
Partner in Crime
Selfish
Why Didn't You Say So?
Save Me
Homeless (Acoustic Bonus Track)
Line Up
Kryssie Ridolfi – Vocals
JP Soule – Guitars & Vocals
Troll – Bass
Josh Barker – Guitars
Kip Kiebles – Drums
Links
MySpace * ReverbNation * Facebook * Twitter * Site
6 color styles available:

Style switcher only on this demo version. Theme styles can be changed from Options page.