Browsing articles tagged with " illusion"
Independent Release
Review by Luisa Mercier
Diehard is a very young German band; they were founded in 2010 and released their first album at the begininning of 2011. They play a quite standard industrial metal, well produced and well sung and inform us that the album is a concept: "The lyrics of this album has one conceptual line. It shows our opinion about some global questions such as "How does the other side of our reality look like?", "What does global illusion mean?". It tells also about the world system and inner possibilities of everyone. We can change our reality and create our own world, it's true. All we need is a high level of consciousness. "When Illusions Gone", move your mind into another reality!" The first thing that strikes the listener is the intro "Dies Irae" which is quite different from the rest of the album: ambient/folk tinged music with choirs that pave the way for the electronics and the metal that follows. Continue reading »
Interview by Vard Aman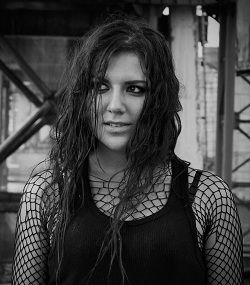 We are all familiar with the big names of female fronted Metal: Nightwish; Within Temptation; Lacuna Coil; etc. These are the names that dominate the scene and these are the names that dominate conversations when the topic turns to female fronted Metal. We may say, and correctly so, that this is deserved because they are all really good bands, but there is another reason too; and that reason is simply that these are the names that we have all gotten to know, one way or another. Beyond these big names, there are numerous bands that are much less well known. Some of these bands, it is probably true to say, are mediocre at best; but some of them we will find are very good bands indeed! We just have to look for them. And if we do, every now and then, we may find a band that is of truly outstanding quality – an overall package of both artistry and professionalism that easily rivals, and even surpasses many of the best and the biggest that the scene has to offer. I believe that I have found just such a band! They're called Delia, and they come from Kiev, Ukraine. Delia present a highly professional and complete package, excelling in all aspects of what they do: their creativity; their songwriting; their performance; their live shows; the quality of their productions; and their music videos. They have very quickly become one of my favorite bands! Fronting Delia is Anastasia Sverkunova – a vocalist with a truly immense voice. She is highly versatile and possesses a huge range. She is capable of both raw power and intricate subtlety, and she sings with real feeling and emotion. Her voice dominates, yet blends with the music simultaneously. She has very quickly become one of my favorite singers! And I got the chance to interview her!
Hi Anastasia! Welcome to Femme Metal Webzine, it's a great pleasure to have the chance to talk to you! First of all, could you introduce us to the members of Delia?
Hi Vard! I'm very glad to talk to you too. Here we are: me, Anastasia Sverkunova – vocals, Sergey Sirko – guitars, Michael Gudzenko – bass-guitars and Vitaliy Tolkachev – drums.
How did you all meet and how did the band start?
One night of August 2005 I was reading some topics on the music forum and found some ads about needed vocalists to different bands. I had already had experience in playing and singing in bands before and decided to try again. So I called to the first phone number I saw on the first ad and Sergey replied me. The next weekend was our first rehearsal.
How did you choose the name Delia? Does it have any special meaning?
When we just started to play together we still didn't have a name. All of us offered different variants but we couldn't find the best one. And one day I was reading psychological vocabulary and found the word "delia" (which means "illusion" in Greek) and it was the right choice! But the meaning of the name according to our music is the issue for long thinking and discussions – everyone can explain it as he likes.
How would you describe Delia's music?
Mmm… it's the most FAQ, that we have no clear answer. Mostly our style is described as "symphonic metal", earlier it used to be described as "gothic metal". But each new song has a bit different sound than previous, and we don't like to put our music in "style framework". So… let it be metal, just not ordinary Ukrainian metal.
What would you say are the main influences for you music?
There are lots of bands we like, and they are really very different as every member of Delia has absolutely different music preferences. But in common, they are Lacuna Coil, Rammstein, Evanescence, Korn, Within Temptation and from non-metal – Bjork, Lara Fabian, even Skrillex and many many others.
Tell us a little about your releases so far.
Our first serious release was in February 2010, it was our CD "Spogad" ("Recollection"). We have 2 versions of the album – Ukrainian and English. Ukrainian version we released at ЯОК Music company – Ukrainian label and English one we didn't release officially yet as we are still looking for a good label abroad to cooperate with. The CD consists of 13 songs and 2 bonus-tracks, one of which is in Spanish. In autumn 2011 we also released EP "Vogon" ("Fire"), also in 2 versions – 1 for our Ukrainian and Russian fans, and 2 – for our fans abroad. You can download both versions for free on our official website.
Do you have any personal favorites from your releases and/or songs that have a special meaning for you?
Every song is special for me, 'cause every song is kind of the description of a period of my life – not only real events that happened to me, but my thoughts, worries, doubts, memories, hopes, impressions etc. And each 2-3 months I have my new favorites. Previous one was "Sprobuy" ("Try") form the EP, now it's the new song that will be released soon (I hope).
You were born in Pripyat just before the Chernobyl disaster and the song "Dead City" is about Pripyat and dedicated to its memory. Many of the scenes for the video were shot on location in Pripyat. What was it like going back there and filming there?
It wasn't my first trip to Pripyat after Chernobyl disaster. I have already visited my native city before making the video. But each time I come back to that place I feel mix of emotions – from despair, sadness and even fear to enchantment, unreality… Absolutely empty city… just huge trees through the buildings and total silence… It's very hard to explain – you should visit that place.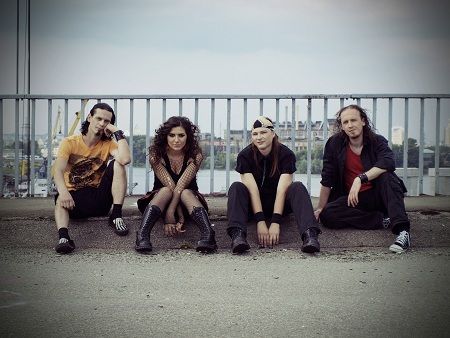 What are your plans for the future and what can we expect from your next album?
The nearest upcoming event is the release of our new video to the song "Vogon" ("Fire") – both in Ukrainian and English versions. Hopefully we all can enjoy it in February. Next album is a difficult question, because now Delia has a period of experiments and all our new songs are in different styles and mixed languages and there are still many things we want to try and to use in our new tracks. I hope that this year we will have some releases but it's the question if it's gonna be an album or some different singles. Anyway we will try our best to surprise our fans and extend our capabilities!
Do you have plans to get a permanent keyboardist?
We don't have a plan to find a permanent keyboardist, but we are open for cooperation and will be happy if one more good person will join our "family" – whether keyboardist, DJ, violinist etc.
One of the many things I really like about Delia is the amount of creative attention to detail in all aspects of what you do – from your songwriting and playing, to your videos and your live shows. A good example for me is some of the subtleties in the storyline (and in the editing) of the video for "Zabutiy Krai" ("Forgotten Land") that I only picked up after watching it several times, and the overall product certainly made me want to watch it on repeat. Is this a dedicated effort or is it just the natural way you do things? Or both?
We really pay much attention to the details because the details are the least visible but the most important part of the product. But we don't make any special effort, we just work like we do and hope that our fans enjoy the results.
What is the metal scene like in Ukraine? Do you get a lot of support at your shows?
Unfortunately Ukrainian metal bands are not very demanded among Ukrainians. When world metal stars come to Ukraine – there are thousands of fans who come to their shows. But when Ukrainian bands perform we can hardly see more than 300 people in a hall. Of course everything depends on organization, how popular is the band and how many shows are the same day. But it's strange that even our band, who is popular enough in Ukraine and not very popular outside the country, receives more requests for CD purchase from abroad than from our native country. Ukrainians are very special people, if you want them to love you, you should firstly become popular somewhere abroad. But those people who come to our shows give us really as much support as we expect and to play for them is a real pleasure!
Have you played any shows outside Ukraine?
No, unfortunately we haven't yet. Honestly, before previous year we didn't try hard to become well-known abroad but now we have changed our approach and hopefully will perform somewhere outside Ukraine very soon.
What parts of playing in a band do you like the most?
At rehearsals I like when we play new songs and make new covers to our favorite bands. But all of us like the most the live shows, especially if it is recital or themed concert. And, of course, the process of songwriting is also one of my favorite part of work!
And what parts, if any, don't you like so much?
Hmm… as for me, it's the time of the last editing of a song at the studio. All the time I find something that I'd like to change and can not stop! I always need someone to stop me or we would never finish this process.
Outside of Delia do you have any special interests and things you like doing?
OMG, there are soooooo many things… I like travelling, learning languages, dancing (each term different style), roller skating, playing the violin and the piano, snowboarding, kart racing, translating poetry, kayaking, horse riding and lots of other things… Honestly it's a problem for me because I want to try everything but at the end I'm not good enough in anything… But it's who I am.
I hear Michael is an avid rally driver. Does he race often?
Michael is really very interested in racing, he participates in some local rallies and hopefully we will see him on the pedestal of WRC soon!
Thank you very much for the interview Anastasia! We're hoping to hear and see much more of you in the future, and I am certainly going to be following Delia very closely!
Thank you very much! We will be happy to inform you and all our fans about all our news and upcoming events!
Links
MySpace * ReverbNation * Facebook * Site
Latest Multimedia
Label : Think Tank Media
Review by Tony Cannella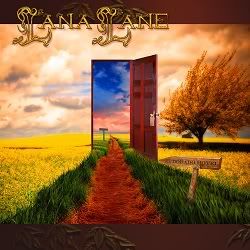 Ever since her excellent debut, "Love Is An Illusion" was released in 1995, the queen of progressive rock Lana Lane has enjoyed a stellar career and has released albums at a prolific pace, rarely going more than a year between releases. Her last release was 2007's "Red Planet Boulevard", which was followed by almost five years of…, nothing (recorded material wise). Now, Lana returns from her hiatus with her new album "El Dorado Hotel", and man I have to say, it is great to hear that voice once again. One thing that has always been constant is the fact that Lana Lane has surrounded herself with some top musicians and collaborators. In addition to her husband, keyboardist, producer, co-writer Erik Norlander, some other big names are on board, artists like John Payne of Asia, ex-Racer X guitarist Bruce Bouillet lend their massive talents along with longtime Lana Lane collaborators Mark McCrite, Neil Citron and Don Schiff and it's a virtual who's who of some great talent. The 8 ½ minute opener "A Dream Full of Fire" is pure Lana Lane and a great return to form, it is also the song that sets the tempo for the album. "Maybe We'll Meet Again" has got a nice accessible mid-tempo quality to it, similar to "Let Heaven In" from the excellent "Queen of the Ocean". Lana continues to be able to straddle the line between accessible AOR type music and intricate progressive rock passages effortlessly. "El Dorado" features a slower, more melodic tempo. Other highlights include: "Darkness Falls", "Hotels", "Believe" and "Moon God". The whole thing is brought to its conclusion by the almost 12-minute epic "In Exile". "El Dorado Hotel" is Lana Lane at her majestic, melodic and progressive best and is a solid addition to her ever expanding catalogue. Quietly and somewhat under the mainstream radar, Lana has put together a career based on consistency and when you look at her body of work you realize just how consistently good her music has been throughout the years and "El Dorado Hotel" is no different. It is hard to believe that it has been 17 years since her debut (where has the time gone?) but "El Dorado Hotel" just goes to show that Lana Lane has not only progressed but gotten better over the years. "El Dorado Hotel" brought a huge smile to my face and is one of those albums that you'll want to hear again and again.

Rating – 95/100
Tracklist
A Dream Full of Fire

Maybe We'll Meet Again

El Dorado

Darkness Falls

Hotels

Believe

Life of the Party

Gone Are the Days

Moon God

In Exile
Line Up
Lana Lane – Vocals

John Payne – Harmony and choral vocals, mandolin

Mark McCrite – Guitars, bass, choral vocals, programming

Bruce Bouillet – Guitars

Neil Citron – Guitars

Freddy DeMarco – Guitars

Guthrie Govan – Guitars

Erik Norlander – Keyboards, additional guitars, bass and programming

Don Schiff – NS/Stick

Mark Matthews – Bass

Jay Schellen – Drums
Links
MySpace * ReverbNation * Site

Interview by Tony Cannella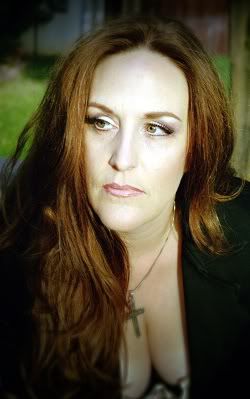 Lana Lane has long been known as the Queen of Symphonic Rock. Looking at and listening to her expansive musical catalog, it is a title that is well deserved. With her new album "El Dorado Hotel" (her first in five years), Lana returns with perhaps her strongest album yet. Recently she was kind enough to answer some questions, and here is what she had to say.
Hi Lana. I really love the new album "El Dorado Hotel". How would you describe the material on the album?
First of all, thank you for the kind words. It's nice to hear that you are enjoying the music

. I would describe the album as a musical journey through the eyes of a tired and lonely musician, but with an optimistic view of life, love and creating your own destiny.
It has been five years since your last album. Do you consider this a comeback?
Not really. Even though I haven't released a Lana Lane album in 4 years, I have still stayed busy touring and appearing on other artists productions during that time. So I never "went away", I just took some well earned "time off" from my "Lana Lane" duties

Why the gap between albums?
Well, as an artist you hope that you have something new to say with each new recording. This became harder and harder to do, especially when during some years, there were two or more new Lana Lane records released. I only want to release top-quality, sincerely crafted albums rather than release an album just to release "something". After nearly 15 years of working non-stop, it was time for a little sabbatical. I wanted a break from the pressure and time to gather some perspective on my craft. And on top of that, my father was very ill and I wanted to spend as much time as I could with him. And I am very happy that I did, because he passed away in December of 2010.
Do you feel that the time in-between albums helped you sort of re-charge your batteries?
I think so. I also went through some very personal things during the "time in-between" albums which gave me a new perspective on life in general. My father had recently died; I was coming up on a milestone birthday and feeling my own mortality. All those feelings and emotions help the creative process of writing songs and give lyrics more weight.
Are there any songs on "El Dorado Hotel" that stand out for you?
Yes. "El Dorado" was the first song I wrote after my father died, so it holds quite a lot of meaning for me. This song is the one that encompasses all the feelings and emotions that are found throughout the album.
Lyrically, what inspired you on "El Dorado Hotel"?
The inspiration comes from the many years of touring and struggling that Erik and I have done for our music. We wouldn't change our choices for the world, but that doesn't mean that following our dreams hasn't come at a cost. The life of a musician is not nearly as glamorous as people perceive. It's like any other professional career — it takes a lot of hard work and sacrifice, and even then you may never achieve your goals.
Erik Norlander has produced and played on every one of your albums. What do you like about him as a producer and musician?
Yes, Erik has been my producer since the beginning – 17 years! I think the most important thing to me is the trust that we have in each other and in each other's choices. As a producer, he immerses himself completely into the project that he is working on and develops a vision that is uniquely for that project. As a keyboard player/musician, he allows the songs to dictate the mood and enhances the vibe with his wonderful sounds and musical ability.
You have always been surrounded by some of the best musicians in rock. Who are some of the musicians that appeared on "El Dorado Hotel", and how do you feel about their contributions?
I met Freddy DeMarco and Mark Matthews during the recording of Erik's solo project "The Galactic Collective". I then had the opportunity to play with them both during some live shows in 2011 when I sang with the band. After having played with the guys and getting to know them, I knew that they should be a part of this project as well. Then for John Payne, Erik has been playing with John for about 5 years now and they tour together with Jay Schellen and Bruce Bouillet as Asia Featuring John Payne. During the years of touring, John and Jay have become dear friends of ours and now that Bruce Bouillet is the guitarist, he has become a friend as well. Guthrie Govan has also been a guitarist in Asia Featuring John Payne and I feel very honored that his unbelievable talent is featured on this record. And finally for Mark McCrite, Neil Citron and Don Schiff, all three of them have been on so many Lana Lane albums going all the way back to 1995. They are lifelong friends and it has been great to work with them through all these years. I believe that the contributions that these generous, talented and willing musicians made gave each song on "El Dorado Hotel" a unique sound and feeling that would not be present otherwise.
There are always so many musicians performing on your albums. Was this new album easy or difficult to assemble?
Erik is a very organized and focused producer and does a lot of prep work for albums. I don't recall him having much difficulty assembling everyone as they were all very gracious with their time. Technology is also a wonderful thing — if someone was out of the town, or the country in Guthrie's case, the tracks were recorded elsewhere and sent to us. This makes the recording logistics MUCH easier

When can we expect to see you on tour?
No solid plans yet for a tour — but I NEVER say never. In the music business, anything is possible and can happen in the blink of an eye.
It is hard to believe that it has been 17-years since your debut "Love Is An Illusion". What has been your biggest highlight so far?
I think my biggest highlight would have to be my first big tour in Japan and performing the song "Love Is An Illusion". All the fans were singing along with me. It was such a rush to experience that! I was honored and humbled by the beautiful country of Japan and the wonderful fans — it is a time of my life I will never forget.
Looking back, what is your opinion of that debut today?
"Love Is An Illusion" is one of my favorite albums. I find that the body of work has a charm to it that I love — it was also my first release, which holds a special place in my heart.
Which one musician has most inspired you and why?
The musician that has inspired me most is Ann Wilson from Heart. She (and Nancy) blazed a trail for women fronted rock bands in a male dominated business. We've come a long way, and I feel that Ann and Nancy endured the growing pains for all of us. The music business is still dominated by men, but we have a much bigger voice now…no pun intended

You've released two great DVDs, "Storybook" and "10th anniversary". Are there any plans to do another one in the future?
Erik and I have been talking about it, but no firm plans have been made yet.
Your music has been put in many different genres (symphonic rock, prog, etc.). Where do you think your music best fits?
I consider my music to be "Symphonic Rock" and I feel that this body of work sits squarely in that category. I'm proud to be known as the "Queen of Symphonic Rock"

Thank you very much for taking the time to answer these questions Lana. Congratulations on a fantastic new album. Is there anything you would like to add to conclude this interview? The final words are yours.
Many thanks to you Tony, and to the fans for all their support over the last 17 years — it has been a FANTASTIC ride and I wouldn't be here today if it wasn't for you! Recording and releasing records is a very vulnerable thing — and sometimes it's hard to sit back and enjoy what you've created. But "El Dorado Hotel" has been an absolute joy for Erik and I from the writing stage all the way through the recording stage. I hope the listeners will find the music inspiring and that they will take the musical journey with open minds and hearts — they may be surprised at what they find out about themselves

Links
MySpace * ReverbNation * Site
6 color styles available:

Style switcher only on this demo version. Theme styles can be changed from Options page.