Browsing articles tagged with " industrial"
Interview by Miriam C.
Well, Japan, despite its limited geographical width, is able to offer one of the best and exciting musical scene in the world (excluding the Scandinavian one) like we have disclosed during this months offering you exclusive interviews and reviews both in Japanese and English. So, it's time to introduce you the industrial rock band SoundWitch and their latest release "Romanesque", in order to do such we've asked a couple of question to the singer TWIN. For this interview we really want to thank for the help and effort Mr.Dave Cirone from Resonance Media!
Welcome to Femme Metal Webzine, TWIN – how are you?
Good afternoon! I'm doing great!
For the metal fans that are not familiar with SoundWitch, would you like to introduce yourself and tell us how you joined SoundWitch.
I'm one of the founding members of SoundWitch and I've been part of the band since its inception. Continue reading »
Independent Release
Review by Luisa Mercier
Diehard is a very young German band; they were founded in 2010 and released their first album at the begininning of 2011. They play a quite standard industrial metal, well produced and well sung and inform us that the album is a concept: "The lyrics of this album has one conceptual line. It shows our opinion about some global questions such as "How does the other side of our reality look like?", "What does global illusion mean?". It tells also about the world system and inner possibilities of everyone. We can change our reality and create our own world, it's true. All we need is a high level of consciousness. "When Illusions Gone", move your mind into another reality!" The first thing that strikes the listener is the intro "Dies Irae" which is quite different from the rest of the album: ambient/folk tinged music with choirs that pave the way for the electronics and the metal that follows. Continue reading »
Label : Danse Macabre Records
Review by Luisa Mercier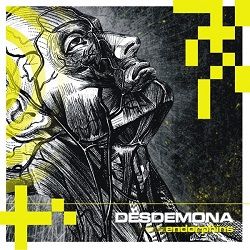 Desdemona is a Polish industrial rock band and "Endorphins" is their fourth full-length effort after a break due to singer Agnieszka having a serious accident that forced her in the intensive care for a long period. The album is worth the wait: it is full of dance beats, great hooks, guitar riffs and soaring vocals. An example is the lead single "Bring in All" which comprise all of these elements and will sound good even in a normal disco club, as well as "Poison", "Jealous Sky" (one of my favourite with its killer hook and amazing produced vocals). In the end of the song you will even find a dubstep outro. "Devil's Game" is more traditional industrial rock/metal while "Sorrow" is a gothic-tinged ballad, gloomier and quite different from the fun atmosphere that is found in the rest of the album. The vocal performance is top notch. Continue reading »
Label : Alfa Matrix
Review by Davide Torresan
Born in 2006, the Italian Helalyn Flowers reach the goal of the 3rd album after a couple of nice works like "A Voluntary Coincidence" and "Stitches of Eden". This duo of musicians is formed by Nøemi Aurøra and Max, and they propose a rather original sound that mixes industrial, rock, an abundant use of electronics and the beautiful voice of the singer Nøemi.
"White Me In Black Me Out", like the title suggests, shows us the two faces of a medal: one white, calm and melodic, and another one, black, dark and chaotic with its guitar riffs and some overwhelming refrains that will punch you brutally in the face. Continue reading »
Label: Mute Records
Review by Luisa Mercier
Last release by Carter Tutti (name that hides Chris Carter and Cosey Fanni Tutti) dates back to 2007. "Feral Vapours of the Silver Ether" was a moving record which had a true spiritual equilibrium. New "Transverse" is a real intellectual chaos, liquid, magmatic. It is really a material full of vibes because it was recorded live at the Short Circuit Festival in May 2011 where Cosey and Tutti were supported by Nik Colk Void (Factory Floor vocalist and noise maker). Even though it is a live recording, the quality of the sound is perfect, you would hardly say that it was performed in an open space apart from the audience cheering at the end of some tracks. Two out of three members in this record are female but this is not an overwhelming presence: vocals are just minimal, they are reduced to nothing, they are not a dominant component.  Continue reading »
6 color styles available:

Style switcher only on this demo version. Theme styles can be changed from Options page.
Archives