Browsing articles tagged with " influence"
Independent Release
Review by Tony Cannella
The four-piece band Motogruv formed in 2006 in Petaluma, California. They released their debut album in 2009 and now have released this 7-song, 30-minute EP independently. Some bands are hard to describe, others are not. Motogruv are not a very hard band to describe musically. For the most part they are a hard rock band with a definite 70s influence. In addition to their classic rock influences the band includes Jazz and Blues influences, to produce one of the more surprising albums of the year.
The raspy acapella style vocals of talented front-woman Corinne Reif kick starts "Nowhere & Here" – actually at the start her vocals have sort of a country twang to them, but that is not her usual style, still it shows the diversity of this band as the heavy, Black Sabbath (Ozzy-era) riffs come in. Continue reading »
Independent Release
Review by Luisa Mercier
"Welcome Madness" is the debut EP of this gothic-metal influenced Swedish band. I really like the imaginary they have created that resembles a bit that of the latest Nightwish release. Of course, the music is really different: the guitar riffing is quite powerful while Jade delivers her rock vocals counterbalanced by Matt on growls. It is quite straightforward metal as you can hear in "Beware of Zombies".
The beginning of "The Asylum" is very epic and the whole track has an interesting instrumental structure. The rhytm section is very apparent while the the whole song has a prog feeling, slightly avantgarde.  Continue reading »
Label : Infernö Records
Review by Tony Cannella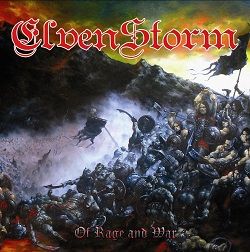 From France, Elvenstorm is a pure old school heavy metal band with thrash metal influences as well. They were formed in 2008 and in 2010 release their demo "Storm 'Em All". The four songs that made up their demo now appear on their debut offering, "Of Rage and War" released via Infernö records.
Okay, getting straight into it Elvenstorm comes out of the gate strong with the powerful duo of "Winds of War" and "Rebirth". The songs are driven by the maniacal riffing of guitarist Michael Hellström and vocalist Laura Ferreux. Her style is straight-ahead metal and is perfect for the music that is being played on "Of Rage and War". It just gets better with the next track "Witchhammer" which opens with some cool guitar harmony parts before transforming into a thrash-fest and some gang background vocals (shouts) are present near the end of the song. Continue reading »
Interview by Robert Brady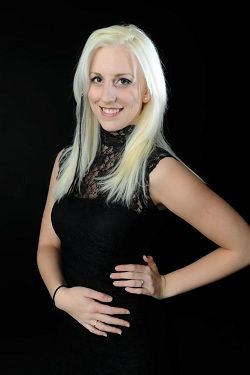 When most women are little girls they dream of the Knight and Shining Armour and the dress they will adorn themselves with. Some women find earlier than others. It certainly seems music found Jamie Lee-Smit the founder of the 'Belgian' metal band Azylya.
Azylya is a musical concept conceived from the mind and heart of Jamie Lee-Smit. Every time I listen to Azylya I feel like I am going to see a film at a film festival. Jamie Lee-Smit certainly has unleashed her cinematic influences in her music. I love the fact is that she never allows one moment for her listeners to get bored or think it all sounds the same like some bands have a tendency of doing on their albums. There is always something different with every track and composition in Azylya's music and at the same time they remain on point with their objective overall as not to alienate the listener from getting the main concept.
Azylya has something for every metal pallet. If you like female fronted metal it certainly has that to the forefront, there are black metal elements with the male vocal along with progressive, gothic, power metal elements. The running theme that seems heavily present with in Azylya is the cinematic film score style of metal that only a few bands as Rhapsody of Fire and Epica have dared venture towards.
As female fronted metal has really flourished in the past 15 years with bands like Theater of Tragedy, After Forever, Tristania, Epica, Leaves Eyes, Within Temptation and Nightwish, I believe Jamie Lee-Smit and Azylya are at the forefront of the preservation of the road and trail the previous bands have built. As a 40 something who grew up as a metal child of the 1980′s where our choices in women in metal were limited honestly to 4 bands in Girlschool, Rock Goddess, Warlock/Doro, and Lita Ford it is encouraging to see women now on the frontline of the battle and to see young women like Jamie Lee-Smit take her dream and vision and enlist in the business, I definitely see women in metal thrive in the next few decades and bands like Azylya carrying that banner for years to come.
Continue reading »
Label : Alfa Matrix
Review by Luisa Mercier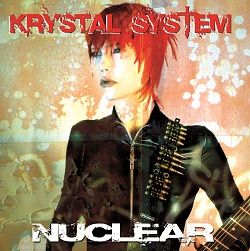 The French duo Krystal System release their second album after 2008 "Underground" and provide us with their industrial rock, perfect for gothic nights on the dancefloor. "Fiction" the opening track has a perfect hook, energetic beats and matches perfectly "Un Etat D'hypnose" that follows.
It will be a sure hit in gothic club. The familiar beats and synth sounds make the track a catchy one to listen to while the industrial guitars add aggressiveness and edge. Each subsequent track on the album combines these aspects producing a fast-paced and danceable collection of songs almost impossible to stand still while listening to. Continue reading »
6 color styles available:

Style switcher only on this demo version. Theme styles can be changed from Options page.