Browsing articles tagged with " ink"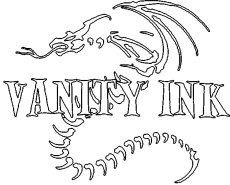 Interview by Connie Bach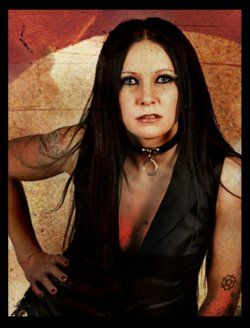 I
'd describe Vanity Ink as having an energetic, vivacious sound designed to have audience members head banging and shaking their hips in time to their catchy music.
Hi,
Annabella
. Nice to have you. What are your hopes for the upcoming Austrian tour dates in September?
Of course I'm looking forward to them! Those dates are just the beginning of our longer European tour. Check out the dates at our website. It's gonna be a blast!
I'm watching the video for "Smell the Party" and it is quite entertaining. How was it put together?
We just invited bunch of fans, started jumping up and down and filmed it all. So basically we just drank beer, acted stupid and had fun!

Where did the inspiration for "Smell the Party" come from?
It's a story about a day when you decide you stay home and take it easy but somehow you smell the party and… the rest is more senseless random behavior. The story of my life.
"More Senseless Random Behavior" is the band's fourth release. How would you say Vanity Ink has changed and grown since the first day of recording all those years ago?
Ummmm… hard to say. We're older and wiser. Well, at least older.

I don't know… why fix it if it ain't broken? We're just cranking out the tunes we love and having a good time. It's that simple.
How did "More Senseless Random Behavior" come together? Did it become what you and Vanity Ink intended?
Yeah, it did. We recorded it in Finland at the countryside, far away from civilization in the middle of nowhere. Nice and easy.
What has the feedback from fans been like? What goes through your mind when the entire audience knows the lyrics?
Heh, do they know? Well, maybe some do. Of course it's flattering if the audience is singing along. I guess the feedback's good if people keep coming to see your shows.

What do you have in mind for your future goals? How do they contrast to those of Vanity Ink?
To have as much fun as possible until the end of the world, which is coming in 2012 as I've heard.

The fun includes Vanity Ink so there's no contrast.
How do all the band members bond and connect beyond the music?
We hang out together a lot. I love those stupid guys!

Turning to your personal career, how did you become a singer and rock vocalist?
I've been singing all my life. As a kid I was singing at home all the time. So I guess this is the thing I've always wanted to do.
What is the most important thing that you keep in mind when writing music?
I try to keep my mind open and just go with the flow. Too much analyzing is always bad, you just have to let it go and see what comes up.
Annabella, how do you view your own vocal style, in contrast to other vocalists?
I don't like comparisons. Everyone's doing their own thing. I just sing from the heart and try to get some emotion in the songs. And the balls! You gotta have the balls whatever you do.
I know your MySpace says that there are too many influences to name but I'd like to know what inspires and influences you the most in your music, as well as the other members of Vanity Ink?
This has been asked a lot and we've always answered that it's the life we live that inspires and influences us the most. Things we do and see. Of course we also listen to music all the time, from punk to rock and metal and back.
To wrap this up, what would you, and each of the band members, want to say to fans?
Please keep in mind that Jussi is not so innocent as he seems.
Thanks, Annabella, for your time.
Thank you! See you somewhere in Europe this fall!
Links
Independent Release
Review by Tony Cannella
Black Ink is a Progressive metal band from Italy. In 2011 the band released its debut (and only, thus far) demo called "Reminiscence". So, let's delve into what this Italian band has to offer. "Reminiscence" is longer than your average EP at 30-minutes, and it is made up of 5-songs, four of which are over 6-minutes long. The production on "Reminiscence" is really professional sounding and I would classify this more as an EP than a demo – the sound is crystal clear. Musically, the band reminded me a bit of Dream Theater – especially with the intricate jamming they do on some songs. The opening track "Cold Soul" gets things off to a good start. Lead vocalist Laura Lerti has a clean Amy Lee style vocal approach. The music is heavy and very much riff oriented, but also technical and melodic as hell. "New Day" starts off with a short drum intro before the heavy guitars come in. The next song "Black Ink" starts off with a 70s like prog rock piano that is soon joined by the guitars and keyboards. This is a mid-tempo song that slowly builds into another heavy one, but this is also the most prog-rock like song on "Reminiscence". The next song is the ballad "Bitter Tears", at almost 5-minutes is the shortest song featured here. Obviously this is the most accessible song in the Black Ink repertoire and sounds tailor made for the mainstream. The final song "Confused" starts off with just pure heaviness, the song features an orgy of guitar riffs as they come at you fast and furious. This is just a massive way to end things. "Reminiscence" has some pretty cool moments backed within the 30-minutes provided here. Black Ink is different from a lot of metal coming from the great country of Italy these days which should help them stand-out in the ever growing Italian metal scene.

Rating – 89/100
Tracklist
Cold Soul

New Day

Black Ink

Bitter Tears

Confused
Line Up
Laura Lerti – Vocals

Michele Podda – Guitars

Andrea Botto – Bass

Rocco Iacovino – Keyboards

Giuseppe Ierace – Drums
Links
MySpace * ReverbNation * Facebook * Twitter
Label : Femme Metal Records
Review by Tony Cannella
In the realm of female fronted metal bands, there are so many great artists to choose from. Now, here in all its Femme Metal glory is a compilation released by Femme Metal records. "Beauty and Brutality" features 31-songs and over 2-hours worth of music, spread out over 2-discs from some of the best female fronted bands found anywhere. This collection also proves to be a useful resource and an education for anyone who is a fan of this genre of metal. The Femme Metal landscape is so vast and features so many bands of different shapes, sizes and styles, this compilation makes that fact all the more apparent. Disc 1 opens with the strong track, "Head Up High" from Floor Jansen's new project ReVamp. This is just an excellent way to begin things. From there the CD flows nicely as some well known, and not so well known bands are showcased, as well as many different styles. It is hard to pick out what made the biggest impression on me, because each band offers something memorable. But some of my favorites were Exilia, Dama, Magion, The Mary Major and Asrai. Infinite Tales ratchets up the heaviness on the brutal "Running Away". That is followed by the melodicism of One Without. Disc 2 begins with "Unleashed" from Epica's great latest offering, "Design Your Universe". Deadmanswake is next with the aggressive, "Back to Blood". The different styles are once again showcased with bands like Vanity Ink, Seven Kingdoms, Diva Suicide, Solsikk, Virus IV and A New Dawn. The fact is, there is so much music on these two CDs that it would take forever to go through track-by-track, so I apologize to any band that I left out. Suffice it to say, there is so much diversity on this compilation that even the most jaded of music fans should find something that pleases them. In the end, "Beauty and Brutality" features a worthy cross section of some truly great and underappreciated bands. This compilation succeeds in every way, but the coolest thing about collections such as this is the ability to find new bands which you might never have been exposed to. Proceeds go towards aiding Cancer research in the U.K., so it's all for a good cause as well.
Rating – 95/100
Tracklist
CD 1
"Head Up High" – ReVamp

"No Tears for You" – Exilia

"Rainy Roads" – Dama

"War of Hearts" – Magion

"A Vide" – Soulmaker

"Morning Sickness" – The Mary Major

"Longing For Serenity" – Disdained

"Stay With Me" – Asrai

"Lost Inside" – Crownless

"Shapeless" – Re-Vision

"Running Away" – Infinite Tales

"Withered Serenade" – One Without

"Shine" – Aperion

"Thoughts" – Reactive Black

"Elysium" – Apparition

"Gates of Damnation" – Triaxis
CD 2
"Unleashed" – Epica

"Back to Blood" – Deadmanswake

"Spell the Party" – Vanity Ink

"Somewhere Far Away" – Seven Kingdoms

"Crystals" – Diva Suicide

"Butterfly in Your Hand" – Exoterik

"My Cold One" – Özge Özkan

"Jaassa Varttunut" – Kivimetsän Druidi

"Frightening Lanes" – Virus IV

"Volatile Territory"- Solsikk

"Absence of Light" – Dimlight

"Doom Revail" – Raven Tide

"Masque of the Red Death" –

A New Dawn

"Inner Guillotine" –

VelvetSeal

"Destined" – Ex Libris
Label : Swedmetal Records
Review By Tony Cannella
From Helsinki, Finland comes Vanity Ink. They play good, melodically charged hard rock – with plenty classic style rock riffs and memorable and catchy songs. The band have just issued their second full-length release titled "More Senseless Random Behaviour". "Smell the Party" gets things started and it is easy to see where this band is coming from and this is a good energetic opening number that gets this party started. The band is unrelenting on the next track "Let's Go Down" a great second track that does nothing but bring the quality up (no pun intended). "Fine by Thursday" begins with the simplest of guitar riffs, and it proves to be a driving force for this fine song. You really have to like the vocals of Annabella, she has tons and charisma and attitude in her voice that you just have to admire – she is quite impressive. "Breathe" slows things down a bit and it is the obligatory ballad and once again Annabella really shine through on this number as the provides an emotional, breathy delivery to the song, which quickly became one of my favorites. Getting back to the hard stuff is the next track "Rolling Stones", which is just a good down and dirty rock tune and another high point. It's energetic and the gang vocals on the chorus are pretty cool as well. "Versus" is perhaps the shining moment out of the 11-songs presented here, a rock solid back beat is accompanied by some monster riffs and another great melody, the band have really out done themselves on this one. Other highlights include: "Modern Day Saviour", "Oh Sue" and "Rock and Roll".I will admit that after doing some research on the 'net on Vanity Ink, I didn't know what to expect, but I am happy to say that this band quickly put my doubts to rest. They play just good, in-your-face, hard rock and roll with an emphasis on killer melodies. "More Senseless Random Behaviour" is a CD that really caught me by surprise and one that really delivers.
Rating – 85/100
Tracklist
Smell the Party

Let's Go Down

Fine by Thursday

Breathe

Rolling Stones

Versus

A Song on the B Side

Modern Day Saviour

Oh Sue

Rock and Roll

Everybodymoveeverybodygethurt
Line Up
Annabella – Vocals

Juha Bandit – Guitar

Jussi – Guitar

Miki Peltola – Bass

Sam Junni – Drums
Links
6 color styles available:

Style switcher only on this demo version. Theme styles can be changed from Options page.