Browsing articles tagged with " inner"
Interview by Robert Brady
Intro by Miriam C.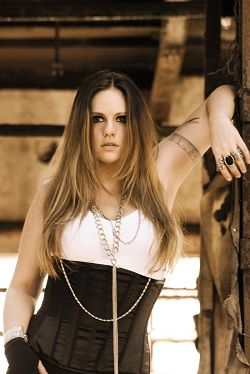 The last power progressive metal sensation comes from Brazil and it's called Vandroya and they are fronted by the majestic force (and vocals) of Daisa Munhoz. Although their debut album "One" was released at the beginning of the 2013 onto Inner Wound Recordings, we totally release that they deserve a bigger space then a review and so here served a nice and interesting interview.
Daísa welcome to Femme Metal Webzine it is a pleasure having you here. Thank you for your time. Vandroya is a very unique name for a band. Can you explain how the band settled on the name Vandroya?
It's my pleasure, thank you very much for this opportunity. There isn't a special story behind the band's name, actually. We started as a cover band and we rehearsed in the garage of our guitarist Rodolfo Pagotto and many people frequented these rehearsals, to drink beer, listen to heavy metal. So, we were turning news in our region and invitations for small presentations began to appear and we didn't have a band name. A friend of ours, Andre Deutern, suggested this name during a rehearsal and we adopted it, cause we thought it was a strong name. Continue reading »
Label : Inner Wound Recordings
Review by Tony Cannella
From Brazil, the band Vandroya has existed since 2001. They released their debut 2-song demo "Within Shadows" in 2005 and have finally returned with their power metal extravaganza of a debut full-length entitled, "One". Lead vocalist Daisa Munhoz can already be heard on the last Soulspell offering "Hollow's Gathering" and on "One" she proves to be one of the best voices in the power metal genre.
"All Becomes One" is the ominous intro track that leads us into power metal masterpiece "The Last Free Land". The musicianship is up-tempo and lead vocalist Daisa Munhoz's vocals are remarkable as they soar right along with the music. In an age when so many female fronted metal is dominated by operatic vocals and extreme vocals (not that there is anything wrong with that), it is refreshing to hear someone who just goes out there and sings in a power metal style. One of the songs that stood out for me is the stirring ballad "Why Should We Say Goodbye?" which is just phenomenal. Continue reading »
Label : Inner Wound Recordings
Review by Tony Cannella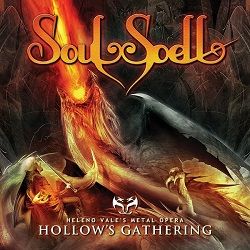 Soulspell is the all-star metal opera brainchild of Brazilian drummer Heleno Vale. The project got off the ground in 2007 with "Soulspell" an album that represented part I in the metal opera. It was soon after followed by Part II called "The Labyrinth of Truths". Now this all star metal project is back with Part III "Hollow's Gathering".
First of all Heleno Vale has done a great job in assembling some hugely talented musicians for "Hollow's Gathering" as he has on the previous albums. Next are the lyrics. You can check out the story on the official web site, but Heleno has written an incredibly detailed and complex story with each singer/musician playing a part. Third and most important is the songs. "Hollow's Gathering" had me wanting to listen again and again. The songs are well written and range from pounding classic metal style numbers, prog, ballads, power metal and symphonic metal. Starting with the 9-minute title song, this really is an album that is unrelenting –several singers can be heard on this monstrous opener. Continue reading »
Label : Massacre Records
Review by Tony Cannella
The Munich, Germany based melodic metal outfit Envinya formed in 2006. After releasing a demo in 2007 they released their debut EP "Beyond the Dark" in 2010. Envinya now returns with their full-length debut via Massacre records entitled, "Inner Silence".
Lead vocalist Natalie Perreira dos Santos has got a pretty diverse voice – that's the first thing that struck me. She sings in mostly a clean style but she also adds the odd bit of growly vocals too, which are quite impressive, especially when you consider that she is capable of such different styles. The band adds touches of symphonic, power and prog metal sprinkled throughout the album but is always maintain a great melodic base on the 10-songs offered here. The opener "Faceless" comes out of the gate like a shot of adrenalin. A fast up-tempo riff works hand-in-hand with some solid vocals and it is a great opener. The next track "Forlorn" has a heavy, rumbling riff and the first appearance of the growly vocal style is heard. This is another good one. Continue reading »
Symphonic German metal band Envinya debut album "Inner Silence" will be released this coming January 25th, 2013 via Massacre Records. Also in addition the album's release will be revealed soon the new female singer afte the split with the singer Natalie Pereira dos Santos.
Jan Yrlund (Darkgrove Design), who has previously worked with bands such as Apocalyptica, Manowar, and Legion of The Damned, is responsible for the artwork. Check out the art below, and the album's track listing is:
Faceless
Forlorn
Inner Silence
In My Hands (stream the song right here)
Swallow
Satin And Silk
Mirror Soul
Too Late
Beyond The Dark
Demoralized
6 color styles available:

Style switcher only on this demo version. Theme styles can be changed from Options page.