Browsing articles tagged with " inspiration"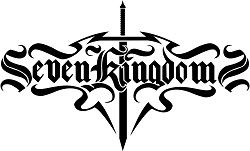 Interview by Alessandra Cognetta
Seven Kingdoms hail from the US and bring us into the world of George R. R. Martin's works by the means of female-fronted power metal. With three albums released (their latest effort "The Fire Is Mine" included) and a tour with Blind Guardian, we took the chance to have another chat with frontwoman Sabrina Valentine about the band, women in metal, the Eve's Apple community and Game of Thrones.
Hello and welcome to Femme Metal, Sabrina! It's a pleasure to have you with us again. How are you and how's it going with Seven Kingdoms?
Well Hello! Thank you for having us back!! I am great, Just back from my first over sea's experience at Female Metal Voices Fest! Me and my Band brothers are well, just waiting to see what comes from the release of our Latest album "The Fire is Mine".
A consistent part of your music and lyrical themes was influenced by George R.R. Martin's works. How much did you actually take from his books and how much (and in which direction) developed on its own "inside" Seven Kingdoms?
Well, on our new album "The Fire Is Mine", we dedicated 3 songs and 2 audio/narrative pieces to the book series. Mostly the songs lyrical content are written to fit the music, because the music is the what makes you think about the emotion we are trying to portray. The rest of the songs on our album were stories that we wrote as a group or on our own.
How was it, touring with no other than Blind Guardian? And how did the two bands get in contact in the first place?
Touring with Blind Guardian was the best moment we as a band have ever experienced. What better way to learn, than to be taught by the forefathers of Metal? They are a group of the most professional and down to earth men I have ever had the pleasure of knowing. Camden and Claus (our Manager at Intromental management) had tried to work something out for us to go overseas and tour with Blind Guardian but being a fresh new band, the financial backing was not there. Camden was determined, so they both discussed if they would be coming to America. It was half the cost to do it on our own territory and more feasible. We applied and Thanks be to the Gods, we were chosen.
Interview by Danny Robertson
Introducing Lateless, the metal quintet from Russia who released their second EP "Breath Again" earlier this year. Here we catch up with them to discuss a little about their history, their influences and their future plans.
How did the band first form?
Nataly: Originally the idea of collective creation was appeared in 2007, but together we were gathered only in February of 2009. On the first rehearsals our guitarist Vyacheslav has strummed a melody which other participants began to develop. During the second rehearsal we have been already working over almost ready composition, witch has been burnt so naturally. It was "Breath Again". I think, it is possible to consider that it was a start line.
Yaroslav: The idea of creation of group at us was for a long time. Only in the beginning of 2009 we managed to all to gather and try the forces. All of us for a long time each other knew and consequently already nominees of musicians have been completed. There was the most important question and who will sing? And here on one of concerts our guitarist Vyacheslav has acquainted me with Natalia and through not which time, we have broken to rehearsals.
Would you say those same influences still help to shape the new material?
Nataly: Yes, of course. However, we are not standing at the same place. Music is alive being. It varies, it adapts to new conditions, it develops and improved. Lots of our tracks are not similar against each other as sometimes happens in families – brothers and sisters are very different they have different characters and absolutely different appearance.
Yaroslav: Initially nobody influenced us and I think, as now influence of whom or is minimum. When we only started to rehearse and think out tracks, we had no special concept, as well as that we will do, all is pure intuitively. I think that that moment will come soon that we already will start to influence some groups. Though it is unconditional in the world there is a weight of talented collectives. It is necessary to think. Now there comes autumn, and this season to me always the beginning-middle of September was pleasant especially. It such sad and melancholic, moderately depressive and romantic. I like to sit one not far from the house in park before lake, on to dream, on to think. The loneliness moves me to musical progress in respect of a music and material writing. Sometimes also I am am attacked by depression and I forget about all.
What are your aims? Is there a longtime dream you'd like to fulfill?
Nataly: To subdue the Everest and to make travel around the world. As to music … I am still in that fine condition when music is a language with help of which you can express your private world, tell something that is very important for you. As a matter of fact, I think that it is the highest creativity point from which the majority of musicians are begin, as paradoxical it isn't be. But then become sad processes which put commercial success above internal freedom. I understand that it can seems very fondly, but, to my mind, the sense of creativity is consist of freedom of expression. And, of course, at is great happiness when your inwardness are understood and divided, when with the help of your imagination and your self-expression you can open something new to other people, and together you find the way to your own internal free "I".
Yaroslav: Is more whole at present not so much, but they are. To write down an album, with a good and qualitative sound, the material at us is ready also I think that in the end of autumn in the beginning of winter we will sit down in studio and we will write down it. We will search in parallel publishing label, most likely the European. At us in Russia they are not professional enough. To win back concerts in support of an album. And further it will be visible? As to my dream, of what I can dream at me there is a favourite group in which I play, people with which it is pleasant to me to work.
Some bands prefer not to be pigeon-holed – are you comfortable as a band with specific labels? What genre of music do you most feel comfortable to be associated with?
Nataly: To tell the truth, as for me the classification has not got enough value. Of course, there are a lot of rules, subtleties and cunnings in the process of record of any music direction about which professionals know. That's why the label for me an indicator of the sound's quality, at first.
Yaroslav: We against stamps and a cliche over music, same first of all art. I am imposed by many styles and directions, now they will be not listed. As to labels, a situation simply pitiable. All of them by and large are not professional, a maximum that they can make it for group to print circulation of an album and to make T-shirts. What promo actions other, concerts and rounds in I will take albums are not made. At us it is a lot of groups and the majority of them is not necessary and a penny, 80 percent of groups are not professional, have no sufficient records and other. Not on think that it because of crisis so was always. As to us that we without a label, also I wish to address to all who reads this interview. We are ready to cooperation, write to us, we will be glad to contact.
Which current acts do you admire most?
Nataly: Inspiration is rather changeable woman. There are a lot of positive in my life now, and it helps me to write. Last text has turned out very sensual. It is possible to tell that the sensuality is inspiring me now.
Yaroslav: As to inspiration it comes spontaneously and unexpectedly. I as on the author of music I am influenced by very many things, it can be both weather and the feelings, any experiences, actions. And many other things that is in human consciousness.
What were your last 3 CD purchases?
Nataly: Ho! It was Oper "Aida", Black Sabbath "Paranoid" and soundtracks from Tarantino's films.
Yaroslav: Recently I not so often buy CD. Certainly it is bad, but I download music from the Internet, so much groups are simple because for about one hour and you do not know what to expect from their material. To download and listen easier, if the material clings me, I will go and I will buy CD. That I have got last three CDs, it were Amorphis, Long Distance Calling and perhaps Endless Journey.
What's next for the band, where can we expect to see you in the coming months?
Nataly: We are planning to act in Murmansk the next month, and also we are planning to act in Saint-Petersburg, on a warming up of remarkable collective Amorphis, whose latest album was amazing. Respect!!!)
Yaroslav: Plans for the nearest some months the such. Now we prepare for several big concerts in the autumn in Russia. We will have a presentation of ours ?? "Breath Again" in the city of Murmansk in the north of Russia, its landscapes are similar to the Norwegian fjords. Then we play with Amorphis in St.Petersburg at them one concert in Russia in support of a new album. That will be further while foggy.
Any last messages you'd like to send out to people?
Nataly: Hope to see you soon!!!!
Yaroslav: First of all I wish to thank Femme Metal Webzine, and also in particular Miriam, for the shown interest to us. Listen to good and qualitative music. We hope for the further cooperation with you. Greetings from Russia.
Links
Interview by Ed MacLaren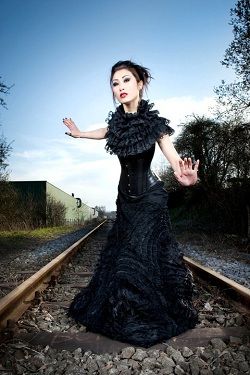 Since 2004, Germany's Krypteria has released a string of excellent symphonic metal albums – each reconstructing and redefining their trademark symphonic metal sound. With their latest album, "All Beauty Must Die", Krypteria has stepped out once again with amazingly ear-pounding results. Led by the formidable vocal talents and dynamic stage presence of Ji-In Cho, Krypteria are becoming as equally known for their powerful live shows as their complex and powerful music. Femme Metal recently got the opportunity to talk to Ji-In about the making of their new album where she breaks down the Krypteria sound and tells us why all beauty must die.
Welcome to Femme Metal Ji-In! "All Beauty Must Die" is out and it's a winner! Life in Krypteriapolis must be looking pretty good these days.
Hello Ed! Thank you very much! Yes, I can't deny that after all the time we were confined to our studio working on "All Beauty Must Die" we are now very happy about getting all the great mail from our fans and wonderful reviews!
"All Beauty Must Die" is hookier and heavier than any of your previous efforts yet you've still been able to maintain many of symphonic and choral elements that made "Bloodangel's Cry" and "My Fatal Kiss" such interesting listens. What was the band's mindset going into the recording of the album?
Like always, we poured our experiences and emotions we had to deal with in the last year into the record. But as you may know we set up our own label and that means for the first time in our career we are free – in every part of this business. That means we are now responsible for everything – even besides the music – and that is very exciting and new for us. We told ourselves that if we fail, we will die by our own sword. This might sound a little weird but because of this knowledge we feel totally liberated, independent and stronger than before. I really hope you can hear it on "All Beauty Must Die". By the way: we called our label Liberatio. (Smiles)
Do you feel that Krypteria has established a certain "trademark" sound that sets you apart from other bands – a sound that people will instantly identify with Krypteria?
I believe we do have quite a different sound from other bands. Not on purpose, this is just the result of our combined efforts at composing and writing. It is hard to describe in a few words, but I believe our fans will know by now what a Krypteria song sounds like. We have a knack for dramatic but still catchy melodies. We like to combine choir parts and classic elements with heavy riffs and beats. On our new album we have further grown and evolved musically. Maybe we are a little tougher and rougher, but unmistakably still Krypteria.
Are there still wild and unknown places the band still wants to explore musically?
There are surely a lot. But at this moment we are very happy with our baby and it is too early to think about our next steps or our next album. The only wish we have is to present our baby live on stage to our fans.
All Krypteria albums have a central theme that holds the lyrics and music together. What's the conceptual thread that ties together "All Beauty Must Die"?
Well, it's not a concept album like "Operation Mindcrime", "Streets" or our 2007 release "Bloodangel's Cry". It's about staying true to yourself and to your ideals no matter the obstacles. There's a lot of rage and yearning involved and it's about loss. But there's also a lot of resolve, defiance and hope to it.
While we're on the subject: why must all beauty die?
If I only knew!! Well, that's how it is and there is nothing you can do against it. You can't hold the good moments forever and stop time – only the memories can remain. But even these are gone when you die. To say something positive: not only the wonderful moments fade away but also the bad times and negative emotions are someday over.
Your singing is spectacular on "All Beauty Must Die". Your vocal melodies have matured immensely on this album. How would you chart your vocal evolution over the course of your time with Krypteria?
Thank you for the compliment but I guess my teacher at the Musikhochschule who taught me classical singing would have a hard time listening to my singing!(Laughs) I think everyone of us has found his place in the band. We all respect and appreciate each other. We also totally trust each other and we feel safe when we are together. I think it's always very helpful and encouraging if you feel comfortable and you feel accepted as the person you are. That's the best way to express and develop yourself.
Do you still work on improving your vocal abilities either through personal practice or professional instruction?
There are days when I sing all the time just to try out what's possible with my voice. And sometimes it's better just to shut my mouth! (Laughs)
A goal of the band seems to be capturing the energy of your live performances – especially yours – on album. Are you getting close to getting that dynamic down digitally?
I hope so. But in the end it's never as easy as we always have a lot of fun on stage – thanks to our audience. Every band would say so – the fon stage. Fans give you the best energy boost you can have and I could never compare these moments we share with our fans with anything else.
Although Krypteria started out more like a loose and informal "project", it seems like Krypteria functions more and more like a true collective. How does that affect the direction and arrangement of the music?
I never thought of this band being loose and informal. But you're right: the longer we know each other the more organic we're getting. I'm very thankful that we're aware of being four totally different personalities and treat this fact as an inspiring fact. That's why we try to make sure that every facet is represented. I'm sure that helps to make our album more multi-dimensional and more colorful.
"All Beauty Must Die" is a heavy album with tracks like "Messiah", "Higher" and "Eyes of a Stranger" but there's still room for your delicate piano flourishes. How important is it to express that musical aspect of your personality on each album?
I love to write songs with only my piano and I think it's a perfect instrument to bear up against the guitars. In comparison with the voice you can show a different and more complex atmosphere and in addition to my voice, the piano is very important for me to express myself and my musical imagination.
"The Eye Collector" is a standout track – and not just because it clocks in at an epic-length 11 minutes long. The intense arrangements and the simmering force of the music make it arguably one of your strongest tracks from any Krypteria album. What is it about extended tracks that bring out the best in the band?
Well, in this case this is easy to answer because we had a great inspiration based on a book by the German author Sebastian Fitzek. One of his fabulous books is a psychological thriller named "The Eye Collector" and we are relieved and very happy to tell you that he likes our song and the fact that it's inspired by his book too. (Smiles)
When you decided to bring in some guests to record you didn't fool around. Doro Pesch, Tobias Exxel and Olli Singer! Nice job! How did they do?
We are very happy that we could win these guys to play with us. For me personally, it's a big honor to sing a duet with Doro – she's really the Queen of Metal and no one is more experienced than her. After all these years she still gives to her fans everything she's got on stage and that's really something to admire. We got to know Eggy when we had our first gig in Germany. We shared the dressing room with Edguy and very soon we found out that they are very nice and funny guys. We are glad that finally after all these years Eggy could find some time to join us on the record – especially as a guitar player! And regarding Olli: he's the best guy we could find to replace Chris on stage. He's a real good guitar player but first of all a real good guy and we have a lot of fun with him when we are on tour.
Krypteria's artwork always shows a lot of attention to detail – both in quality and in reflecting the musical and lyrical content of the album. At the very least the skull logo will look great on a black tour shirt! How did the artwork for "All Beauty Must Die" develop and what were you trying to convey with it?
Talking about the artwork for "All Beauty Must Die", we were searching for a picture that would fit this title. I didn't want my face to be displayed again on our cover, because we already did that. So I came up with the idea of a female and Asian skull. Fortunately, my band members were also very curious about the idea and what such a skull could look like. Thanks to our great illustrator Torsten Bürgin we now have this fantastic female skull logo. If I had tried to draw up something like that, we would probably have a different cover – I'm a real bad drawer and painter!
We're starting to see more bands integrating members from different countries and making some incredibly creative music. This includes Leaves' Eyes, Tristania and Visions of Atlantis to name a few. You've been the lone South Korean in a German band for a long time now. Has your South Korea ancestry played a part in your contributions to Krypteria or influenced the direction of the music?
Not in a direct way. But I can tell you that my family loves music – especially passionate and wonderful melodies. We're very emotional and everyone in my family can play a classical instrument. So I guess this love for this style of music is in my blood.
"All Beauty Must Die" gives you four solid albums of excellent metal music to perform. Does the material give you an opportunity to express all facets of your personality on stage?
Absolutely yes. I love to live out all the emotions and subjects we are concerned with. It's really like a therapy and after every concert I feel clarified – I'm very thankful for that.
Will Krypteria ever get around to capturing your live energy and the band's stellar performances on DVD?
I hope so and I'm sure this wish will soon come true! (Smiles)
Where will "All Beauty Must Die" take you touring this year? Any chance for an appearance in North or South America?
So far we're abroad in Asia and some other foreign countries but unfortunately not in America. We would really like to but there are no confirmed dates yet. Later this year we will tour in Germany. But let's wait and see: not everything is set in stone, yet. (Smiles)
I am not good with last words. All I can tell you is what I tell myself as often as I can: Enjoy your time on earth and keep in mind the wonderful moments but also the bad moments – you never know for what they are good for!
Links
MySpace * Facebook * Twitter * Site
Latest Multimedia
Interview by Ed MacLaren
Since blasting out of the Great White North in 1999, Canada's Kittie has pushed and evolved from its nu-metal roots into a tight thrash-oriented unit of massive metal mayhem. With the twin guitar attack of vocalist Morgan Lander and Tara McLeod backed by the bludgeoning rhythm section of bassist Ivy Vujic and drummer Mercedes Lander, Kittie's new album, "I've Failed You", is anything but one, reaching new levels in the band's songwriting and sound. Femme Metal got a chance to talk with Morgan about the new album, the changes in her writing, and her dedication to Canada's national beverage.
"I've Failed You"
is a failure in title only. Massive riffs, great vocals. Straight to the point, no filler. A pretty successful combination. Do you agree?
I do, of course! I think this album came out much better than we ever could imagined and as it started to take shape, we knew that it was going to be a monster!
The album features some heavy thrash guitar. It must have been a blast for you and Tara McLeod to throw down on this album.

Tara and I always have a blast when we are writing and playing together. We still have wildly different styles but I think that's what makes this band so interesting and allows for us to continue to evolve. We're always pushing ourselves to be better, play faster and challenge the expected for us.
"I've Failed You"
is a testament to the turbulence in your own life for the last few years. Did writing the album work as a type of catharsis for you?


I certainly didn't set out for it to be like that but going into it I knew that it was going to be tough. I had no idea where to begin. As it turns out, this really was the most difficult and cathartic experience I've been involved in. I promised myself that I would be honest and real with the things I wanted to express, and it certainly helped me to see the situation for what it was and allowed me to grow from it and move on.
Did opening up through music let you push your songwriting to another level?
I think so. We certainly wanted to out do ourselves. At the same time, I think a lot of the songs have a downtrodden, slow feel to them because of the emotions involved. The defeat, the guilt, the sadness. I was physically affected by it and it contributed to the end product.

You, your sister Mercedes and Tara all write for the band – it seems like a very integrated creative core. Has the writing process gotten easier for you or are there challenges with every album?
It wouldn't be a band if there weren't challenges. If things came easy, there would really be no reward. The writing process between the three of us has become easier in that we all know how each other writes and works, so we know the others next move and usually we can anticipate where the song will go. There are always challenges in writing though, whether it be getting stuck on a part or finding the right riff, or scrapping a song all together.
You slow it down to an effectively sludgy pace on tracks like "What Have I Done" and "Time Never Heals". What's the key to a good metal "ballad"?
I think for us, its all about the emotion. It's important to connect with the feeling of the song and the reason behind it, and really bring that forward. Ballads can be huge and heavy too.
Your screams and your clean vocals have never sounded better. On
"I've Failed You"
it feels like they've each become a distinct personality. How do you know which voice is going to show up on a given track?

I've always prided myself on my ability to have a voice for every emotion on a song, if needed, and have worked hard over the years to make that distinction glaringly apparent. Usually when a song is in its beginning stages, is when I start the process of figuring out what will go where. Some songs are written with the specific intent of becoming a "singing only" song but for the most part, it's not until the song fully takes shape do I have a set idea of the patterns and vocal styles. It takes time and practice and hearing the song over and over again, as well as channeling the emotion I feel that is put into the riffs of the song.
It looks like Kittie has finally hit upon a stable lineup and it shows in the ease and confidence of the album's performances. Is there some kind of relief now that you've nailed down a solid lineup and you can get on with the business at hand?
It's a relief, yes but I feel that everything happens for a reason and that we would not have been able to appreciate the stability we have now if it weren't for the instability of the past. I feel like each line-up change was a learning experience for us and shaped Mercedes and I into easy-going chameleons.
How important was it to have Siggy Meier return to the helm on this album? He was a big part of helping you level up your sound on "In the Black".

I think it was of huge importance to have him return to produce "I've Failed You". He is responsible for helping the band to re-define our sound with "In the Black", so it was a no-brainer to have him return. He really knows what we are looking for, sonically, and really helps to get the best performances out of us possible. On top of all of that, he is a great friend and Beach Road Studios is a really laid back place with a great environment. We feel welcome and comfortable there, which makes for a better output I think.
You recorded
"I've Failed You"
at Beach Road Studios in the picture postcard town of Goderich, Ontario on the shores of Lake Huron. It's almost surprising you could record such a heavy and aggressive album in such an idyllic setting. Does the recording location ever have an impact on your writing and recording?
In terms of writing, no, as we always come fully prepared with songs and structures for the session but the environment itself is rather relaxing and no-pressure, making for a pleasant experience. It's creative, it's fun and we work at a good pace. Nothing is ever set in stone and with Sig we're always able to try new things and experiment.

You've dealt with your share of negative press in the past. Do you think that with
"I've Failed You"
you've successfully bludgeoned critics long enough with better and better albums that they have to finally give you some props?


This is the music business and if I have learned anything over these past 15 years, it's that you cannot please everyone. We just continue to do our own thing, improve at our own pace and make the music that we identify with and love. I think with time and effort, that people are beginning to take notice, at the professionalism, the musical improvement and the changes. They're noticing that we aren't giving up and are getting better with every album, so that says something to them and they're giving us props for that. I can't complain.
Kittie has hit the 15 year mark. You've essentially been leading this band for half your life. Do you feel any kind of accomplishment having this kind of longevity?

Absolutely. This industry is so fleeting, especially now and it really say something to me, that we've been able to do this for as long as we have. I'm still humble, still amazed, however, that on the eve of my 30th birthday, that I am still in this band, touring and making music. If asked 15 years ago, I would have laughed in your face. It's a good feeling.
What's it been like for you and your sister Mercedes to essentially grow up in a band? Is listening to your early material like looking back at your high school yearbook where you?? Are cringing at a certain chord progression instead the hair style you wore back then?

It can be like that at times. There were a lot of things going on behind the scenes that made it unbearable sometimes, but overall it was a good experience. The memories are fond and I would never want to go back and re-live them but I wouldn't change anything about those days, either. I am the person that I am today because of it. We all grow, evolve and change, as people. We just so happened to do all of our growing pains in public.

When you look at the teenage Morgan do you still recognize her in you? Despite all the struggles and roadblocks in the bands history do you still have any of the wide-eyed amazement and optimism of that kid from London, Ontario?
I see some of her in me, now, but for the most part she has turned in to a jaded, angry, cynical beast! (Laughs) I'm still enthusiastic about my music and the band, however and am still amazed at times that this is still my life.
I'm sure after all these years you're sick of the women in metal angle of too many articles and interviews. But with that said there's no question that there's been more than a few young woman who've looked at Kittie and said, "They're women and they rock! I want to do that too!" and then they run out and start their own band. A great compliment as a musician and as a woman in metal.

And I applaud them for that! There is nothing wrong with inspiring ANYONE, be them male or female, young or old. I can't say I see myself as a role model but it is always nice to know that what you do makes people want to better themselves.

When you think of specific countries, certain styles of metal will come to mind. Canada? Not so much. Is that an advantage from a creative standpoint not to have one type of music being constantly funneled around you?
Canada, as I'm sure you're well aware, is quite the melting pot of diversity, and I think that funnels down into other aspects of our society and culture. Food, clothing, art. So in a way, I wouldn't expect that diversity to leave music untouched, too. We have all kinds of different things going on and it makes for a really wonderful, vibrant scene, and creatively it doesn't pigeonhole anyone. We just do what feels right and aren't expected to follow any particular rules.


What's the most Canadian thing about you and the band?

Our devotion to the glory that is Tim Hortons!

In addition to Kittie, you also run your Poisoned Black clothing line and the X of Infamy management company and all of this before your 30th birthday. Are you intent on becoming the metal equivalent of Jay-Z?

I'm quite certain that I have more than 99 problems! (Laughs)
Do you ever see yourself putting down the guitar and focusing more on your other interests?


I think I will always gravitate towards music in some capacity and perhaps one day this band may not exist but that doesn't mean that I will stop being creative or being an artist.


(Famous) Last words?

"My works cast down and trampled to dust is no defeat. The soul that built them cannot die. My home burned, I dress in ashes and bend my arm to the harp and sing a while. My love is dead, I mourn and live. My revenge is to live."
Latest Multimedia
Links
Interview by Miriam C.
Trascription by Kassandra Ortmann
I know, I know what are you gonna say "What's this, that's too short and we want more!". I totally understand you but the occasion was too much inviting to let it go so I took the chance, also for really short but quite, I admit to say, inviting interview with Lzzy Hale from the American new hard rock sensation Halestorm during their unique Italian gig in Milan. For sure there will be another occasion to do an interview but for the moment enjoy this exclusive! For this interview I really thanks for her collaboration and help Mrs. Morandi Anna Marzia from Roadrunner Italy/Warner Italy.
I was asking you about your second album, "The Strange Case of..". I am wondering when you started to compose this album?
Ah well, we um, we didn't have a whole lot time to think about this record and to prepare for it. We had been touring on the last record, um for nearly three years and basically got off tour, had 24 hours to pack and then went right to California to start making the record. We had a handful of ideas, ah, none of them were really finished yet. We had a couple of serious songs. We didn't really know what we were doing yet. Basically we just had to dive in and chase after whatever got us excited. And try not to think to hard about the pressure of making a record. Um, we ended up doing for the first half of the record writing probably the most aggressive songs we have ever written. A lot of riff driven songs, I'm being obnoxious and screaming my head off. And then uh, half way through um, I started really opening up and writing some of the most intimate songs that we've ever written. And it ended up to be, the finished product ended up to be this strange duality of sorts. And just the light and dark, the soft and strong but somehow it still all went together, which was surprising to me. And hopefully the message on this record is that you can be both. (LAUGHS)
I have read here and there some of your lyrics, and some of them are really straight-you-in-the face? What are the facts or things that inspired you during the song writing process?
Oh, it can be anything. First of all I live with uh, anywhere between four to nine boys at any given time, so there is always (LAUGHS) something strange going on (LAUGHS), that sometimes the guys will say something that I will have to write down because it is a little over the top. But um, to be honest, a lot of the recent inspiration especially for this record, came from the fans actually. And uh, we definitely keep in touch with our fans with Twitter and Facebook, and all of the social medias but um we started to get physical letters actually to the studio while we were making this record. And it just so inspiring to hear their stories, to hear what are fans are going through and what our music means to them. I think when we went in to make this record we really had a great idea of who we were actually singing to and um they were giving us alot of fuel in order to make a record they really deserved. In all honesty, Inspiration can come from anywhere though. I mean, I love watching people and I consider myself an observer and a sponge of sorts. So really it could be anything somebody says to you, you write it down, or somebody will be telling you a story and you say "Ja, I should write a song for them". In a lot of ways whether it's my personal experience or somebody else's, it's fun, it's fun because there is no real one way that you can write a song.
I saw "Private Parts" is a bonus track. It features the participation of James Michael. Who was working in singing with him?
He is wonderful, I love James so much. Originally he wasn't planning on singing on the record. He and I wrote the song together. And uh, he had all these ideas about who could sing this song with me was excited to see who it ended up being. And at the last minute I called him up and saying, "You know what James, nobody can sing this as well as you can". Because it is from his heart as well, so um, he ended up singing it with me and it was just wonderful cause he has such an amazing voice and he's such a great guy. So it was a great bonding experience actually.
The "Strange Case of", in the US was published by Atlantic Records and in Europe by Roadrunner Records. How about this collaboration. Any plans for the European market to re-release your past discography. For example, your debut self titled album?
Yes, I definitely think that will happen in Europe. The wonderful thing about Roadrunner Records overseas is that they are such amazing people. Even though things are kind of shaken down right now, (LAUGHS) everybody is so talented. They really knew what they were doing overseas. So the partnership between Atlantic and Roadrunner, really helped give us a leg up in Europe. Because we had come over here a couple of times with different bands and I noticed we had never really had a whole lot of press (LAUGHS) until we started working with Roadrunner Records. And uh, then we came over here for the last tour, and everyday we had something to do, and we were meeting all of these people and doing all these meet and greets. And I was like. "WOW! This is how its supposed to be!". So, I definitely think that more of our material to be released in Europe, especially considering we most likely will be doing a live CD as well as another EP. You can't really limit us to any one thing I think we, uh, we start itching to do something new after every couple of months. So there will be definitely more coming over here.
I don't know if you heard the question about Nightwish and the former singer. I don't know if you read the news. It happened that the singer has quit the band because of too long tours. I ask you, aren't you afraid to feel physically and mentally drained. I read on your website that you do a lot of touring. Are you not afraid to be tired mentally and physically?
Uhm, its definitely a battle, in fact as we speak right now I actually have a cold. But the show must go on, and we're gonna do a show tonight and rock it out anyway. Um, I think that for me the hardest is making sure that you take care of yourself, and you're honest with yourself. That when you are tired you go to bed instead of staying up till 4 AM. (LAUGHS) Or um, making sure you remember that your body is your instrument. A lot of it is just common sense, you know. If it hurts don't do it, uh, you know you try to eat right, try to get a little bit of exercise in everyday. That type of thing. Because unfortunately for singers, and this what I feel with Jacob and a lot of the other singers that are struggling now, is that you cant just go to a music shop and get a new one. (LAUGHS) We don't have that technology yet! (LAUGHS) Like a guitar player if a string breaks, you replace the string, but with singers you can't really replace whats yours, what is inside of you and your body. So, um, its just something you have to keep in mind. I know in past years I struggled, because I am very stubborn at times. So I'll want to be invincible, like, "No! I can do it!", you know, I'll stay up all night and I'll party and do the show. Maybe I could have down that when I was a young teenager (LAUGHS), but not anymore! (LAUGHS)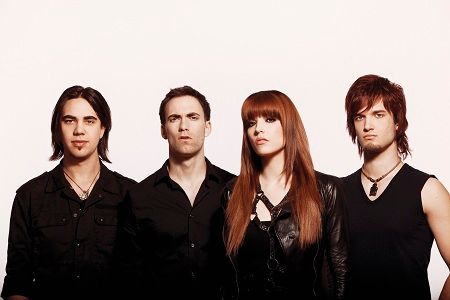 Congratulations for winning the "Hottest Chick in Hard Rock" . How do you feel about it?
I am actually quite flattered. I know there are a lot of women that look at that in a negative light. I never really did. I enjoy the attention. I enjoy dressing up. Um, obviously I am no stranger to the high heels and the short skirts. But I do have one rule and that is to make sure that if I am getting all of this attention for you know, being a girl and being sexy and the rock and roll then I have to make sure that I take care of myself. And that I am good at my instrument and good at what I do. Um, and have something to back it up! You know, because we cant ride solely on the sex because that is going to go away at some point. And one point in time I am going to be a sixty five year old woman and no one gonna want to see me in a short skirt. (LAUGHS) So I have to make sure I am good at what I do!
So you take the advantage now for the time being?
Yeah! (LAUGHS)
Unfortunately we are at the end. We thank you for this short interview and I am really, really happy to have had this talk with you? So … thanks again.
Thank you so much for taking the time for me darling. Its been an absolute pleasure talking to you.
Thank you so much!
Hopefully I will get you meet you one day!
Me too, I hope to meet you but unfortunately today I am not in Milan, I am quite far away from Milan but the best I can get today is to interview you!
No worries, we will be back. I promise you that!
So we are at the end, thank you so much?
Thank you so much! Darling. Bye.
Credit Photos
Photos by Chris Phelps & Alex R. Kirzhner
Links
MySpace * Facebook * Twitter * Site
Latest Multimedia
6 color styles available:

Style switcher only on this demo version. Theme styles can be changed from Options page.