Browsing articles tagged with " interview"
Interview collected by Tony Cannella
Questions by Miriam C. & Tony Cannella
With her latest album "Taiga", Zola Jesus (AKA Nika Roza Danilova) presents the listener with an eclectic potpourri of music that ranges from rock, pop, electronic, goth and more. It really is an interesting and entertaining listen. Recently we caught up with Nika to discuss "Taiga" and more.
Back in 2014, you released your fifth album, "Taiga". What can you tell us about the making of the album?
Well, first, I moved to this island called Vashon Island in Washington and I set up a studio in a house on the island. I just started writing every single day and tried to figure out what I wanted to do for my next record. I wrote so many songs and so many different types of songs. When I look back there was a theme running through many of the major songs that I had written and they all kind of tied together, and so I started following the trajectory of those songs and that was mostly lots of brass and beats and really clean vocals. The concept was about man's relationship with nature, our alienation with nature and how we kind of separate ourselves from the world in our own way. It is kind of exploring that in a sonic and a lyrical way. Continue reading »
Interview by Peach Galea
Kobra and the Lotus is a Canadian heavy metal band formed in 2009 by lead vocalist and songwriter Kobra Paige and  we have been lucky enough to catch the Priestess herself for an interview here at Femme Metal Webzine during their recent UK tour and ask about their upcoming EP "Words of the Prophet" . On top of this I'd would like to thank Kobra for taking the time out of your busy schedule for this interview. I have been a fan of Kobra and the Lotus for a few years and would like to congratulate her on the art and professionalism shown within each album to date.
Let's start with a few questions about your latest video for "Black Velvet". What lead you to make the decision to do a cover of Alannah Myles classic song "Black Velvet"?
Well, Alannah Myles has been a very big mentor. In my life actually, I played a Beatles tribute with her when I was 19 and she was very encouraging. I love her stuff, I love what she did in her heyday especially and I loved "Black Velvet", I was a huge fan of it. When we mixed the first album she called me in the studio just to say "Hey, carry the torch well for the next generation". I really appreciated it, I think she is underrated and I really wanted to bring her around again to the world. Continue reading »
Interview by Tony Cannella
"Lucifer I"
is the title of the debut album from Lucifer. The album has certainly been one of my top highlights for 2015 and is a must for fans of classic doom metal and classic 70s rock and metal. It really does capture the magic of that classic musical era while still keeping their foot firmly planted in the present. Recently we had a chance to catch up with vocalist Johanna Sadonis (formerly of The Oath) to talk about what is going on in the world of Lucifer.
First of all welcome to Femme Metal and congratulations on a great debut album.?Speaking of your debut… "Lucifer I" was released this past June. How would you describe it?
Thank you. "Lucifer I" is taking a bow to our influences, the great ones of the 70s entwined with our love for classic doom.
The song that really stood out for me was "A Grave For Each One of Us". It really is a beautiful song with some meaningful lyrics. What can you tell us about that song? Continue reading »

Interview by Ary G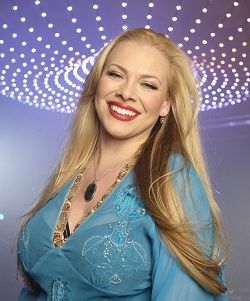 The corresponding commitments seem not to stop the couple (only in professional terms) Kiske/Somerville, that, after almost five years of silence, comes back with the second album of this project. On the occasion of the upcoming release of "City of Heroes", we had the opportunity to have a chat with the beautiful Amanda Somerville about future plans and this brand new, highly anticipated record.
Ciao Amanda

Ary's here! Welcome back to Femme Metal.net! First of all, I'd like to congratulate with you and your husband and I'd like to congratulate for the baby!

We've discovered that you'll be a great mom so congrats, really I guess you're super happy!
Ciao Ary! Thank you for having me once again.

And thank you for the well wishes! Yes, Sander and I are very happy. Continue reading »
Interview by Miriam C.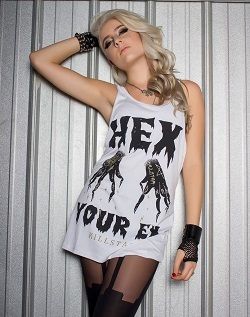 Los Angeles based singer Diamante, despite her young age, shows the power and grit of an experienced artist. It would be strange to you but Diamante, aside of a huge PR machine, has completely self-released her new debut EP called "Dirty Blonde" so we caught up the girl herself, just back from her successful Revolver's "Hottest Chicks In Hard Rock" tour. 
Hi Diamante, first of all, how are you and thank you for this special interview, we know that you are very busy promoting your new upcoming debut EP "Dirty Blonde". How life is treating you nowadays?
Life has been rad! I just returned from tour about a week ago and I've been soaking in as much of Hollywood as I can before I leave. It's been great seeing everyone and being able to rest, but I am excited to go back out on the road again. Continue reading »
6 color styles available:

Style switcher only on this demo version. Theme styles can be changed from Options page.