Browsing articles tagged with " interview"

Interview by Ary G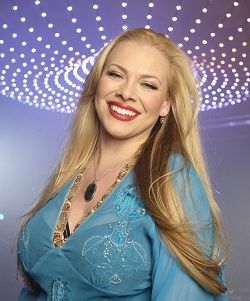 The corresponding commitments seem not to stop the couple (only in professional terms) Kiske/Somerville, that, after almost five years of silence, comes back with the second album of this project. On the occasion of the upcoming release of "City of Heroes", we had the opportunity to have a chat with the beautiful Amanda Somerville about future plans and this brand new, highly anticipated record.
Ciao Amanda

Ary's here! Welcome back to Femme Metal.net! First of all, I'd like to congratulate with you and your husband and I'd like to congratulate for the baby!

We've discovered that you'll be a great mom so congrats, really I guess you're super happy!
Ciao Ary! Thank you for having me once again.

And thank you for the well wishes! Yes, Sander and I are very happy. Continue reading »
Interview by Miriam C.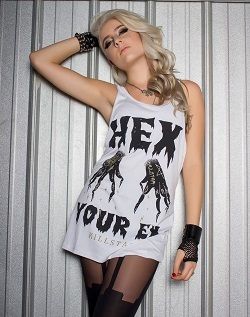 Los Angeles based singer Diamante, despite her young age, shows the power and grit of an experienced artist. It would be strange to you but Diamante, aside of a huge PR machine, has completely self-released her new debut EP called "Dirty Blonde" so we caught up the girl herself, just back from her successful Revolver's "Hottest Chicks In Hard Rock" tour. 
Hi Diamante, first of all, how are you and thank you for this special interview, we know that you are very busy promoting your new upcoming debut EP "Dirty Blonde". How life is treating you nowadays?
Life has been rad! I just returned from tour about a week ago and I've been soaking in as much of Hollywood as I can before I leave. It's been great seeing everyone and being able to rest, but I am excited to go back out on the road again. Continue reading »
Interview by Tony Cannella
Questions by Miriam C.

With a new label home (Artery Recordings), iwrestledabearonce returns with a killer new album, "Hail Mary".  This was a good enough reason to catch up with lead vocalist Courtney LaPlante.  We discussed a variety of subjects but most importantly, "Hail Mary".  A huge thank you goes out to Miriam C. for her help with the questions.  Read on…
First of all, welcome to Femme Metal, Courtney. How are you doing?
I'm doing very well, thank you.
Your new record "Hail Mary" is due out June 16th via Artery Recordings. What can you tell us about it?
Oh man, the keep it short and sweet, it's the heaviest thing we've ever done. It's the most dark, heavy album that this band has ever done. I also think it's the most technically adventurous album this band has ever done and it's the most pissed off album this band has ever done.
How would you say this record differs from your previous album, "Late For Nothing"?
I think on this one we just didn't care if it sounded too extreme. This one is completely groove, rhythmic based and the vocals are as extreme as the heaviness on the guitars. It has a lot more of a – I don't want to say a prog feel to it – but it definitely has more of a groove, a pulse.
Your new single is called "Erase It All". Eddie Hermida from the band Suicide Silence guests on vocals on this track. How did that collaboration come about?
This collaboration was straight up being best friends with him and ten feeding him a bunch of margueritas and coaxing him into being on the album (laughs). He's a really good friend of ours. I hadn't had a guest vocalist on our album. There are a lot of people I really respect and admire. I really, really respect Eddie and it's just cool that he's also a very good friend of ours. You know, I would have had him anyway. He also just happens to be one of my favorite vocalists in this industry right now. That was kind of like a happy coincidence, he's my friend and I would've loved to collaborate with him anyway, the fact that he's so good is a wonderful bonus. Continue reading »
Interview by Miriam C.
If right now there'll be any competition for the 2015 Best Release, the winner in my personal rank might be, without any doubt, Germany's Beyond the Black. Although they don't re-invent the genre, their debut album "Songs of Love and Death" sounds so fresh and enthralling. So, it was the right occasion for chat with the singer Jennifer Haben and to get more infos about BTB and their next plans.
Hi Jennifer, first of all welcome to Femme Metal Webzine and thank you so much for dedicating some of your time to us. How are you?
No problem! I'm fine, thank you.

For our readers that still don't know your fantastic band would you like to introduce us how Beyond the Black is born?
Beyond the Black was born last year. At the beginning of 2014, I wrote some songs with the producers of Elephant Music that progressed into that sound we have now. Later, I met my bandmates through Hannes of Kissin' Dynamite. We hit it off immediately, both on a professional and personal level. After that, it didn't take long until we were standing in the rehearsal room together, practicing our songs. Continue reading »
Interview by CriX
Battle Beast
is one of the most energetic band on the European metal scene, they collect consents after each stage more and more, they are just unstoppable. Fans, radios and magazines have defined Noora the new metal queen, her powerful and mutable voice made Battle Beast the perfect heavy metal band that the world needs. Before their show in Pori, Femme Metal Webzine have had the chance to meet the singer Noora and talk about the past, the present and the future of the band.
Hey Noora, it's a pleasure have you again on Femme Metal Webzine. How are you?
I'm fine, thank you.
The new Battle Beast album "Unholy Savior" has been released back on January, what is the concept behind this record?
Well, this is pretty much a concept album, and it's more related on how Anton was feeling during the songwriting last year, and it's pretty personal album for him. Continue reading »
6 color styles available:

Style switcher only on this demo version. Theme styles can be changed from Options page.