Browsing articles tagged with " interview"

Interview by Alessandra Cognetta
The Moon And The Nightspirit
is a pagan folk duo hailing from Hungary. Mihály and Ágnes have been building over the years an immersive musical experience, enriched by the use of multiple peculiar instruments and lyrics in their mother tongue. Their latest album, "Holdrejtek", has been released through Prophecy Production and it marks an important milestone in the duo's career and evolution, which we tried to examine by asking Mihály a few questions about The Moon And The Nightspirit, the role of Nature in their music, working as a duo and the intriguing origins of the morin khuur.
Hello and welcome to Femme Metal, Mihály! It's a pleasure to feature The Moon And The Nightspirit here. How's it been going for you since the release of the new album?
Continue reading »

Interview by Jack Williams
I have had the pleasure of seeing theNAME twice this year, the first time in support of Stream of Passion in Amsterdam and last weekend at The Female Metal Event- FemME. Today I am speaking with Hadassa, the talented lead singer of the band.
Greetings Hadassa, welcome to Femme Metal Webzine.
Hey there! Thank you, also for the nice introduction

Congratulations on a wonderful show last weekend in Eindhoven, what are your thoughts about the festival?
Thank you! I had a really great time! It was a lot of fun to play at FemME. Also, I really enjoyed being part of the fashion show of Ingeborg Steenhorst. I never did that before
You have such a wonderfully dynamic presence on the stage, for those new to the band, how did you get started in the Metal scene? Continue reading »

Interview by Alessandra Cognetta
Emily Kopplin
is the lead singer and organist for Mount Salem, a psychedelic doom metal band from Chicago, USA. Mount Salem have released their newest full-length album, "Endless", in April through Metal Blade Records and, as we reviewed some time ago, it's really good stuff. The band is now touring the US and will be in Europe soon after, while also planning to go back into the studio in winter. We took the chance to ask Emily about Mount Salem, their music, playing a Korg organ, the joys of a 12×12 vinyl canvas and much more.
Continue reading »
Interview by Tony Cannella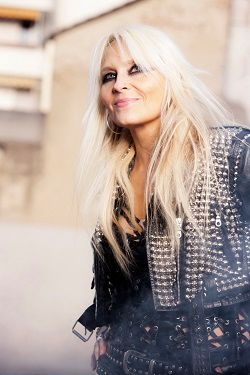 Doro Pesch
is a true rock warrior. For over 30-years she has navigated the often bumpy terrain that is the music business. As the world of hard rock and metal came in and out (and in again) of vogue she has never wavered and never stopped battling for what she believed, and perhaps more importantly she has remained one of the most grounded, down-to-earth, approachable and nicest people in the music business. As she prepares for a North American jaunt Doro was kind enough to take a break from her busy schedule and talk about the past, present and future. I want to thank Doro for taking the time to talk on such short notice.
Let's start by talking about your upcoming U.S. shows. What can you tell us about it and what can the fans expect?
I'm super excited to come back to the U.S. again and Canada! We will be performing a highlight set and actually we will let the fans choose our set-list. We have a poll on our web site so the fans can decide which songs they want to hear. It's entirely up to the fans. The highlights, I would say like "All We Are", "Burning the Witches", "Raise Your Fist" will of course be played, but maybe some rare songs or songs we haven't played in a long time will maybe pop up in the wish list, so I'm excited about that. Continue reading »
Interview by Miriam C.
It's written Death Penalty but it's pronunced Cathedral. No, peeps you're not misreading 'cause in DP's ranks hides Mr.Gaz Jennings, one of the former members from the doomsters UK's maestros Cathedral. Well, time ago Jennings declared to the media that he "didn't have any intention of getting another band together" but apparently it seems that he doesn't want to give up for real. Supported by his Belgian companions, the band published on September 16th, 2014 via Rise Above Records their selftitled debut, so the frontlady Michelle, took some time to reply to our question!
Hi Michelle, first of all, welcome to Femme Metal Webzine, how are you?
Hey there! Thanks for having me. I'm doing pretty well.
So, on 16th September 2014 Death Penalty is debuting with its selftitled album, how do you feel (probably) to have accomplished a major goal in you life and how the press is reacting? "Death Penalty" is already gaining some fantastic reviews.
Continue reading »
6 color styles available:

Style switcher only on this demo version. Theme styles can be changed from Options page.
Archives