Browsing articles tagged with " interview"
Interview by Ary R.
Third album for the Spanish act Diabulus In Musica that is going to introduce to the fans the brand new creature, "Argia", a record which shows us how a band can gain a new lease of life, with a stronger dedication and which wants to show the world that they're not a band like all the others we know. Today we host the beautiful frontman of this band, Zuberoa Aznárez, who tells us in this short but intense interview something more about the album, about the new lineup and the future goals for this Spanish combo.
Hi Zuberoa and welcome back to FM. "Argia" is the title of this brand new record. Would you mind to explain, first of all, the meaning of the album title and to tell us the differences we can find in this album compared to the previous one?
Hi! Thanks! :) "Argia" means "Light" or "clear" in our regional language, Basque. This title somehow reflects how we feel now. Gorka and me had to start from scratch when the other band-members left. It was very hard at the beginning, but we both alone managed to write new songs, find new band-members and play some live shows in only one year. We saw the light in our path again and we had a clear view that we had to continue making music, just because we love it so much that we cannot live without it. Continue reading »
質問文翻訳 Yoshiaki Miyasaka
Voice of Divine Childrenは、いつ誕生したのですか?
さぁ?!(笑) 

私が加入したのは結成後だから分からないけれど、
2年前くらいかな。
VODCに加入する前から、Asamiさんは既にGuardian Hackerのシンガーとして知られていました。このバンドへは、どのようにして加入が決まったのでしょう? Continue reading »

Interview by Tony Cannella
The veteran Italian metal band Lacuna Coil has been blazing a metal trail across the U.S. as part of the Hottest Chicks in Hard Rock tour – which by all accounts has been a huge success. With their new album "Broken Crown Halo" set to be released the band is poised for a long road of touring. Recently we spoke to one half of the bands lead vocal duo Cristina Scabbia to talk about the new album, the departure of two key members and more.
You are currently out on the Hottest Chicks in Hard Rock tour. How has it been going so far?
Continue reading »
インタビュー Alessandra Cognetta
質問文翻訳 Yoshiaki Miyasaka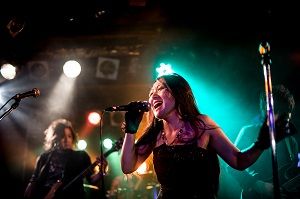 Nene
さん、Femme Metal Webzineへようこそ!再び日本のバンドへのインタビューの機会が得られて嬉しく思います。
最初に、あなた個人とバンドの調子はどうですか?
こちらこそ、Femme Metal Webzine での紹介をうれしく思います。ありがとうございます。私もバンドも昨年末より少しお休みの期間がありましたが、New single も発売され2月よりライブ活動を再開します。
ElupiAは変わった編成だと思うのですが、まずは読者にメンバーの紹介をして頂けますか? Continue reading »

Interview by Alessandra Cognetta
Kari Rueslåtten
is back and her new album "Time to Tell" has just been released through Despotz Records in March. Many of you will remember the Norwegian singer from The 3rd and the Mortal, but Kari has been releasing her own works for quite some time now and "Time to Tell" is yet another demonstration of her huge talent. It surely wasn't unexpected news when, earlier this year, even Tuomas Holopainen (Nightwish) admitted her voice is among his favourites. We bring you this interview with Kari with lots of interesting details on her music, her musical collaborations and a few surprises.
Hello and welcome to Femme Metal, Kari! It's a pleasure to have you here and we're really happy to see you're back with a new album! "Time to Tell" is due for release on the 7th of March and it's the first work after you took a break from music back in 2005. What are your expectations for this new phase of your career?
Thank you so much, Alessandra! Right now I am just so happy to be back doing music again. It has been so long, and I feel now that a huge part of me has come back to me. Continue reading »
6 color styles available:

Style switcher only on this demo version. Theme styles can be changed from Options page.