Browsing articles tagged with " interview"
Interview by Miriam C.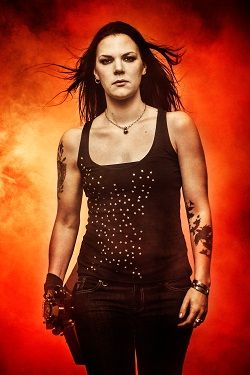 "In the Red"
, beside being the fourth album released for the Swedish explosive heavy metal quartet Crucified Barbara, it shows how the band, through its path, has matured, enhanced and enriched its musical palette. Yeah, don't get me wrong, I love the 'booze & party' themed songs but trying to improve and evolve stylistically is part of the natural flow for a band, probably in this particular case CB were helped by the fact that were able of counting on a reliable partner as their new label Despotz Records but let's read what the singer Mia has to say about it…
Hi Mia, first of all welcome back to Femme Metal Webzine. How are you?
Thank you! I'm fine! Right now I'm in a dressing room in Italy. We're playing at a club called Rock Planet in Pinarella di Cervia. We're out on the In the Red Europan Tour with Supercharger and Junkstars since 17 days and we're just about to finish a set of 13 days in a row with no day off so I'm a bit tired. Starting to mix up lyric lines and stuff on stage but the important thing is that my voice isn't that affected about it, which I'm very happy about. We've never done so many shows in a row before. And today I went to the beach 2 times during the day, very appreciated! Continue reading »

Interview by Miriam C.
Italian label Frontiers Records  is synonymous of good quality for the hard rockers/AOR fans and it's not the first time that Frontiers commits in discover and promote new and exciting bands. A blatant example is Sweden's Adrenaline Rush  whose debut album was produced along with one of the best talent of this recent years, Erik Martensson from Eclipse and W.E.T. Without further ado, let's  the singer Tåve tell us more about AR's debut and her career…
Hi Tåve, first of all welcome to Femme Metal Webzine. How are you?
Hi. All good, thank  you.
Later this year, Frontiers Records launched AR with the release of your first video/single "Change" in late April and then you were invited to play at the Frontiers Rock Festival in Milan. But, let's take a step back: could you introduce the band to us from the beginning? How Adrenaline Rush was born? Continue reading »

Interview by Alessandra Cognetta
The Moon And The Nightspirit
is a pagan folk duo hailing from Hungary. Mihály and Ágnes have been building over the years an immersive musical experience, enriched by the use of multiple peculiar instruments and lyrics in their mother tongue. Their latest album, "Holdrejtek", has been released through Prophecy Production and it marks an important milestone in the duo's career and evolution, which we tried to examine by asking Mihály a few questions about The Moon And The Nightspirit, the role of Nature in their music, working as a duo and the intriguing origins of the morin khuur.
Hello and welcome to Femme Metal, Mihály! It's a pleasure to feature The Moon And The Nightspirit here. How's it been going for you since the release of the new album?
Continue reading »

Interview by Jack Williams
I have had the pleasure of seeing theNAME twice this year, the first time in support of Stream of Passion in Amsterdam and last weekend at The Female Metal Event- FemME. Today I am speaking with Hadassa, the talented lead singer of the band.
Greetings Hadassa, welcome to Femme Metal Webzine.
Hey there! Thank you, also for the nice introduction

Congratulations on a wonderful show last weekend in Eindhoven, what are your thoughts about the festival?
Thank you! I had a really great time! It was a lot of fun to play at FemME. Also, I really enjoyed being part of the fashion show of Ingeborg Steenhorst. I never did that before
You have such a wonderfully dynamic presence on the stage, for those new to the band, how did you get started in the Metal scene? Continue reading »

Interview by Alessandra Cognetta
Emily Kopplin
is the lead singer and organist for Mount Salem, a psychedelic doom metal band from Chicago, USA. Mount Salem have released their newest full-length album, "Endless", in April through Metal Blade Records and, as we reviewed some time ago, it's really good stuff. The band is now touring the US and will be in Europe soon after, while also planning to go back into the studio in winter. We took the chance to ask Emily about Mount Salem, their music, playing a Korg organ, the joys of a 12×12 vinyl canvas and much more.
Continue reading »
6 color styles available:

Style switcher only on this demo version. Theme styles can be changed from Options page.
Archives