Browsing articles tagged with " interview"
Interview by Miriam C.
If right now there'll be any competition for the 2015 Best Release, the winner in my personal rank might be, without any doubt, Germany's Beyond the Black. Although they don't re-invent the genre, their debut album "Songs of Love and Death" sounds so fresh and enthralling. So, it was the right occasion for chat with the singer Jennifer Haben and to get more infos about BTB and their next plans.
Hi Jennifer, first of all welcome to Femme Metal Webzine and thank you so much for dedicating some of your time to us. How are you?
No problem! I'm fine, thank you.

For our readers that still don't know your fantastic band would you like to introduce us how Beyond the Black is born?
Beyond the Black was born last year. At the beginning of 2014, I wrote some songs with the producers of Elephant Music that progressed into that sound we have now. Later, I met my bandmates through Hannes of Kissin' Dynamite. We hit it off immediately, both on a professional and personal level. After that, it didn't take long until we were standing in the rehearsal room together, practicing our songs. Continue reading »
Interview by CriX
Battle Beast
is one of the most energetic band on the European metal scene, they collect consents after each stage more and more, they are just unstoppable. Fans, radios and magazines have defined Noora the new metal queen, her powerful and mutable voice made Battle Beast the perfect heavy metal band that the world needs. Before their show in Pori, Femme Metal Webzine have had the chance to meet the singer Noora and talk about the past, the present and the future of the band.
Hey Noora, it's a pleasure have you again on Femme Metal Webzine. How are you?
I'm fine, thank you.
The new Battle Beast album "Unholy Savior" has been released back on January, what is the concept behind this record?
Well, this is pretty much a concept album, and it's more related on how Anton was feeling during the songwriting last year, and it's pretty personal album for him. Continue reading »
Interview by Michelle Henriquez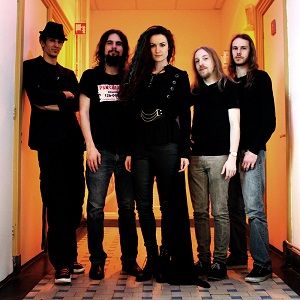 There are many hidden treasures in the Netherlands and ReSolve is definitely one of them. The progressive metal band originated in The Hague has been on the hunt for a new singer for a long while now and finally stumbled upon a very special lady with an extraordinary voice; her name is Radina Dimcheva. Her deep, sullen and powerful voice captivated both the members of ReSolve and the recruiters for Epic Rock Choir. There is no doubt that Arjen A. Lucassen always finds a place for unique talent that is out of this world.
Shortly after the Bulgarian singer Radina entered the project for The Theatre Equation, she joined ReSolve. At the moment ReSolve is in the recording process of a debut album and on the 20th of February 2015 Femme Metal Webzine took the opportunity to interview both Radina Dimcheva and founding member Lennert Kemper.
Continue reading »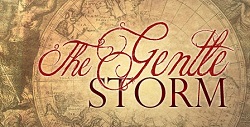 Interview by Miriam C
Transcription by Ary R
I still don't realize that, back almost 2 months ago, I've interviewed a legend. Yes, a REAL metal legend. And while writing this intro, I still don't believe that I was in front of this Dutch artist called Anneke van Giersbergen for almost 30 minutes, chatting about her latest project called The Gentle Storm (and not only that).  I'm still mesmerized at the thought that, yes, Anneke, FREAKIN', van Giersbergen sat in front of me and replied to my questions with the elegance and sweetness who distinguish her from the maelstrom of the artists out there.
Hi Anneke, welcome to Femme Metal Webzine. I'm very honored to be here talking to you. First of all, how are you doing? How is this European tour treating you? How has been the show in Milan yesterday?
Absolutely great! It's always so nice to play in Italy because people in Italy are very warm-hearted, you know this and this makes us feel very welcome. There was a lot of people, it was just so loud, people were singing along with the songs. I loved it! Continue reading »

Interview by Michelle Henriquez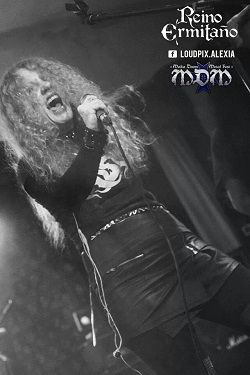 Reino Ermitaño
is a doom metal band that originates in Lima, Peru. They were formed in 2001 by founding members Marcos Coifman on bass, Tania Duarte on vocals, Julio Almeida on drums and later they've introduced Eloy Arturo on guitars. They incorporate social issues, spirituality and introspection in their lyrics, which adds an extra layer of depth to the dark melancholic sound of the band.
Welcome to Femme Metal Webzine, it's a great pleasure to have you with us here. First of all, I want to congratulate you on your latest release "Conjuros De Poder".
Tania: Thank you very much. We are pleased with the results of the new album.
For many of the metal fans that don't know Reino Ermitaño, do you mind introducing yourself and telling us more about the band's history?
Tania: Reino Ermitaño plays witch doom since year 2000. We have released five records (two in vinyl) so far, and played many gigs in Lima and different cities of Peru, two tours in Europe in festivals like Doom Shall Rise 2009, Malta Doom 2014, Doom Over Vienna 2014 and Hammer of Doom 2014. Continue reading »
6 color styles available:

Style switcher only on this demo version. Theme styles can be changed from Options page.