Browsing articles tagged with " irene"

Interview by Si Smith
Alchemy Room are a Italian progressive rock band born on 2007 and have already on their discography 2 EP that, now thanks to Nomadism, are out. The first one is a re-release of the first EP called "Origin of Fears" released in 2009 and the brand new EP "A Matter of Time". While waiting for a uncoming full lenght, we have spoken with Irene, the singer for unveil us more about the history's band.
First of all thank you for talking to us, and a warm welcome from all at Femme Metal Webzine. Fabio La Manna started the project in January 2007, how did you get involved in the beginning, and what were you expecting or hoping at the time?
I met Fabio at the beginning of 2009; I was in a Europe cover band and was looking for something more interesting and challenging to put my voice to the test. So I answered Fabio's announcement and met him, Andy and Tommy to listen to "Origin of Fears" songs that were already written and ready to be registered. I loved the vocal lines as soon as I heard them and decided to join Alchemy Room. My expectation was to make music with someone who could appreciate my vocal skills and at the same time make me grow as a singer and I'm happy with my choice because I also found good friends.

The ideas and visions for the band seem to have originally come from Fabio's head. What is it like inside his head? Have you guys managed to work him out yet?
He is impossible to understand what's going on in Fabio 'cause he's totally crazy. Anyway we are focusing on what we.re doing together as a band and we're following the same path knowing where we want to go.

The name "Alchemy Room" suggets a place where different elements are brought together to create something new and unique. How well does this describe the band itself?
From our biography I could say: Alchemy Room Is a place where everything can happen,when different elements united.sometimes we feel this happens in our hearts, in our minds. Art is usually created by a single, in a chamber or in his personal studio. Everybody's got his personal place that is very important, more important than any other place of the world, 'cause a strange alchemy exists there In alchemy every part has its proper place, what would you say are the essential parts that go into creating an Alchemy Room song? The original album "Origin of Fears" (2009) seems to have had an impact on some reviewers who were expecting Alchemy Room to be the average female-fronted symphonic prog-metal band. It is clear that the band is more than that. Has the new material advanced the band in any way? Is there anything new in there for us to discover?
"Origin of Fears" is a wonderful work entirely conceived and written by Fabio, so it belongs more to his way of composing instrumental structures and of writing lyrics even though the rest of the band put something personal in the execution. The new material is the attempt for us to write something as Alchemy Room, an experimentation in a way trying to find Alchemy Room's sound.

On the first album there was quite a focus on Fabio's guitar solos. Did you ever feel you wanted more singing and less guitar soloing?
I would lie if I said that I'm happy to sing for the first 3 or 4 minutes of a song that lasts 15 minutes! "Origin of Fears" songs are the result of the development of Fabio's creative path and I think it.s more natural for a guitarist to explain himself in songs through instrumental parts than by singing. And it sounds much more natural also when you don't know if you will
find someone able to sing those songs.
Dream Theater and Pink Floyd are both names that seem to crop up in comparison to Alchemy Room. Do you think these are fair comparisons? Are there any bands YOU like to listen to?
I'm really pleased to hear that someone compared us to Dream Theater and Pink
Floyd. Surely these bands inspired us and are points of reference as for the goals we want to reach. I started thinking that I could sing when I was 6, listening to music with my brothers; I became more convinced when I discovered Queen at the age of 12. Freddie Mercury was for several years a sort of vocal coach. So Queen is the band I love the most and that I listen to often. I also like listening to Joan Baez, Carole King, Johny Mitchell and all the classic bands of the 60-70s, but also Tool, Nightwish, Iron Maiden (Bruce Dickinson is something powerful). For me "Waking the Child" was one of the highlights from the first CD. Is there a particular concept in mind when you sing this song?
Both "Waking the Child I & II" are among my favourites "Origin of Fears" songs. I feel a real pleasure in singing them. "Waking the Child I" grows from a grey, sad and delicate atmosphere into a powerful one. When I sing "Waking the Child II" I feel a real sense of tenderness and peace. And so onto "A Matter of Time", which has no extended songs over 13 minutes, but shorter songs apparently making just as much impact. Have you any favourite among the new material?
I'm affectionate to all the songs of "A Matter of Time", but my favourite is "Into the Deep" because is my first attempt to write a song.

"Into the Deep" seems to be much more like a classic song structure than some of your progressive epics. Was this a deliberate attempt to write a more "straightforward" song? Or to include less of the musical meanderings?
The explanation is much more simple. Into the deep reflects my way of writing and my way of being; I like to be linear, both as for the structure as well as for the content of a song. Also in life I go straight to the point.
"Indigo" starts with a slow minimal backing over which you begin to sing. How does a song like this end up in its final form? Do the words come first or the music?
Fabio wrote first the lyrics, then he brought them in studio with a draft of the instrumental line that was developed with Andy and me. We wanted to express a dreamlike atmosphere as the lyrics inspire. Andy came in studio one day with the initial baking and Fabio and I liked it. The rest of the song came alone. The longest of the new songs is "A Matter of Time", which has quite philosophical lyrics. Are these philosophical thinkings Fabio's territory alone, or do you all share in the motivation behind the lyrics?
"A Matter of Time" deals with the consciousness of the existence of other life forms (maybe alien populations) besides humanity. I do not completely share this position, but I believe that there can be a contact with other entities (maybe the departed) who send signals to us in the everyday life. There must be something more than humanity and its madness!

Finally, it is very clear that you fit well into the band – but what would you be doing if you were not in this band? Any other dreams you have?
I would be surely singing in another band because it's part of me. Thanks so much for talking to us, we wish the album success in the future. Thank u for all! Hope u enjoy our album and keep in touch with us!
Links
Label : Figmental Records
Review by Tony Cannella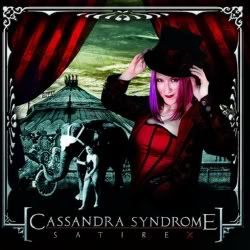 Maryland's Operatic Metal Band Cassandra Syndrome returns with their second album "Satire X". On their debut release, the excellent "Of Patriots and Tyrants", Cassandra Syndrome already made some strong inroads in the Operatic Metal field and it made a huge impression among metal fans everywhere. With "Satire X" the band continues to present a rawer, stripped down approach than your typical Symphonic Metal band. Lyrically, Cassandra Syndrome still has something substantial and topical to say in their songs. Beginning with the strong opener "No More Peace Forever", the band is firing on all cylinders. Some powerfully heavy riffs makes up a large part of the CD and the operatic vocals of Irene Jericho remains happily intact. Throughout the course of this 46-minute disc, the song that really stood out for me is the galloping guitar heavy "The Fool". Cassandra Syndrome follows that excellent piece up another strong number "The Magus", which has a powerful up-tempo feel to it, and is just plain heavy and another track that is just a complete winner. "Shackles" begins with Irene hauntingly singing the old lullaby "Hush Little Baby" as some more heavy, and I do mean heavy guitar riff-age joins the fray as the song really picks up some steam. Other highlights include: "Hell on Earth", "Poison Rain", "The Priestess" and "Pestilence". In my mind, Cassandra Syndrome had a lot to live up to on their second album "Satire X" and they have pulled through with flying colors. As far as American Metal bands go, Cassandra Syndrome is one of the better bands to come from the States in a number of years.
Rating – 95/100
Tracklist
No More Peace Forever

Hell on Earth

The Fool

The Magus

Shackles

Poison Rain

The Priestess

What You Wanted

The Iron Cross

Pestilence
Line Up
Irene Jericho – Lead Vocals

Jen Tonon – Guitar & Background Vocals

Chris Kackley – Lead Guitar

Joe Cariola – Bass & Background Vocals

Jay Jericho – Drums
Links
MySpace * ReverbNation * BandCamp * Facebook * Twitter * Site
Label : Nomadism Records
Review by Tony Cannella
As far as Progressive Rock and Metal is concerned, you take the good with the bad. Some people love the intricate arrangements and endless songs, while others may find it somewhat of a bore. That brings me to Italy's Alchemy Room. I doubt this album – which features their 2009 debut, "Origin of Fears" and their brand spankin' new 3-song EP "A Matter of Time" – will do anything to change perceptions about Progressive Metal, fans of the genre should love this, non fans, not so much. The first 6-songs are taken from the bands 2009 debut "Origin of Fears", beginning with the intricate "Inside My Fear". Musically, Alchemy Room adds plenty of heaviness and classic metal style riffs to go along with the meticulously crafted songs. The second track is the monstrous epic "La Fin Absolue Du Monde". This song clocks in at whopping 15-minutes and really shows off the overall talent of these fine musicians, including vocalist Irene Mondino. The riffs come crashing in rapid fire succession. "Obsession Red Blood" and "Lost" are two more fine tracks, which lead us into the albums coup de grace with the two part "Waking the Child". The first part is 13-minutes long, while part 2 clocks in at close to 10-minutes. After that we have the 3-song EP "A Matter of Time". The songs on "A Matter of Time" are shorter and I think this is a more focused effort than "Origin of Fears". "Into the Deep" begins with a softer approach before the song slowly builds steam and eventually becomes a powerhouse of a track. The ethereal "Indigo" begins with a dreamy vibe to it and Irene Mondino turns in her best vocal performance. This track is a bit different from the other material presented here and really stood out for me, and also shows that the band is not afraid to spread their creative wings. The 7-minute title song continues with the softer direction, before the heavy riffs once again join the fray. This song also features a number of cool tempo changes. Musically, I would compare Alchemy Room to some of the heavier progressive metal bands like early Fates Warning (John Arch era) and early Queensryche. Alchemy Room is hampered by subpar production at times (mostly on "Origin of Fears", the production on "A Matter of Time" is much better), hopefully this is something that will be rectified on future releases. Judging by how the band has grown from "Origin of Fears" to "A Matter of Time", it really has me looking forward to their next full-length. I would highly recommend Alchemy Room to anyone who loves all things prog, epic and grandiose.
Rating – 71/100 - "Origin of Fears"
Rating – 85/100 - "A Matter of Time"
Tracklist
"Origin of Fears" (2009)
Inside My Fear

La Fin Absolue Du Monde

Obsession Red Blood

Lost

Waking the Child – Part I

Waking the Child – Part II
"A Matter of Time" (2009)
Into the Deep

Indigo

A Matter of Time
Line Up
Irene Mondino – Vocals

Fabio La Manna – Guitars, Keyboards

Mauro Mana – Bass

Andy O. Monge – Drums
Links
MySpace * ReverbNation * Facebook * Twitter
Label : Napalm Records
Review By Erwin Van Dijk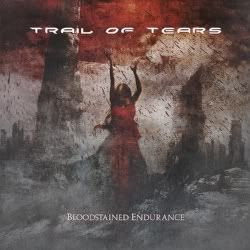 Before we start a question: do you like Trail of Tears? If the answer is yes you can buy this one without hesitation. I did an interview with Ronny and Cathrine about this album and according to Ronny the idea behind the name of the album is: "It is a reference to the band itself and it's history. We have endured a lot of negativity over the years, we might be scarred but not gone and with this album we have proven that those scars will heal and that what doesn't kill you, will in fact make you stronger". This is the first album with a renoved line up which 3 of them came from Cathrine's second band Lucid Fear. Talking about the album, instead, there is a nice touch thanks to the contribution of Audun Gronnestad on "Bloodstained Endurance". He is after all a member of Imperia and this is the band of Helena Iren Michaelsen, Trail of Tears' first female singer. Although Lucid Fear is a black metal band this does not mean Trail of Tears has turned into this kind of music. Ronny is still the mastermind behind all the songs and most songs on the album are written by the Thorsen, Paulsen & Olsen trio. Exceptions of the rule are among others "Farewell to Sanity", which is done by Moe, Næs and Cathrine and my favourite song "A Storm at Will" which is entirely done by Bjørn Næss. With other words, the new members had the opportunity to add some to the album as well and the album did not turn into Ronny's solo album. Compared to the last album that featured Cathrine Paulsen, "A New Dimension of Might" Trail of Tears has dumped all the bombast and returned to the core. Well written and very dark without resorting on too much special effects, opera, choirs etc. There is one song I really want to mention: "A Storm at Will" : this is really the Cathrine song on "Bloodstained Endurance". The song starts almost like an acoustic ballad until the guitars kick into gear. With this song she can finally show what she can. Personally I think this is a good album. As said before, it is more down to earth and certainly not entertainment for the masses but Trail of Tears has never been this before.
Rating – 80/100
Tracklist
The Feverish Alliance

Once Kissed by the Serpent (Twice Bitten by Truth)

Bloodstained Endurance

Triumphant Gleam

In The Valley of Ashes

A Storm at Will

Take Aim.Reclaim.Prevail

The Desperation Corridors

Farewell to Sanity

Dead End Gaze

Faith Comes Knocking
Line Up
Ronny Thorsen – Vocals

Cathrine Paulsen – Vocals

Paul Olsen – Guitar

Bjørn Erik Næss – Guitar

Endre Moe – Bass

Cato Jensen – Drums
Links
Label : Figmental Records
Review by Tony Cannella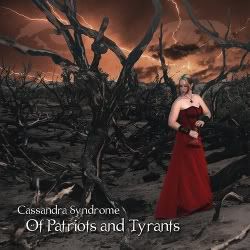 Formed in Maryland in 2005, Cassandra Syndrome are a band that have a lot to say. Their debut release – available now on Figmental Records – is titled "of Patriots And Tyrants" and it features the powerful soprano vocals of Irene Jericho in conjunction with some seriously heavy and melodic guitar work, and in short "of Patriots and Tyrants" (the title of which comes from a part of a quote from the third president of the United States and author of the Declaration of Independence Thomas Jefferson), is a beautiful work of art that is a bit different than a lot of bands with female operatic singers. The CD features 10-songs and 47-minutes worth of some really cool operatic metal with some great guitar riffs and an overall killer sound. CD opener "Phoenix" gets the ball rolling and it is a mid-tempo track, that features a grinding guitar riff and the impressive vocals of Irene Jericho. The next track "None but Shadows" is another strong number that really picks up the pace and it is a huge highlight for me. The lyrics are excellent as well with their politically and socially conscious tone of the songs, Cassandra Syndrome have something a little different to offer. Another thing to admire about Cassandra Syndrome are the vocals of Irene Jericho. She definitely has the opera thing going, but she doesn't over-do-it, she knows when to hold back a little and do whatever is best for the song, and with Cassandra Syndrome the songs are the number one thing. The perfect example of this is the song "Mirror Mirror", which is hands down my favorite track at the moment. Other highlights include: "What We Sow", "Burning", "Soma", "Wild" and "Cassandra".The U.S. is not as known for this genre of music like say Finland or Norway is, but Cassandra Syndrome have released a fantastic album that could very well hold it's own with just about any other band. "of Patriots and Tyrants" is a tremendously satisfying effort that is worthy of repeated listenings.

Rating – 80/100
Tracklist
Pheonix

None but Shadows


What We Sow

Mirror Mirror

Burning

PTSD

Cassandra

Skadi's Touch

Soma

Wild
Line Up
Irene Jericho – Vocals

Chris Kackley – Guitars & Backing Vocals

Joe Cariola – Bass

& Backing Vocals

Jay Jericho – Drums, Percussions

& Backing Vocals
Links
6 color styles available:

Style switcher only on this demo version. Theme styles can be changed from Options page.