Browsing articles tagged with " jazz"
Label: Manalive Records
Review by Luisa Mercier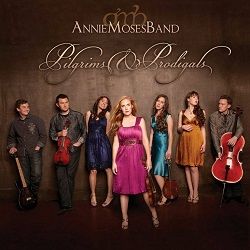 The Annie Moses Band hails from Tennessee and it is the brainchild of Annie, one of the Wolaver brothers and sisters that named the group after their grandmother that, even though poor, prioritized her children musical education, giving then birth to this next generation of musicians. The band has Christian roots, but their musical influences are very diverse and take from jazz, classical, folk, blues and bluegrass tradition as you can already hear in the opener "Poor Wayfaring Pilgrim" with an amazing string section. The band is extremely talented and musically educated and you can also hear that there is a lot of passion. They reminded me of Delta Rae, but more trained and with a more pop and less wild attitude. Continue reading »
Interview by Lindz Riot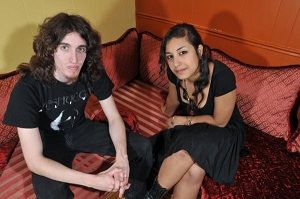 When people hear of Quebec, Canada they immediately think of Montreal, but to the east lays Quebec City where many good things are happening for Metal and Ambient experimental music alike. There you will find a gem, a diamond in the rough by the name of Manahil. Arabic for "The Sources" they are a duo that describes themselves as "Ambient music for Metal Heads" and from listening to them you can hear the concept. It is very refreshing! Fronted by the soulful and exotic voice of Hind Fazazi alongside piano wiz and musical visionist Mathieu Fiset, they are definitely adding something new to the music world. During their Ontario, Canada tour I have had the privilege to house them and sit down with them to get into their minds about what Manahil is and what they are doing that is so different.
Welcome to Femme Metal guys! Thank you so much for doing this interview with us. It's a real pleasure. So how are you two liking your Ontario tour so far?
Mathieu: Great ! So far only one show down, but we played here last October with Stream of Passion and Unexpect and that was great. I can't wait to play Toronto tonight and Oshawa next week with Mary and the Black Lamb and Modified.
Hind: I cannot judge for the moment! But at least, people here are friendly …let's see if the Toronto gig tonight will be as nice!
How did you two meet?
Mathieu : Through a friend of ours. I asked Hind to come up to record a Steven Wilson cover song just for fun, but we ended creating music with an ambient instrumental track I had. This first song is the opening track of our first album.
Hind: I was fifteen years old at that time, and I already knew Mathieu was a great piano and keyboard player. We tried some covers together, in English first, but then we rapidly decided to experiment something new in Arabic, because we both were curious, open-minded and tired of traditional music!
How did you decide on your sound? Was it a vision or something that just came out through jamming together?
Mathieu: We never planned anything really, but of course with the knowledge that she could sing in Arabic and the fact that I love exotic music, we just ended up doing lots of oriental stuff in the beginning. But later we added the pop, rock, electronic and progressive stuff.
Hind: We just ….let ourselves do whatever we wanted to. We knew that our two energies were going to give something unique. We jammed a lot in the beginning to see what we could create together, and then just continued that way until now!
What are your musical backgrounds?
Mathieu: As a kid I was in love with the soundtracks of my favourite movies and then the music of Alegria from Cirque du Soleil really had an impact on me when I was 5 or 6. I took some piano lessons then stopped because the lessons were not what I imagined it would be. Later on, when I was 14, I started listening to metal so my interest in music came back. At 15 I joined my first metal band and slowly became a professional musician.
Hind: When I was a young little girl living in Morocco, I loved…Celine Dion! Then, when I moved to Quebec, I switched radically to thrash metal, Nu Metal and female fronted metal bands! Slayer, Sepultura, Korn, Within Temptation, Evanescence…afterward, I began to listen to Opeth and opened my mind to non-purely metal music, such as Nine Inch Nail, The Cure and Indian music.
What artists have really influenced Manahil?
Mathieu: That would be a long list! But I can say that my favourite bands are Tool, Nine Inch Nails, Porcupine Tree, Opeth but also some other artists have had a major impact like Peter Gabriel, Rachid Taha and Hans Zimmer.
Hind: For me, singers like Amy Lee, Tori Amos, Norah Jones and Susheela Raman, a folk-indian artist, influenced my interpretation.
You say you are ambient music for metal heads, what do you mean by this statement? Are you both heavily into metal?
Mathieu: Yeah, as you might guess by now, we both listen to a lot of rock and metal music, but we need something to balance it all, so we create kind of an ambient or electronic version of the metal music we want to hear.
Hind: As I have already said, we LOVE metal and listen to metal bands, but we hate to categorize ourselves as metal heads. Also, we don't want to get bored by doing the same old style all the time and we absolutely adore oriental music and mixing styles that every open-minded metal head should appreciate.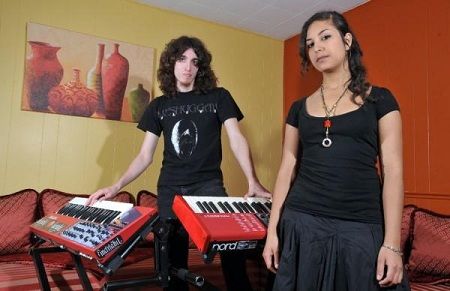 Would you ever consider making Manahil a full band project?
Mathieu: No, because from the beginning we decided Manahil was the two of us, the creative force we are, and not a musical style.So even if we often have collaborators and live musicians, we prefer to keep the basic of Manahil as the two us.
Hind: Manahil, in Arabic, means The Sources, it's only us two and we are the sources of the music we create!
What has the respond to your music been like in the Province of Quebec?
Mathieu: I don't really know, to be honest. It's a positive response for sure, but since it's a really personal music, everyone feels different to it.
Hind: It's particular! Manahil is a very introspective music and in a show context, where people are used to scream, it's weird. It's as if the crowd finds it special to just listen and let the music enter in their hearts.
Do you think you will be well received in Europe?
Mathieu: I guess!
Hind: I really think so. The North American audience is definitely different. The expectations are different, and I think, honestly, that the cultural aspect will be positive for us. We are a non-typical band, and maybe, I say maybe, it will be fully understood in Europe.
Why do you feel the metal scene in Quebec has been progressing so rapidly as of late compared to the rest of North America? Do you agree with this statement?
Mathieu: I guess it's mainly because there's a lot more metal heads in Quebec so with a bigger crowd, you can have more bands, more shows…but I mostly feel there's too much of the same thing. We certainly have some of the best extreme metal bands in the world.
Hind: I agree with Mathieu on that, particularly in Quebec City…Quebec, metal city! But yeah, there is too much of the same: too much black metal bands, classic Hardcore bands… it's not very diversified!
Tell me a bit about your new album, where did you record it? Who produced it? What can we expect to hear?
Mathieu: I produced, recorded and mixed it myself, mostly in my home studio but you'll like to know that we recorded the vocals in Cardinal, Ontario. Musically, it's a new experiment, more than a new direction. As much as we love the new album, we won't do the same for the next album, just like every recording we've done and will do. It's even more "Ambient music for Metal heads" than the first album. It's a deeper, more sophisticated production which I'm really proud of and we went in musical areas that we never dared to explore yet, opening the door for more experiments in the future. We're growing up I'd say!
Hind: Yeah, the composition of this album was a nice and refreshing experience. First, Mathieu sent me what he had done…the musical tracks sounded less melodic and more electronic to me… I didn't know, at first, what I could sing on that! Then I experimented to write my melodies in a totally different way, and the result is amazing: a mix of very melodic vocals mixed with dark-electro-industrial-oriental music!
I noticed a hint of a Jazz influence on your most recent EP, can we expect to hear something like that on your next album?
Hind: No, or maybe inconsistently in a few back vocals. We both love jazz, but we already explored what we could do with that on "From Roots to Clouds", "Alouanou Sama" is totally something else!
Last question: Outside of music, what are your lives like from day to day living?
Mathieu: Music is my day job, but I'd say I don't play as much as I'd like to. Doing lots of planning, booking, promotion, paper work, I don't take much time off, but I like to change my mind from time to time playing games and watching stuff on YouTube. I'm a complete nerd, so I don't have of a much social life.
Hind: I'm going to University, studying philosophy and politics. Those subjects are my main passions with music. I am involved in my community, and I try to be active to promote a provincial political party by the name of Quebec Solidaire. I'm a part time musician, but a full time good citizen, I think. I read a lot and love to party with friends!
Photo Credit
All the photos by Fred Laroche
Links
Label : Termo Records/Better Place Recordings
Review by Luisa Mercier
Third release for the English Rhys Marsh and his big orchestra. Based in Norway, the band features members from a moltitude of other musical projects like The Irrepressibles, In Lingua Mortua, The Divine Comedy and many, many others. So influences are really varied and it is difficult to fit the music in just one genre. I would say that is Prog with Jazz, Ambient and Symphonic hints, so lovers of this kind of music should enjoy "The Blue Hour". It is a record that should be listened in the quiet, at sundown. It is made of slow tempo songs with male and female vocals that entertwine. "Broken Light" is a perfect example. Expect long instrumental parts and a lot of brass and woodwinds, relaxing moments and a little bit of psychedelia. Definitely not a release for everyone, since listening to the album can result hard for a first time approach to such refined music, but lovers of this kind of music, will appreciate it for sure.
Rating – 70/100
Tracklist
And I Wait

Read the Cards

The Movements of Our Last Farewell

Broken Light

Wooden Heart

Further from the Truth

The Place Where You Lay

One More Moment
Line Up
Rhys Marsh — Voice, guitars, piano, mellotron, pedal steel, organ, zither, & orchestrations

Trude Eidtang — Vocals

Jess Bryant —

Vocals

Åsa Börrefors —

Vocals

Nicklas Barker — Mellotron

Lars Fredrik Frøislie — Chamberlin, hammond, moog, autoharp & celeste.

Akira Rabelais — Electronics

Timbre Cierpke — Concert Harp

Gaute Storsve — Guitar

Steve Honest — Pedal Steel

Ketil Vestrum Einarsen — Flute.

Mia Silvas — Flute

Tuva Hatlelid Mortensen — Oboe

Kirsti Jacobsen — Clarinet

Henning Wien — Bass Clarinet

Jørgen Vie — Bassoon

Tetsuroh Konishi — Trumpet

Hayden Powell —

Trumpet

Erik Johannessen — Trombone

Kristoffer Lo — Tuba & flugabone

Anna Giddey — Violin

Charlie Stock — Viola

Natalie Rozario — 'Cello & orchestrations

Jo Fougner Skaansar — Double & electric bass

Francis Booth — Bass

Andy Raeburn — Drums

Takashi Mori — Drums

Mattias Olsson — Drums, celeste, mellotron & orchestron.

Iver Sandøy — Drums

Martin Horntveth — Drums & orchestral percussion.
Links
Interview by Ed MacLaren
Finland's Katra made a big impact in 2007 with its debut album, the folk/symphonic metal hybrid "Beast Within". Originally conceived as a solo effort by the band's namesake, Katra Solopuro, she carved out a fine niche for herself in the metal world. But instead of continuing down that same path on her next album, she expanded Katra to include the band full-time to augment her own considerable songwriting skills. Together they retooled an already unique sound and returned with an even stronger sophomore effort – the aptly titled "Out of the Ashes". Femme Metal got the chance to chat with the lovely Katra on the key changes, musically and personally, that combined to create "Out of the Ashes".
"Out of the Ashes" hits the ground running with the pounding track "Delerium". It's heavy riffing sets the stage for the rest of the album. Were you trying to make a statement right away that you were going a different direction with this album?
Yes. We felt that "Delirium" was one of the best songs to represent this album.
On "Beast Within", you called the shots and now with "Out of the Ashes" you're working as part of a group. Why did you make the decision to change Katra from essentially a solo project to a full band?
Well, during that time we've kind of sealed together as a band. We've been a full band on stage and on tour for a long time now and every one of us wanted to change the settings to be a full band on paper too.
How did you go about selecting each band member? What musical qualities and personality traits were you looking for?
I wanted to gather good guys and musicians that I already knew before Katra. It was important for me that we get along well on the stage and also behind the scenes. Musically, I wanted the guys to have their own sparkle and visions about music overall and, of course, good skills technically.
How would you describe the chemistry between you and the rest of the band?
We co-operate really well, we all know how to have some fun and we enjoy a similar style of humor, which can be quite black sometimes. (Wink)
Did you have any problems getting used to the new dynamic? Was it difficult to relinquish an element of control over the music? Did you run into any problems at first?
I think everything worked out without problems.We've found a good way to co-operate and everyone has their own important role in a band. Democracy rules.
How did your creative process change with the input of the band?
Now the whole band composes and arranges; there's at least one song from everyone on the album. Usually the basic structure and idea of song is made by one of us and then everybody arranges their own parts. I write the vocal melodies and lyrics. Riffs, chord progressions and song ideas are usually done before and then we build it up together.
You can hear new energy in the harder-edged sound of "Out of the Ashes". You toned down the symphonic and folk elements and cranked up the guitars. How has Katra's sound evolved between albums? How would you describe your new musical direction?
"Out of the Ashes" is a more mature and powerful album if you compare it to "Beast Within". We wanted to take our sound in a bit more straightforward direction with less orchestration, but with a more intimate feeling.
Was the change in musical direction a natural outgrowth of the new "collaborative" environment or was it a conscious decision?
I'd say both. Of course, the fact that everyone's taking part in the composing process has a straight effect on our sound, but we also wanted to consciously develop our sound in a more rough and rockish way.
"Beast Within" was an excellent album but after the experience recording of "Out of the Ashes" in a band environment would you have recorded your debut any differently?
Hmm… maybe not. I think it's only natural that things develop and change. Of course, there's always something that we could change, but it's better to keep your eyes on the road and head towards the future.
On "Beast Within" , you favored more operatic vocals drawing out the length of notes. You've expanded your already impressive singing style to include a quicker delivery to match the speed of the music. Was there a lot of experimentation on "Out of the Ashes" working out the vocal parts or did you just go with the flow of the music?
Thank you! For me, the most important thing that influenced my style of singing was when I got in to study theatre music and music drama at the University of Applied Sciences. The main point of singing is now in jazz/rock technique more than classical. So, on this album I made the vocal lines to support more of the technique that I'm studying now.
Tracks like "Vendetta" and "Anthem" are great tracks and add new elements to the Katra sound. What differences do you hear when you listen to "Beast Within" and "Out of the Ashes"?
I hear a lot differences. It's definitely more guitar driven now. We have less piano parts and orchestrations. My voice is different and closer. Lyrics are dealing with heavy issues rather than fairytales. Overall, I feel that the sound is more intimate and represents us more.
You've said that "Out of the Ashes" feels like your first album. Why is that?
Maybe because it's the result of our co-operation and I've put so much feeling and experience into it. I was having a really hard time a few years ago and I kind of feel that making this album was like free therapy for me.
Does the title of "Out of the Ashes" have a personal meaning to you and the band?
Yes, it does. As I said I've experienced really difficult things during last few years.I feel that nothing is easy.You have to always bang your head against the wall until it breaks… or you give up. Almost every song on the album is about the end of something, "After the fire there are only ashes, then it's one's decision, whether to stay or rise out of the ashes and start again". The album title is a statement: refuse to give up.
You had a memorable show opening for Theatre of Tragedy in Mexico City this summer. How would you describe the concert?
I have no words for it… It was absolutely amazing! The atmosphere was unbelievable. There were lots of people sharing the moment with us, singing with us and having fun with us.
Did you take away anything from the experience to use in future shows?
Yes, I did. I always take some pieces and fond memories from the shows and the next time I will try to give something extra from myself to the audience.I love the fact that music is so universal and goes over boundaries. That's something I noticed literally during our gig in Mexico.
Did you road test any of the new songs? How did they come across live?
Yes, we did. We played "Out of the Ashes", "Delirium" and "Hide and Seek" at gigs long before we started composing material for this album. We felt that they worked really well – especially "Delirium".
What are your tour plans for the fall and the new year? Where can we see Katra live?
The booking management is not in our hands, but I hope we can do a tour in Europe at some point.
(Famous) Last words?
You can't experience being alive without realizing that you have to die. But it's just as impossible to realize you have to die without thinking how incredibly amazing it is to be alive.
Latest Multimedia
Photo Credit
All the photos by Peero Lakanen
Links
Katra : MySpace
Katra Solopuro : Facebook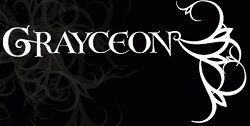 Interview by Si Smith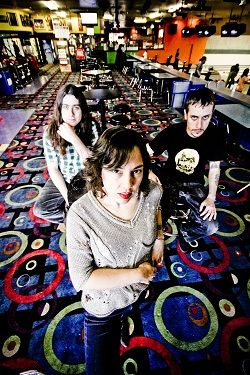 Grayceon are the perfect blend of metal and classical – with a mixture of jazz, doom and prog thrown in. Proving suitably elusive to pin down, they nevertheless have managed to land a deal with Profound Lore records and a third album that has blown the critics out of the water. We spoke to front-woman and cellist Jackie Perez Gratz.
First of all, thanks for this interview – and welcome to Femme Metal.
Hi.
When I first bought your album I was, to be frank, quite overwhelmed. The balance between the beautiful classical element and all the other influences thrown into the melting pot is what really impressed me. It would be so easy to get it wrong, to overdo one element at the expense of another. How on earth do you get that balance "just right"?
All three of us have large variety of musical influences that often overlap but it gives us a large collection of styles to choose from when writing songs. I don't want it to sound contrived because we don't sit around and decide which element we want to use just to mix things up or keep the balance right. The balance happens naturally because we are always trying to make the songs challenging and fun to play for ourselves. If all our songs had only one or two musical influences we would probably get bored and not want to write as much. If that were the case, we would be much more easy to label as [insert given genre here].
The cello sound is particularly deep and sonorous. Do you have to adjust the cello in any way to fit with the metal parts?
I have spent a lot of time getting my cello tone right to fit with Max and the type of music we play. It tends to be a bit more punchier and grittier than I would normally like the cello to sound if playing solo, but in the context of Grayceon it works well. I try to make it not overpower the guitar but still cut through and, of course, still sound like a cello and not like another guitar. I also put a lot of thought into what I should play during the very metal parts, I like to mix it up. Sometimes more chugs are needed to make the section over the top metal so I'll join in with Max, but sometimes a smooth melodic or dissonant line over the top of pinch harmonics will be more interesting and unexpected for a metal section. It really just depends on how I'm feeling that day.
You have spent time in the past recording with other artists such as Agalloch, Om, Ludicra and Neurosis, really great artists who also have a progressive and "atypical" approach to their music. What have you learned from these experiences? How much of their influence do you bring to Grayceon?
Everything I do musically gets churned into my own approach of writing and performing. I might not see where the influence is directly coming from, but it would be hard for these experiences to not influence me in some way. That would be like saying 'for the next 5 years don't let any of your life experiences change you personality.' It's just not possible. When I was recording with Ludicra I remember playing through a wall of cabs that were completely deafening. I literally had to play in a separate room so that I could hear what I was doing and not make my eardrums bleed. It was so much fun and I'm sure that eventually influenced me to start using a bigger cab in my own rig.
Your first demo was released in 2006 and contained two tracks, one of which made it onto your first self-titled CD for Vendlus Records. How different was your sound then to what we hear on "All We Destroy"? Did you have any particular musical aspirations at that time?
Grayceon has been slowly evolving with each recording. I think we write a bit differently now and you will hear that on "All We Destroy". That first demo is really complex, but not in a bad way. It's just a lot to digest. I think we counted the riffs in the song "Love Is" once and we came up with an insane number, like 32 different riffs. The vocals have also changed a lot since then as well as how and when we write the vocals to songs. I think we are constantly growing and gathering new influences that effect our writing. Production for our releases have evolved a lot since then, too.
Being only a threesome must mean that the ties between you three are quite close. Have you ever considered adding to the group, maybe a bassist or keyboardist?
We seriously considered adding a bassist at one point last year and I was the one who totally chickened out and killed it. I was really worried that the special dynamic between the three of us would get messed up somehow. I am pretty protective over that because what we have is so near and dear to me. Adding another personality and instrument could take the Grayceon out of Grayceon. And that really scares me.
"The Grand Show" in 2008 was your second full-length. Already the great themes of life are there, such as beginnings, endings, sleep and eternity. Where do you find the inspiration for these philosophical musings? Have you any set of your own personal "rules" that you like to live your life by, and would like to communicate through music?
Most of the ideas behind my lyrics come from my real life experiences, mainly my personal relationships. It feels natural to me to write about life in this way. I have some rules for how I'd like to live my life but I don't always follow them. The double meanings behind most of my lyrics is me just working things out for myself- wondering and observing. My hope is that someone listening will be able to relate to the things I am going through, but its not my motivation when writing.
Three years on from the debut and "All We Destroy" seems to have moved onto even more poignant topics. "Shellmounds" and "War's End" in particular reference war as a major theme. What is the overriding message of this album would you say?
I'd say that the main message of the album is that new beginnings are possible. Sometimes we just have to let go, put down our sword, and stop fighting the fight. That doesn't mean that the album is without moments of despair, pessimism, and anger. "We Can" and some of "Shellmounds" can fall into those categories.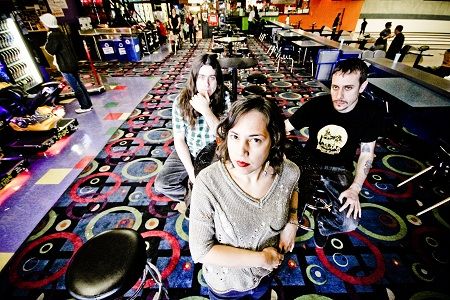 Your serious lyrical concepts aside, I hear that as a group of people you guys have your own sense of humour. Have you any humorous incidents to share with us today?
Zack and Max are so fun to be around and they can both make me put my serious nature aside, especially when we are all together. We had an in-person interview once wherein the interviewer asked us what we were reading and to talk about the book. Zack went off on a very intelligent rant on a book about pooping that he keeps near the toilet. Max and I were literally busting our guts listening to him and the interviewer didn't flinch. I'm not sure he knew if we were being serious or not. Stuff like that happens now and again but in general we try to be light hearted and not take ourselves too seriously. Nobody likes a band that is full of themselves and nobody likes to be in a band that doesn't have fun doing what they do. We genuinely have a good time playing with each other and when the fun ends, well… hopefully it won't!
"Sleep" off the last album and "We Can" off this one both approach or cross 20-minutes in length. Do you always aim to have one of these long tracks on each album? Or is that just the way things worked out?
Yeah, sometimes a song doesn't want to end while we are writing it. Songs like these always have another place they want to go and we just follow it there and make sure it gets there safely. Because we don't like to set rules for ourselves when song writing, we let the songs be as long as they want.
Elgar's Cello Concerto is certainly one of my favourite classical pieces, and I would love to hear Grayceon do it! If you could metal up one classical piece, which one would it be?
Aha that's one of my favorites, too! Rutter Requiem is also another favorite of mine. It's not a cello concerto, but it starts out with this amazing solo cello line that I have been obsessed with for years. If I were to 'metal up' a classical piece I might have to choose one of Holst's The Planets movements, or Stravinsky's Firebird Suite, or Dvorak's New World Symphony. I don't think I would choose a straight up cello concerto, it would definitely have to be an orchestral work. More melodies to choose from and it would be fun trying to capture all the pertinent parts between just me and Max.
You recently played the Profound Lore showcase with other avant-garde bands such as Castevet and Slough Feg. How did the crowd receive your brand of music? What was your set list?
We were very well received. Some people told me Grayceon was one of the few bands they were definitely not going to miss, others told me they had heard of us and were curious but weren't sure what to expect. We tend to catch quite a few people off guard when we play a big bill like that, but I never see people leaving the room, so that's always a good sign! I believe our set list was: "Dreamer Deceived", "A Road Less Traveled", "We Can", "Shellmounds", "This Grand Show is Eternal".
Your work with Amber Asylum was quite brooding and introspective. Do you find your work with Grayceon heading down this path as well sometimes, or are there simply too many influences involved?
I'm not sure our influences have anything to do with it, but I don't think Grayceon shares a path with Amber Asylum even when we are playing our more mellow sections. Amber Asylum was always much more abstract and loose with its writing and performing style. Grayceon writes in an organic way, but after we write a song we never jam on it or use queues to dictate changes. Once a song is written, it's written and we are very consistent with performing it. Also, Max likes to play very busily which is not a bad thing, he is covering a lot of ground with the way he plays. But because of this I don't foresee him playing a long drone or repeating a single riff for 10 minutes any time in the near future.
I suppose to some Grayceon may seem like another Giant Squid, yet both are unique. How do you switch between the different personas needed for each band? How do you ensure that Grayceon produces a unique sound all its own?
Each band has a very different dynamic between it's members. Both bands use its individual members to each of their strengths. The combination of these things inherently make the two band sound different. I actually enjoy taking a bit more of a backseat on writing for Giant Squid. Aaron has such a talent for narrative and he always has a master plan for the lyrics, so I just let him roll with it. He also prefers my higher falsetto vocal range, so we tend to write vocals for me that are very different from how I sing for Grayceon. Also, with Giant Squid, there is another instrument in the mix, bass, so I tend to leave much more room for other instruments than I have to with Grayceon. The cello has a very different role. And the bands have different tunings, the drummers and guitarists all have very different styles of playing. Basically, what I'm trying to say is I don't think we could sound like each other if we tried!
Last year you completed your first European tour alongside Jucifer. How did the audiences change from one country to another? Was there any particular show or city that stood out for you particularly?
WE LOVE EUROPE!!! And we'll jump on any chance to be able to perform there again. The audiences were amazing in every country we went to. The promoters treated us like royalty. The drives were beautiful, the food was delicious, everything is better when you are in Europe! We had a ball and don't have anything to complain about really. Personally, Portugal, Spain and Italy stand out as the countries I would most like to return to. We played the SWR Metal Fest in a small village in Portugal and it was probably one of the most exciting shows Grayceon has ever played. And one day in Italy we had espresso and pizza for breakfast, lunch
AND dinner. It was amazing!
This album has certainly been well received critically from what I can see. Are there any plans to tour this year on the strength of this new album? Any countries you'd like to visit on tour?
We will most likely not be able to leave the US this year. We are still trying to recover financially from our European tour. But, that said, we have played several shows at SXSW Music Festival in Texas, we're going on a small mini tour with our friends, Lesbian, in the Pacific Northwest, and we may have some more things up our sleeve for later in the year. We are actually working on writing some new material this summer which will keep us out of trouble for awhile.
Finally, thanks so much for talking to us. Any last comments for fans or potential fans out there?
Thank you so much for the wonderful interview! And for the fans, we thank you for listening and hope you continue to enjoy the music!
Credit Photos
Photos by Dary Darko
Links
6 color styles available:

Style switcher only on this demo version. Theme styles can be changed from Options page.