Browsing articles tagged with " jenna"
Label: Nuclear Blast Records
Review by Jenna K. Barry
Fans of earlier Sirenia offerings will find a satisfying fusion of both style and performance with "The 13th Floor". This band, founded by the ambitious Morten Veland (formerly of Tristania), has thrived despite the fact that Sirenia has gone through three female singers already. This release is the first to feature the Spanish X-Factor contestant, Ailyn. Several of her covers on YouTube left me dubious, but I have just listened to "The 13th Floor" in its entirety. Though not, in my opinion, a masterpiece, it is clearly a step in the right direction for a band whose last release floundered in the sea of femme metal albums. "The Path to Decay" at first sounds like a continuation of "Nine Destinies and a Downfall". Then a strangely alluring female voice begins to cast a distinctive spell and it becomes clear that, although the music is still accessible as on the previous release, Morten has managed to find a singer who combines the qualities of all her predecessors. The song is very catchy and a great one if you like songs that are easy to belt out until the neighbors complain! The lyrics lack the evocative feel of the first two albums, and Ailyn can be hard to understand. "Lost in Life" is pretty straightforward, with a jaunty tune. A real highlight is the compelling song, The Mind Maelstrom. It could be the choirs, which feature strongly. I think it is arguably the most superior song on the album, with some of the complexity I had come to miss from Sirenia. The Seventh Summer features a beautiful intro with a flourish! The orchestral beginning is reminescent of earlier releases. The addition of growls is a welcome surprise after the scarcity on the last album. On Beyond Life's Scenery, pretty tinkling keys add depth and contrast. Growls and choirs are seamlessly interspersed. The intro flares up with blazing guitars on The Lucid Door. Next, Led Astray is fast but not that heavy if you are comparing it with At Sixes And Sevens and An Elixir For Existence.Winterborn 77 has an intro which calls to mind early Nightwish. Ailyn hits some strong notes in her upper register throughout the piece. Enchanting choirs and musical craftsmanship make this an excellent offering.Sirens Of The Seven Seas was one that I had high hopes for. Unfortunately, the chemistry between the male and female just seems awkward to me on this track. This is not the song I would have chosen as a closing number.My biggest gripe is that I cannot always understand the femme vox. I would like to see more variety in the songs offered, but I think Morten fulfilled his promise of giving us an album with elements from all past releases!
Rating – 70/100
Tracklist
The Path to Decay

Lost in Life

The Mind Maelstrom

The Seventh Summer

Beyond Life's Scenery

The Lucid Door

Led Astray

Winterborn 77

Sirens of the Seven Seas
Line Up
Ailyn – Vocals

Morten Veland – Vocals, Guitar & Composer

Jonathan A. Perez – Drums

Michael Krumins – Guitar
Links
Label: Century Media Records
Review by Jenna K. Barry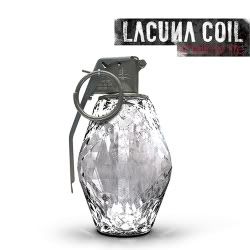 I happened upon Lacuna Coil by chance in late 2003; as it turns out, they were my gateway femme metal band, introducing me to the enticing world that is now my favored subgenre. I own all of their albums, including many lesser-known single releases and EPs. Needless to say, I was very eager to hear "Shallow Life" when it came out. "I Survive" opens with a catchy foreign-flavored instrumental, followed by riffs that sound more rock-influenced than the usual metal. The distinct ethereal sound associated with the first three albums is no longer as prominent, but the vocals (more evenly distributed between Cristina Scabbia and Andrea Ferro) are visceral and dominant, creating a whole new sound – though astute listeners can understand the progression here. The lyrics are direct; on the first three albums, poetic phrases flowed throughout the offerings, and abstract images and ideas were key to the style of Lacuna Coil. This directness can be heard especially on "I Won't Tell You", the hard-hitting "Underdog", and the fresh, jaunty "I Like It". I think "Spellbound" is a great single; I know that many fans have complained about the more commercial direction taken, but there is something to be said for music that is fun and accessible, direct and bold. "Shallow Life" – actually a concept album centered around, well, shallow lives of the rich and famous – is pretty mainstream in its appeal. The aforementioned single is a sure-to-be hit; it is addictive. The circulating comparisons to Linkin Park are not entirely unfounded. The song "I'm Not Afraid" made me think of that other band, as Andrea has upped the angst with his singing. But many other tracks, like one highlight song, "The Maze" and the eloquent "Not Enough", are haunting in the tradition of early Lacuna Coil. The vox are an improvement over those on "Karmacode". Well, the overall production is better on this latest. But the versatility Cristina demonstrates is rather stunning; and Andrea is also very impassioned, expressing a great deal of emotion on each song. The male and female voices blend together seamlessly.
I like it, and I am spellbound.

Rating – 90/100
Tracklist
Survive

I Won't Tell You

Not Enough

I'm Not Afraid

I Like It

Underdog

The Pain

Spellbound

Wide Awake

The Maze

Unchained

Shallow Life

Line Up

Cristina Scabbia – Vocals

Andrea Ferro – Vocals

Cristiano Migliore – Guitars

Marco Biazzi – Guitars

Marco Coti Zelati – Bass & Keyboards

Cristiano Mozzati – Drums
Links
6 color styles available:

Style switcher only on this demo version. Theme styles can be changed from Options page.