Browsing articles tagged with " jennifer"
Interview by Miriam C.
"As The Truth Appears" marked, in 2011, the debut of this Melbourne-based progressive metal band, even if some time is passed (precisely 2 years) it was nice to know more about this band and the debut's reaction from the press. Seems also that the band recently undergone into a line up change (Jason Meracis is now the new bass player) and they are prepping up for the album #2. In the meantime, enjoy this interview….
Today Femme Metal introduces you Divine Ascension from Australia. Let's welcome Jennifer Borg, the lead singer of the band

Thanks, I appreciate the opportunity.
Welcome Jennifer. Let's immediately break the ice, talking about Divine Ascension, a "small" Australian music reality that slowly is moving its first steps in the metal music scene. What could you tell us about this? We're really curious to know the origin of this project…
The band now known as Divine Ascension was semi formed and looking for a lead vocalist, and I was looking for something interesting and challenging to keep me on my toes. As soon as I heard one of the instrumental demos "Garden on Evil", I knew that this was the right project for me. A whole new world of 'underground' music known as melodic metal opened up to me, and Robb and Luke commenced my education feeding me with Metal music from all over the world. Once we established our line up, we did our first gig in Melbourne in November 2007 and have kept moving forward ever since. Continue reading »
Label : Alfa Matrix
Review by Davide Torresan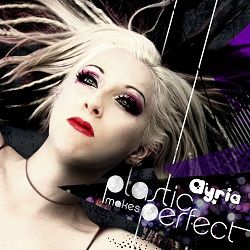 Ayria is back! After the release of the EP "Plastic and Broken" we are all invited to return on the dancefloor with her new album: "Plastic Makes Perfect". The Canadian queen of EBM returns to entertain us with her danceable songs. This time the thing that struck me most was the mood of some songs. For example the single "Hunger" is perfect when you're angry with the entire world. Instead "Friends and Enemies" has a catchy rhythm which fits perfectly as the background of a club. In short, from these simply words you understand that there's no space for sadness. Although Ayria tried different styles with her voice, in her world only one thing exists: the desire to entertain the listeners. This CD is available not only in the normal CD format but also in other two versions. There is a deluxe carton box edition and another one for free if you buy the limited edition. Both of them contains several remixes that will delight the lovers of industrial and electro-pop. Continue reading »
Label : Alfa Matrix
Review by Davide Torresan
Ayria is a Canadian dance-pop musical project formed by Jennifer Parkin. She's the former singer of the EBM group Epsilon Minus, and after the departure from the band she decided to give birth to this solo project. Its sound is characterized by her soft and sweet voice and melodic beats close to industrial and dance music. Actually she's working on her 4th album whose title will be "Plastic Makes Perfect". In the meantime Jennifer decided to release this EP, "Plastic and Broken", which is available for download on her Bandcamp page. This digital 7-track EP includes 2 songs that will be featured on her forthcoming album. Continue reading »
Label : Nightmare Records
Review by Tony Cannella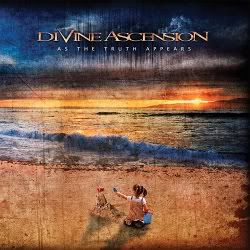 The debut album from the Australian power metal outfit Divine Ascension, "As the Truth Appears", is a high energy album that certainly gives many established power metal bands a run for their money. Divine Ascension features the impressive, dynamic and soaring vocals of Jennifer Borg. The band first formed in 2007 and released a three song demo that same year. Two of those songs "Garden of Evil" and "Vision Divine" can now be heard on their debut. Power metal has become an increasingly crowded sun-genre in metal with female and male fronted bands alike battling for exposure. Some bands make the grade, some don't. Musically, Divine Ascension doesn't really have anything new to bring to the genre, which is okay, because everything has been done anyway. Instead the band brings a majestic, passionate approach to their music, this isn't just cookie cutter power metal, there is definitely something substantial within this 10-song 50-minute debut. Songs like the opener "Answers" (which the band also filmed a video for), "Visionary" and "In My Mind" are all played with great precision and Jennifer's vocals had me awestruck. The songs all have an undeniable melodicism to them and also feature touches of progressive metal here-and-there. "Vision Divine", the huge sounding "Guided by Osiris" and the heavy, straight-forward approach of "One Last Caress" keep the album going in a powerful direction. Divine Ascension is quite skilled at writing some great songs as "Garden of Evil" and "Another Battlefield" will attest to. Divine Ascension is an excellent band with a lot of promise. The band members each play their parts with great meticulousness and that, combined with the amazing vocals of Jennifer Borg is what will surely take Divine Ascension and "As the Truth Appears" to the next level in the realm of power metal.
Rating – 81/100
Tracklist
Answers

Visionary

In My Mind

Vision Divine

Guided by Osiris

One Last Caress

Garden of Evil

Another Battlefield

Civilization

Unscathed
Line Up
Jennifer Borg – Vocals

Karl Szulik – Guitars

Robb Inglis – Guitars

David Van Pelt – Keyboards

Simon Mahoney – Bass

Luke Wenczel – Drums
Links
MySpace * ReverbNation * Facebook * Twitter * Site
Label : BMG Rights Management/Audioglobe
Review by Tony Cannella
By now everyone knows what to expect from Trans-Siberian Orchestra. A combination of Rock, Prog, Metal and Classical highlights this musical extravaganza.The band started out as a touring holiday troupe and their annual Christmas shows have become legendary. Now in recent years they have become a year round touring and recording entity. Their latest studio album, now released in Europe after 2 years from its original version, is the epic 2-disc, 28-song, over 2-hours long, "Night Castle". As always, TSO has a great array of endless musical talent – from all backgrounds – at their disposal. The great Jeff Scott Soto (ex-Yngwie, Journey, solo, etc. etc.) adds his immense talents to "Night Castle" as well as three very talented female singers are on board. They are: Jennifer Cella, Alexa Goddard and Valentina Porter. All of which comes from a non-metal background but man can they ever sing! Not to mention some the great musicians who have participated. Alex Skolnick, Chris Caffrey, Al Pitrelli and Jon Oliva among many, many others are all on hand, even progressive rock legend Greg Lake (ELP) adds bass to the track "Nutrocker". "Night Castle" is a complex concept album which you can read about on their web-site or CD booklet; suffice it to say there is a lot going on both musically and lyrically. The album kicks off with the choir dominated "Night Enchanted". The 3rd track "Sparks" has an energetic classic rock feel to it, with a great guitar solo. Fans of Savatage will find the instrumental "The Mountain" to be familiar as it incorporates parts of "Prelude to Madness" from 'Tage's "The Hall of the Mountain King" album. The female singers don't surface until the 2nd disc on the tracks "Father, Son & Holy Ghost" a hugely grandiose part ballad part mid-tempo track featuring some superb vocals from Jennifer Cella. The next track "Remnants of a Lullaby" also features Jennifer taking the lead on the acoustic ballad. "Child of the Night" features the duo of Alexa Goddard and Valentina Porter taking over the lead on this symphony laced track. One of my only complaints about "Night Castle" is the fact that the male singers tend to sound similar to one another so it would have been nice to give the female singers a bit more to do. That is just a mild complaint however, as the material more than stacks up to previous TSO recordings. TSO has delivered another grand, huge, monstrously, unapologetically epic masterpiece with "Night Castle". TSO has continued to ascend to new heights, which I am sure they will continue to do.
Rating – 85/100
Tracklist
Disc 1
Night Enchanted

Childhood Dreams

Sparks

The Mountain

Night Castle

The Safest Way Into Tomorrow

Mozart and Memories

Another Way You Can Die

Toccata – Carpimus Noctem

The Lion's Roar

Dreams We Conceive

Mother and Son

There Was A Life
Disc 2
Moonlight and Madness

Time Floats On

Epiphany

Bach Lullaby

Father, Son and Holy Ghost

Remnants of a Lullaby

The Safest Way Into Tomorrow (Reprise)

Embers

Child of the Night (Bonus Track)

Believe (Bonus Track)

Nutrocker (Bonus Track)

Carmina Burana (Bonus Track)

Tracers (Bonus Track)

Requiem (Live 2010) (Bonus Track)

Toccata – Carpimus Noctem (Live 2010) (Bonus Track)
Line Up
Paul O'Neill – Guitars

Robert Kinkel – Keyboards

Jon Oliva – Keyboards

Al Pitrelli – Lead, rhythm guitars

Chris Altenhoff – Bass

Luci Butler – Keyboards

Chris Caffery – Guitars

Shih-yi Chiang – Keyboards

Roddy Chong – Violin

Angus Clark – Guitars

Jane Mangini – Keyboards

Johnny Lee Middleton – Bass

John O.Reilly – Drums

Anna Phoebe – Strings

Jeff Plate – Drums

Alex Skolnick – Guitars

Derek Wieland – Keyboards

Dave Wittman – Drum, guitar and bass
Lead Vocalists :
Jay Pierce ("Childhood Dreams", "The Safest Way Into Tomorrow")

Tim Hockenberry ("Sparks", "Believe")

Jeff Scott Soto ("Night Castle", "Another Way You Can Die", "Dreams We Conceive", "Time Floats On", "Safest Way Into Tomorrow (Reprise)")

Rob Evan ("There Was a Life", "Epiphany")

Jennifer Cella ("Father, Son & Holy Ghost", "Remnants of a Lullaby")

Alexa Goddard ("Child of the Night")

Valentina Porter ("Child of the Night")
Links
6 color styles available:

Style switcher only on this demo version. Theme styles can be changed from Options page.