Browsing articles tagged with " jennifer"
Independent Release
Review by Luisa Mercier
After the "Stay" EP that I already had the privilege to appreciate in the past weeks, now Jennifer Paige and Coury Palermo have released the follow-up to that little gem. "Go" keeps the same features that made the previous EP so valuable, first of all the variety in styles.
Hence, the opener "Against the World" is an uptempo, ultra catchy and classy song with electro-pop and rock pop hints, while "Like Fire" is a delicate, sweet acoustic ballad which reminds me of Coury solo works.
It highlights his soft voice together with Jennifer one which entwine with each other, especially in the chorus. While "Like Fire" was more focused on male vocals, "For You" let Jennifer shine with Coury appearing in the chorus. Continue reading »
Independent Release
Review by Luisa Mercier
Previously known as The Fury, Paige & Palermo is the a project that involves two talented artists: Jennifer Page, voice of the '90s hit "Crush" and young singer-songwriter Coury Palermo. She does not need introduction, while I came to know him through his Sleepthief collaboration "World Gone Crazy", but Coury already has released a solo record and various other collaborations that feature his distinctive velvet voice. I am not a fan of male vocals, but he is the exception together with a handful few.
The EP is a very well balanced mix of styles that show how the two vocalists blend perfectly, intertwining vocal melodies that are both catchy and elegant. Continue reading »
Independent Release
Review by Tony Cannella
The band Hitherside formed in 2011 and features American vocalist Jennifer Summer and Belgian multi instrumentalist Sam Oerlemans. They have just released their self-titled EP which features 6-songs and over 25-minutes worth of infectiously melodic alternative metal. The songs are well written, performed and crafted.
The forceful opening riff leads into the cool first song, "Insignificant Other". The next track, "Eventide" begins with an acoustic intro as the song gradually picks up in tempo, but remains a middle-paced song with a psychedelic vibe. "Detrimental" picks up the tempo quite a bit and is helped by a relentless guitar riff and a melodic groove – making this my favorite song. Continue reading »
Interview by Miriam C.
"As The Truth Appears" marked, in 2011, the debut of this Melbourne-based progressive metal band, even if some time is passed (precisely 2 years) it was nice to know more about this band and the debut's reaction from the press. Seems also that the band recently undergone into a line up change (Jason Meracis is now the new bass player) and they are prepping up for the album #2. In the meantime, enjoy this interview….
Today Femme Metal introduces you Divine Ascension from Australia. Let's welcome Jennifer Borg, the lead singer of the band

Thanks, I appreciate the opportunity.
Welcome Jennifer. Let's immediately break the ice, talking about Divine Ascension, a "small" Australian music reality that slowly is moving its first steps in the metal music scene. What could you tell us about this? We're really curious to know the origin of this project…
The band now known as Divine Ascension was semi formed and looking for a lead vocalist, and I was looking for something interesting and challenging to keep me on my toes. As soon as I heard one of the instrumental demos "Garden on Evil", I knew that this was the right project for me. A whole new world of 'underground' music known as melodic metal opened up to me, and Robb and Luke commenced my education feeding me with Metal music from all over the world. Once we established our line up, we did our first gig in Melbourne in November 2007 and have kept moving forward ever since. Continue reading »
Label : Alfa Matrix
Review by Davide Torresan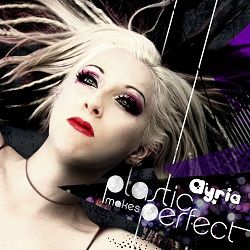 Ayria is back! After the release of the EP "Plastic and Broken" we are all invited to return on the dancefloor with her new album: "Plastic Makes Perfect". The Canadian queen of EBM returns to entertain us with her danceable songs. This time the thing that struck me most was the mood of some songs. For example the single "Hunger" is perfect when you're angry with the entire world. Instead "Friends and Enemies" has a catchy rhythm which fits perfectly as the background of a club. In short, from these simply words you understand that there's no space for sadness. Although Ayria tried different styles with her voice, in her world only one thing exists: the desire to entertain the listeners. This CD is available not only in the normal CD format but also in other two versions. There is a deluxe carton box edition and another one for free if you buy the limited edition. Both of them contains several remixes that will delight the lovers of industrial and electro-pop. Continue reading »
6 color styles available:

Style switcher only on this demo version. Theme styles can be changed from Options page.