Browsing articles tagged with " jens"
Label : Phonotraxx Publishing
Review by Tony Cannella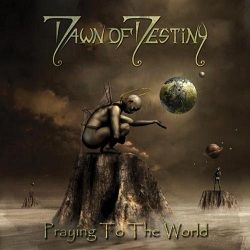 The German melodic power metal band Dawn of Destiny returns with their fourth album and first since 2009's "Human Fragility". My introduction to this band came via that album and I was very impressed with the vocalist Tanja Maul, but alas the band changed vocalists shortly following the release of "Human Fragility". Enter new vocalist Jeanette Scherff and while her style differs from Tanja's (Jeanette's is more of a soaring power metal style), she has definitely proven to be more than a good fit for Dawn of Destiny and sounds as if she has been with the band for more than just this one album – the chemistry is that good.
Dawn of Destiny wastes little time in getting right to it with the hard driving, bombastic opening song "My Life In Ruins". New vocalist Jeanette Scherff has proven to be a worthy edition to DOD's ranks. Bass player Jens Faber handles the male vocals on the album and his performance on the album is impressive. He sings in numerous styles, for instance, on the opening track he sings in a black metal screaming style, but he also contributes clean vocals and grunt vocals to "Praying to the World". Continue reading »
Interview by Erwin van Dijk
Dawn of Destiny is a German power metal band and was founded in 2005. They have done numerous gigs since then (mostly in Germany). With their latest album "Rebellion in Heaven" I think it is about time to do some gigs abroad. Or at least an interview. Usually we interview the females of the band so this interview with Jens Faber is a first.
The first question: how did your album release party with guest (& my friends from) A New Dawn go?
It was a very nice evening with hours of good music, friendly people and many drinks.
You are the bass player of Dawn of Destiny and that makes you the Steve Harris of the band. Who are your favourite bass players and to what kind of music do you listen yourself?
I listen to nearly all kinds of metal. I like Helloween as well as Dimmu Borgir, Nightwish or Nile. I must confess that I do not care so much about who might be the greatest bass player because the songs are much more important to me but I think Billy Sheehan (Mr. Big) and John Myung (Dream Theater) belong to the best.
Did you have any bands before Dawn of Destiny or are you currently in other bands besides Dawn of Destiny?
There were probably rather more projects than real bands that I played with and currently there is nothing more than Dawn of Destiny.
What do you prefer: The traditional four strings on your bass or five?
By now I prefer five strings basses because it gives me more opportunities to vary my sound and my play.
And what kind of bass and amplifier do you use onstage?
I use a five string Grass Roots (ESP) Bass and a Line6 amplifier on stage. I am satisfied with both of it.
Power metal and Germany are almost identical in the world of metal. Why is this kind of metal so popular in Germany?
This kind of music has its roots in Germany. Helloween played that style first and some many followed. Maybe people in Germany still like tunes and melodies with high screaming voices and fast double bass attacks but I think it's similar in other countries like Greece, Italy or Finland.
And what makes Dawn of Destiny different from all those other Power Metal bands?
We have a different approach concerning songwriting. We do not use the classical structure with Verse and Chorus. Furthermore we have more influences than just power metal because we like to express different feelings and emotions within our music. We want to create our CD's diversified and obviously it was proven to be right considering the reviews we got for "Rebellion in Heaven".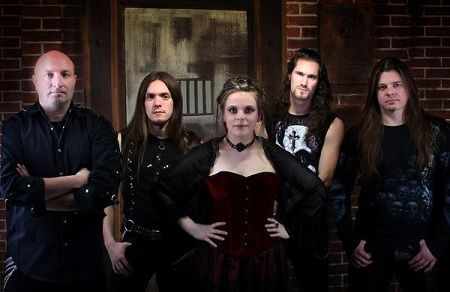 Another 'German' question: how big is metal really in your country? We foreigners know Germany mostly from all those festivals like Wacken Open Air and this might give some the impression that one out of five Germans is into Metal. Is metal really that big in Germany?
As far as I know metal is more popular in Finland (related to the population). In Germany metal was big in the 80's and almost dead in the 90's. By now Hip Hop is unfortunately the most popular music in Germany.
Does the album title ("Rebellion in Heaven") have any special meaning?
Some lyrics deal with a examination of God, so we thought this title would be fitting. Besides it just sounds cool to us.
Is there one mastermind behind Dawn of Destiny's music or is song writing teamwork?
No, I am the only songwriter but we all discuss the songs and the other members share their ideas to change some arrangements.
Can you tell us something about the songs on the album?
There are 14 songs and most of them sound different from the others. We have classical power metal stuff like "Angel Without Wings" or "Days Of Crying", some heavy thrashing parts like "Inquisition" or some Gothic influences like "Tears".
Your debut album is called "Begins" which is of course a perfect name for a debut album. What have you done different compared to "Begins" while writing and recording "Rebellion in Heaven"?
There are not so many differences between both albums. To me "Rebellion in Heaven" is the consequent continuation of "Begins" with the difference that we had a producer (Siggi Bemm) this time.
And the artwork: How did you get in touch with Mattias Nòren?
We found some very good material on his website and asked him to work with us for our first album.
Can you tell us something about the other members of Dawn of Destiny?
Tanja Maul – Vocals
Tanja and me make music for nearly six years. When we met each other she liked everything in music – everything but Metal!! Seemed to be a misunderstanding that we did not want to have a female singer and she did not want to sing in a metal band but it worked. Contemporaneously she sang in an a cappella band which has been a total contrast to our kind of music. Tanja has a very strong will and would do nearly everything for DOD. Her voice is crystal clear and enhances the emotions in our music perfectly.
Veith Offenbächer – Guitars
Veith is an extraordinary guitarist and a very pleasant character who fits perfectly to DOD. He was the latest member and joined us during the recording session of "Begins".
Dirk Raczkiewicz – Keyboards
The 'Grandfather' refered to his age with a good sense for nice tunes.
Ansgar Ludwig – Drums
Maybe you wouldn't expect him playing drums but he has very fast feet and a heavy groove.
What are Dawn of Destiny's ambitions for the future?
We want to spread our name all over the world and maybe there is one day a chance for touring the whole world and selling enough CD's to make DOD a full time living! We had several fantastic experiences and will always remember that.
And, the last question, is there anything the reader should know that I have not asked?
Not really. We thank you for the interview and hope that we could advise the reader of our band.
Links
Interview by Eetu "Ene" Niskanen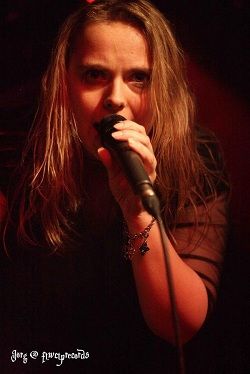 We have reached by email Dawn of Destiny's singer, Tanja Maul, for talking about the new album "Human Fragility" out now and more… Enjoy it!
Hello Tanja and thanks for accepting our interview.
You are very welcome.
So, you released your third album "Human Fragility" on September 21st, how much work did it take to get it out to the stores?
Most of the work is done by our songwriter Jens, who has the talent to write extraordinary songs within a very short time. The whole band decides which songs will be on the album and after the decision we practise and enter the studio. This time it took about three weeks recording and about one week mix and master. We all like the work in studio because it is an intense examination with our music that we all enjoy.
How much have you grown as musicians since your debut?
I think that "Human Fragility" contains my best performance so far. We all learn from studio and live experiences and try to improve ourselves.
On May you found a new drummer, Patrick Klose replacing your old dummer Ansgar Ludwig, how has he settled to the band?
We all are sad that Ansgar left the band but we found a very talented young drummer to join our DOD family. He fits perfectly and brings some creative ideas to the band. Although we had not much time to practice before the first shows with him he managed it very well.
Could you tell us something about your other bandmates?
Oh, where should I start? I make music with Jens for about eight years now and it is quite amazing considering our first attempts what we reached untill today. We started with a little PC, no real bandmembers, bad sound, only few ideas and a different taste of music. A few years ago Dirk joined the band and Veith completed Dawn of Destiny. Together we lived through some hard and some good times. When I speak of DOD as my second family it is more than serious. They even know me better than my parents.
Have you had any vocal training?
Yes, for about half a year I had a vocal coach. Afterwards I joined an acapella band for nearly two years that improved my auditory and my technique.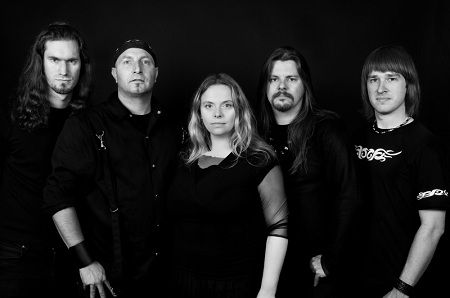 What kind of music do you listen yourself and how often?
I love melodic metal. Of course I sometimes listen to the big idols maybe to copy some little things. I do not listen to other kinds of music and I need to listen to it every day. It seems like the air to breathe for me.
Who are your biggest influences?
I try to perform my own style but influences for me are Stratovarius, Helloween, Blind Guardian, Nightwish, Evergrey, Kamelot or Within Temptation, just to mention some.
Do you have any musical projects out of DOD?
No, I can only concentrate on one band and that is Dawn Of Destiny.
From your new album, what is your personal favourite song?
"Unchained Someday" and "Silent Suffering".
Do you think "Human Fragility" is your best release so far?
Yes, defintively! Songs on "Human Fragility" are compact, complex but always possible to follow. Although the tunes are very catchy the songs do not become boring. Apart from this "Human Fragility" has the best sound so far. Every band likes to improve themselves on every album and I think we managed it.
As a band, have you ever thought of getting second guitarist?
*smile* I guess I couldn't do that to Veith

No, there is nothing that we miss on stage. Maybe a second guitar would make it even worse than better. There is nothing planned concerning this.
The last question, there are tons of female fronted bands out there, how does DOD keep unique?
We have no classic vocals, not so much keyboards, it is more Metal! So, to whom can we be really compared? We offer power, catchy tunes, songs to think about and songs to party. We like to present diversified songs which offer always something new to the listener. I believe that everyone who likes melodic metal in any way might find him/herself in Dawn of Destiny.
Links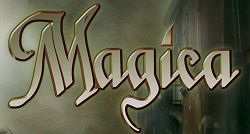 Interview by Robin Stryker
Founded in 2002 by guitarist Bodan Costea, Romanian melodic power metal band Magica has an impressive five full-length albums under their belts. Femme Metal chatted with vocalist Ana Mladinovici to learn more about the band's latest release, "Dark Diary" (AFM Records 2010).
Hello, Ana! Would you start off by telling us about Magica's new album, "Dark Diary"?
Hello there! In my opinion, "Dark Diary" is our best material so far and also my favourite one. The songs are very powerful, and the new sound helps the songs a lot and makes this material way better than the others albums.
This is the band's third release with AFM Records, a major German label. Is the partnership between Magica and AFM working out well for you so far?
The partnership with AFM it's a good one. They have a very good distribution and I hope they are happy with Magica's sellings since now. We still hope for a big European tour next year…who knows ?
Magica's earlier albums have a strong fantasy theme running throughout them – for example, "Scroll of the Stone" (2002) which told the story of Princess Alma and "Wolves & Witches" (2008) which was inspired by Romanian folklore. Does the new album have an over-arching theme?
The lyrics for this album walk hand-in-hand with the actual "Dark Diary" written by Ioana Dorojan, a diary of a teenage girl lost in the struggle with the ruthless society and dogmatic ways of thinking. It is kind of a concept album and we are very proud of it.
I was surprised (and excited) to see that the Amazon mp3 version of "Dark Diary" includes an 11-minute audiobook called "The Dark Diary". Can you tell us more about the audio-book and how Magica came up with the idea of adding a spoken-language track?
We were talking with Nils Wasko of AFM Records and we were searching for ways to fit the whole text of the diary into the booklet. At some point, Nils came up with the idea: what if we record an extra bonus track with someone reading the actual diary? It would be something like an audiobook. We thought the idea is awesome and so we asked Hilda Heidel, our drummer's sister, to be the storyteller.
I absolutely adore "Release My Demons" from start to finish. Which song really gets your blood pumping when you sing it?
It is so hard to tell…. maybe "Anywhere but Home" because it was written in a very hard period of my life and I'm very into it.
The limited edition digi-pack includes a cover of Running Wild's "Victory". Why did Magica pick this song for the bonus track?
It was also a choice of the label. The song was recorded a few months in advance because it was included on a Running Wild tribute album. So AFM considered that it would be cool to add this as a bonus track.
Magica has made some evocative music videos. If you had an unlimited budget, what track from "Dark Diary" would you pick, and what would your perfect video look like?
Unlimited budget? Wow! That would be great! "Anywhere but Home" that's the track for sure. It would be shot in as many locations as possible — for example, in front of the great Sphinx, on board of a shuttle launched for the Moon, ridding The Great Wall of China, or diving in the abyss in search of Atlantis maybe. Hehehe, I could come up with a ton of ideas. The problem remains that big IF you put in front of your question.
It seems like Magica's sound evolved from symphonic metal to power metal on the "Wolves & Witches" album, with guitars taking a more prominent place. What are the biggest differences between that album and "Dark Diary"? What genre or genres is Magica's new album closest to no w?
Bogdan (guitars) likes to call it melodic power metal. On "Dark Diary" we pushed the keyboards even more in the background just to make some more room for metal. The guys in the band are not so big fans of groups that center all the melody on a keyboard arrangement while the guitars are simply doing a rhythm job. There is a probability that Magica will become more and more aggressive as time passes by.
With five full-length albums in less than eight years, the band has been impressively prolific, when many bands struggle to release a new album every two to three years. How does Magica manage to keep up that pace while still offering something new with each album?
An answer could be that other bands are busy with touring while Magica, being so far from the heart of the metal stage (East Europe), does not have all opportunities that a German band has for example. Another answer could be that both me and Bogdan work in musical related environments.
What was the song-writing process like for "Dark Diary"? Was it a team effort, or is Bogdan Costea (guitar) still the mastermind behind the music?
Bogdan did basically all the work.
You and Bogdan have been musical partners for more than a decade – first as members of Interitus Dei and then, beginning in 2002, as original members of Magica. Why has your collaboration stood the test of time?
We are both very dedicated to metal, we are serious persons who will always respect their promises and we like more or less the same genre of metal.
Would you tell us a little bit more about the newer members of Magica?
Sorin, the bass player, is a funny guy that we knew from a long time back as a friend and a member of another band from our city. He works as a safety officer on a deep sea oil drilling platform. Hertz, our drummer, is a very active dude with very much work power, a guy that you can count on when it matters. Mostly he works as a techie for live shows. Finally the newest addition, Bogdan-Ionut, filled the spot of rhythm guitar. He is a lawyer who promises that the things will get even more heavy metal than before.
With your effortless shifts between mid-range and soprano vocals, it certainly sounds as though you have had classical training. What is your musical background?
Indeed I have graduated from a musical University but lately I do not like to mention that anymore as it has become more and more a cliche thing. Almost all female metal singers brag about being classically trained.
"Dark Diary" has quite a polished sound with the vocals and each instrument standing out distinctly. What role did Ronny Milianowicz (mixing) and Jens Bogren (mastering) have in shaping the album's ultimate sound? Why did Magica bring these guys on board for mixing and mastering duties?
Ronny Milianowicz did all the work (mixing and mastering) under the guidance of Jens. Initially, Mr. Bogren was supposed to do the mastering but it turned out that he was in the impossibility to work on our material in the period of time set by our label because he was busy with many other projects booked in advance. We chose Ronny because he had a big experience as a sound engineer, having worked with big names as Sinergy, Hammerfall, Paradise Lost, Amon Amarth and many more. We also liked him as a person, talking to him on the internet.
Is the album everything you hoped it would be?
99%
Does Magica have a special dream, whether it is playing alongside one of your musical heroes or performing at a particular venue?
Every band dreams about playing alongside their idols. For me, it would be great to sing in a duet with Roy Khan of Kamelot but I'm pretty sure that the other members will have very different ideas and choices.
What are the band's plans for the remainder of 2010? Might we be able to see Magica live soon?
For the moment the band is taking a couple of months break for me to recover after a surgical intervention on my thyroid.
Thank you so much for talking with us, Ana! Do you have any parting words for your fans at Femme Metal?
Thanks for the interview, feel free to visit www.metalmagica.ro and www.myspace.com/magicaband. Stay metal!
Links
Latest Multimedia
Label : Spinefarm Records
Review by Tony Cannella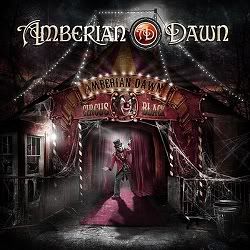 The Finnish symphonic metal band Amberian Dawn has come a long way since their inception in 2006 and their debut in 2008. With their 4th and latest album, "Circus Black" the band continues to emerge from the shadow of fellow Finns Nightwish and maintain a steady path to move onwards and upwards.The bombastic, beautifully lush "Circus Black" starts things off and is followed by "Cold Kiss". For this song lead vocalist Heidi Parvainen is joined by Stratovarius front man Timo Kotipelto for an amazing duet. For the next song "Crimson Flower", the band is joined by Stratovarius keyboardist Jens Johansson for a song that really revolves around the remarkable operatic vocals of Heidi. Guest keyboardist Jens Johansson is allowed to go off on his own for a bit in this song, he was also once upon a time a member of Yngwie Malmsteen's revolving door of musicians and the guitar solo and keyboard part remind me a bit of the Swedish guitar wiz. "Crimson Flower" would make a great video track from this album. "Charnel's Ball" is a slower paced song with a huge operatic/symphonic feel to it. "Fight" is just a fast paced power metal tune, which once again recalls the past glories of Yngwie as well as Stratovarius. Of course the operatic vocals are what set it apart from those two bands. Other highlights include: "Letter", "I Share With You This Dream" and the excellent instrumental "Rivalry Between Good and Evil". I am not really a fan of instrumentals but this is one of the better ones I've heard in a long time, and it is a great moment where the musicians are left alone to show their phenomenal talents. "Circus Black" is another strong achievement for Amberian Dawn and may be their most ambitious effort yet. Is it their best? That's hard to say, each album has its own charm and "Circus Black" is a great addition to their catalog. Time may tell if this is the album that pushes Amberian Dawn over-the-top.
Rating – 85/100
Tracklist
Circus Black

Cold Kiss

Crimson Flower

Charnel's Ball

Fight

Letter

I Share With You This Dream

Rivalry Between Good and Evil

Guardian

Lily of the Moon
Line Up
Heidi Parvainen – Vocals

Kasperi Heikkinen – Guitars

Kimmo Korhonen – Guitars

Tuomas Seppala – Keyboards

Jukka Koskinen –Bass

Heikki Saari – Drums
Links
6 color styles available:

Style switcher only on this demo version. Theme styles can be changed from Options page.