Browsing articles tagged with " joe"
Label: Mascot Records
Review by Davide Torresan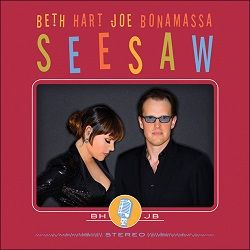 Do you know the saying "Never change a winning team"? Well, the American singer-songwriter Beth Hart and the famous blues/rock guitarist Joe Bonamassa thought the same thing. The collaboration between these two atists started in 2011 when their "Don't Explain" came out. During the tour for the promotion of Beth's last album "Bang Bang Boom Boom", she took the time to shut herself into the studio with Joe to record a new album.
This "Seesaw" is a nice work in which soul, blues and rock merge together giving birth to a cover album that pays tributes to some great artists like Etta James, Billie Holiday, Tina Turner and Aretha Franklin. Continue reading »
Interview by Miriam C.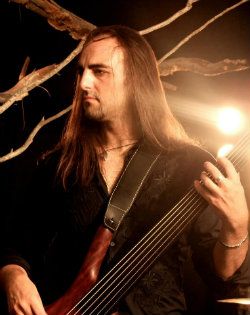 Soon I've have heard that Maltese Gothic Doom Metal Weeping Silence band have had a major line up change I've contacted the band and write down like hell this interview. I'm proud to offer the first exclusive interview the new singer Diane Camenzuli but beside this I've haven't forgotten to investigate more about the third album "For the Unsung" that sees the guest starring of Draconian singer Anders Jacobsson. To know more simply scroll down. Enjoy!
Hi Sean, first of all welcome to Femme Metal Webzine, how are you?
Thank you for the interview Miriam. I'm fine, hope the same for you and the reader of Femme Metal webzine.
Sean, would you mind giving me some biography infos for the users that don't know Weeping Silence?
Weeping Silence was formed in the late 90s and developed from a slow tempo doom female fronted band with the release of "End of an Era" (2008), then symphonic/gothic metal with the release of "Theatre of Life" to a present gothic/doom metal band with the latest full length album "For the Unsung".  As is expected with a band that has been around for some time, we have gone through some line-up changes, the latest being a vocal replacement. Weeping Silence is currently signed to Ravenheart Music Records and operates with Limelight Productions for non-exclusive concert booking in Europe.
So, your third album is out on Ravenheart Music and is called "For the Unsung". Can you tell us more its genesis?
The album is a reflection of the members' thirst to play gothic/doom with an aggressive edge. The insertion of male growling is an obvious indicator, but the riffs just sound heavier and more powerful, with several slow tempo passages. We wanted to do something that hits the core of the music we like and at the same time sounds modern.
"For the Unsung", it gives me an impression like something obscure and unfinished. What does the title mean for you, what did the band want to express?
The album is dedicated to all contemporary heroes that go unnoticed in the world. They do not have monuments erected in their honour or wear medals. They are the everyday people who comes to a cross roads and chooses the path they feel is right with courage. This idea can be transposed to many life situations, and the idea is for everyone to see it from their own perspective.
Also what infos can you reveal about the album cover? It's enigmatic…..
The artwork captures the theme of "For the Unsung" in the form of the Greek myth of the Coronides who in self-sacrifice saved the people from their doom. The Coronides are the two comets on the artwork, who are the daughters of the god Orion. They offered their lives in sacrifice to save their people from the plague. The gods were so touched with their humanity that they transformed them into comets to shed their eternal light. It is not a very popular myth when compared to others but it is a good representation of 'the unsung'. This artwork was done by Jan of Darkgrove, and we feel it looks very nice, especially on the digi-pack edition.
On "Love Lies Bleeding" Draconian's Anders Jacobsson participates as a guest star, when was the first contact with him and how's working with him?
Anders appears as guest singer on "Love Lies Bleeding" and "The Search Within". Joe knew him through Facebook, then I got to know him over the internet. He's a great guy really. To be honest, he could have easily said no to our request for him to feature, but he chose to do it even though we are not as famous as Draconian. This shows he loves the metal scene and is not a big-headed person. We respect him a lot. He did his vocal parts at Dead Dog Farm Studio in Sweden.
Also for "Love Lies Bleeding" you have shot your first videoclip, can you tell us more about it? How's was this experience?
This was a great experience. We did not have a great budget, and between us and the label we thought of shooting this video because we know how powerful YouTube has become. The experience was a blast! It was shot in summer, so you can imagine the heat. As a band, it really brought us together, and individually we realised how far we want to go in this scene. It was an eye-opener as well as a good experience.
Between "Theatre of Life" and "For the Unsung" passed only 1 year from the publication, do you notice (or better) are you able to notice any differences?
The difference is noticeable to anyone who has both albums. It is true that the release dates are close, but "Theatre of Life" was recorded in 2006 and released in 2011. So the music is much older than the release date. "For the Unsung" was composed between 2007 and 2011, and released in 2012. So the difference in composition time is more obvious to us!
Joseph and Rachel have recently left the band. And on Facebook you have already announced t
hat you have found a new female singer, mind you give the honours and present her?
We wish Rachel and Joe all the best with their future projects. The new female vocalist is Diane Camenzuli. She is 24 years old and ready for your questions!
Diane, welcome, I assume that this is your first interview that you ever made, how do you feel? Excited? Do you have any curiosity to share about yourself rather you prefer doing a detailed presentation of yourself?
Hi Miriam, thank you for the interview. Actually, I had some interviews about my music career in general, but this is my first interview regarding Weeping Silence. Yes, I am very excited about this new phase in my life. I have been into rock and metal for many years but never managed to settle down, the main reason being the difficulty to find musicians who are truly into the genre. Joining Weeping Silence is a challenge that has energized me like never before. All the band mates are on the same wavelength as I am, and I can feel a lot of positive energy between us – something I haven't felt for a very long time since my involvements in bands. The teamwork is fantastic and I can already sense the need & the will to create music & performing on stage with such great people.
How do you feel replacing Rachel after so many years that she was in the band? Do you feel any pressure?
I know how much Rachel is loved and have only respect for her achievements.  At first it was overwhelming and I cannot deny that it took me sometime to absorb what just happened to me. I had to make several adjustments to my new life such as cutting down on working hours. Having said all this, I can finally say that now, I have summoned the strength and courage to deliver at this new level of me.
A little bird told me that you have musical training, can you tell us more about your musical background?
To become a band member of a gothic metal band was a plan that had been in my mind for many years. Whilst awaiting the right opportunity to come my way, I used the time I had to learn more about music in general, to take piano and voice lessons, find my natural voice timbre and write a lot of lyrics. This was crucial and it is how I got to know myself better musically. It was the many rehearsals, auditions, live showcases, music courses and music lessons I attended, that helped me develop my voice & that thought me how to take care of it as much as possible.
How did you come across Weeping Silence? Did you know before someone from the band or did you simply apply for the position?
Being a fan of Weeping Silence myself, I saw their post on facebook and thus applied for the position.
For what the little bird  told me you're really enthusiastic and you are already doing rehearsals with the band: how hard is it to get started in a band that already has an "internal" equilibrium?
I am getting along extremely well with them. I had never experienced such teamwork. They are all committed, hard-working and open-minded. Their support has also been very encouraging.  I feel that my life is finally falling into place.
Instead let's talk about your personal tastes, what are your private passions?
I have always been interested in make-up and costumes. I love dark photography and gothic culture. Having said this, my greatest passion still remains that of being a singer-songwriter. It is a great way of expressing my feelings to the extent I want to, without harming anyone or anything.
Sean, what are the future project for Weeping Silence?
The future projects are definately composing a new album, that we hope will see the light of day in 2014. Between then and now, we will also be playing as many concerts and festivals as we can! All this should keep us busy!
So, Sean & Diane, we're at the end of the interview, please greet freely our user on Femme Metal Webzine and speak you soon!
We would like to thank the fans, Femme Metal Webzine and its readers who have always been behind the band giving us much support. We will be hitting the stage in 2013 and maybe we'll get the opportunity to meet some of you. Until then, visit our FB page, see what's brewing, and hit the like button: www.facebook.com/weepingsilence
The new album and earlier releases are available from the band's e-store on the website www.weepingsilence.com . Thank you for the support!Thank you very much Femme Metal readers, fans of female-fronted metal and metalheads in general all over the world! Keep it metal and hope to see you around someday! Thanks Miriam for this interview – Cheers to all!! Sean & Diane
Latest Multimedia
Links

Interview by Miriam C.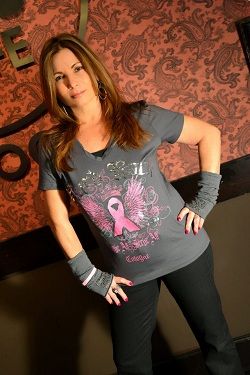 If metal impersonate as a queen the German Doro, instead in the melodic rock/AOR territory the true deal is the US Robin Beck. Known for the uber huge hit single "First Time" in 1988 born from a jingle of a Cola Cola commercial, after 6-years-break from the last album "Livin' on a Dream", Robin do her comeback with her 9th album "The Great Escape" on her own imprint, Her Majesty's Music Room. Want to know more? Continue to read this extensive interview…
Hi Robin, first of all thanks so much for accepting this interview! For me is a real pleasure to host and promote you in my webzine and I thank you for finding time out of your busy schedule to reply this humble questions.
Thank you Miriam I am happy to.
On your official biography, you stated that since you're a little child you wanted to be an artist and when you were 10 yrs old you have written your first lyric. Now, being passed so much time, did still keep it and what you think about it?
This is not a secret lyric. It's a childhood song about love of course… "Key to My Heart" Sort of a country song. I think it was pretty good for a kid.
Despite the fact that you are world famous singer, during your break for raise your daughter Olivia, you have still recorded album as a background singer. From this experience what you have learnt? Any good memory to share with us about that period?
I don't have anything but good memories… and still more coming. My daughter is the light of my life! You do learn from being a mother how to be a parent from your children. If they are happy… then you've done a good job… so I give myself a gold star. I will also say that from having Olivia that I became more conscience of how important school really is… this something I took for granted while I was growing up. I hated school but it's the most important part of our lives to begin with.
Let me get you to the early times of your career, at that time what were your favourite musical acts and are your musical tastes changed now?
Ha… Janis Joplin, Joe Cocker, Aerosmith, Queen, the Beatles, Stevie Nicks, Carol King, Crosby, Stills, Nash, Taylor and Reeves and the Supremes. Just to mention a few.
Your debut top hit single "First Time" in 1988 was a spin off for a Coca Cola commercial, how you got involved in it? Also the video clip was different in EU and in the US, why?
I was chosen to sing "First Time" the jingle… then the song was written and it just flew high by popular demand first in the U.K. – They then did an American Version since Americans don't speak English I guess! LOL It was perfect the way it was first created… then we simply rocked it out for the simple reason that I was noted as rock artist and that's the way they envisioned it for the States.
How was the genesis of your last album "The Great Escape", when you have started to nail down the first lyric?
Hummm… really don't remember specifically. It just came when it came… and out popped the entire album. We worked for about 5 months straight on it.
Your latest studio album was 2006′s "Livin' on a Dream" (now I'm excluding the re-release of "Trouble or Nothing"), why it passed so much time since then?
I was putting together my own label and time was just flying by. I was also managing a band at that time and devoted a lot of attention to them.
How's born the partnership with Tommy Denander and James Christian (that's your husband)?
I met Tommy during a "Radio Active" invite to sing a song… and from there it was a relationship of 3. Me, James and Tommy. We are all very tight. James my husband is in House of Lords. He might be the best producer I've ever worked with. Not just because he's my husband, but because he really gets me and knows better what I can do than even I do sometimes… it's great to have these 2 men by my side.
What's your personal meaning and what do you want to express with the title album "The Great Escape"? Or it's simply related to a lyric present in the album?
For me it's meaning was simply to take a break from life and listen to some great music. But the song is literally about getting away or escaping the trappings of a bad relationship. The title of the album really has nothing to do with the song I'm afraid. I kept it because I just loved the image I had created in my own head. When I'm listening to music that I love… all my cares vanish. That's what I want for my fans.
Two songs that totally hit me are "The One" and "Don't Think He's Ever Coming Home". What are the subject of this lyrics?
You hit the nail on the head with these two songs Ms. Miriam. "The One" is clearly about the love of my life and how to let him in on it. "Don't Think He's Ever Coming Home", is a whole other story… this is an unhappy ending for a girl who tries to keep a man that truly wants to be with his intended. Some girls are just lying to themselves and this song spells it out for them in a most unforgiving light.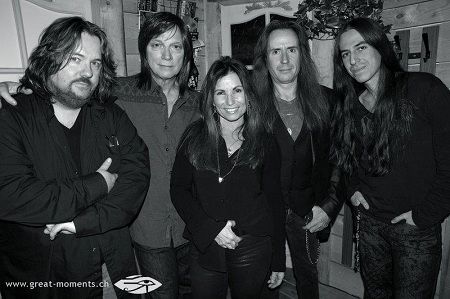 On "That All Depends" you sing with Joe Lynn Turner, how do you feel to realize such a dream? How was standing literally (and singing) beside him?
Ha… that's funny… I've known Joe Lynn Turner and have sung with him for years and years… you'd think I'd be immune'd by now … but he's dreamboat. I've always loved his voice and his way. I can't say enough nice things about Joe Lynn Turner. It was great that he took the time to do this with me. Hopefully we will do another song together in the future.
In February 2009 you founded your label Her Majesty's Music Room, why? I mean you haven't no more faith in the labels?
Yep! That's it in a nutshell. It's a smaller system but much more satisfying. I mean really… working with a label can make you or break you… but working with my own label makes me happy.
The re-recorded release of "Trouble or Nothing" include 4 bonus tracks. If I got it right the songs are original from that session and why at the time weren't included into the album?
No no no…. these songs were not from that time period. They were fresh newly written for the re release of "Trouble or Nothing".
In the 80′s MTV was the leader in broadcasting and promoting AOR bands/singer like you now after 20 years or so we find that internet, with its connections of webzine and sites dedicated to music, is taking the lead. What do you miss of the 80′s from this point of view? And also how much do feel confortable this all this new technology? Have you already notice any pros and cons for your activity?
It's great… no matter what this is how we evolved. For me it's wonderful. I have much more exposure… sometime not the exposure that you want but as they say… all press is good for the artist… good or bad.
Watching your long, stellar career what it is missing is a full concert DVD. Any plans to record it?
Yes… we almost did it at Firefest. But I'm looking to do something that spans my career, not just a rock concert. This takes time but I can assure you not too much longer.
Finally your EU fans have the chance to meet you during your upcoming "Here Comes Trouble Tour" made of 10 dates running thru Germany, UK, Switzerland and Austria. Any project for a full European tour?
I am trying to put that together already. It was only the beginning to start this year after so many years of being missing from the touring circuit. It will take some more time to build up the audience awareness… let's start here. Tell everyone to keep an eye on www.robinbeckrocks.com for coming tour dates in 2013 and Facebook as well.
After this EU tour, what are your next plans and if yes, are you involved in other musical related stuff?
I am in the middle of making a new album right now. We are also discussing new tour for 2013.
Olivia, your daughter is following your artistic footprints, would you mind present her and her songs?
She's amazing and living her dream right now as an actress… but this girl has pipes and she can do anything she wants to. I would be proud to see her live her life and use her talents to make her own dreams a reality.
I've a just a little curiosity to fullfil, you know I'm from Italy and time ago you have recorded a duet with Pupo (that's a real famous songwriter/singer here). Do you mind tell me how's born this collaboration? To me, discovering this was such strange because Pupo doesn't really represent the attitude of a rock star.
Well there's not that much to tell… he reached out to me to do a duet with him and I did. It was fun… and Olivia was only 10 months old at the time so she was in my arms the whole time I was with Pupo singing.
Well, Robin, we're at the end. I really thank you for your time. Please greet your fans and our readers as you like. Really thanks, Miriam.
Please come visit me at my website www.robinbeckrocks.com and on Facebook. I would love to see you there. If I'm in your area please come out and say hello. Watch my website for any details in the coming months. All my love.
Links
Interview by Ed MacLaren
Harkening back to the heavy metal heyday of the 1980s, Kentucky's Hydrogyn are keeping the sound alive with its raunchy guitar crunch combined with the powerhouse vocals of singer Julie Westlake. On their latest release, "Judgement", Hydrogyn keep one foot in the past while looking directly into the future, putting a modern spin on a classic metal sound. Julie took some time to talk to Femme Metal about image, the lasting influence of hard rock and how sometimes one good guitarist is all you need.
It's clear from the opening riff of "Lost Reality" that Hydrogyn brought the metal on "Judgement". The guitars are beefier and the overall tone of the album is heavier. You guys really mean business!
Yeah, you're right. It wasn't anything we did as a plan – it's just the way it happened. Jeff Westlake has always liked the real heavy guitars but I don't think until this recording we had the drummer he felt he needed to back that guitar tone up. He really likes Joe Migz's drumming and he said it really helped to bring out the heavy playing to its full capacity this time around. I like the heavy stuff as well so for us this was a great blend of melody and heaviness so to speak.
Hydrogyn plays blues-based hard rock but you're getting progressively heavier with each release. Even with the increasingly "metallic" influence, you've never compromised your hard rock core. Did you have a clear idea of where you wanted to take the music when you hit the studio?
No, not really Ed. We go into the studio with a theme in mind for every CD – we almost always have the CD title in mind before Jeff and the guys start putting the music together. We don't do anything that is pre-meditated so to speak for the songs. Nothing like, this one's going to be heavy or this one's going be this or that. Jeff has many different sides to him as a writer, as do I, but we just have this certain thing we do as Hydrogyn and we let it take its course without planning in advance.
Are you still working towards finding the perfect Hydrogyn sound?
No, not really. I think we have established, as you stated earlier, our base sound. Outside of that, however, we are always looking to push the boundaries in different directions. One thing I'm proud of is the fact that we have not made CDs that sound like each other. Each release has progressed from the previous ones and has its own character and that's very, very important to the band to be able to accomplish that on every recording. That's something we do consciously in the process. Someone will say, that kind of sounds like such and such, a part from such and such a song and then we go…well that's gone… on to the new part. *laughs*
You and guitarist Jeff Westlake are the nucleus of Hydrogyn (sorry, bad pun!). How would you describe your relationship? How has it evolved over the years?
Besides the fact we tend to fight like cats and dogs during the writing and recording process, we do pretty good together… *laughs*. We both are pretty intense at times and sometimes butt heads a bit. But for the most part, we've done well together over the years and have become a stronger team during the writing process and work really well together.
There aren't many bands making the kind of music you're creating right now. They're either going in a more pop rock direction or towards a more extreme metal sound. There seem to be very few straight-ahead hard rock bands out there. Why do you think that is? What is the attraction of that style of music for you?
It's just what we do. If you look at all the fans that go to the festivals and how people like Dio, Heaven and Hell, Maiden, Whitesnake – the list could go on – and continue to pack places, there's a big call for it. I'm not interested in extreme metal and I'm not interested in pop music per se. I'm interested in good songs and something I can relate to. If something extreme would come up in the process, that's fine if we can make it a great piece and the same goes for pop-oriented rock as well. If it works then it does but as for the screaming from beginning to end I can't give that more than five seconds but I do think if you mix that extreme stuff in properly to what you do – like we do – it can work. Now this is strictly my opinion but I see those crowds of people packing places for that type of music – melodic heavy rock – and as we have seen with Ronnie James Dio's passing, someone is going to have to fill that void once these guys are no longer with us and I would love to fly that flag. I'm not saying we're like them – we have our own sound and that's a fact – but we are a heavy band and if you strip the vocals away the band is killing it. The added vocals make it melodic, and that I love, as do the guys.
It's amazing to listen to your vocals on "Judgement". There are few singers that can command a vocal like you do. There's real attitude in your voice –a power and vocal control that permeates tracks like "Self Destruct" and "Medicate". But at the same time, you can give a track like "Gold Dust Woman" an emotional root that's essential to the believability of the song. Have your vocals always been so confident? What has changed in your voice since the early days of Hydrogyn?
Thank you, Ed, for those comments. It hasn't always been that way. The voice has always been there but it wasn't until I met Jeff Westlake and Jeff Boggs that I really started taking singing in a big direction. I always wanted to sing professionally but hadn't done so until those two pulled me into Hydrogyn. We've done a ton of music together over the past eight years but Hydrogyn is what did it.
I spent all of 2003 building my voice up in strength because Westlake said it had to be done. When we started doing that, I sang in a tuning that was much lower than the standard we work in now. Over 2003, I built that power and strength but I don't think it really took hold until we went in to do "Bombshell" with Michael Wagener. My voice has gotten much stronger since then and now I feel like I can hang with anyone but it did take some time. Also, singing rock, you either do it or you don't and there's no hiding behind anything so it was sink or swim and sinking was not a choice. *Laughs*
Vocally, today's women in metal and hard rock have arguably developed into two main camps: the corset-wearing soprano singers and the unbridled screamers. Your voice doesn't fit into either group. It has power and an excellent clear tone – a distinctly American style – in company with vocalists like Pat Benatar and Anne Wilson. Do you ever see a resurgence of your "classic rock" vocal style?
I don't know. Has it ever really gone away? I like Anne and Pat but I look more to Ronnie or Rob Halford for what I do. I've always heard that I don't have the typical "girl" voice which is very cool to hear. I can also do a lot of different things but my voice is my voice. I didn't try to be that way or model myself after anyone in particular. I released a solo CD in February of a bunch of stuff from country to rock to gospel just to show the different things I like and do but I love to rock. I am not much on the operatic stuff that is out there and I'm not about any pitch correctors on my voice either. I am just blessed with a clear powerful voice and I love it.
You perform and belt out your vocals like a true rocker. You would never think that your background is in country music. How does a country princess end up a metal queen?
*Laughs* Well, again, blame Westlake and Boggs. I'd stumbled onto Westlake in a studio in Ashland, Kentucky to do a demo and he was the engineer in there at the time. So I did the singing and he and I started working together on writing material but I was still in country. One day he and Boggs approached me and said we have a gig in 14 days and no singer –think you can try to do it? I said yes so they made me a CD of 40 cover songs ranging from AC/DC to Dio, Whitesnake, Priest, Heart and on. I was like, wow I don't know. So what I did is learn the melody of the songs and then taped 40 songs worth of lyrics to the stage and did the show. It went over so well that I decided to keep going with it and here we are today. I love to sing anything but I love to rock the most.
With all the success of "Judgement", in other ways it was a difficult year for you and Hydrogyn. You gained and lost a potential guitar match made in heaven with ex-Megadeth guitarist Jeff Young. It looks like the dust has finally settled from that failed collaboration. What have you learned from the experience?
That having one guitarist is plenty good enough *laughs*. You never know how things are going to work until you try it, and some may refer to it as a match made in heaven and others or myself may say hell. *laughs* Sorry. Needless to say, it just didn't work for us, for me, for whoever. I'm just glad it's over and we're able to move forward with the release. Lesson learned. Why fix it if it's not broken. We've been playing with one guitarist for a couple of years now and that's how we'll continue on for the duration.
Legendary producer Michael Wagener has been a great friend of the band since "Bombshell". How has your relationship with him impacted the musical evolution of the band?
A lot of ways. Just his support has been enough but the biggest way is probably that Jeff Westlake has been mentored by him as an engineer and music producer since 2005. That has been the biggest impact of all I think. The last two releases, "Deadly Passions", and the new one "Judgement", have had three songs on each produced by Michael and the others by Jeff. Jeff has learned so much it's amazing. Reviewers have said they can't tell who did what because it all sounds so good and that's huge for us and especially Jeff. Jeff is also building a new studio as well as he's busy with other bands all the time so the relationship with Michael has been big on many, many levels but the bottom line is that we love the guy.
You managed to score Doug Pinnick of King's X to perform on the track "Big Star". How did he get involved in the "Judgement" project? You must have had some high expectations for the result. So how did he do?
Well, he did great! *Laughs* We've known him since 2006 as King's X works with Michael as well so that's how it came about. Jeff Westlake had mentioned it one day to Jeff Young and so Young contacted him and the rest is history. He's unreal and soulful and a great player as well so he did the male vocal part and the bass line for the song. We love it.
You release regular albums with Hydrogyn and tour extensively. It doesn't leave a lot of free time yet you still found time to record a solo album. Why did you decide to step outside your comfort zone with the band and do something on your own? Did you have a creative itch that couldn't be scratched within the confines of the band?
Yeah, I do in a way. I've had so many comments made about the "country" background and friends and family asking me to do some stuff along those lines that I decided to do it. This solo CD is basically for them and I have another one on the way that will be more of what I want to do which again is different than Hydrogyn. Westlake and Boggs are working on a side project too called Ura-Kia and then Westlake has another one as well called Slave Train. These will all see release in 2011 and another Hydrogyn record as well. Now that's a lot but it's the way we love it. I really don't have just one comfort zone. On the solo release, which is called If Ever a Day, I do country, rock, gospel and the title cut is a bit of a jazz/blues tune that I wrote so it's a bit of everything. The next one will be more of a rocker.
You're no stranger to singing cover songs – you've had at least one cover on each Hydrogyn album. As a cover expert then, what's the attraction to putting a cover song on an album when you could be adding another original track?
You hear songs you like and you catch yourself singing them and then you go, "Wow I'd like to do that!" So we do! On "Judgement", we have fans asking for "Gold Dust Woman" as a lot of people have heard us doing that one in acoustic settings so we did it for the fans. "Assault Attack" from the Michael Schenker Group is done because I love the song and so do the guys, so we did it. We could always write another song to put on the CD but those cover tunes are for us and we enjoy them a lot.
What's the criteria for selecting a good cover song? You've performed covers by everyone from AC/DC to Alanis Morissette to Fleetwood Mac!
Just loving the track. We did "Back in Black" in our live show when we met Michael and he said can we please record that and we said sure. I think the only cover song we have done that had some resistance to it is "18 And Life" because Westlake hates the song. Other than that, we have a vault of cover tunes recorded just waiting for their time, so to speak. Now "Assault Attack" was my idea but it took no time for the guys to jump and do it. That's been one of Jeff's faves since it came out in 1982.
"Big Star" was part of your original "Best Served With Volume" demos from 2004. Why did it take so long to formally record?
We also recorded it for the "Bombshell" sessions and it made the live release of "Strip'em Blind Live" in 2007. We just love the song. Westlake wrote it in like 1999 and we said this song has never had an official release so we reworked it a bit and then got Doug involved and it just came out so good that it finally got the green light.
Do you have any other great tracks lurking in the Hydrogyn vaults that are waiting to see the light of day?
Yes. A ton actually and Jeff would kill me if I said what. We've been talking of releasing a cover CD so for now I have to keep mum.
Fashion alert! OK now, is that really the "Bombshell" outfit you're wearing on the "Judgement" cover?
Yep, sure is. I thought that since the album title was "Judgement", and that a lot of people have judged myself and the band since we started with the "Bombshell" album, that it only made sense to be viewed with the same outfit that started it all.
How much does your image play into your music?
I think this industry is a lot about image. So a big part of what we do with my image is about marketing. It really doesn't have anything to do with the music; it's just the role and persona I play on stage.
Look at any Hydrogyn album cover from "Bombshell" to "Judgement" and anyone can see that you play the role of the "rock vixen" to an extent. How much of that image is you merely expressing your own sexuality or a facet of your personality and how much is a product of women having to play that role in hard rock/metal music to be successful?
With the album covers, the pictures are supposed to represent the title of the album, not what or who Julie Westlake is. What I wear in the pictures on the covers is not always what I wear on stage. I don't think it's necessary that I have this particular image, it's just the image I choose to represent each album.
Has your image had any negative impact on how seriously people respond to your music? Is there a stereotype you have to constantly fight against?
I wouldn't say negative. Some people don't like it but you're not going to make everyone happy. I'm here to hopefully make people happy with our music, not with my clothes. If they don't like the image, then they can close their eyes because the music is still good.
How do you see your image evolving as Hydrogyn becomes more and more established?
You never know. Again, a lot of it has to do with the album title and how it influences me. Of course, fashion is always changing, so you just never know what I will do next.
You've battled in the business and media trenches for many years now. Do you have any advice for young women aspiring to a career in music?
It's really tough. You have to be willing to work long and hard for it. Don't expect things to happen fast. It's a long road and a lot of work and it's important to create thick skin because people are always going to be tough on you no matter what.
When will you be hitting the road to tour behind "Judgement"? Is the focus going to be on the United States first and then head over to Europe?
Hopefully in the spring. We're trying to focus more on the States this time around but also feel that Europe is such a strong area for us and we love our fans so much there. So, hopefully we will be able to hit both next year.
What can longtime fans expect to see in your new live show?
One thing you can always expect is a very energetic show. Our live show now consists of a variety of songs from all of our previous albums, as well as a few cover tunes along the way. And then, of course, we always take time after the show to spend time with our fans and we really enjoy meeting everyone.
(Famous) Last words?
I guess I would have to say, "Don't judge a book by its cover". In this case, an album. Let the content decide whether or not you're a fan, rather than making assumptions based on an image of someone you've never met.
Links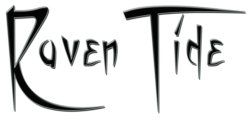 Interview by Connie Bach
Raven Tide offers an energizing, yet soothing blend of driving guitars with a strong bass line, and balanced orchestra. The result is dark, warm, dreamy, and flowing.
Hello, Cheryl. "Ever Rain" is an awesome EP. I can't wait to check out the new album.
Hi Connie! I'm very glad that you gave me the chance to talk about raven tide and it's awesome to hear such good words about our songs!
What's going on with the band these days?
Good question Connie!! This is a very intensive period for us. We're trying to find the better way to promote "Ever Rain", choosing few but relevant events where we can show what raven tide really is. We're also working for new songs and our days are full of studio sessions and writing. It's not easy, in fact, to spend energies in the right way, especially when you have so much to do in so little time!!!

Raven Tide has been featured on several compilations. "Doom Revealed" will appear on "Beauty and Brutality" and "Lucifer Bliss" appears on "Rock for Haiti". I love the charity aspects to these two compilations. What made Raven Tide decide to contribute?
It's wonderful. I think the idea of creating compilations of good music and use the cash to charity is a wonderful initiative. In fact, you get a double benefit. For the bands is certainly an excellent opportunity for visibility and expression, while using the music and its power, you bring more people to a social problem, making them participate by simply listening to a song.
in the past we have often thought of organizing lives and events for a charitable purpose but it is not easy for band to be able to set up this type of event…so when the opportunity to participate in this initiative came, we didn't think twice!! Especially when it comes to a quality product like "Beauty and Brutality".
Raven Tide is such a young band, yet has such a polished sound. What brought the members and their various skills, together?
Indeed, although the moniker Raven Tide is dated 2009, all of us for many years were part of a previous musical project, a tribute band that has enabled us to acquire over time a deep musical and personal understanding and improving through long live experience. Over time, of course, came the need to express ourselves with original music and create something where everyone could put their ideas and influences.

Turning to the recent release of your EP, it is a lovely taste of what is to come in the future. The name Ever Rain suits it. Where did the name come from?
Ever Rain was, in truth, the first moniker of the band, replaced with Raven Tide for reasons of homonymy with another band. After this, we decided to use it anyway, as the title of our first EP, maintaining continuity with our first idea. The reason for both names is, however, to evoke a particular image that remains a feature of all our work.

MySpace says that "Ever Rain" is a preview of a full-length album in the works. Why did the band decide to release a "preview"? I love when bands do that, it is kind of like the smell of baking before the bread comes out of the oven.
To be honest, we've never thought of "Ever Rain" as a preview…. it was simply a demo cd to present what we are. Then, he started receiving more and more confirmations becoming an EP and with the precious support of our promotion agency (Alkemist Fanatix Europe) was distributed in most of Europe and the major online music sites overseas. It was a good surprise!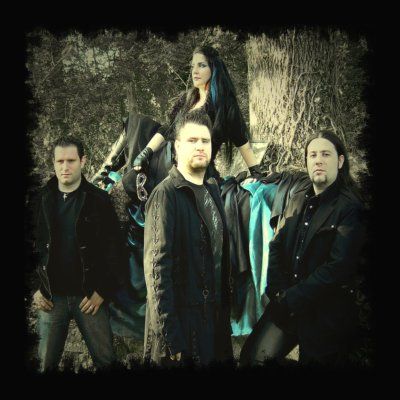 I love the song "Lucifer Bliss". What is the story behind the lyrics?
The message of "Lucifer Bliss" is that everyone in this life hae to face bad moments and suffering and sometimes, when the pain get deeper, there's an instant in which we wish to get heartless and we're tempted to lose ourselves denying the good we have inside. I guess is another way to describe the fragile nature of humanity, and the constant danger to fall down to Lucifer. Especially in these violent days, it seems easier for us to forget what's important in our existances. Sometimes lucifer may seem enchanting but if we look inside ourselves, love is always the better way… How did it come about that you and Joe Bardazzi worked together? His growls and clean vocals are demonic in feel, perfect for "Lucifer Bliss".
This sounds like "the answer is in the question" Connie!! Since the writing of this song, Lucifer was a sort of dialogue between good and evil. We were looking for a voice that was deep and strong enough to play the "lord of night" part. So, during a live show in a pub of our town, we listened Joe's performance and we just undesrtood he was perfect! We talked with him right that night and he was immediately ready to go! Amazing!

"Stillness" is purely orchestral and is a nice opening. Why did Raven Tide decide to include a bag pipe solo in this song?
It gives it a lovely celtic feel. We really think that bagpipe sounds are extremely powerful and absolutely perfect for an "ouverture". "Stillness" in a sort of hymn, where we've tried to mix our gothic inluences with the idea we have to create something new using electro samples and movies soundtrak effects. We're really happy you like it!! I have the feeling that live shows are pretty explosive. What is one experience you will carry with you from performing for the rest of your time?
Well…thinking about it, I can't really say which of my live shows I will carry with me forever…
each one have won a special place in my heart, ' cause everytime there's a different mix of sensations and everytime you get back home with a different vision…
What I know is that I've always done my best to reach the heart of people, no matter if i was on a little stage of a little town or in front of the crowd of a great location.
I must admit that I'll always remember our shows at Alcatraz in Milan. We performed there before Raven Tide's birth with the tribute band and it was exciting, I was scared to death before my entry on stage!!! Now i'd be very happy to back there and present Raven Tide…who knows??? Where is the one place you dream of performing at? What makes it special in your mind?
Oh …I really adore big festivals like Rock Am Ring, Wacken etc…
I think it's a common dream for rockers to sing in front of such a crowd but personally I also think that nothing is more evocative than an acoustic set with an elegant design, soft lights and contact with the people. We'll try to provide both experiences with our music, just keep on follow us!!!
Cheryl, you have considerable talent. Where did you learn the skills you have?
I've always been music addicted. I've always "needed" music. At fourteen I completed piano and composition studies privately, then i've been part of a poliphonic choir as half soprano for 8 years. During that period i've always had experiences in rock bands, as singer or playing piano then it came the tribute band and finally… Raven Tide.

"Ever Rain" brings amazing images to mind. I'd like everyone in the band to contribute to this one if possible. What is the symbolic value of music? Why is it so valuable?
I think it is undeniable that music is an indispensable element in the lives of everyone. It's like a constant soundtrack that follows us even if we don't pay attention or are busy in our business. It has the great power to communicate with our intimate and it does so without barriers, nothing can stop it. I think this is the great magic of music. Shark: Hello Connie, is a pleasure to talk with you! Well, I agree with Cheryl about the importance of music, personally I could not think of my life without music, is simply a great form of expression, perhaps the most universal. Mark: …and even more understandable. Only listening it can give strong emotions but even more amazing is when you can create music! Fred: …especially when you realize that what you wanted to convey through your work came straight to the heart of someone. This is fantastic.

"Ever Rain" is a great taste of what is to come and I'm definitely excited. Cheryl, thanks for your time. It's been wonderful talking with you.
Thank you so much for this special occasion Connie!! It was great to share with you part of our world! Thanks to femme metal for the wonderful work and for believing in us! The Raven Tides promise you all big news shortly! Keep on following us and…stay metal!!!
Links
MySpace * Facebook * ReverbNation * Google Plus * Twitter * Site
6 color styles available:

Style switcher only on this demo version. Theme styles can be changed from Options page.