Browsing articles tagged with " johnette"
Label: Independent Release/Holier Than Thou Records
Review by Tony Cannella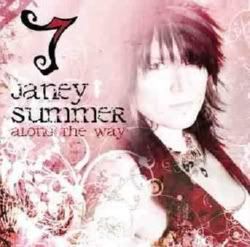 This CD caught me completely by surprise. Janey Summer is a talented singer/songwriter from the UK. On her debut release "Along the Way" her music has been described as melodic power rock. This is a fitting description for the 8-songs and 34-minutes worth of music that is contained here. The songs pack plenty of power. The power not only lies in the music but her voice as well. The opening track "Between Two Worlds" gives the CD a laid back start. It is not your typical hard-driving, get-the-blood-pumping opener. That's not a bad thing. It is a song that sets a definite atmosphere and it is effective in doing so. The vocals of Janey Summer are just so big sounding and she definitely conveys a lot of emotion in her delivery. "Between Two Worlds" is a steady opener always manages to hold your attention. Next is "Flame". It starts off with acoustic guitars and Janey's emotive vocals. This is another really excellent song that keeps the momentum going smoothly. The next song "Seeing You" has single written all over it. I have no doubt this song would be very successful for her if they decide to go that route. This song never fails to get your foot tapping and your voice humming along to the chorus. The guitar solo is really something special here as well. The (almost) title track "Life Along the Way" is next. It is a slower number that is not lacking in any emotion and substance. "Kept Me Waiting" is perhaps my favorite song here. It keeps a strong steady beat throughout and it is just plain phenomenal. "Stranded" is next and is indeed another highlight. "You Rock (My Chemistry)" is next and is the first single, I believe. It is a solid choice and another favorite. The final song "Sometimes" brings things to a really beautiful conclusion. This is a pretty and haunting number that will definitely pull at the heart-strings and send a chill down your spine. The song definitely builds and builds. Definitely, read along with lyrics on this one. Vocally, she reminds me a bit of the great Johnette Napolitano of Concrete Blonde. All music and lyrics were written by Janey Summers and she proves that she is quite talented in that respect as well. The lyrics in particular are very good and something I think the listeners can relate to. Stylistically, I hear a 70′s influence in the songs but done with a current flavor. Overall I really enjoyed the songs that are presented on "Along the Way". This is definitely not a metal release per se, but it absolutely rocks. Melodic power rock is indeed an apt description. "Along the Way" features a strong and diversified collection of rock songs that come from the heart. I am sure that we have not heard the last of Janey Summer.

Rating – 85/100
Tracklist
Between Two Worlds

Flame

Seeing You


Lie Along the Way

Kept Me Waiting

Stranded

Don't Care


You Rock (My Chemistry)

Sometimes
Line Up
Janey Summer – Vocals, Guitar, Songwriter

Rob Male – Guitars, vocals


Matt Thomas – Bass

Jay Sheppard – Drums
Links
MySpace * ReverbNation * BandCamp * Facebook * Twitter * Site
6 color styles available:

Style switcher only on this demo version. Theme styles can be changed from Options page.