Browsing articles tagged with " josh"
Phoner interview & trascription by Robin Stryker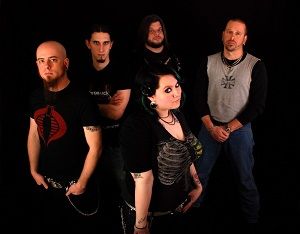 Well, this was a new experience … interviewing all five members of a band at the same time by phone. Please join Femme Metal in welcoming the members of Chicago hard rock band, Deadmanswake: Kryssie Ridolfi (vocals), JP Soule (guitar/backing vocals), Josh Barker (guitar), Troll (bass) and Kip Kiebles (drums).
Welcome to Femme Metal everybody! JP, I understand that Deadmanswake did not start out as a female-fronted hard rock band. How did you guys get to where you are today?
JP : Well, I was actually the original vocalist for the band,and that lasted right about until I heard our first recordings, heard my voice and decided I didn't want to sing anymore. (all laugh) Not as a main vocalist, anyway. I do fine if I'm blending with somebody else, but I just REALLY can't stand the sound of my own voice. After that, we went through a couple of different guys. At the time, I was kind of going for an In Flames, Dark Tranquillity kind of sound. Then it just really got to the point where screaming ended up sort of feeling like it was gonna be a trend that was eventually going to go away. I didn't want to be a band that was trapped in one specific era and I also didn't want to be limited by somebody who didn't have a strong melodic voice. So we let our screaming vocalist go, and started looking for other people. I wasn't looking for a female vocalist, but I was definitely open to the possibility. And by the time we ended up working with Kryssie, it was down to her and one other person. I personally was sold from the first audition; the rest of the band, it took a little bit more convincing. She showed up at this other guy's audition and just smoked him. I was already sold before that point but, by the time she finished that song, it was like "Okay, no one else need apply. We're done". That was the song "Screaming in Silence", which is actually not on any official recordings as of yet but we have played it live a couple of times.
Let's talk about the new album, "It Comes to This". Give folks an idea of what they will hear when they listen to your album.
Kryssie: I know vocally all of the songs are lyrically from my heart. I know every vocalist says that. But the reality is, when I joined this band, I was at a really big renaissance (as I like to call it) in my life. I had just lost a two-and-a-half year relationship, I had just gotten my own place. My first audition with this band was the day I signed the lease on my first place by myself, and it was this big rebirth in my life. And all of the songs that I wrote lyrics for were within the first month of being in the band. That's how emotional I was. Every single one of these songs is either about pain or about being confused about something or a personal loss or a personal gain, and all of that stuff was something I was feeling in the Fall of 2007 when these were written. So it's very personal to me and I hope that people who hear it really identify and feel connected to me through it because I want people to know and I want to convey that they are not the only ones feeling stuff like that.
I'm fascinated by the album cover. You all are cartoons, with Kryssie as a nurse looking rather alarmed to see over your shoulder the rest of the band as zombies coming after you. What's up with zombies?
Kryssie : A lot of us are really big fans of the horror genre and the name of the band Deadmanswake… when I first heard the name of the band… all I could think of was the walking dead. A friend of mine is a published comic book artist. I was talking to him one day when he popped into my work — which is ironically a horror collectible store — and he drew this quick little thumbnail sketch. It went through a lot of different incarnations, and the one that we ultimately ended up with I think is absolutely hilarious. I think all the caricatures look exactly like the boys. There are so many ways you can look at it… me being the only one who is not a zombie and everyone coming after me, you could go the cliché way of "oh, I'm a woman in a man's world and it's tough to not get eaten alive". Or you could just go with the fact that we are all big dorks and we all like horror flicks. It's probably a little bit of both if you want complete honesty.
If you could pick a horror film to have a Deadmanswake song in, or any film for that matter, which song would it be and which film would it go with?
Kryssie : I would choose the song "Back to Blood" and I would put it in "Shaun of the Dead" in the scene where they are beating the zombies with the pool cues in the Winchester. The Queen song, "Don't Stop Me Now", the fact that that's in there is amazing but if I could throw our own in there I would totally put "Back to Blood" at that exact spot.
Kip : Just to stay away from the mainstream, I would have to say "Fright Night" is one of my favourites. Kryssie could probably tell you who stars in it and then some, I'm guessing. As far as the tunes go, I would use all of them on the soundtrack.
Troll : Do you know how "Maximum Overdrive" is an all-AC/DC soundtrack? Replace it with the "It Comes to This" album.
JP : In keeping with the zombie theme, it would probably be "Save Me". I would use it at the end of the original "Dawn of the Dead", where the zombies bust into the mall and they are ripping the bikers apart. There are all sorts of guts being pulled out and limbs being chewed. It's just beautiful!
Quite the bloodthirsty crowd we have here. Guitarists – JP, Josh and Troll – tell us about your most prized instrument. (Keeping it clean, of course.)
Kryssie : My mind went there immediately. (laughs)
I knew it would, Kryssie. That last part was actually for you and not for the boys.
(all laugh)
Kryssie: I am seriously a fifth grade boy. I went right there, too. Okay, go on.
JP: This is actually a really easy one for me. Thanks to the miracle of Craigslist, I stumbled across a 2002 Ibanez Destroyer, an actual for real made-in-Japan Ibanez, and I managed to pick it up including the matched Ibanez case for less than $350. The Destroyer just sounds huge. I am one of the world's greatest living Iron Maiden fans and Adrian Smith played a Destroyer back in the "Live After Death" era. I thought they were the coolest thing and, of course, they are! Plus it has a similar shape to a Gibson Explorer, which was James Hetfield's weapon of choice, and he was one of the reasons I picked up the guitar in the first place. The Destroyer fills a whole bunch of guitar-hero rock star fantasies of mine.
Josh: To be honest, all of my ideal guitars, I don't own. Of the ones that I play, the two that I like the most are an LTD Explorer, which I got for fairly cheap when I got it. I was young and stupid and was like, "Oh my god, it looks like an Explorer!". It was the kind that James Hetfield played. Like JP already said, Hetfield was one of the reasons I picked up the guitar. I use that one pretty much for the bulk of the set. I also have an Ibanez SA that I recently put the new Steve Vai Evolution pickup into, which has improved its sound a whole hell of a lot. I just love Ibanez guitars overall. Ibanez has a pretty sick Flying V that I'd love to get my hands on.
Troll: My Kramer bass is definitely my prize possession. It's technically the second bass I ever owned, but my first real instrument. I had an old Cort P-Bass copy that was a piece of crap that I broke within two months. Then I got the Kramer in maybe late 1988 or 1989, when I'd only been playing for a few months. I still have it to this day, and the shop that I got it from still exists so I can still go there and get a free set-up whenever I want. That thing has just been through hell and back. It's my trusty at-home practice bass. I'd love to play it out, but it really doesn't sound that good. It is priceless to me, though.
Kip, what is it like to be the new kid in the band? Did they make you feel welcome; are you part of the family; are they sharing their beer and all of those things that one would hope of good bandmates?
Kip : They don't share beer. (Kryssie : We give him wedgies every day). The fact that they beat the hell out of me on a regular basis gives me the feeling that I'm loved, yes. Because that is what I did to my younger brothers, when I was younger. The band has definitely made me feel very at home. It's kind of difficult to put into words where I am at with this band, but ultimately I'm the metal cheerleader in the band. Saddle shoes, skirt, pom-poms … good to go! There were some benefits that I could offer to the band, like a rehearsal space and a big truck to pull the equipment trailer, but those were just circumstantial. So I guess, when it's all said and done and the smoke clears, we're all pretty lucky because they offered me things like a damn good gig that I could be proud of.
Here is something that I've been dying to ask. What was it like when you held the first copy of your CD in your hand?
Kryssie : Can I just tell you about the text message conversation Troll and I had when the UPS man was delivering? We had been texting that whole day because the CDs were supposed to show up that day. (It's common knowledge that, when we are not out doing things, Troll and I especially are huge advocates of pyjamas. We are always in our jammies, no matter what). Troll texted said something about the UPS man. I was like, gasp, "Is he coming?" And he was like, "The bastard just drove by!" I didn't hear from him and I was getting nervous. Then I got a picture message with just a photograph of all seven boxes of our CDs and I screamed like a little girl … it was amazing! All of us have been musicians for so long. Before I was a vocalist, I used to be a guitar player. I was playing guitars since I was 10, so I've been in the "business" for 15 years almost. This is the first actual, physical, honest-to-god, pressed from a factory CD I've ever had. This is a HUGE emotional thing for me, and it was nice to show it to my mother and give her a reason why I quit college.
Deadmanswake is having a pyjama party gig. Is this just another excuse for Kryssie and Troll to appear in public in pyjamas?
Kryssie: More or less. It is a CD release for another band, and their frontperson sent me an e-mail and was like,"The theme of this show is freakshow. Take that and run with it, and do what you will." We were tossing around ideas for playing at a different venue on a different day, and we were like, "Oh, we should show up in our pyjamas." And then it dawned on me … how funny would that be for the freakshow theme?!? I have a feeling that Troll is going to show up with pigtails and the whole nine yards and I'm digging out a special pair of slippers. It is absolutely another excuse to be seen in my jammies in public.
JP : I'm not totally familiar with everybody in the band's sleeping habits, so I'm just really hoping that no one in the band sleeps naked.
Kryssie : I'm not totally familiar with everybody in the band's sleeping habits, so I'm just really hoping that no one in the band sleeps naked.
With as diverse as your musical tastes are, how hard would it be to decide what the cover song would be on a new album?
Kryssie : We've actually had pretty good luck — with this incarnation of the band, anyway – we've had a really, really easy time picking out covers. We do have diverse influences, but when it comes down to it, if there is some silly, ridiculous deep-cut that one of us mentions that everyone thinks is funny, we go for it. The one that we are talking about putting on the album is one that lots of people on our Facebook page – people that I've never met – have mentioned that they would really like to hear us do. It's kind of cool that if we make that happen, they'll hear it and be like, "Oh, I suggested that."
Okay, album is out and you have dates lined up. What is your tour scheduling looking like for the summer? Will you be travelling away from Chicago? Will folks in other parts of the United States and perhaps our friends in Europe have a chance to see you too?
Kryssie : We did an interview last week where we were asked a similar question about whether we would like to get out to Europe. That's a frustrating question because I would tour there tomorrow if I could afford it. Realistically speaking, if we were able to do it, it would have to wait until next summer. Hopefully by then, we can create enough of a buzz and maybe after our A&R showcase get people who are willing to invest in us to go over there. But that is, realistically, something that we can't even think about this summer, which really, really is painful. We have got another band that we are hooking up with. None of the dates are set in stone yet, so we are not announcing them. But we are going to have a two-and-a-half week tour towards the end of the summer that will take us from Chicago all the way as far south as Florida, then we are going to come back. It is just going to be a two-and-a-half week run. We definitely are going to make it a point to travel this summer, and get out there. We can't keep doing all this Internet networking if we can't put our money where our mouth is and go play in front of people..
Links
MySpace * ReverbNation * Facebook * Twitter

Interview by Miriam C.
Seems that Atlanta in these days is becoming the new Eldorado for those fans that who fancy for some good sultry, psych, old-manner hard rock mixed with some good 70′s doom. Royal Thunder one of the débutante of this scene, with their album debut "CVI", but don't have nothing to lose in front of names like Baroness, Kylesa and Jex Thoth. Let's the enchanting words of Mlny Parsonz, singer and bassist, conquer you.
Hi Mlny, first of all thanks for accepting this interview. Do you mind introduce the history's band with some biography's hints?
My pleasure Miriam, anytime! Thanks for putting this together! Well, originally RT was a instrumental trio. They would practice at my house all the time. Josh Weaver, his brother Ryan and I, all lived together, so I easily became a fan, and familiar with the tunes all at the same time. Jason Kelly was the drummer. Schedules did not permit the band to go on with Ryan and Jason. Josh had a vision, because he wrote all the songs, so he kept going. He was trying people out at the house, all the time. Finally he settled on a drummer, Jesse. Jesse asked "Who will sing and play bass?"- "Mel will probably do it", he says. I did end up trying out, and I had only ever been in bands doing black/death metal style vocals, with the exception of one band I was in, in high school, Acedia. I sang, I played (the first RT song i ever sang on was hotel bend) and Royal Thunder just was! Time came and went, and during the making of "CVI", our lineup changed. We parted ways, peacefully, with Jesse and added Josh Coleman(guitar) and Lee Smith (drums), they are long time friends, and old band mates from the past. The only song on "CVI" that we are playing as a 4 piece is in "Black Water Vision". Now we are all in this together and having a great time. Good vibes are flowing and its like a mini family to us. We couldn't have been luckier on this new lineup. The guys did their homework and fought hard during tryouts…. We were like, "Hell yes, you guys are in."
Royal Thunder in this days is publishing its debut called "CVI". How's born and how's its genesis?
We have our self titled EP and now, the full length "CVI". The songs on "CVI" have been around from the beginning. Not all of the songs, but a lot of them. We had 3 other songs that didn't make the cut for "CVI", I'm hoping to get those out on the next record!
"CVI", if I'm not wrong, it's a Roman number. Why choose such title and what it means?If I don't recall bad in ordinal number means 106….
106 is a number that follows us everywhere! We found it appropriate to send it off into the universe! It is mysterious and hilarious. It pops up like a joke, reminding us that it's watching. Back in the 90′s, Josh Weaver and the original drummer Jason, born on 1/06… Found 106$. They heard a woman crying and they walked over to her, it was her money. They gave it back and went back to their friend's house. Jason had gone downstairs to watch tv and he saw his friends grandmother in her recliner chair, he was talking to her and within minutes he realized she wasn't responding because she was dead. She was…. Drum roll…..106! Anyone who knows us can tell you, it haunts and taunts us, daily!
The cover album seems a painting with that particular in the center. If I interpret well is a cementery, right? What you wanted to represent with this cover?
It is a famous graveyard in our city. The photo was taken by Kevin Griggs. He is a local photographer. We chose this photo from his collection of photos. It struck us and we feel it isn't too metal, but it isn't too rock and roll. Its just dark, and solid, moving, it really makes you think a lot of things. We felt like it represented us well. It was our taste for art and photography.
In 2009, you have selfreleased your debut EP. How the things have changed from that release and in what you feel you have improved? Also what you can say about the band, I mean how do you feel that the musical structure is changed?
We have always been kind of, the same? I think because Josh Weaver is writing the songs on his guitar, it's just kind of a representation of who he is. In all the years I've known him, he is one of the most genuine, solid, honest people I've ever met. It translates into his song writing. We are definitely more confident and seasoned than when we first started. It was a bumpy road, but we kept walking it. And we made it here! I am very excited for the future, I have NO expectations. I can only hope that we will be doing this for a very long time.
The strange fact that I've happened to noticed is that you have inserted in "CVI" tracklist a song from your previous EP called "Sleeping Witch". This means that you wanted some kind of "link" from past or what? Is this song rerecorded or it's in its original version?
This song actually took over and kind of reinvented it's self. I guess we just became slaves to the sleeping witch, ha. She wanted to pull back and get groovy, so she did. The song took on it's own shape and direction, we followed and alas, the new version was born. It shows the evolution of the song, that's why we added it to "CVI".
According to the press release Royal Thunder is one of a few band that privilege the live gigs instead of the studio time because if you think from 2009 to 2012 are passed 3 years. Maybe you feel more confortable in the live dimension?
Well, in 2007, 2008 & 2009, we were just trying to be a band doing our own thing in our hometown. We just wanted to gig at good clubs in Atlanta and it was a slow road! We worked very hard for those 3 years and no one really knew who we were. We realized, we need to tour and see what happens outside of Atlanta. We had small gigs and sometimes bigger bands would take us out and let us open up for them. It just grew into what it is today, which is still pretty small and new but exciting none the less! We never thought we would be here. We love playing live. Finding the time to record is hard. We have a lot of "world" to cover first!
Your label recommends your album to the fans of Baroness, The Devil's Blood, True Widow, Dark Castle, Yob, Kylesa and Jex Thoth. How do you feel being mentioned near such names and, as your artist point of view, is right put RT near these bands? Also, talking as a listener, have you never listened to these artist's music?
Haha, some of these bands are my/our close friends/friends/new friends! We recently met and played with The Devil's Blood and they were really nice people and great performers! Baroness took us out and gave us the honor and privilege of opening up for them as did Kylesa. I must say, I dig Laura, she's a rad chick. DC has one of my favorite people in it, my homie, Stevie. And of course we met the talented, YOB through our Dark Castle buddies. I'm honored to be a part of that list! All of these bands are so different and they are all doing their own thing…. Much like us, so…. Hell yes, we can relate. We haven't been around as long as a lot of these road warriors, but they have been supportive and good to us.
Now talking a little about you what you can tell about your singer background? I've heard that you started early to sing….
I was a metal vocalist from the time I was 14ish. I sang/keyboards in a sort of "hair metal" band in high school. Then back to metal vocals. Sometimes with my keyboard or with the bass. I did a lot of solo acoustic stuff for a long time. Now I'm doing this, and it's by far, the hardest I've ever had to work as a vocalist.
Flash question: do you like more the CD format or the vinyl format? And why?
CD. I love opening them and holding lyrics and fold outs in my hand. I grew up in the 90′s listening to tapes and CDs, it's nostalgic for me. Plus I gotta put my old ass boom box to good use! Ha
Since I'm a respectful person, I won't try to define your music genre but I'll leave this to you, Mlny and what I want to do is trying to define what RT plays because has been called in various way such progressive metal, psychedelic, southern rock? What's suits better for Royal Thunder, counting all the innumerable influences?
If I had to brand it, I personally would call it "post apocalyptic blues"….. We used to call it that when we were a trio. We would try to define it on tour while we were sitting in the van typing up interviews. That description always resonated with me.
What are the next band's plans of touring and new releases?
We just released "CVI" and now we gotta tour on it. I'm hoping I can come back from tour and work/hussle…. Make some money to pay the bills and let Josh W just take some time off and write, while I hold it down for us financially, we are partners. We are such busy people it's so hard to find the time. I can't wait to start writing again! We have been jamming on some of Joshs riffs, and he's always writing in his spare time. He is a gifted song writer, he always has been. I can't wait to hear his new material, because I feel a surge of creativity about to explode! At least within myself! And I feel confident that it is for the band as well. Well, I just wanna take a second to thank everyone who is standing behind us and showing us support! We couldn't do this without the fans. Our fans are incredible and genuine. I have had the pleasure of meeting some of you, an please come say hello to us at shows… We wanna thank you and maybe have a beer with ya! We hope to get the chance to meet you guys and gals this upcoming tour with Valiant Thorr, Holy Grail and The Kick Ass!! Until then!!!!!!!
Links
MySpace * ReverbNation * BandCamp * Facebook * Twitter
Label : Mostly Autumn Records
Review by Tony Cannella
The U.K.'s Mostly Autumn is true survivors in the genre of Prog Rock. The band has always done things their own way since their debut album in 1996, from releasing their music through their own label to putting out some great music that bucks the trends and is uniquely their own. In 2010 the band faced the herculean task of replacing popular front woman Heather Findlay but new singer Olivia Sparnenn has stepped in and filled those big shoes quite well on Mostly Autumn's new album "Go Well Diamond Heart". Whether you like 70's influenced prog rock or not (I personally love it), it can never be called flavor-of-the-week music. Sure, it will always have a dedicated fan base but the sad fact is that the mainstream will never get it. Having said (or wrote) that, Mostly Autumn have always been capable of adding musical accessibility to go with the technical precision and intricacies that they have always been known for. The Celtic style opening of "For All We Shared" gets things rolling and is easily one the main highlights for me. The two vocalists Olivia Sparnenn and Bryan Josh trade off vocals effortlessly and really seem to work well together. One of Mostly Autumn's biggest influences is Pink Floyd and some of the songs do have a Pink Floyd vibe to them. Other highlights include: "Violet Skies", "Something Better", "Go Well Diamond Heart", "And When The War Is Over…" and "Hold The Sun". I must admit that I have always had a soft spot in my heart for Mostly Autumn and with "Go Well Diamond Heart" they have continued their grand tradition of mixing experimental prog with accessible hard rock, folk and Celtic music. Mostly Autumn continues to prove the doubters wrong.
Rating – 87/100
Tracklist
For All We Shared
Violet Skies
Deep in Borrowdale
Something Better
Go Well Diamond Heart
Back to Life
Hold the Sun
And When the War Is Over…
Line Up
Olivia Sparnenn – Vocals
Bryan Josh – Lead and Backing Vocals, Lead, Rhythm, Acoustic Guitars, Keyboards
Iain Jennings – Keyboards
Anne-Marie Helder – Flutes, Keyboards, Acoustic Guitars
Liam Davison –Rhythm, Acoustic Guitars
Andy Smith – Bass
Gavin Griffiths – Drums
Links
6 color styles available:

Style switcher only on this demo version. Theme styles can be changed from Options page.