Browsing articles tagged with " kalevala"
Interview by Robin Stryker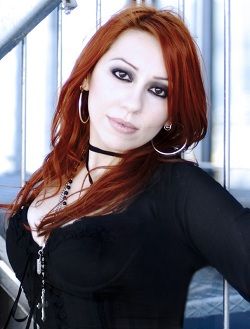 Femme Metal chats with Edera, vocalist and lyricst for Italian metal/rock band Domina Noctis, about their sophomore release "Second Rose". Read on to learn what the moon, Cher, poetry and a love of contradictions have in common.
Hi Edera, please tell us about the newest release from Domina Noctis, "Second Rose".
I would define "Second Rose" a melodic rock album a twist of electronic sound and some metal grooves. For us, this album is a sum of all our influences, from dark/pop/rock music of the 80's and early 90's, to metal; we're definitely inspired by Paradise Lost and Katatonia just to name a few.
The ten-track album includes covers of two iconic songs, "Because the Night" (Patti Smith – 1978) and "Bang Bang" (Cher - 1966). Why record covers, and why these particular songs?
We love to find some covers that fit to our sound. Covers are an incredible source of inspiration and we always learn a lot more about music every time we play a cover. We all in the band are huge listeners of music of any kind! That's why our covers are from different scenes and years.
Which songs have the most personal meaning for you?
"Exile" is definitely the song that moves me everytime I listen to it! It's a song about those times in life when you're feeling fragile, like you need to heal some wounds, so you need to be alone and you feel comfortable like that, but you also need a lot of patience from the people you love, to gather some force inside and the be born again. It's a message of hope.
How has Domina Noctis's music evolved in the three years since releasing your first full-length album, "Nocturnalight"?
When we recorded "Nocturnalight" the songs included in the album were sounding "old" yet for us because the whole recording/mixing process lasted 1 year and of course the style and sound of a band evolves in 1 year. Recordings are a true "gym" for a band and for each member. You learn a lot, and hopefully, you improve. So, during the promotion of "Nocturnalight" we were still playing live some of the songs that have been included in "Second Rose", as we couldn't wait to have a feedback about them. "Second Rose" is a rock album, we focused on the structure of the songs and on the arrangements, with the precious help of our producer Cristiano Santini from Black Fading (our label). We wanted the songs to sound solid yet full of emotion, rock and melodic, dark yet full of light too, because we are like that, we have both sides.
Can we expect a third album? If so, where are you in the process of writing and recording it?
We started to write new stuff during the recordings of "Second Rose", we're now working a lot on the new songs and we love them!
Please introduce the other four members of Domina Noctis.
Asher plays guitar and composes most of the music; Azog plays bass; Ruyen plays synth & piano; Niko plays drums.
Are you or any of your bandmates involved with other bands or side-projects?
Asher plays drums in Forgotten Tomb and in Whiskey Ritual and Azog often plays as a live sessionist for Whiskey Ritual; Niko plays drums in the band Noctiluca. Ruyen is currently working on some compositions and he's planning to record a promo cd very soon for his new side project. And about me, I'm working on an acoustic live set project along with Azog and Ruyen, way too soon to say more anyway.
In addition to being a musician, you are also a photographer and graphic artist. Have you been able to use your talents as a visual artist with Domina Noctis?
Well I guess I have the bad habit of doing too many things! I love to "move" through different art "levels"… I've been creating the artwork of all our CDs, band merchandise and band logo too. I like to express the same concept through music and through visual arts too, and I had the chance to do so during the creation of "Second Rose" CD layout, digitally working on a self-portrait I took some years ago.
References to the moon appear in the band's former name -The Moontower- and current name (Latin for the moon), the title of your first album, song lyrics and your artwork. Does the moon have special significance for you?
We feel very attracted by the moon, a sacred symbol that reminds of feminine, poetry, night… I think we're definitely "moon worshipers"!
The phrase, "I love my contradictions", is intriguing. What does it mean?
I know it may seem just a contradiction itself! Okay, maybe it's just insane, or maybe not, but anyway I believe that sometimes we should learn to love ourselves as we are, in our complexity, trying to understand that we're made of many shades, white, black, and many tones of grey. It's such a revelation when we finally are able to accept these apparent contradictions, only when we're able to say "I have white parts and black parts and grey parts because that's what I am, that's human" and then we start to love those different parts.
If I understand correctly, you write the lyrics for all the songs and Asher writes the music. How does this collaborative songwriting process work? Lyrics first and then music, or vice versa?
Usually, Asher composes some riffs, he tells about his ideas and all together we have a session in the rehearsal room. During this session I try to sing whatever it comes to my mind, and write down a draft of the lyrics. Then, as soon as the melody takes shape, I work more specifically on the concept, to make melody and words fit together. Then we always work together on the song structure and on the arrangements. I have to say that in some of our latest compositions we tried to work in the opposite way: I've been singing a melody, and after the guys worked on the arrangement of the song.
Asher and you have been musical partners since Domina Noctis began a decade ago, yet your musical influences (and perhaps even taste) seem worlds apart. Does this ever create conflict, or does it make life more interesting?
Asher and I have different yet similar taste as music listeners, for instance there is a lot of music that we both love, yet sometimes for different reasons. As composers we are really lucky because we both have a precise idea about how our songs have to sound like, and this idea has been evolving through the past 10 years, but I can say it has been a co-evolution for sure, because we rarely "argue" about songs! We always try to make the song to sound in a way that pleases both of us.
Congratulations on having your poems published in the anthology, "Carmen Nocturna". In what ways are writing lyrics and poetry similar or different?
Thank you! I had the chance to gather some of my poems in this little book "Carmen Nocturna" and I was really happy about that. I really love "minimal" poetry, I usually write really short poems. Writing lyrics and writing poems are two really different things to me. When I write lyrics, I always write words and melodies together. It's very hard to tell what I feel inside, but it's like specific words in my mind need a melody, and the melody needs some specific words, and suddenly they find each other fitting. I love this mysterious process.
Many years ago, you said that Domina Noctis probably would not perform songs in Italian. Now that you've written poems in Italian and been a guest vocalist on In Tormentata Quiete's new album, has your opinion changed?
My collaboration with In Tormentata Quiete has been a beautiful, inspiring and really interesting experience for me: to sing in Italian was a new challenge and the songs were really beautiful. Still, I'm not convinced about writing my own lyrics in Italian, I'm not sure that our language would fit to the sound of Domina Noctis. Anyway, maybe we're going to make some experiments. Who knows?
How did your collaborations with In Tormentata Quiete, Kalevala and Dark Princess come about?
I've got in touch with Antonio Ricco, composer of In Tormentata Quiete, many years ago via email, and we traded our demo CDs. After a long time, we got in touch again and he asked me to sing some songs in their album. I was really happy to have the chance to make this collaboration, I love to try and express myself in different ways, and as I said it was a great experience. Kalevala is a folk metal band from our city, the band members are all friends of ours and I had the chance to play with them as a guest in some acoustic set concerts. I love their sound and folk music in general, and I hope to have the chance to sing again in the future with the band. About Dark Princess, after the reprint of "Nocturnalight" in Russia, we got in touch with the label of this band and they asked us to have a mini tour with them in Russia. It was a great experience for all of us, it was really great.
Italy is home to many exciting new female-fronted bands from every subgenre of metal — Elegy of Madness, Exilia, Winter Haze, Lunacy Box and Raving Season, to name just a few. Has the metal scene changed for the better? Do you think female musicians face different challenges than all-male bands?
Good bands are so many and female fronted are more! Sure, there are many challenges that a female fronted band have to face, like defying the commonplaces, like easy comparisons to famous female fronted bands, and for what concerns Domina Noctis, trying to break the cliché that female vocals + distorted guitar is gothic metal. I can't stand this pointless reasoning, but anyway there's a lot of people who don't care about this stuff, and we're glad to have those people as followers!
We've talked a lot about Domina Noctis and other artistic pursuits. What is your favourite way to just kick back and relax?
When I need some relax, I often watch a movie along with my boyfriend Ruyen, on the couch! I love cooking too, I find it really relaxing (when I'm not in a hurry)!
Thank you taking the time to chat with us today. Any last words for your fans?
We're focused on the composition process right now and we'd like to make some prerecordings as soon as possible to work better on the arrangements of the songs. Anything more than this will be appreciated!
What are Domina Noctis's plans for 2010?
Thank you very much Robin for this nice chatting, I'd like to invite all our followers to join our newsletter on www.dominanoctis.it and to take a look to the following links (please add us to your friends list!). Thank you for the support! Horns up! Stay free!
Links
MySpace * Facebook * Twitter * Site
Label : Sound Age Productions
Review by Vard Aman
Rarog (the band) formed in 2004 in Moscow (although Shmel' had been writing material for some time already), released their debut album "Az Boga Vedayu!" in 2006 and then went a little quiet for a while, mainly due to a series of line up changes (Shmel' also played bass for Kalevala from 2007-2011). Now they're back with 2 albums in quick succession, "Vzoidi Solntse" in 2011 and now this one, "Syny Sokola"; and they're doing very well for themselves. Rarog play Slavic Folk/Pagan Metal – a unique subgenre of Folk/Pagan Metal that has gradually left its native lands and is now growing ever more popular in the Metal world abroad, thanks largely to its most iconic band, Arkona. For Rarog, comparisons with Arkona are inevitable but not entirely justified; they may both share the same musical roots, but both bands have their own unique distinctive sounds. Still, fans of Arkona are likely to enjoy Rarog too, and for those who have not yet been introduced to the subgenre of Slavic Folk/Pagan Metal, Rarog are as good an introduction to it as any. Rarog are also more versatile and progressive than many of the other bands in their subgenre, and this should make them more easily accessible to fans of other subgenres. Their musical style moves with ease from the typical Slavic folk progressions to a fast Pagan/Black Metal style with furious blast beats, to a slow melodic Doom Metal style without ever losing their distinctive sound. Like most Slavic Folk/Pagan Metal, Rarog makes use of several different traditional Slavic musical instruments to compliment their sound; and in Rarog's case, a few non-traditional ones as well, like violins and cello.
Their lyrical topics cover ancient Slavic myths and legends, the history of the Slavs and Slavic Paganism before the Christian invasion in what was then Rus. Since 2010 Rarog has been fronted by Aleksandra Sidorova (also a member of Moscow's Silver Voice choir), and it is her voice that gives Rarog its real edge – she is the beautiful Siren-like call of the Firebird (if I may mix up legends slightly). She is capable of many different vocal styles; the two that are most prevalent on this album are her Slavic folk style and her academic/operatic style. She excels at both; but what really makes Aleksandra an exceptional singer is the uniqueness of her voice and the emotion she is capable of generating. At times, her voice takes on an almost innocent childlike quality, at other times it is more plaintive, sometimes even desperately so – she can bring her voice to just about breaking yet stops just short, without ever losing her vocal control. It is haunting indeed. Few academic/operatic singers are capable of generating such emotion… or maybe it's just that they don't try, maybe they are concentrating so much on vocal control and projection that they end up forfeiting the emotion and become effectively singing machines. Aleksandra proves that an academic/operatic singer can have both total control and convey powerful emotion at the same time; and it is very, very effective! While I'm at it: if you want to hear how operatic vibrato can be used in such a way that it leaves the listener with gooseflesh and a lump in the throat (as opposed to making the cat go AWOL), listen to how Aleksandra uses it at around the 1:00 mark in "Serdechnaya". Seriously, wow!
Male vocals, both clean and growls (and battle cries), are provided by Shmel'; and he is also very good at what he does. The production is clear, similar to the previous album, but the songwriting on "Сыны Сокола" is better and it is a more mature album overall – Rarog is a band that is continuing to improve. Highlights from the album there are aplenty: "Syn Sokola", the first track is brutal and fast, with some beautiful violin melodies; "Ognenniy Mech" is a heavy Folk Metal song; "Rogneda" has a slow tempo in which Aleksandra's versatility and range of styles comes to the fore; "Perunova Ren" is fast and furious, good to have in the heat of battle (with a slight breather in the middle); "Veschiy Sokol" has a climatic feel to it as does the final (Rarog) track "Serdtse Voevody", which is a slow and powerful track where Shmel' gets to show his own versatility as well. But out of all the highlights on this album the biggest one is the third track, "Serdechnaya" – easily one of my candidates for song of the decade so far. It is a slow and powerful song with amazing melodies and harmonies, and features one of the best and most unique singers around delivering a performance of note! The album ends with "Krov Nashih Vragov", which is a Russian cover (in Russian) of "Blood of My Enemies" by Manowar.
Rarog make the song their own while staying true to the original. Lyrically, the gist of it is the same. Norsemen (Varyags) had a large influence on Rus up to the tenth century CE prior to the Christian invasion and occupied much of the Northern Rus states, so the Norse mythology that makes up the background to the lyrics of "Blood of My Enemies" is not really that out of place. How well the Varyags and the Eastern Slavs got along at the time (people being people) I do not know, that's a question for some genuine historians (and not a CD reviewer), but one thing that is known well enough is that what came next for both Slavic and Nordic Paganism was not exactly pleasant. But the legends and the cultural knowledge have survived and Rarog (and others) are here to tell you about them; and if you do not understand what they're singing about, no worries, just turn up the volume and admire the awesome power of the Firebird, and melt to its hauntingly beautiful call.
Rating – 90/100
Tracklist
Сын Сокола [Syn Sokola – Son of the Falcon]
Невидаль [Nevidal – Wonder / Far Far Away]
Сердечная [Serdechnaya – Heartfelt]
Пятый Снег [Pyatiy Sneg – The Fifth Snow]
Огненный Меч [Ognenniy Mech – Burning Sword / Flaming Sword]
Рогнеда [Rogneda]
После Победы [Posle Pobedy – After the Victory]
Перунова Рень [Perunova Ren]
Вещий Сокол [Veschiy Sokol – Prophetic Falcon]
Сердце Воеводы [Serdtse Voevody – The Heart of the Governors]
Кровь Наших Врагов (Manowar cover) [Krov Nashih Vragov – Blood of Our Enemies]
Line Up
Aleksandra "Rys'" Sidorova – Vocals – Vocals
Pavel Kuzmin – Guitars
Aleksandr "Shmel'" Shvilev – Bass
Vadim Semenov – Drums
Links
Interview by Eetu "Ene" Niskanen
An Interview with Heidi, the soprano singer of the Finnish Metal Band Amberian Dawn. During this interview, we'll talk about about the new album "The Clouds of Northland Thunder" that is coming this summer.
You just released your second album "The Clouds of Northland Thunder" with Amberian Dawn, how much work did it take?
Our front man Tuomas had already started the composing the new album when the "River of Tuoni" album was released and some of the song were already ready. Almost everything was recorded before the Epica European tour 2008 but some choir and vocal parts had to be done straight after the tour. It took lots of work from everyone and especially from Tuomas who almost lived at the studio during the recordings. I did all the choir parts except the "Incubus" male role so I had quite a lot to sing too.
Is there an lyrical concept behind the album?
Not a clear one. But of course I wanted to bring a bunch of exiting stories to this album and also pour some Finnish cultural heritance into the lyrics too. Some of the lyrics are based on the Finnish national epic Kalevala as also on our previous album. On the "Clouds" album the Kalevala songs are "Kokko- Eagle of Fire" and "Birth of the Harp". But there are also lyrics based on my own stories and legends or even fairytales.
How the band has grown from the debut "River of Tuoni"?
The biggest growth has happened in the bands skills and of course our lineup has changed too. First came Kasperi to replace the former guitarist Sampo and just recently Tuomas decided to retire from guitar-business, at least the live guitars, and his replacement was Emppu with his wild hair. The sound of the new album is in my opinion more solid and there is more variation in musical ways.
What is your personal favourite song from the album?
Hard question because I kind of like them all but from different reasons and it is really hard to put them into any order. But maybe I would say "Sons of Seven Stars" because in my opinion the story and the music go so well together in this song. The story linkes quite remotely to the book about Seven Brothers of Aleksis Kivi, a Finnish author. But in this version of the story, the seven brothers were born in the ancient times from the alliance of a bear and a human. The bears left the land to their sons and moved to the stars. The seven sons grew up under the constellation of Ursa Major and the North star and persistantly and with vigor they plowed the frozen land and peopled the cold and dark North. They could have also been the forfathers for Finnish people.
How did you joined Amberian Dawn?
I was a keyboardist and a backing vocalist in a metal band called Iconofear from the year 1997. During the ten years with Icono-boys I developped my singing skills and felt that is was time to retire from the keyboards. I simply felt I was better as a singer than a keyboardist and I could give most on that area. So it was 2006 when I started to search a band as a singer. Tuomas and Tommi spotted my ad and I did some singing samples and also the lyrics for "Passing Bells" from "River of Tuoni" album as a test. I think I got the job…;)-
How long have you been singing?
I went on a music oriented school and I started taking singing lessions when I was 14 years old. By that time I didn´t even think about being a singer one day. I wanted to take some lessions because I felt tensions and pain in my throught when singing. I wanted to emprove my tecnique to get rid of the tentions which made my singing unpleasant. I enjoyed singing a lot and I wanted it to stay that way too. I joined a choir at the age of 14 and after that I have sang in various choirs and some ensembles too. I´m still taking singing lessions and trying to develop my skills – I feel that it´s an neverending project…..but I don´t mind as long as I keep developping!-
How would you describe your voice?
I'm a classically trained soprano and some would say I'm a soubrette soprano. – The soubrette voice is light with a bright, sweet timbre, a tessitura in the mid-range and with no extensive coloratura. The soubrette voice has a lighter vocal weight than other soprano voices and a brighter timbre. Many young singers start out as soubrettes but as they grow older and the voice matures more physically they may be reclassified as another voice type-.
What kind of music do you listen yourself and how often?
I listen to a lot of different kinds of music from heavy metal to classical. I don't listen too much music because I´m not too much at home. But when I do I first listen to my mood and then I choose the right music for it.
Do you think it's easier to rise as metal band on big metal country such as Finland?
Finland is the promised land for metal but because of that the competition is hard and the level is really high. You have to have a good concept, skilled musicians, good compositions and production, some luck, reliable and hardworking people to work with and a great team to built everything up. And not to forget the hard work from everyone. Sounds like recipe for a cake doesn't it! Bake it in 666 degrees to make it metal…hahhah

-
You did big european tour with symphonic metal band Epica last year, how was the experience?
It was a great experience and we all grew up as musicians during the four week on road. The Epica people were really fun to work with and everything went really as planned. Except we all got a bit sick on the tour and I was in a terrible flue for almost 3 weeks from the 4 weeks tour…there were mornings I didn´t have almost any voice but duringthe day I managed to get some of my singing voice back. In Germany I went to a doctor but I only got some herbs and allready in France I needed to see a doctor again who gave me antibiotics and some cortizone. I missed a lot of scenery because of being sick but none of the shows so I must be content.
There are a lot of female fronted metal bands in the world at the moment, how Amberian Dawn is different from them, how do you keep unique?
We play fast tempo, guitar driven metal with purely classical female vocals. To continue the baking theme I would say : the ingredients have been used before but not in this kind of mixture.
What are the plans of Amberian Dawn for the future?
We are planning a new European tour for the fall 2009 and maybe some touring also for the spring 2010. Tuomas has also started to compose new material for the becoming third album.
Links
6 color styles available:

Style switcher only on this demo version. Theme styles can be changed from Options page.