Browsing articles tagged with " kamelot"
Label: Inside Out Music
Review by Tony Cannella
Arjen Anthony Lucassen released the last album on the Ayreon moniker back in 2008. Since then he has kept his creative spirit alive working on various other projects. Now he returns with the latest Ayreon opus entitled, "The Theory of Everything" and for someone who has a long career based on big, grandiose epic productions, "The Theory of Everything" may just be his biggest and most thoughtful yet. It is always interesting to see some of the musicians Arjen uses on the Ayreon albums and "The Theory of Everything" is no different. Some amazing singers make appearances here including: Tommy Karevik from Kamelot, Marco Hietala from Nightwish, John Wetton from Asia, King Crimson and Uriah Heep, Cristina Scabbia from Lacuna Coil and Sara Squadrani from Ancient Bards. Continue reading »

Interview by Tony Cannella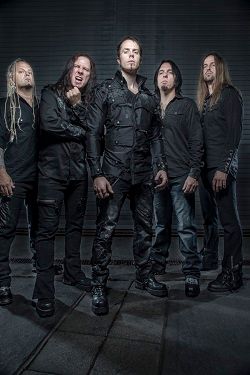 Line-up changes are all too common in the music business for various reasons, not only in metal but all genres. It's often hardest to change a lead vocalist which is what the Florida based metal band Kamelot were faced with when popular singer Roy Khan left the band and was replaced by Swedish vocalist Tommy Karevik of the band Seventh Wonder. Well with the Release of "Silverthorn" (featuring the debut of Karevik) and relentless touring even the fears of the most die-hard fan should be put to rest. Tommy Karevik fits Kamelot like the proverbial glove and the band are better than ever – as I witnessed when they played the Palladium in Worcester, Mass on their current North American tour. The entire band were on fire and just plain awesome throughout their entire set; a set that featured a good mix of new songs with older favorites. Following their sound check I had the huge pleasure to sit down with Kamelot's guitarist Thomas Youngblood to talk about a variety of subjects. Here are the highlights of our conversation…
Continue reading »

Interview by Tony Cannella
The Dutch metal band Delain recently embarked on their first extensive U.S. tour as the opener for Kamelot. The band has impressed the audiences with their high energy, powerhouse performance on each stop of the tour. I had the opportunity to see them live in Worcester and they did not disappoint. With their new EP "Interlude" available now, I had the chance to chat with lead vocalist Charlotte Wessels prior to their set in Worcester and we talked about a variety of subjects including their last album "We Are the Others". It was a nice conversation and this is what she had to say
…  
You've been on tour with Kamelot in North America for a few shows now. How has it been going so far?
It's been going well. This is our first ever U.S. tour. We've done Prog Power before, that was one show, we've done the 70,000 tons of Metal Cruise, but that was also just one gig, so this is actually the first time we are doing a full-fledged U.S. tour. It is really exciting for us to see the audience response, even though we are with a little bit of an adjusted band because we have some people who are expanding their families' right at the moment. It's going pretty well; especially yesterday in New York we had a really cool reception. It's been amazing. Continue reading »
Interview by Tony Cannella
The Swedish metal band Amaranthe recently embarked on their first ever U.S. tour. They are out supporting their excellent sophomore effort "The Nexus" and have been showing the North American fans what they are capable of in a live setting. Recently, prior to their excellent show in Cambridge, Mass. two of the vocalists Elize Ryd and Jake E. were kind enough to take some time following their sound check to discuss a variety of topics. Here is what they had to say…
The new album, "The Nexus" is out. Could you please tell us a little about it?
Elize: Yeah, this is Amaranthe's second album actually. The first one was not released here in the United States, so for the U.S. market this is our first album. There's a lot more of everything, I think, we took it a step further compared to the first one. We have a lot of different kinds of songs. We are very satisfied with the results and it's been received very well. Continue reading »
Label : Spinefarm Records/Universal
Review by Tony Cannella
The Swedish melodic metal band Amaranthe released their impressive self-titled debut in 2011. The album created a huge buzz in the metal world. Since then vocalist Elize Ryd has gone on to touring with Kamelot on their last tour. Now she returns to her main gig for their 2nd album entitled "The Nexus".
Amaranthe continues to utilize three distinctive vocals. In addition to Elize's angelic vocals, Amaranthe also utilizes clean male vocals (Jake E Berg) and harsh male vocals provided by Andy Solveström.
The opening duo of "Afterlife" and "Invincible" are both excellent, but my favorite track is the energetic "The Nexus". The three vocal styles are used quite masterfully here and this is just a great, melodic song. Continue reading »
6 color styles available:

Style switcher only on this demo version. Theme styles can be changed from Options page.