Browsing articles tagged with " kill"
Label: Napalm Records
Review by Tony Cannella
With all of the talk about the 'true metal' movement, it is easy to forget that there are those bands who are making thrash metal fashionable again. One of those bands is Canada's Mortillery. They formed in 2009 and released their self-titled demo in 2010. It didn't take long for the folks at Napalm Records to come calling and hence we have their debut full-length "Murder Death Kill".
First of all with an album title like "Murder Death Kill", it pretty much says a lot what the band may be like. Suffice it to say, don't expect anything nice or cutesy. The first song "Murder Death Kill" begins the thrash fest with a potently intense opening number that sees the band firing on all cylinders led by the aggressive (somewhat high pitched) vocals of Cara McCutchen who delivers her lines in rapid fire fashion. Continue reading »
Label: Century Media
Review by Tony Cannella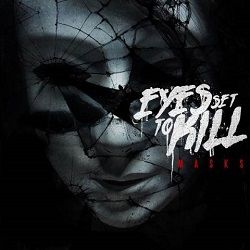 I know Arizona's Eyes Set to Kill have been around for a few years (well more than a few, ten years to be exact) and their new album "Masks" is the bands fifth album, and to be honest I have only heard the name but never actually heard the band. Well after getting a chance to listen to "Masks", I have to say that I was really missing out on something. Eyes Set to Kill plays with the ferocity of a hard core thrash band while still managing to inject the songs with heavy doses of melody and tuneful hard rock.
Where to start… Well first off the vocal duo of Alexia and Cisko are quite a formidable combination. Continue reading »
Interview by Roberta Ilaria Rossi & Miriam C.
Young and talented, with a big desire of doing lots of new things, the Canadian band Mortillery is proud their second album "Origin  of Extinction", a pure thrash old school metal quite inspired by Overkill sound. In occasion of the official release sponsored by Napalm Records, we've got the chance to exchange a few words with the frontwoman of the band, Cara McCutchen, who brought us in a world of powerfull riffs and guitars that spit fire. Here's our chat!
Today our website has the great pleasure to welcome Cara McCutchen from Mortillery. Welcome Cara. How are you doing?

I'm doing awesome! Thanks so much for having me here!
For those who still don't know anything about you, would you like to introduce a little biography of yourself/of the band?
Sure! I am the singer for the band Mortillery from Edmonton, Canada. I started singing in metal bands 10 years ago. It has always been my and Mortillery's intention to play old school thrash metal. Continue reading »
Interview by Miriam C. & Roberta Ilaria Rossi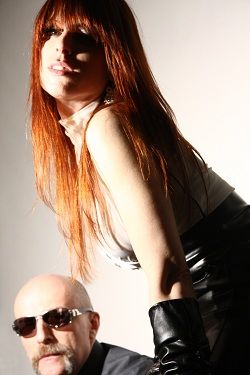 Today, we have the pleasure and the honor to give space to one of the true legend of electronic/darkwave genre. Italy's Kirlian Camera has almost in action from 30 years with a lot live activity and a lot of releases, so we took occasion to interview Angelo Bergamini, the mainman behind this project and the singer Elena Alice Fossi for know more about their tenth release "Nightglory". Also we took advantage of this asking some infos about SPECTRA*Paris and more Elena Alice's side projects….
Hi guys, welcome to Femme Metal.net. Your latest album, "Nightglory", was released not so long ago. How have reviews and feedback been for this album? Are you satisfied ?
Angelo: Perhaps it's a little too early to realize what's going on with "Nightglory", but I can say we noticed huge interest about it. Some people were surprised because of our "change of route", but Kirlian Camera are not that alien to doing what they feel, whether it's approved or not by whoever and couldn't care less of opinions around. Anyway, I think this album will be taken as a very important chapter in the Kirlian Camera history, if one is going to listen to it without any prejudices, then he can easily feel that "Nightglory" is just the highest point of our discography, the one containing our exact identity. If one doesn't like it, it means he doesn't like this band, it's so simple. This album is so filled with passion and purity that we are really proud of its presence within our life. We worked on it with unusual passion, till reaching extreme limits as far as identification is concerned. Yes, we're satisfied, totally. And proud of this "creature"…
Could you please tell us a little bit about the band's history, to get some informations for our readers?
Angelo: We were born more than 30 years ago, springtime, with incredible enthusiasm and need to survive many years to come. Doing a summary of such a long time is rather difficult and it's even more tricky due to the fact Kirlian Camera is quite an anomalous band, which has been moving freely from an atmosphere to another, throughout time. We have been a deep-underground entity, we got platinum records in the pop area, we changed a million members before getting a stable line-up with the arrival of singer/composer Elena Alice Fossi. Kind of a rollercoaster; we met a lot of people, 98% negative idiots who only tried to exploit the band. Poor grotesque characters with no real identity, you know… this band's history isn't that funny and it's filled with several bad events created by absurd people. But I must admit that my collaboration with Elena is the most beautiful event in my life. My hard work finally paid off as for personal satisfaction, thanks to her presence and great inspiration coming from her musical ideas.
Before the main release (I mean "Nightglory") you published the MCD "Ghlóir Ar An Oóche", a really, interesting appetizer that contains a rework of "After Winter" and "Nightglory" both in normal and camera version. First of all what does "Ghlóir Ar An Oóche" mean and why did you choose to have the title in Gaelic?
Elena Alice : It means "Night glory", exactly. We did choose to use a different language for the single, in order not to mix it up with the album. We opted for Irish/Gaelic because it sounds so deep and evocative. Also, Angelo's mother family has some Irish origin: South East Ireland/Waterford area, if I'm correct… I suggested to use such language, as in the last period he's sometimes digging into his far past, so I perceived something natural coming out from those words…
Having given "Nightglory" a listen , I would say the band's sound still remains within darkwave/synthpop genre. Can you please give us more insights about the creation of "Nightglory"?
Angelo: However, pop music is the point from where we started many years ago… even if we had/have in mind a very personal concept of "pop music". So, I'd like to say I don't agree so much with promo-introduction to "Nightglory". I don't think it's our most accessible work ever, or better, I guess it is, but it's misleading to introduce this album in such a way, due to the fact it offers something totally particular: it seems to be able to talk deep to heart, while it succeeds in not sounding oppressive to ears. Doing an oppressive sound to describe a drama is easy… it's (by far!) less easy to compose music about a personal drama by respecting… "Music". Kind of respect to listeners, to yourself as a listener and an attempt to create something beautiful despite the sorrow you feel within. In my opinion, Gandhi was a warrior, not a pacifist as many people think: only, he had a different idea of how a war had to be done. Just an example which is probably going to touch a "too important theme", but… as far as our small garden goes… "Whoever has ears to hear, let them hear"…
The "Nightglory" cover artwork is simply and effective – the huge black panther. What do you want to express with it?
Angelo: The Black Tiger is the symbol of the night itself, for us. That night we come from… Then, we are used to calling Elena Alice "Black Tiger" or simply "Tiger", exactly, maybe this is a little homage to her, hidden in that title… Worthy purity and loneliness…
The song "Winged Child" complete title should be "Winged Child Sitting on a Bench Watching Obscure Clouds Getting Closer While People Seek for Shelter" guys you always surprise me, can I ask where you got a a title like that?
Elena Alice: It's a vision that comes from the inside. One day, when we were taking photos in a local garden, we noticed a beautiful old bench and… the rest is dreamlike. Such a title sounds pictorial, probably. But, how could we turn such a vision into a title without explaining the vision itself…? Well, in the beginning the idea made us laugh, but now, who knows?… Maybe it's just the beginning of a weird new trend, for us… we'll see!
Elena, recently with SPECTRA*Paris you've released your second album "Licence to Kill". Can you talk a little about this other project and in specific about your latest album?
Elena Alice: SPECTRA*paris is a strange beast… one day it sounds glam, the day after goes to meet Ralf & Florian, then it finds the way to Twin Peaks and becomes an empty cinema filled with scary ghosts. S*P is a combination of noir desire, erotica, spirituality, science-fiction, distorted fashion… comics meet suicide tendencies! The last album "Christmas Ghouls" (10-track mini-album) drifted away from "License to Kill" for a while, offering acoustic and acoustic-like ballads, tormented Christmas echoes and dreamy – but worried – pages. I'm working on the third album of this saga and I can say that, at the moment, it sounds electronic, more than former ones. My acoustic/ballad side is finding a place in the cosy arms of my new project Alice Neve Fox, a quartet in which I'm mainly accompanied by musicians on grand piano, acoustic guitar and double bass, even if some theremin and vintage moog is peeping out here and there, occasionally… as well as some guests I attach great importance to. S*P will be roaring again soon with some new sounds and line-up, anyway. Kirlian Camera/Alice Neve Fox's guitarist and drummer Kyoo Nam is now part of the gang…
Talking about Spectra Paris, during Christmas 2010 you've released an interesting experiment called "Christmas Ghouls", I'm curious as to why as it's very far away from your musical visions?
Elena Alice: Making a Christmas album was an old dream, as well as making "my" own Xmas album, as it had to be as personal as possible. Moreover, "Silent Night" had to show a different side, as my Christmas is filled with imaginary toys, dreams, angels… but even with a deep sense of apocalypse. So, my German version to "Silent Night" sounds darker and more dramatic than expected, although I didn't wanna destroy original global atmosphere to the hilt! This album made me realize I need to bring my 'acoustic side' back to light, as I love electronics very much, but I even love so much that magic that acoustic instruments can create, although I sometimes like to add some electronic vintage inputs coming from Theremin and MiniMoog. Practically, "Christmas Ghouls" set the tone to my new project Alice Neve Fox!
Angelo, in the beginning, the sound of the band was more synthpop oriented, you also happened to be in Italian synthpop/disco band Hipnosis in 1982 and 1984 – would you like to tell us something about this experience?
Angelo: I joined the band while they were working on the debut single "Pulstar". After a couple months such single came out and it suddenly went platinum! I honestly must admit that Hipnosis was a funny machine to make some money, although I earned nothing at all! I cancelled the world tour a few days before it started! I left the band after some further experiments, videos and TV appearances. The label offered me some big money to remain on condition that my name didn't appear on any Kirlian Camera work for five years, so I rejected the offer and went away.
Is there any artist or band that, since the beginning, have influenced your work or has it always been your own work?
Elena Alice: Strangely enough, I guess I don't feel any big influence. I love music since when my memories start out, but music is something in the air, for me, so I can catch an idea without knowing who's hiding behind that tune I'm occasionally listening to or whatever. But I can say I like listening to Angelo Badalamenti, David Lynch, Zbigniew Preisner, Ennio Morricone, Susanna Rigacci, Jessye Norman, Giovanni Pierluigi da Palestrina, Arvo Pärt, Hildegard Von Bingen, Jocelyn Pook, Pink Floyd, Laurie Anderson, Danny Elfman, Janis Joplin, Muse, Portishead, some old rock'n'roll grooves and Kraftwerk, of course!
Angelo: In the beginning I used to listening to several bands, but, after a while, I realized that almost none of them was really so essential for me. Anyway, I have been listening to many artists, throughout time, so I had a chance to appreciate Tangerine Dream, Klaus Schulze, Nico, White Noise, Delia Derbyshire, Pink Floyd, Hawkwind, Alvin Curran, Kraftwerk, Giorgio Moroder, Ash Ra Tempel, Neu!, Amon Düül II, Popol Vuh, Peter Gabriel, Le Orme, Klaus Nomi, Joy Division, Metro, The Sound, Ultravox, Gustav Mahler, Max Bruch, Anton Bruckner, Franz Schubert, Francesco Paolo Tosti, Salvatore Licitra, György Ligeti, Marc-Antoine Charpentier, Scott Walker, Mauro Pelosi, Matt Munro, Neil Young, Johnny Cash, etc…
The band name is a clear reference to the Kirlian effect, that is mostly used in bio-physic photography. Who is the one that chose the name?
Angelo: I decided to use such a name in spring 1980, as former name Suicide Commando sounded a bit too aggressive for a project mixing together pop, krautrock and post-punk, at the time!

The band has was founded by you, Angelo in 1980. You've been on the scene for over 30 years now. What has changed since the early days to now?
Angelo: I have noiticed that today's music market doesn't offer any creative chances to a creative musician, rare exceptions aside. I wasn't that used to this "flattening". Stupid producers and idiot labels exist since time immemorial and I worked with a lot of them, but… time ago there was more confidence in some free creativity. Today's bands are boring me stiff and nothing happens since years and years!!! New "rebels" are but spineless posers with no dignity at all and the worst thing is that their music seems to be made for old dumb zombies. Freshness and innovation are two perfect strangers, in music field, currently. The problem is that the audience is accepting all that without any reaction.I feel like I'm becoming a real alien, here!!! Hopefully, nobody will notice my brand new antennas, BRRRR!!!!
You are an electro/darkwave Italian band, maybe you were one of the first band to create this kind of music and, more over, you've also been the first band ever in signing a record deal with Virgin Records. How did this happen? Would you like to tell us more about it?
Angelo: Well, signing to Virgin was so uneasy at the time – and for an Italian band was simply impossible – that when a friend called me saying they wanted us on their roster I did reply by gyawining! I don't know the reason why Virgin wanted us, but I remember that, during a TV-festival, I had been passing near the backstage of the GTR project (Steve Howe from Yes and Steve Hackett from Genesis) and I notice they were playing one of our songs, then the manager of Pet Shop Boys told me that they went crazy for "Blue Room" and Afrika Bambataa was used to performing the same song during his sets… meanwhile Air France had been broadcasting KC on its flights and I had some meetings and free time with Human League, Simply Red, Nico (Velvet Underground), Conny Plank (producer of Kraftwerk, Ultravox, Eurythmics), etc., so… I realized we were a pop band! But it was strange…maybe I didn't feel that at ease in that golden hotchpotch, at the time, as I was much more interested in the underground area and avantgarde/contemporary music…
Let's be straight and clear, I hope you appreciate my frankness, why the hell in Italy an band like you with such a musical history don't give a damn about you, I mean for me and the entire scene you're the precursor of this genre. What must change in Italy? It's because of the wrong mentality, maybe?And why Germany and Belgium seems love your music?
Elena Alice: OK, our relation with Italy is complicated: we like the landscape, we love the food, the traditional culture and even the people, but, as far as real innovations are concerned, Italy decided to give up, some decades ago. In Germany and Belgium exists a kind of "middle area" where some bands have a chance to express themselves. An area placed between underground and mainstream. It doesn't happens in Italy, unfortunately. I am absolutely sure that many people could love the music of KC and many other bands, but… it's like there was a impassable frontier whose checkpoint police is totally alerted 32 hours a day! No one can get in from that border!!! Italian music business has a clear concept in mind: you must sound "super easy"and so, even "important music composers" (some embarrassing but popular rock singers) are doing nothing but music for boring bourgeoisie, pope-boys, fast-food monkeys and tanned people drowsing on a cheerless yellow beach filled with flies. We have some fans, some good ones, in Italy, and we actually are grateful for all the praiseworthy efforts they do to make our sound become more popular, but they aren't so many, not enough to keep us alive, unfortunately. I must realize that this nation's biggest part of music listeners has no respect but for absurd clowns posing as great artists. The sad point is that there are so many good bands… and some of them are even "listenable": I'm sure they'd perfectly fit to buyers' taste! But Massive Attack is the only good alternative that Italian music industry police allows normal people to listen to, more or less, as no further name is jumping in my mind, at the very moment… anyway, I decided to try again, in my Country, as I don't wanna give up, so I guess I'm gonna sing Italian a little more often, in the future… my bridge on this wonderful Country is not collapsed…
What's in the pipeline for KC, what are your future projects?
Elena Alice: As for Kirlian Camera, we're working on the single "Immortal", a song taken from the new album which has been slightly revisited for this occasion. The single will contain some previously unreleased material, as well. We're just planning our first official live album, to be released on audio CD, DVD, BlueRay and digitally, of course. We're told it'll be recorded at the Teatro Regio di Parma (Royal Theatre of Parma) or in a old church… we'll see…
Anything you would like to share with your fans and Femme Metal readers?
Elena Alice & Angelo: Don't judge a book by its cover.
Links
Kirlian Camera : MySpace * Facebook *Site

Interview by Connie Bach
Heavy and intense, Swedish Melodic Metal Disdained 's lyrics, pacing and style are distinctive and they draw you in, holding your attention. Let's give in with the interview with Thérese.
Hi, Therese. How was your summer?
Hmm…Very busy indeed! My summer has been fantastic, thanks! I have been spending a lot of time in the studio recording Disdained's debut album "Kill My Only Enemy" that are to be finished before the end of this year.The recordings consumed almost all spring and summer but the result is stunning! We also did a few smaller gigs and participated in the music competition "Emergenza music festival", which is one of the biggest music festivals/competitions around, besides Idol, hehehe. We did really good and won the Stockholm finals and reached the second spot in Sweden as best live band. We also, or I mean Niklas and Johan H, received a really cool price for best guitar performance and won a fat Marshall rig! We also performed at the festival "Sweden Rock Festival" which is one of the biggest rock/metal festivals in Sweden at the moment. We had a really good time hanging out with fans and other cool people and the gig went really good. We received a lot of appreciation and respect from the audience, both directly after the gig and through e-mail the weeks after. It was a great feeling and we feel very humble to get that kind of response, also it makes us really on fire and we want to give more! Except that I enjoyed hanging out at Sweden's best metal festival, Metaltown!
So everyone, why choose metal? What is the background each of you brings to the band?
Therese: Since childhood my mum and dad raised me in to a world filled with rock and metal music. I feel lucky to have parents that listened to bands like Black Sabbath, Iron Maiden, AC/DC, Deep Purple, Queen and so on. So as a child I had no choice, it was rock that was played in the house, no escaping there! As a teenager I started to explore a heavier and different side of the music I was raised up with. I started to listen to bands like Alice In Chains, Nirvana, Korn and Meshuggah and these bands still means a lot to me. Today I'm really fond of bands like Rammstein, In Flames, Slipknot, Disturbed and Katatonia. These bands really give me the rush today and they are also important inspiration when writing music. There is however another part of my musical side that really loves folk music and pagan tunes, this is something special to me and it always make me completely happy. Actually Disdained is my first band I've been in. I have a little different background compared to the guys in the band. My musical background started in my early years when I sang in a choir and also had musical-theater as a subject in school. After moving to Stockholm I started my theatre and musical studies, later I took a higher course in the musical subject at Kulturama, which is the biggest center for aesthetic educations in Sweden. This led me to work at a theater in Stockholm for three years. After a long break I met with Micke "INK" Östling, the guitar player of Lizette &, and I started to do troubadour gigs with him. After one gig I met Henrik and Niklas who asked me if I was interested in joining there new project as the female singer. I accepted and this collaboration led into the start up of the new band Disdained, the rest is history.

Niklas: I've been in love with the metal music genre since the early teenage ears. At 15 I started to listen to bands like Metallica, Sepultura and Megadeth and not shortly after I started playing the guitar since I wanted to be like them, you know, rocking on stage. Metal music gives me a kick, or a rush even, that feeling can't be compared with no other music genre. This intense feeling for the music also brought me to playing in a band, at first it was a struggle of course with different constellations and learning the instrument and such. Later I joined the power metal band Insania (Stockholm) that I came to stay in for almost 10 years. After my power metal journey with Insania, I wanted to go back to my roots with heavier music. I started up the band Disdained together with Henrik Juhano (Insania, Stockholm) and Therése and today I feel that we are indeed fulfilled, both in regard to constellation and sound.
Tomas: The metal music was something that really attracted me from a young age. The first album I bought was a vinyl version of Twisted Sisters "Stay hungry". I listened too much of the bands that were popular back then like WASP, Motley Crue, Skid Row and Kiss. I started playing guitar at the age of 13 since my younger brother had started taking lessons, so I got influenced by that. I did fast become better than him and he did eventually stop playing. I didn´t end the more I learned, the more I got determined to learn and play songs like my idols did. I started playing with a few smaller bands that were not that skilled and at some point I joined a band that needed a bass player. From that point I did basically stick to playing bass only. After a few years my musical taste had changed a bit and I listened much to bands like Helloween and Iron Maiden. It was more technical and I did evolve as a bass player playing these kinds of songs. At the age of 19 I joined the first constellation of what was to become Insania (Stockholm). We called ourselves Purgatory and played Helloween and Iron Maiden covers. After a year or so I was fed up with it since the same songs were played and no new were written. I played with a few other acts during the years that followed and then in May 1997, at the age of 22, I rejoined the mates from Purgatory that now also changed their name to Insania (Stockholm). During the 11 years I stayed with the band we released 4 records worldwide and played at many greater festivals. The peak of the career was when we went on a European tour in December 2007 as a supporting act to Ensiferum. Before I went on the tour I had also received an invitation from the guys in Disdained where former Insania members Niklas and Henrik played. They needed a bass player and they asked if I would like to play with them also. I was curious about this since it was something new for me musically and also that I had to play with a 5-string lower tuned bass. Back then I didn´t see Disdained as my main act and I gave them the time I could when not playing with Insania. In February 2008 we decided in Insania to take an indefinite break from playing and that led me to play more with Disdained. As I saw that Insania was not about to start playing soon again I decided to leave Insania and chose to see Disdained as my main act. That is something I do not regret today and here I am today creating history with Disdained.
Johan H: It all started by looking up to the older guys that were cool skaters that listened to bands like Accept, Tank, Saxon, Motörhead and Iron Maiden. It wasn't though until later when my brother's friend told me about the "worst band ever" that sounded like pure thrash that I had to buy my first full price album, which was very expensive, just to check them out! That's how I came in contact with Metallica's "Master Of Puppets". I had just started to play the guitar and Metallica opened up a whole new perspective since the songs were more complex and had no real boundaries. And that's what I really love about metal! It's the musician's ultimate playground. You can make music without thinking about the form and go from a sweet lullaby to all hell breaks loose in the same song if you like. My path to Disdained is quite long and we have now known each other for little more than more than a year. To make a long story short I started playing guitar when I was 14 years old. For roughly a year I explored my limits playing by myself in my room to "find my own style". My brother, who was a lead singer, then asked me to join his band. After a few years my brother left the band I took over the vocals, we changed the name and became more and more progressive exploring different types of rhythms under influences from bands like Dream Theater and Pantera. The magical breakthrough never came and the band was split up. For years I kept wandering about playing in band playing different types of music just for fun, but one day I saw an ad that Disdained was looking for a new guitarist. So I listened to the music on MySpace and what I heard appealed to me. I've finally found kindred spirits that share my musical point of view to make the best melodic metal with rhythmic and progressive elements.

Johan P: Ever since I started listen to metal back in the late 80´s, listening to bands such as Iron Maiden, Black Sabbath and Deep Purple, I have been a sucker for metal bands with interesting drummers. I mean, Nicko Mc Brain doesn't disappoint anyone, does he… Anyhow these days I tend to listen more to bands like Dream Theater, In Flames, Soilwork, Korn and such and I think all the drummers in each of the bands are awesome. Metal music really appeals to me because of its intensity and the energy it delivers. My musical background is slightly different than the others because I attended Eskilstuna municipal school of music at the age 8 to 18. Through the years I got to play everything from marching band and concert band to blues. Later I moved to the southeast of Sweden playing mainly rock music influenced by Sabbath, Deep Purple and Uriah Heep. If we at occasions didn't have a singer we went on playing instrumental improvised rock/metal/whatever until there was a new constellation. Playing and making music with Disdained and hanging out with the guys is really a special honor and I'm glad I had the guts to apply to their add a few years ago.
Why did Disdained call this release "Longing for Serenity"?
Niklas : The name "Longing For Serenity" reflects nicely Disdained's over all lyrical content. Since the songs often are very personal and rather dark, the wish or struggle for peace of mind, sort of got summarized in that song title. Also at the time of the recording of that particular song, we thought that "Longing For Serenity" was the best song we had recorded at the moment. The song itself was written to send a massage and to make people stop for a moment and think of what is going on in the world with trafficking and organized transnational crime.
Therese, can you tell me a little about the band's history before this release?
Since the start up in 2005 we have been trying to find the right sound and the right musicians to work with. Today we have the best constellation and with our upcoming debut behind us I feel very confident and positive. As any new band we have been working our asses of to get recognized or at least seen in this "noise" of thousands of bands. But with hard work you sometimes get rewarded, often not in money tough, hehehe. In the past we have released one demo that contained tree tracks. This demo was used for different purposes but mostly for promotion on MySpace and for concert booking. Thanks to that we received different great offers that led to several gigs both in Sweden and Finland, in the later we were the headlining act two years in a row at the outdoor festival "Harvester Rock Festival" that among others have had acts like Paul Di' Anno, U.D.O and Machinemen. In 2008 we preformed at the Swedish festival "Vadstuck", there we opened up for the Swedish gammy winner Mustasch. One other important gig for us was actually this summer where we preformed at the "Alarm Stage" at "Sweden Rock Festival". This gig was especially fun since this stage was for femme metal bands only. It is really fun to see that interest and commitment in Sweden indeed. Disdained have during the years received a lot of radio time both in the USA as well in England. We have done a few interviews that have meant a lot to us. For example we did one for Muen Magazine (USA) and another big interview with an Venezuelan magazine where one of our songs got featured on a compilation CD included in the magazine.
Disdained contributed the title track from "Longing For Serenity" to "Beauty And Brutality". Why did you choose to contribute this particular song, in comparison with the others on the album?
Niklas : As said in the earlier question, this was the song we wanted to use because we felt that I it had a strong message, also, at that time, we thought that "Longing For Serenity" was a good song that represented the band's musical style well. We really like the other songs but we feel today that this EP marks a earlier sound of Disdained, even if the EP was released just recently. Today we have evolved and have some nice surprises in our sleeves for all the ones who like Disdained's metal.
What's up next for Disdained?
Niklas : Conquering the world of course! Hehehe… Seriously, we have been working hard all spring and summer recording our upcoming full length debut "Kill My Only Enemy" and the process is not over yet. The album is in this writing moment in the mixing and the mastering process and so far it sounds awesome! We are also working with the amazing digital art artist Lady Symphonia which is doing the album cover art. Then of course we will try to find a suitable record label so we can reach the femme metal-fans in a wider scale than earlier. We will also start to look into booking some concerts and festivals for 2011, we hope that all will go as planned.
"Longing for Serenity" is the EP available on American Amazon. Is this part of the original album "Kill My Only Enemy", or has this plan changed in any way?
Niklas : The EP is available on American Amazon, yes. The track "Longing For Serenity" will be on the full length album "Kill My Only Enemy", however with a face lift.
Do any of you have any side projects, or hobbies that are important to you outside of the band? A little about them…
Johan H: At the moment I don't have any musical side projects. There is unfortunately no time for that. I spend my spare time with my wife and children unless I'm playing floor bandy, watching movies or partying with the band!
Therese: Besides Disdained I do a lot of troubadour gigs both for fun and for an extra income. When I'm not working with music I am a person that loves being out in the nature and I do not hesitate, if there is time, to go away fishing for a while. Another big hobby of mine is attending to my orchids or watching movies. I often watch between 2 to 4 films every week. I also enjoy reading a good book or just hanging out with my friends and have a nice tasting beer or a smoky single malt whiskey.
Johan P: Right now I'm studying business development within retailing so the days are really filled for me. But I try to get out as often as I can to ride my mountain bike. I also take the time to hang out with my kids. It's a real treat.
Tomas: Disdained is my only band I play with right now. Seeing I do not have all time in the world having 2 young sons and a family to attend to. In my spare time I really enjoy watching sports, football foremost and I also enjoy going to gigs with my favorite bands. I am much into computers and play an online game from time to time. Weekends I do often go and meet my friends for a drink or just do something fun. It is not seldom that I go to Niklas's place and we listen to good music, have a bunch of good ales and single malt whiskeys.
Niklas: Well besides the music that takes almost all of my free time, I have a strong interest in the nature. I've been studying biology and earth science for some years now and I really love being out in the green, it gives me peace of mind and a lot of happiness. I also like going to concerts, watching movies at home or at cinema, reading, Photoshop stuff, gaming horror games on my PC, Single malt whisky and American ale, this last thing I share with all the guys in the band, surprise huh!!!
Therese, what is your dream performance? What venue, what bands would you play alongside, and what would make it stand out as the single best concert ever?
I would really like to perform at the Swedish festival Metaltown. Besides all the awesome bands that perform there it is a really cool environment to be in. It's located on a pier in the metal town of Sweden, Gothenburg. Everything in the surrounding environment is made of concrete and steel! Another cool festival would be Wacken Open Air since it is one of Europe's biggest festivals and of course Metal Voices Fest where I think we would fit in nicely. There are a few bands that I can't get enough off and I would die to support them on tour or just a single gig. These bands would be Rammstein, Katatonia or maybe In Flames. I'm not comparing us to be at the same level as them of course but a Disdained concert is not only about the music itself and then nothing more to it but we also want to give the audience an experience where we are acting and interacting with the music we deliver. Rammstein is that kind of band that always delivers a complete genial and carefully prepared show and therefore is a band that inspires us.
Where would you say your lyrics come from, on an emotional level? Which song would you say exemplifies this the best?
Niklas : Our songs are often, almost always, about emotions on a very personal level but the lyrics can also be about real life experiences, personal or seen from another person's perspective. We seldom write fictive lyrics, like fantasy stuff but of course a feeling or a dream can be put in another context than the actual feeling itself, that is one of the great things when writing songs. The best songs to exemplify this would probably be the dark songs "Numb" or "Trust" on our upcoming album, but if we have to mention a song from the EP it would probably be "Until My Last Breath".
Why has the Internet been an asset, or a detriment, to the spread of your music and the income it creates?
Tomas : Since we are not a big act (yet) in any way we really benefit from the internet. It is a great channel for us to advertise ourselves and let people from all over the world get in touch with us and our music. We use web pages like MySpace and Facebook frequently to inform about the latest news from the band. The songs are distributed via Spotify, iTunes and other MP3 downloading sites, so that spreads our music also and creates a small income.
To wrap things up, is there one thing each of you would like to say to all your fans?
Niklas: Thanks for giving us your time reading this interview and I hope it was of interest. Hope to see you on a future gig or tour. Cheers to you!!!
Tomas: I would like to thank all of those that have been to our gigs supporting us, also those that has written to us and given us praise for our work. Since the record is not released yet I can´t say thanks for buying it but I will urge you to give it a shot and listen to it since I truly believe that it is something you may like if you are into bands that are in our genre. As a last thing I wish all of you a great time and remember all: Metal is the law!
Johan H: If you like heavy and melodic metal, check out our debut "Kill My Only Enemy". Cheers!!!
Therese: Live each day as it was your last!
Johan: I'm really grateful to everyone, supporting us in the way they can.
Credit Photos
Photos by Malin Nyberg – Mindflow
Links
6 color styles available:

Style switcher only on this demo version. Theme styles can be changed from Options page.