Browsing articles tagged with " kingfisher"
Interview by Robin Stryker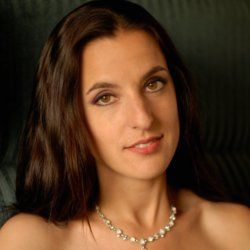 After more than six nail-biting months of anxiously awaiting the sophomore album from Dutch progressive rock band, Kingfisher Sky, I finally got a copy in my grubby paws on "Skin of the Earth". There is no second album slump here … the songs are tighter than ever, with plenty of the progressive elements and folk influence that made their debut album such a joy to listen to. Femme Metal webzine caught up with vocalist/songwriter, Judith Rijnveld, to get the inside story on Kingfisher Sky.
Hello Judith, and welcome to Femme Metal webzine! Congratulations on Kingfisher Sky's sophomore album, "Skin of the Earth", debuting on both the Dutch top 100 album chart and the top 30 alternative chart. Did you do anything special to celebrate?
Haha, we went out for Sushi!
"Skin of the Earth" has a nice ring to it. What does the album title mean?
It describes the mood of the songs on this second album. We felt that crawling through the dirt figuratively speaking and rising from the ashes of the band we started out with was the main theme of the album.
If I understand correctly, when you and Ivar de Graaf wrote Kingfisher Sky's first album, "Hallway of Dreams", you did not have a complete band yet. Was it different writing the new album with specific band members and instruments in mind, like Maaike Peterse on the cello?
It wasn't really a big difference. Sometimes we thought "this is a good part for the cello" but there are songs that haven't got any cello in it. On
"Hallway of Dreams"
, we had two violinists and now Maaike played a lot of strings that melted beautifully with the keyboard strings. We did write parts specifically for two guitars and I went a little easy on the choirs because we would have to hire 4 singers or play a tape live and that's not us.
The iPhone videos that Ivar takes are hilarious peeks behind-the-scenes at Kingfisher Sky's gigs and recording sessions. Would you introduce your bandmates and tell us a bit about their personalities?
Ivar can make everybody laugh, especially me, is very genuine, kind, intelligent, charming and he's a musical genius. Eric is a very calm and down to earth person, he is great at the business side of the band and he has great technical knowledge and he's an expert in sound engineering. He is a steady and great bass player and he is funny too. Edo is a very sensitive guy, very sweet and such a great guitarist. Just like Ivar, he knows an incredible lot about music in general and specifically about his own instrument and his musical heroes. Maaike is an angel on stage and a sweet friend in life, she is classically trained and knows everything about classical music and theatre. David is a very sweet guy, very shy and that makes him even sweeter, he draws cartoons and is a perfectionist where his music is concerned. He is very driven. Oh, and he enters the dressing room door like Kramer (Seinfeld) does and that is really funny. Chris is also a sweet and enthusiastic guy, who can be very funny too. He has a great imagination and he doesn't realise how good he is as a guitarist, which makes him even cuter.
You and Maaike seem to have a special bond. What is the best thing about having a musical sister to hang out with?
Maaike and I can read each other like a book, we can tell each other everything and when we have an argument we can tell each other the truth, the whole truth and nothing but the truth and that has been forgiven by each of us the same second. When I'm worried or stressed out before a show, she always knows how to cheer me up and ease my nerves. I trust her with my life.
Four or five people is the typical size for a rock band, while Kingfisher Sky has seven members. Do you ever have trouble fitting everyone on the stage for live shows?
Only when we are supporting, but then it's great that we like each other a lot J
The band was quite cryptic about any details regarding "Skin of the Earth" until shortly before its release date in late September. For example, in the updates on recording the album, the tracks were only referred to by their initials instead of by name. Why did the band keep the details under wraps?
It was just like parents that don't want to tell the name before the child is actually born, I guess, and it was funny to see what people made out of it. In the end I think it made the release a bit more exciting.
Kingfisher Sky really took their time recording the new album. Does having a home studio give you more flexibility to get the exact sound that you want? Has the "barking seal" gone away for good?
Hahaha I sure hope so, I have learned to spare my voice in front of the classroom for ever. When we take our time to record, we also have the time to endlessly doubt every little detail, so sometimes that's even harder than when you only have a couple of hours in a studio.
As a husband and wife team, is it sometimes hard to "switch off" being in music mode?
Music is such a big part of us that it is something that is always there and is integrated in our lives. So we don't really need to switch that off

How did it feel to hold your new creation in your hands, when the album was finally mixed, mastered, and completed?
So weird. All of the hard work in one lovely package. When I saw the tracklist on the back and realized the songs where actually on there it made me cry, and then we opened a bottle of prosecco.
Comparing "Hallway of Dreams" and the new album, there seems to be more contrast between the soft acoustic passages and the heavier metal-infused passages. What effect was Kingfisher Sky going for with "Skin of the Earth"?
No effect, we just continued writing and wanted the album to contain even bigger contrasts, more roughness and we wanted it to be more progressive, intelligent and adventurous.
The cover art, with primary colours and bold graphics, is also more aggressive than the soft watercolours on the first album. Care to elaborate?
My mother already knew the songs quite well when she started the creative process of the artwork. Just like with "Hallway of Dreams", I made moodboards and we talked about the lyrics,the stories and the "colours" of the songs. We came up with an idea of the cover, thinking about the elements earth and fire as a beautiful contrast with the first album. Richard Hilgeman, our friend and photographer,came up with great ideas for the photoshoots and made beautiful pictures that completed the whole thing.
Have you ever considered trying your hand at painting the cover art for Kingfisher Sky?
Yes, but my mom is better at it, hey.. but I can sing better than she does J
What do your teenage art students think about you being the vocalist and songwriter for a progressive rock band?
They know me as their art teacher wearing jeans and a black T-shirt and then all of the sudden they see me singing in a video! That is weird for them, children want their teachers always to be the same, sometimes they can't believe it's me when they hear or see Kingfisher Sky. In general they think it's cool to have a Rocking teacher, and they are really proud and sweet.
"Hallway of Dreams" was inspired by movies, mythology and real world situations. What were some of your lyrical inspirations for "Skin of the Earth"?
Exactly the same actually.
If you could go back in time and give your 13-year-old self one piece of advice, what would it be?
To start a band with Ivar de Graaf and not to be so hard on myself.
Is Kingfisher Sky planning a tour? We'd love to see you in the UK and US. J
Me too. We want to play as much as possible and reach as many people as possible. The album will be released internationally, so who knows?
Judith, thank you so much for taking the time to talk with us today. Do you have any parting words for your fans at Femme Metal webzine?
Thank you all so much for your support, it means the world to us!
Photos by Richard Hilgeman
Links
MySpace * Facebook * Twitter * Site

Gig Review & Photos by Erwin van Dijk
Epica has released their new album and this evening is more or less the release party. And because Epica is sponsored by Jägermeister the first 200 visitors will get an Epic USB stick full of exclusive, rare and previously unreleased Epica stuff. Also, the band will play the entire "Design Your Universe" album at this gig. Like Kamelot and Megadeth last year the venue was indeed sold out and this resulted once again in a queue from the doors of the Paradiso to the Leidseplein (Leiden Square) The last time for me at the Paradiso was for CHIC and Jello Biafra. Jello Biafra is the legendary singer of the Dead Kennedys and CHIC is a funk/disco/rock band from the seventies. Two cool bands but the opposite of Epica so to say. This was the second time for Epica at the Paradiso. The first time was supposed to be released on DVD but all we got was a book: "The Road to Paradiso". This was years ago and the band has grown since then. Kingfisher Sky is a nice band who had the honour to be the opener tonight. Every band in Holland will sell thesouls to the devil to do a Paradiso gig so this was for Kingfisher Sky the opportunity of a life time. The Paradiso might be one of the most prestigious venues in the Netherlands, it does not have the biggest stage and with seven band members and your own drum kit and keyboards next to all the gear Epica uses the stage was very cramped. But Kingfisher Sky managed to squeeze six songs in the little time they had. Kingfisher Sky had barely 30 minutes. To save the Polar bears there was no light on stage – good for environment but not for us. But there were no budget cuts concerning the use of smoke machines and this gave the gig a mysterious feeling which suited the music. Kingfisher did a good gig but personally I would not be in their shoes this night. Epica is way out of their league and even a band like Within Temptation should be worried right now with this new incarnation of Epica. In short, Kingfisher Sky is an 'art house movie' while Epica is popcorn entertainment for the masses.
Maaike, who plays the cello said about this gig: "Supporting Epica in a Sold Out Paradiso really was one of the best things happening in 2009, we had a blast and in our opinion it was over far too soon. Thanks Epica and Epica Fans". From the first notes it was clear that this gig would contain the usual ingredients: smoke pillars, firework, flamethrowers, etc – enough to start World War III Visually it was a very entertaining show to see but, more important, the songs from Epica's latest album are strong enough to keep their own against all that visual violence. Not many bands dare to play their entire album live (and if they do, like Iron Maiden, there is a lot of critic and / or negative response) but Epica got away with it. And Medusa, who the true Epica fans will remember from the 2008 autumn gigs, says : "We had a great time, it was very crowded and hot, but of course we added some heath as well

". Medusa would also show up at Metal Female Voices Fest, together with Floor Jansen. Like Jello Biafra a month earlier Mark did a crowd surf but while Jello did the full round from stage to bar and back again Mark vanished somewhere midway into the crowd. And the Jägermeister girls also had a small appearance on stage with an air pressure cannon designed to shoot t shirts into the audience. Funny enough a lot of those shirts ended up on stage again. Poor marksmanship I guess. A word about the album: Like the latest Leaves'Eyes I would say it is a save buy for the fans. It has all the ingredients for an Epica album and the fresh blood from the God Dethroned boys makes it more metal. Epica did not reinvent themselves with this album. They took the best parts of their music and improved them even more. And, if I am really honest, this gig was better than the one at Metal Female Voices Fest.
Links
Epica : MySpace * ReverbNation * Facebook * Twitter * Site
Gig Review & Photos by Erwin Van Dijk
It is a Within Temptation reunion day at the city of Haarlem tonight. Delain and Kingfisher Sky are both spin offs from Within Temptation, the biggest of all Gothic and female fronted bands in Holland. Sadly Delain has an unpredictable photo policy at their gigs. Sometimes you are allowed (or tolerated) to shoot a Delain gig but often you are not. Epica has a similar behaviour towards this. Goth knows why. Maybe their ego? That is why I try to avoid these bands but Kingfisher Sky will be a good opener today so I took the gamble. The Patronaat started in an old shabby building held together with gaffer tape but somewhere around 2005 it was replaced by the new building with much better facilities. As a consequence the venue can book now a lot of bands that used to play in Amsterdam like Dimmu Borgir or the upcoming Pagan Festival in September with Unleashed and Korpiklaani. Just a few days ago The Patronaat won the "Best Dutch Venue" award. The reason is quite easy for me: good facilities, friendly staff and more important: a well oiled organisation. The only disadvantage of the Patronaat you will find when you stand at the edge of the stage in the main hall. There is a small electric cable pit for all the equipment which has never been cleaned since the opening of the venue. After four years it is the most disgusting place in the entire city. To quote Bones from Star Trek "It's life Jim, but not as we know it!". As with the album release party at De Melkweg (Amsterdam) the two video screens did not add much to the gig because they are to small and located at the far left and right of the stage. With the Cradle of Filth & Moonspell gig last week in the city or Rotterdam there was one large stage filling video screen that functioned as a nice back drop. The mayor difference between Epica and Delain is that with Epica the visual part of the show and the special effects outweighs the musical performance live. With Delain it is still more about the music and less about how it looks on stage. I hope it will stay that way. But Delain still wanted to do something special so they had to improvise. Unlike Within Temptation or Epica the Delain crew still has no pyro license so we have a bubble machine as visual effect. WOW! The set consisted of songs from the debut album and "April Rain". Personally I like the songs from "Lucidity" more than the new work and judged how the audience reacted I am not alone in this. The "April Rain" songs lacks the varity "Lucidity" had. I know Delain wants to sound like a real band but "Lucidity" was a one time kick in the face because it was never meant to be a 'band' but a project.
With "April Rain" all the 'Youthfull Enthusiasm' is gone and replaced by solid assambly line work. Currently Delain is sponsored by Jägermeister but thank Goth there were no Jägermeister wallpapers in sight today. Or the Jägermeister promo team which consists of (very predictable) good looking girls (The Jäger Mädel in good German) who always appear to be a little lost during metal gigs – like at the Melkweg gig. Those chicks are most likely plucked from the pages of some modelling agency. And because money is money Charlotte is sponsored by an Italian fashion make – up brand called PUPA. Not that Charlotte needs to be covered in thick layers of plaster (unless she is going to be a Kiss tribute band singer or will start a black metal band!) One more thing: Delain showed some footage of a violin cello on screen while playing a sample.N ice, but I thought it was also a bit cheap because Kingfisher has a real violin cello on stage. If I was the boss of Delain I would have asked Maaike to do that part because all the cello stuff was already in place that day. Opener Kingfisher Sky only had about 30 minutes for a show and that was more than enough to convince the audience. Although I would not have minded to see them a bit longer than half an hour. Their take on this genre is much different than most other bands these days. Judith has a voice which does not sound like another 'Kate Bush on helium clone'. More rock and soul. Same goes for the music. Kingfisher Sky is closer to bands like Autumn, The Gathering and Stream of Passion than Delain and Epica. Since bands like Autumn, Cardamon and Skytah are also going this way with their music you can almost see this as the next step of the Gothic genre. In short: like their die hard fans these musicians have grown up, leaving Delain for the younger generation. Conclusion: Kingfisher Sky did a good gig but lacked the time to get the audience with them. Delain gave a solid performance but they should watch out for Stream of Passion who are also about to release their newest album.
Links
Delain : MySpace * Facebook * Twitter * Site
Kingfisher Sky : MySpace * Facebook * Twitter * Site
Interview by Robin Stryker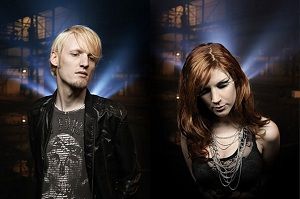 It was my profound pleasure to interview Charlotte Wessels and Martijn Westerholt, the vocalist and founder/keyboardist of Dutch symphonic metal band, Delain. Happily for me, the band was in my hometown of Atlanta for their U.S. debut at ProgPower USA. After fortifying ourselves with some Italian food, we rolled up our sleeves and got to work.
Charlotte and Martijn, of course, did all the work – even taking turns later in the night interviewing each other, whilst I sat back and giggled. (I swear it was their idea). Read on to find out what happens when band members, who are good friends in real life and extremely funny in person, get to turn the microphone on each other.
Hello Charlotte and Martijn! Last time Femme Metal talked with Delain in late 2009, you had recently headlined at Metal Female Voices Festival and were starting your tour with Sonata Arctica. Since then, you have released "April Rain" in the U.K., done headlining tours and have just performed at Wacken Open Air. How was Wacken?
Charlotte: It was awesome. Yeah, it was really great. We played at the Party Stage and there were lots of people there all cheering.
Martijn: And it was a PARTY! We were very surprised the party stage was called the "Party Stage". It was amazing.
And that was just one of a lot of festivals that Delain was at this year, right?
Charlotte: We also did Sonisphere in the UK, which was REALLY amazing. I guess that was one of my favourites as well, next to Wacken.
Martijn: Mine too, absolutely.
Now, having sampled festivals all over the world, what has been the one where you thought everything just came together – the fans were on, the equipment was working, everything was perfect?
Martijn: We never had that. (laughs)
Charlotte: No, we're still waiting for it. I mean, it's taking FOREVER.
Martijn: (laughs) I'm just kidding, of course.
Charlotte: I guess Lowlands in 2009, which was really awesome. It's a Dutch festival and I've been going there every since my parents allowed me to go to festivals, basically. Then, finally to be up on the stage there. And it was a good show, too!
Martijn: It was a really big festival with something like more than 50.000 people.
Charlotte: I think even 60.000.
Martijn: I think it's one of the biggest in Holland. So, everything went perfect, and it was a really, really good show.
I understand that after ProgPower, Delain will make its first appearance in Mexico and Brazil. Do you have anything special planned for those shows? Charlotte: The fact that we will be there is kind of special. The special thing for us about Brazil and Mexico is that they were one of the first countries who had a really loyal and active fan-base. A few of the first fan-sites that popped up were the South American ones. And then you hear all the stories from other bands that it is crazy and wild over there. So I think we are as much looking forward to how they are going to be, as they are looking forward to how we are going to be. Martijn: Yeah, absolutely! And of course, you're going to hear Charlotte talking Portuguese and Spanish. Charlotte, have you memorized some phrases and basic greetings? Charlotte: I actually contacted some fans … like "Oh, it would be so nice if I could say something!" … and sent them some stuff that I would like to say. I'm going to practice with them. I'm always trying to do that. And if I don't get to memorize it, then I'll just secretly write it on my hand. (Oh no, I'm telling my secret!) Martijn, how about you, or are you going to phone it in? Martijn: Yeah well, I don't look forward to it. I think it is an average tour. Charlotte: Just another day at the office for Martijn. Martijn: But TOTALLY the other way around. It's already great tour right now. We didn't even play yet and it is already great being here in the States. I'm really looking forward to South America. As Charlotte said, we heard a lot of positive, crazy stuff from other bands there. And it is also always a really good sign if you have already developed a fan base and you didn't even release anything yet or play there. So they deserve having us there, and we are really looking forward to it.
You've got very little time between ProgPower and Mexico, but have five days between Mexico and Brazil. Have you pencilled in some fun while you are there, maybe some sightseeing? Charlotte: We've had a lot of fun today! Martijn: We're taking the car from Mexico City to São Paulo, so we needed five days. (laughs) No, we're not. We have a couple of days off and we are going to do some sightseeing in Brazil. Charlotte: Destroying some more pools on the way over there. Martijn: Yeah, exactly! Charlotte: We'll enjoy ourselves. I was really interested to read on Delain's website that October 29th is actually the last show in Holland before the new album. Where are you on the new album? Charlotte: We are writing it. We have some songs and ideas for songs and we are hoping to get into the studio and get on going with it really quickly. Martijn: When we are back from this tour, actually the biggest part of the writing starts then. Then we really are planning to do a lot of stuff. Charlotte: We are going to lock ourselves in together. Is that what it takes when you are writing? To just step out of your lives and hunker down to write? Charlotte: If you have unlimited time, I don't think you would need it. But at this point, we want something to happen fast. So, it is just making the circumstances to write more optimal.

Martijn: And it is also very easy if you sit together, to develop the style you want to do. Because you always want to innovate a little bit. When you are on your own, you cannot do that. So you need to be together for that. We have a lot of activities normally … without writing even … so it's very important to really focus on it and don't have any distractions. So we hired a small farm house in Holland and we are going to write and hope something good comes out of that. Charlotte, when you first started with Delain, a lot of the material for "Lucidity" was already written and you were doing vocal lines. And then in "April Rain", it was much more collaborative. Now that you have worked together on two albums and know each other's style, what is the process like? Charlotte: Actually, a lot of parts stay the same but some things change as well. I guess we are still working the same way. It is just that you get together earlier in the process, which makes it easier to respond to each other. At least for me, I like it better. I mean, the filling in the gaps on "Lucidity" was really cool but it's richer to be there from the beginning and see how everything develops.
Martijn:
But also from my side, it is better. Because if somebody is really into it, this music is like transporting your emotions … it's like transporting feelings and atmosphere. And if you are totally into it, then it benefits, of course, the music.
Charlotte:
And you also see that it kind of gets together in an earlier stage. Where sometimes there would be a song and there would be a lyrical interpretation of that song. And I think those became closer to each other. You know?
Martijn:
But also the other way around, especially with the songs I write. If Charlotte writes something with Guus, then I only hear it almost at the end.
Charlotte:
That's true, yeah.
Martijn: Which I think we have to look into, if that is the most efficient way. But that is something for the future. Also still, the way of working is still moving. And that is good, because we are still exploring.
Your bass player, Otto der Oije, is a VERY recent addition to Delain. Would you tell us a little about him?
Charlotte: He was with us for the first time at the headline tour in the U.K. earlier this year.
Martijn: This felt like … I don't know if it is also an American saying, "a lot of the lottery". Something like that. What is the American saying?
"Luck of the draw" is probably the comparable American saying.
Charlotte: Luck of the draw, that's it.
Martijn: Exactly. It's really great … really, really great with him.
How does it feel that
Delain
is now a band that other Delain are completely excited to play with? For example,
Kingfisher Sky
is tweeting about opening for
Delain at the Tivoli show.
Charlotte:
It feels great, of course! If you look, for example, at the other band that is opening, Stream of Passion is a band that I bought tickets to see. I bought tickets to see them in concert before I was in Delain, so it is kind of a turn-around. It is really cool, and we are really grateful for the things that we have achieved.
Martijn: Because you achieve it yourself. But you also achieve it because of the people who visit you and who buy your stuff. They also achieve it for you, and that is very important to keep in mind.
Speaking of that, you spend A LOT of time on social media … you tweet, you write tour blogs, you're taking pictures and posting them. "Here is where we are, here is what we're doing, here is my kitty, here is what is going on in my life". How do you keep that up when you are on the road, recording, writing music and living your lives?
Martijn: It is especially because of Charlotte, I think.
Charlotte: Actually, I went into the whole thing kicking and screaming, when they said, "Now you also have to do Twitter". Of course, I liked the social networks and everything that is on there and it offers a lot of possibilities. But it wasn't until the Twitter thing that I actually got really ADDICTED. But, it's actually the most short and effective and fun way to get in touch with the people who like to follow you. Because, even if you are on MySpace and want to answer everybody, you can't. With Twitter, it's just 140 signs and you have a really short connection to everybody. It works, you know? You see that people actually FOLLOW you and you get kind of a gratitude for letting people know what you are doing.
Martijn: It gives energy.
Charlotte: That makes me feel happy. It's like kind of a confirmation that what you're doing is cool. I mean, of course, you don't need other people to say that, but the fact that they do is fun! My parents ask me when I'm on tour, "You're going to tweet a lot, right? We want to know what you are doing". Sometimes my parents are like, "Hey, I read on Twitter that you are eating healthy foods".
Martijn: It is also a blessing because I'm SO bad, I suck so much with this stuff. I want to get to answer but I sound so bad. It's also a guy thing … I have a feeling that girls are better at this kind of stuff. Set aside that. I don't want to blame it on the general male side and have to blame it on myself.
Charlotte: Actually, I never heard the thing that girls are more computer nerds than guys. I never heard that one before. (laughs)
Martijn: Not really computer nerds. I mean like being thoughtful about having good contacts. That's what I mean. It's good that Charlotte does that.
I'm curious about the extent to which the art history degree Charlotte is studying now colours your lyrics writing? The lyrics in "April Rain" have a very strong visual element.
Charlotte: When "Lucidity" was recorded, I wasn't at university yet and was 17. So that wasn't like an influence back then. The lyrics for "The Gathering" were written by Guus and there were some songs written by another guy who had some really poetic stuff on there, which was really cool. I kind of needed a dictionary for some it, though. They are not my words but I was in a band with him before and he really influenced me in the way you look at lyrics. Still, it is a very different kind of lyrics than ones that I would write.
Martijn: But also very complicated words sometimes.
Charlotte: They were REALLY good-sounding and with a really good metronome to it. They were really well thought over and excellent. But it is still different when it's your own thoughts put to words. And from that, I think it has changed much from "Lucidity" to "April Rain". I guess those are a little bit more personal. But on the other hand, when you are talking about really regular things — like things that happen to you in day-to-day life — it is interesting to put them in a different kind of form. If you look at the art history study, it helps to have a different way to say something. Like if you are looking at "Virtue and Vice", it is about the virtues and the vices. You are talking about wanting to be something better and reaching out to them and saying, "I wish I was more like this virtue, or I wish I didn't have so much of that vice in me". It is just a more interesting way to say actually the things that I guess everyone thinks about every once in a while. So you keep them lyrically interesting but still comprehensible.
I'm feeling kind of lazy. So Charlotte, why don't you ask Martijn some questions. And Martijn, what would you like to ask Charlotte? The ruder, the better actually … please do my job for me. J
Charlotte: (laughs) Martijn, what have you got in your suitcase right now at this tour that you are really ashamed about?
Martijn: That's a good one! So, whatever I answer will be bad. I'm a totally boring guy if I have nothing and that's not good. OR I have something really strange, which is also not good. So, I'm screwed both ways. Let me think, what do I have in my suitcase that I'm afraid might be found and am ashamed about?!? I think I'm a boring guy.
Charlotte:
Not anything? Not even some dirty underwear?
Martijn: No, actually.
Charlotte: Ah right, it's the first day of tour.
Martijn: I think I wipe my ass very well. You asked for it!!!
That is SO being published.
Martijn: No no no no, don't publish that! Don't put that on the record … "wipes his ass very well". No, I really, honestly, cannot think of anything. Actually because my bag was stuffed with a lot of equipment.
Charlotte: That is true. We didn't get to take a lot with us, so we didn't get a chance.
Martijn: I have a book of Napoleon and some history. I'm a real history addict, so I know exactly who is there on the walls. (Points to pictures of monarchs and military figures in the restaurant.) But anyway, to answer your question, I'm boring.
Martijn, what embarrassing questions might you have for Charlotte?
Martijn: Actually, I'm even meaner. I want to know …
Charlotte: He's going to ask something that he already knows, that is really embarrassing. And then he is going to ask it anyway.
Martijn: No no no. What question would you REALLY hate to get in an interview … where you think, "Oh no, not THAT question!"
Charlotte: "What's your favourite colour?"
Martijn: That's a little bit disappointing.
Charlotte: I was just trying to keep it safe.
Martijn:
No, I mean like personal stuff.
Charlotte:
Personal stuff. Ah, when people dig too deep about what stuff is about. I mean, if you give a general impression like, "This song is about that". And some people keep going on about, "Then you said THIS word, and what does THAT mean?"
Martijn: Yeah, because she had her period back then, and she was very annoyed. This kind of stuff.
Charlotte: Exactly, exactly. Probably those kind of things. Or people who ONLY ask things that are in our biography at the website. Because then you just know, you didn't do your homework. That too.
Martijn: Okay, your turn I guess. If you have another.
Charlotte: My all-time favourite question, which I was asked once by a Japanese guy, and it is the weirdest question I ever got. If you were a fish, then what kind of fish would you want to be? They actually asked me this. I was like, "Salmon or tuna, salmon or tuna, salmon or tuna, salmon or tuna …?"
Martijn: I would like to be a dolphin.
That's not a fish, dude.
Martijn: That's true, that's true. It's a mammal.
Charlotte: A starfish is cute, like a little starfish.
Martijn: A brown starfish. No, I'm more into lobsters, but that's not a fish either.
Charlotte: Man, know your animals!
Charlotte: What about the Nemo fish. The Nemo fish is cute.
Martijn: That is gay. I think I would like to be a …
Charlotte: … you'd be an eel.
Martijn: An eel, yeah! Or a herring.
Last question and then "goodbyes" to all.
Martijn: What do you like about the lyrics of "The Gathering"? (sinister laugh)
Charlotte: I like the fact that no one until today has really figured out what it is about. Yeah, that is what I like most about it, I guess. And the lyrical theme is quite cool.
(Martijn continues laughing)
Charlotte: Asshole. (laughs)
Do you have any last profound and deep words for your friends, admirers and would-be stalkers at Femme Metal?
Charlotte: Please stalk us. We need the attention, especially Martijn.
Martijn: Don't read this interview more than once.
Actually, read it again but backwards. It's much more profound.
Charlotte: Yeah, there are hidden messages!
Many thanks to Charlotte, Martijn and Delain's tour manager Rik for being charming dinner companions and utterly gracious throughout. Our thanks also to Dave at EarsplitPR for arranging the interview.
Links
MySpace * Facebook * Twitter * Site
Latest Multimedia
Label : Suburban Records
Review by Tony Cannella
Holland's Kingfisher Sky began in 2001 when drummer Ivar de Graaf left the seminal Dutch band Within Temptation. He soon joined up with classically trained vocalist Judith Rijnveld and Kingfisher Sky was born. Their music is described as Progressive Myth Rock and this style can be heard on their recently released second album "Skin of the Earth". Kingfisher Sky's debut, "Hallway of Dreams" created quite a positive buzz in the Gothic Metal underground and "Skin of the Earth" is a step in an even more confident and grandiose direction for this Dutch band. Aside from the aforementioned Progressive leanings the band manages to add such varied influences of Folk, Symphonic and Gothic Metal. The Arabian feel of the opener "Multitude" and that is followed by the excellent mid-tempo, symphonic charged track, "Rise From The Flames". The hauntingly beautiful ballad "The Attic" is next. Other highlights include: "My Better Part", "Two Old Trees", "We Love Our Heroes" and the closer, "The Edge Of Sanity". "Skin Of The Earth" is just a fabulous sophomore release from Kingfisher Sky. Musically, Kingfisher Sky does show some similarities to Ivar's former band and Judith, at times, reminds me a bit of Sharon den Adel. To be compared to Within Temptation is never a bad thing in my opinion, but the songs that can be heard on "Skin of the Earth" are more than just Within Temptation part 2, Kingfisher Sky has really worked hard to create their own identity and their newest output does just that.
Rating – 90/100
Tracklist
Multitude
Rise from the Flames
The Attic
My Better Part
Like A Shadow
Two Old Trees
We Love Our Heroes
Mushroom Wall
Liquid Clocks
One More Day
The Edge of Sanity
Line Up
Judith Rijnveld – Vocals
Edo van der Kalk – Guitar
Chris Henny – Guitar
Maaike Peterse – Cello
David Guitierrez Rojas – Keyboards

Eric Hoogendoorn – Bass

Ivar de Graaf – Drums
Links
6 color styles available:

Style switcher only on this demo version. Theme styles can be changed from Options page.