Browsing articles tagged with " koskinen"
Interview by Robin Stryker
Femme Metal spoke with Leeni-Maria Hovila, frontwoman of Finnish extreme fantasy metal band, Kivimetsän Druidi, six months ago. Since that time, the band has completed a massive North American tour and released its sophomore album, "Betrayal, Justice, Revenge" (Century Media 2010). We are delighted to chat with Leeni-Maria again and get caught up on Kivimetsän Druidi's whirlwind of activity.Hello, Leeni-Maria! We're glad you could join us today.
First things first, please tell us about Kivimetsän Druidi's new album, "Betrayal, Justice, Revenge".
"Betrayal" is our second album — the first in which I have made most of the lyrics, and the first in which we have tracks composed also by our drummer Atte and lead guitarist Rinksa.
If you had to describe the new album's sound in three words, what would they be?
Massive, symphonic, complex.
The title, "Betrayal, Justice, Revenge", has a nice ring to it. Where does the name come from?
It is simply a summary of the things and ideas happening on this album.
From earlier interviews, it sounds as though the band was not completely satisfied with its debut album, "Shadowheart". How much of the harder, more aggressive sound on the new album comes from a natural evolution in Kivimetsän Druidi's music, versus lessons learned from the first album?
The compositions are all natural evolution which was not even as fast as it would seem by listening to these two albums. All the elements of the tracks on "Betrayal" were already present in the few new songs of "Shadowheart", but most "Shadowheart" tracks were both very old and some very new material which sound quite different from one another. On the other hand, the harder, more aggressive sound in general is all about making "Betrayal" sounding how we wished "Shadowheart" would, so that was about a lesson learned.
As I understand it, you are a classically trained soprano. Did you ever consider pursuing a career in opera, instead of metal?
I don't have a great desire for that. The opera world seems a rigid place to me, also I do not have such a big voice. If I do classic genre and I do study it at the present, I am a lied-oriented performer, that is an other-than-opera- kind of classic vocal style. I see myself in the future as a performing cross-over soprano artist, who is most probably chronically broke.
Would you introduce your bandmates, and tell us what you like best about each person?
Joni Koskinen is something of a leader amongst us, if at all it can be said that we have one. I like and sometimes even envy his confidence. He is one of the two of our main composers, who used to do all of the lyrics in the past. He is a founding member and does the growls as well as rhythm guitar. Antti Koskinen, the former's little brother, is our keyboardist and the other main composer. Antti is also a founding member, is somewhat multi-talented, and is very much self-educated as a musician. He is very empathic. Rinksa, our lead guitarist, is also a founding member, although the original idea of Druidi was Joni's and Antti's. But Rinksa has been aboard from the very beginning. He is quiet and conscientious. Simo-Pekka, our bassist, is big and reliable and older than his young years would say. He is always sensible, speaks the utter unquestionable truth, and others never have to worry for him. But, if he gets hungry and there's no food around, you'd better come up with some. Quick! Atte, our drummer, is as far as I remember the last line-up change before myself. He is very good in his area, and the only member besides myself who has at least some classic studies. He used to play the faggot – hold on, I have to check if that, in fact, is how it is written … err, no. I meant to say fagotto. Or bassoon, my dictionary seems to claim they mean the same. Atte is funny. The joker of the band. And open-minded.
"Shadowheart" was inspired by a fantasy story that Joni has been working on. What is the inspiration for "Betrayal, Justice, Revenge"?
I think it still is the same story actually, regardless of the fact that most lyrics are mine or even the fact that most stories of those lyrics I had thought about well before I joined the band. I simply decided — when Joni said I should try writing lyrics and I decided I should try using my old ideas — that fine, now all these things are going to happen in the world he made to happen and that's it. And the truth is that in those stories, both the ones Joni wrote and the ones I'd had in my head before, some very basic things always remain the same. It is the nature of stories regarding where and when they happen. The same things, the same big truths always are the ones that people write stories about or fight wars over. Love. Honour. Justice. Betrayal. Ideals, be they false or true. Religion is the only "big thing" we haven't touched and have no desire of doing so in the future, but I think that if you take religion down to the little pieces to find what it has eaten, what you will find are all those smaller things I already pointed out and some more of their kind. Like pride. Fear. Especially fear.
You wrote many of the lyrics for "Betrayal, Justice, Revenge". Does singing your own lyrics feel different than singing lyrics written by someone else?
Yep. I sometimes feel pretty stupid about them, and this time I can only blame myself.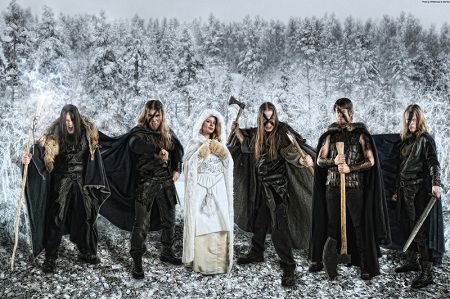 Are you a fan of fantasy? If so, what is your favourite work of fantasy?
Indeed I am. From the works of Tolkien, I prefer "The Silmarillion". The first books I ever read from the genre were the first "Dragonlance" trilogy. Perhaps my all time favourite is Orson Scott Card's strange little one-of-a-kind story "Hart's Hope".
Is "Betrayal, Justice, Revenge" mainly for fantasy fans, or does it have broader themes with universal appeal?
All the themes in our fantasy, as well as fantasy stories in general, are ultimately universal. They are always about the same things which make people move: love, ambition, ideals — betrayal, justice, revenge. Among others.
If you could select any Kivimetsän Druidi song for a soundtrack, which song would you choose and which movie would you put it in?
"Desolation: White Wolf" would be my pick — actually, we made a video for that one lately. Hasn't been published yet. Don't know about the movie, though … maybe it hasn't been made yet. Maybe we should make it. A full-length Kivimetsän Druidi fantasy adventure.
Most of the songs on "Shadowheart" are in Finnish, while most of the songs on "Betrayal, Justice, Revenge" are in English. Was the language switch intentional or happenstance?
Happenstance, actually. I sort of regret that, and hope to make more Finnish ones on the Number Three, whenever that may happen.
In November 2009, Kivimetsän Druidi performed at the Heathenfest Tour in North America, playing 20 different cities and covering 15.000 kilometres in the nightliner. What stands out in your mind from the tour?
Hollywood Boulevard. Giant turkey legs. Helmuth of Belphegor making me drink whiskey. Hilly views. Ridiculously good-looking night liners. Sushi places in NYC. A university campus cafe in Cleveland. Being slightly afraid at Detroit.
When you have a hectic tour schedule far from home, do you do anything special to make sure you stay sane and healthy?
Stay in my bunk whenever I feel bored. Go for a walk outside the bus when possible. Alone! Always, always have good and reliable ear plugs which damp out as much of surrounding noise — preferably talk — as possible. I can't always go for a longer run, sometimes I just jump or run on spot in the backstage or the hall before audience is let in. I go out, if only around the corner, to get a cup of coffee and look and listen to the local people.
Just reading about Kivimetsän Druidi's schedule in 2009 – a Russian mini-tour, writing songs for the new album, recording, going on the North American tour, and back into the studio to finish recording – exhausts me. Were you able to relax some after all that?
We did a little too much relaxing in the summer when we were supposed to be writing songs — or at least I did a little too much "relaxing" when I was supposed to be writing lyrics — so we ended up having to hurry in the studio, again. But it was not too stressing. It's not that all the band activity was overwhelming. It is this stupid thing called "normal life" like going to school, having to work alongside the school, paying the bills, having at least some hobbies and getting to see friends that makes things difficult.
What are the band's plans for the remainder of 2010?
Promoting "Betrayal, Justice, Revenge", doing as many shows as we can, perhaps getting to make a tour later in the autumn, also we have already lightly touched the idea of the Number Three Album if and whether there's going to be one. So writing new songs.
Thank you for taking the time to chat with us, Leeni-Maria. Do you have any parting words for your fans at Femme Metal?
Beware of fragile old bearded guys in strange looking clothes. They are bound to be wizards or something of the kind. Do not piss them off. Come check us out live. Get the new album, it really rocks. Rock 'n Troll.
Links
MySpace * Facebook * Twitter * Site
Latest Multimedia
Interview by Marc "Peston" Sels

Kivimetsän Druidi is a Finnish band that plays folk/gothic metal. The name means The Druid of the Stone Forest. In 2008 Leeni-Maria Hovila (ex-Exsecratus) joined the band and they recorded their first full cd, "Shadowheart". At this moment (November 2009) the band is on tour in the States and Canada, together with Eluveitie (Swiss), Belphegor (Austria), Alestorm(UK) and Vreid (Norway). Normally the new cd will be released in April by Century media. I had a short interview with the beautiful lead vocalist Leeni-Maria.
Hello Leeni-Maria. How is the American Tour going?
So far so good. We seem to have been a success allthough we had to make several shows without Joni – he's got the swine flu or something. Since we have been selling an increasing number of CD's and shirts regardless of his absence, he has said something on the lines that he's "never coming back, you guys do just fine without me. I'm going to be your manager or something". D, not likely, heh. OK. He'll be back on stage in San Antonio.
Can you tell us how you became the singer of Kivimetsän Druidi?
They called me. I was currently the vocalist of Exsecratus and Kivimetsän Druidi's manager had made a review of exce's first album so when Druidi wound up needing a new female lead, they basically called me at work. This was, I recall, spring 2008.
The first cd was mostly in Finnish. Don't you fear this may be an obstacle for fans outside Finland ?
So, one would think but no one has ever actually bothered to tell us so. It doesn't seem to be any problem to anyone. Record company has said nothing on the matter, quite the contrary. I remember them being supportive about the matter. Fans mostly come to tell us that they've self-studying Finnish to understand the lyrics first hand.
I saw you at the Metal Female Voices Fest this year and I found Kivimetsän Druidi one of the most impressive bands of the festival. How did you experienced it?
MFVF was certainly one of the biggest and best organized festivals we have ever been toand it felt like the perfect audience to us although we felt we were definitely heavier and more extreme than most acts there. And Brussels was a great city – we had a day off there afterwards because of flight arrangements.
A whole lot of bands are from Finland. Is there a reasonable explanation for it?
It has to be that dark nordic mentality.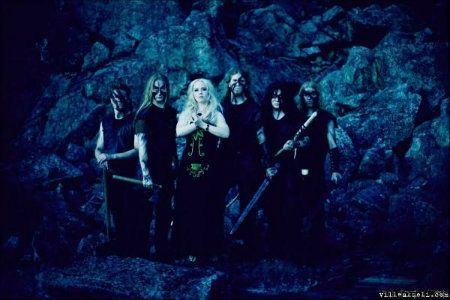 In your bio you mention Floor Jansen as one of your influences. What is your favorite cd of After Forever, and why?
"Invisible Circles", which is a great performance of switching between the styles.
Women are more and more placed as the face of a band. Doesn't that divert from the music?
It depends what they're there for. It depends on whether they go there to divert from the music or make it. There's nothing wrong with having a great rack and a pretty face. You still don't have to sell with them.
Can you tell us someting about the upcoming album, or is it top secret?
Well, it's going to better than the first.There's going to be songs composed and lyrics written by more members of the band than before. It's going to have so much variety it's actually a little horrifying. It's hopefully going to be out sometime late next spring, I think in April. It's going to kick ass!
Do you prefer to sing live on stage, or recording songs in the studio?
Augh!! Sometimes I hate them both, other times I love them. They are so different situations with such different sides that you really can't even compare.
At last, what are the plans for 2008?
Release the album. Promote the album like our lives depend on it. Tourish-kinda-things would be nice. Another Europe, maybe? Start making new songs for so far hypothetical number three, early enough so we won't be slightly buggered with it, as usual.
Thanx, and give my regards to Santa Claus!!!
I'll tell him to be nice to you this year. All the best, Leeni-Maria.
Latest Multimedia
Links
MySpace * Facebook * Twitter * Site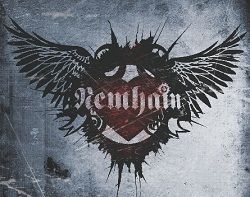 Interview by Robin Stryker
Gritty, Jack Daniels-fueled punk rock is alive and well in London. Nemhain, formed in 2006 by vocalist Amber Erlandsson and her husband, drumming maestro Adrian Erlandsson (ex-Cradle of Filth, The Haunted, At the Gates), have just unleashed their debut album, "From the Ashes" (released 22 January 2010 on Tiefdruck Musik). The band's name captures the essence of its music perfectly – Nemhain is the Celtic goddess of battle frenzy. And what a frenzy it is! With a pair of oven mitts and a fire extinguisher close at hand, Femme Metal sat down with Amber (aka Morrigan Hel) to get the whole story from the fire-breathing Welsh dragon herself.
Welcome, Amber! Please tell us more about Nemhain's blues-stained style of punk rock.
Cheers! It's best listened to when absolutely hammered apparently. We're loud, confident and wrong!
"From the Ashes" includes a raging cover of The Gits' "Second Skin" as a duet with Pete Dolving (The Haunted). Why did you choose this song to cover?
It was actually Lakis who came up with the idea. He came to try out for us and said whether he joined the band or not we had to hear this song and maybe cover it. It's a great song and fits what we're about. It's also a tribute to Mia Zapata and The Gits.
Which tracks mean the most to you personally?
They all do really, although my personal favourites are "Clear My Eyes", "Heroin Child", "Jane Doe", "Babylonia", "Speed Queen" and "Second Skin".
If I understand correctly, you were in a couple of bands and wrote many of the lyrics to "Girls Like Honey" as a teenager but Nemhain is your first experience with recording and gigging. What made you decide to go for it as a professional musician?
It's something I'd always wanted to do. I got to my 27th birthday and figured if I don't make a go of it now I'll have missed the rock n roll boat for good :S
Would you introduce the other members of Nemhain and tell us a little something about each one?
Lakis (Guitar): Is a strange creature from the planet Lak. He gets tangled in guitar leads, has nearly been run over a few times and attracts nutcases where ever we go. He also likes to pace a lot, especially in confined spaces!
Sam (Guitar): Is currently being taken over by his own beard. He has a talent for scat and does some cracking drive by scatting! He also seems to have a hat fetish and smokes brown roll ups.
Lisa (Bass & Vocals): Has OCD and a herd of wild Shitzus. She seems to attract hairy things. She also has narcolepsy and is made up of really intense energy drinks and the blackest coffee…
Adrian (Drums): Likes to hit things, a violent love/hate relationship with mobile phones, horrendous flatulence and a pocket full of pranks ready to weaken people at every opportunity. He's also extremely food aggressive, be warned.
Here at Femme Metal, we are suckers for romance. How did you meet your husband, Adrian? Was there a specific moment that made you think, "yeah, he's the one"?
I was working for Cradle of Filth at a signing when we first met, he'd only just joined the band. He chased me around plying me with Jack Daniels and trying to feed me things. He also fixed my boot which is always a winner. We got married after 7 weeks and now we're coming up to our 9 year anniversary! J
Lest people think that my dragon remark was rude, you really are a fire performer who has torched the stage with bands like Motorhead, Cradle of Filth and Godhead. How in the world does one get into the fire-breathing biz? Have you had any close calls?
Initially I was just messing around with a load of friends in the park, just for fun. A few years later I met my partner Sophia Landi and she taught me a lot and it all went from there really. When I was learning to eat fire and body burn, I got quite a few burns in my mouth/tongue and on my body but nothing too serious. The worst thing that's happened is that I ended up with Chemical Pneumonia from fire breathing. I was really sick for almost a month. Fire breathing is pretty lethal and I really wouldn't recommend it, it can kill you if you're not careful.
Turning from one type of blistering vocals to another, I understand that you have been working with a vocal coach for quite some time now. What areas are you focusing on at the moment?
I'd never had any vocal coaching other than two lessons with a friend back in 2006 and one three weeks ago with a lady called Tona Da Brett. I've got some vocal books and CDs but other than that I've just learned through trial and error and believe me there's been a lot of it ha ha!
Do you play any instruments?
I played violin at school but haven't touched one in years. I've got a lovely matt black Les Paul guitar and a red Zombie. I play mainly for fun and writing vocal harmonies but I'd really love to play live one day when I'm good enough.
With a background as a professional dancer, movie actress, performance artist, fetish model and Domina, you had extensive exposure to bands, performing and the media before forming Nemhain. Do you feel that your previous experience has been helpful?
To an extent it helps with stage fright but singing live for up to an hour takes a lot of stamina which is something I've really had to build up. When I first started out, I'd lose my voice but you learn to breathe and use the right muscles pretty quick! It's either that or no voice.
On the flip side, are you ever underestimated as "just an über-babe propped behind a microphone" (which completely ignores the fact that you write the lyrics)?
Ha ha, propped up! I do tend to prop myself up with my mic stand if I've had a few too many I'm sure there are probably plenty of negative opinions out there, but if you let that bother you'll just end up turning into a paranoid wreck. Anyone who knows me will know the amount of hard work that's gone into this band, there's a lot more than just writing and performing. There's artwork, promotion, booking gigs, organising shoots, the list goes on…
Nemhain and your stage name (Morrigan Hel) are both based on mythology. What is the lure of Celtic and Norse mythology for you?
I was fascinated by the Occult from an early age and part of it involved connecting with aspects of a deity. Celtic mythology is closest to my heart as it all comes from the UK & Ireland. I came across a book which featured The Morrigan pretty heavily & I had some really weird dreams after reading it. I then decided to take it on as a stage name, I think I was about 18 at the time. The Hel part is the Norse Goddess of the underworld and seemed like a good coupling. I used to skive off of school quite a lot as a teenager and spent a lot of my time reading about the Occult and Astrology, writing lyrics, drinking way too much cider and generally being a pain in the arse!
Time for random non-musical trivia … Favourite pair of ridiculously high shoes?
I've got a beautiful pair of black leather Alexander McQueen shoe/boots with skull details.
Cheese-toasties or chocolate?
Definitely cheese toasties, preferably with red onion and mayonnaise!!! Chocolate I can take or leave
Favourite piece of weaponry?
I've got a really nice, almost surgical style Japanese knife that I love.
Things you love?
My husband and close friends/band mates, my geriatric cat andsnakes. The smell of leather, music, fire, garlic, cheese, chili, travel, wildlife, food, booze, freedom, humour, the ridiculous and a good pub!
Things you hate?
Mediocrity, single white females, insecurity and jealousy are horrible traits, liars. Teddy bears, Hello Kitty, the overly processed, people with delusions of grandeur. Crowds and people who have loads of children without thinking about the consequences and then neglect them.
Causes that are closest to your heart?
Preventing animal cruelty, hate crimes and rape.
Your idea of a perfect day?
Being in bed with my husband
I was disappointed to read that the RockInvasion tour with Nemhain, Black Sonic and Die So Fluid has been postponed. Is Nemhain lining up new gigs?
It was a real shame but it will hopefully be rescheduled for later in the year. We have another tour planned for May with The Cumshots, M.A.N and Superbutt. It's a longer tour and we're really excited about it.
What plans do you and Nemhain have for 2010?
Finishing "Murder Mile" our photo studio, finishing and recording the second Nemhain album, filming a new video, tearing it up at festivals and live shows, and draining bars all around the world dry!
Thank you so much for taking the time to talk with Femme Metal, Amber. Any last words for your fans?
Thanks so much for all the support, it means a lot. Be sure to pour yourself a stiff one (or ten) and play "From the Ashes" until your ears bleed! XxX
Links
MySpace * ReverbNation * Facebook * Twitter
Latest Multimedia
Label : Solarfall Records
Review by Andrea Disgraced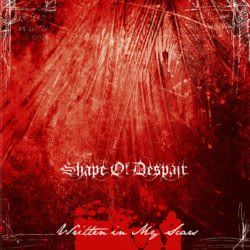 Masters of decadent funeral doom Shape of Despair are finally back after six years (not considering that sort of self-titled compilation out in 2005) of silence. Well, what we have here is "just" an EP, also a really brief one, considering the band and genre – total length is about 11 minutes for two songs, not an extreme length if you know what I mean. Moreover, it's always more difficult to judge an EP than a full-length, you don't have much to appeal to and in this case more than ever, since we have only two tracks. Coming to the music, I must say that I've been a bit personally disappointed, only hoping that this is an appetizer for a greater opus – arriving soon if possible and not in 5 years!

– which bring the band back to its throne of romantic funeral doom. Actually I say I'm a bit disappointed because all these years for two songs that, be it clear, are not bad but absolutely nothing you'll die for, seems a little poor to me. The EP kicks off with the title-track "Written in My Scars", whose soaring melodies place the song right in-between their latest two albums, without sounding too similar but letting us cast a glance in what might be the future of the band, which is a positive note in this sense. Most interesting for the readers of this webzine I guess, in this song you can hear Natalie Koskinen's usual backing vocals consisting in ooohs & aaahs that surely hel building the right atmosphere; nonetheless, don't expect to hear more female chants on this EP. Which isn't bad per se, every member of this band contributed to build a genre, and Pasi's distinctive, suffering growls are certainly able to carry the song. Only, since Natalie has a particular and cold clean voice, it wouldn't be bad to hear more from her in the future – and for those not knowing what I'm talking about, chech out her other band Depressed Mode. In this song is absoutely worth mentioning the good work done by Samu at the drums. Second track is titled "The Bliss of Sudden Loss", that nothing will add to your judgement or liking of the EP, in good or evil. But, I couldn't help noticing the initial and final riff (that accompanied by our usual and beloved SoD-keyboards bring a big smile on our doomy faces) sounds similar to the main riff of Draconian's "Scenery of Loss"… now maybe it's me who's not good at musical theory enough to judge but that's what my ears and "heart" told me.

In conclusion, I guess this is the typical fan-only release; I'm sure the band itself intended it that way. Now we're all waiting for more!
Rating – 63/100
Tracklist
Written in My Scars
The Bliss of Sudden Loss
Line Up
Pasi Koskinen – Vocals
Natalie Koskinen – Vocals
Jarno Salomaa – Guitars
Tomi Ullgren – Guitars
Sami Uusitalo – Bass
Samu Ruotsalainen – Drums
Links
Label : Century Media Records
Review by Tony Cannella
Finland's Kivimetsän Druidi have described their music as extreme fantasy metal. After listening to their newest release "Betrayal, Justice, Revenge" (awesome title, in my opinion), that is indeed a fitting description. The band include two lead singers with Leeni Maria on female vocals and Joni taking command of the growling, male vocal parts. The 9-songs and 45-minutes worth of music contained here feature some big, bombastic, slightly orchestral music, mixed quite nicely with symphonic power metal, Folk and even some elements of Thrash metal, which is never a bad thing. The CD begins with the melancholy timber of the opening piano intro "Lament for the Fallen" which leads into the absolutely crushing track "Aesis Lilim". Next the band tear into one of the best tracks on the CD "Seawitch and the Sorcerer". Other highlights include: "The Visitor", "Chant of the Winged One" and the final track "Desolation: White Wolf" quickly became another favorite. "Betrayal, Justice, Revenge" is loaded with some truly powerful guitar riffs and the duel vocals are well done and play a huge part in making this CD so enjoyable.Another thing I really liked about "Betrayal, Justice, Revenge" is the bands ability to be melodic at times while being aggressive at others.I have to say that it is always cool when a band that you're not at all familiar with turns out to be a powerful and impressive entity – such is the case with Kivimetsän Druidi. There are a lot of interesting, heavy and even some surprising not so heavy moments (such as the piano intro) on "Betrayal, Justice, Revenge". This Finnish band are really a force that I am sure will be reckoned with.
Rating – 88/100
Tracklist
Lament for the Fallen
Aesis Lilim
Seawitch and the Sorcerer
The Visitor
Manalan Vartija
Tuoppein'nostelulaulu
Chant of the Winged One
Of Betrayal
Desolation: White Wolf
Line Up
Leeni-Maria Hovila – Vocals
Joni Koskinen – Growling Vocals & Guitar
Antti Rinkinen – Guitar
Antti Koskinen – Keyboards & Backing Vocals
Simo Lehtonen – Bass & Backing Vocals
Atte Marttinen – Drums & Backing Vocals
Links
6 color styles available:

Style switcher only on this demo version. Theme styles can be changed from Options page.