Browsing articles tagged with " last"

Interview by Si Smith
Armed with a killer logo and a deceptively simple album cover, Lunocode burst onto the scene of female-fronted metal this year with a debut EP full of musical richness and progressive flourishes. Suitably apocalyptic in title, "Last Day of the Earth" will certainly not be the last word from these musical maestros, as the EP has enough variety and melody in it to keep the earth revolving for them in the near future. Femme Metal spoke to angelic messenger Daphne and rhythmic wizard Perseo to uncover more….
When you first got together in 2004 you called yourself "ANIMA" because the name was connected to the platonic meaning of "eternal and indivisible". Since names and meanings are clearly important to the band, why call the new band "Lunocode"?
Perseo: We wanted a more personal and unique name for our band and as "Anima" was a very common name we decided to change it just before releasing the "Last Day of the Earth" EP. Lunocode is a wordplay about "Lunokhod" and "Code". Lunokhod is the first rover to land on the moon and being radio controlled by man on Earth. I discovered that tiny rover during some personal researches I was doing on the internet and I liked the idea of this little probe exploring the unknown on another celestial body. The others too liked the idea and we started thinking about a good wordplay to transform "Lunokhod" in something more personal. In the end we found "Lunocode", merging the Russian "Lunokhod" with the English "Code". It sounds good and suggests something that has to do with Universe and Space, two themes that really fascinates us very much. The Russian word Lunokhod means "moon walker". "Lunocode" could be translated in English to "lunar code" or something similar and makes me instantly think about the black monolith of "2001: A Space Odyssey", as it was just found under the surface of the moon. Lunocode is a "new" word and has not a clear and unambiguous meaning but suggests a bunch of fascinating images and thoughts. This is the reason why we chose it: it's a fascinating name with a strong personality and it's definitely what we were searching for! A little curiosity: the fact that we started with Lunokhod, that is a Russian word (the machine was built by USSR), to create our monicker has something to do with our next FL too!
It is clear that the band members were friends for a long time before Lunocode ever existed. How does this affect the way the band works together as a whole? Does it come with its own problems?
Daphne: I'm the last one arrived in the group. The boys have a deep friendship, strengthened in time and it has given me a pleasant sense of tranquillity since the first time I met them. They are kind and put me at my ease at personal and professional levels. This attitude, positive and constructive, is one of the things that creates the right climate to do music: it's the ground where the expression of each personality can grow up and become more mature as a musician and as a person, through the exchange. Obviously, to be a friend means also clear honesty, then, we are free to say clearly what we think.
Perseo: I solely add that yes, we're friends since a long time (I actually know Giordano since the early days in the nursery school so we really are friends of a lifetime, we went to school together and we live in the same little country, only a couple of kilometres divides my home from Giordano's home and it's really the same situation between Paride and Francesco…and Paride is my brother as well!), but we also have a common goal that goes under the name of "Lunocode" and we work together for the best for our band! So yes there are, have been and will be, here and there, some problems (and I think this is very normal for every band) but we're strong and mature enough to rapidly solve them and our friendship is a great and unique support that helps us very much in every aspect of being together. Daphne inserted very well in the band and we're really happy with her.
Cecilia Menghi handled the vocals on this album: Daphne, what is it like having into step into her shoes? What is your vocal background? How did you hook up with the band? (sorry, that's a lot of questions in one, but we need to know!!)
Daphne: Cecilia and me has a different singing style. She is more turned toward power metal, then, maybe, she was more at her ease than me in the old songs. My background include prog-rock, prog-metal and dark: my vocal style is oriented towards a very interpretative way. I love so much to play with dynamics like changes of vocal register and of volume. I love to feel the songs deeply in their meanings and give a special "dress" to each one. I think it's not a question of value, but it's a matter of feelings and of personal taste. I like to sing this way and it fits perfectly with the new style Lunocode decided to implement in future songs. How did I hook up with the band? Perseo and me meet the first time in Prato, at a rock concert, some time ago, accidentally. He was searching for a singer and then we started talking about this collaboration: it went very well just from the beginning!
The album teaser you put up on YouTube at the end of the last year began with some philosophical statements about "the need to find different meanings for the same old concepts". How does your music reflect this concern?
Perseo: I'm glad you watched the video on YouTube! "Last Day of the Earth" has a conceptual nature and the "basic theme" of the concept is about losing all the convictions and all the happiness after a tragic event. When this happens many and many questions arise in one's mind and one could find himself searching new meanings for old concepts like pain, life, passion and, most important, death. This journey is described throughout the 4 songs composing the mini-concept and this is the reason for the statement you've seen on the teaser.
In 2011 the new album hit the stores. Since "Last Day of the Earth" is a type of concept album, could you tell us how the concept evolves through the main tracks?
Perseo : "Last Day of the Earth" is a mini-concept album, as I said before and every song has a "job" to perform to carry forward the story behind the concept. This is made clear on the back cover of the CD-Rom version of the EP because in the tracklist each song has a "subtitle". "Flow, My Tears", for example is "Falling from Grace", denoting the start of the journey: something has gone bad and we have lost certainties and convictions, everything is changed and we have no more a solid base for our life. "Universal Plan" is "transition": after falling from grace one is generally sad and depressed and reflections start to get darker and darker and sad as well. But this is just a moment, a transition. In fact, during the song "Universal Plan", we start from darkness but, at a certain point (I'm referring to the "special" section in the middle of the song, right after the solos) some "light" is shed upon the darkness: positive cosmic concepts are introduced (Carl Sagan, Fred Hoyle, Stephen Hawking and others are quoted here and at the end of the song with their beautiful statements about universe and man condition), something starts to evolve and the world can be re-read with different meanings for sad or happy facts of life in mind. This makes a person do the first step toward final salvation. The interesting thing is that everything happens in our minds: our approach to the Universe changes our life radically while the Universe remains the same at every moment. In "Heart of the World" ("Reflections of Autumn", where is described the scene you can see on the cover of the cd, with the man and the tree: "I'm staring at the sunset in silence in this autumn evening, On the top of this hill sitting in the grass everything is whispering Infinity") and "Silent Thoughts" ("Final Step (..?)", where the concept ends…or starts again? J) this process continues and comes to an end…at least for the main character of the story, but I'll let you interpret the end by yourselves! I don't want to explain too much of the story 'cause I think that, in this type of concept album, the listener should be able to build up his own vision and interpretation. What I described here are just the "basics": in the album there is so much more and I will let you find it all!
Is the EP the beginnings of an upcoming full-length, or is it a stand-alone piece?
Perseo: The EP "Last Day of the Earth" is really a stand-alone piece with its own character, story, sound, artwork and themes. It is not a preview of the FL, it's just a "mini-concept" representing our debut!
Daphne: "Last Day of the Earth" is a "stand-alone" work, as you said. At the same time, we are working on a new EP and on a FL. The new EP will live an autonomous life with respect to the other two works, but will overlap with the FL. We're going to enter the studio in summer and we hope to give birth to it in autumn. Surely, the FL will require more time. So, keep in touch with us!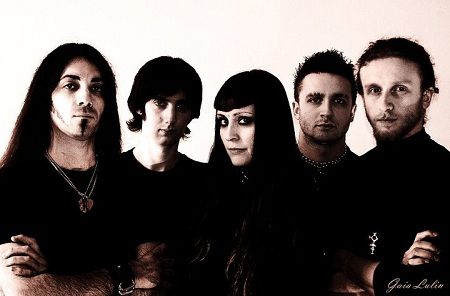 Italy is well-known for its power metal, thanks to bands such as Rhapsody of Fire and Luca Turilli's work in general. How do you feel that your band stands out against these other Italian stalwarts?
Perseo: We're a young band and we do essentially what we like to do with enthusiasm and passion. Rhapsody of Fire is a gigantic band with worldwide reputation and with many and many years of career: we watch them with great respect. Lunocode and Rhapsody are really different animals. Lunocode is basically just a small band but we're very determined in doing what we do because we like it: we hope this is the key…doing just what we feel we have to do at our best!
Daphne: Maybe only in offering something simply different. It doesn't mean better or worse, but only something else.
On the first main track, "Flow, My Tears", Cecilia has to reach some quite high notes. Daphne, are you going to sing the songs as Cecilia did, or are we going to see a completely new interpretation of the songs?
As I said before, I've got a different approach to the songs and my interpretation is something completely different. I will obviously maintain the melodies and arrangements but I will interpret them with my own sensibility.
"Universal Plan" contains many queries and thoughts about the meaning (or meaninglessness) of life. Do these reflect any particular spiritual or life beliefs of any band members or is it just a great lyrical subject?
In "Universal Plan" lyrics starts with a quite "dark" image of someone under the rain reflecting about being a "nothing" in front of the vast Universe and about being just a "gear" without importance in the cosmic game of life and death. I can say this image is certainly a good lyrical subject but the truth is that all I've written in "Last Day of the Earth" is very autobiographic: I like to write about reflections that I do when I find myself alone and I use my time to think and think…and the Universe and the human condition really fascinate me. In "Last Day of the Earth" I wanted to share some thoughts of mine with people that listen to our music but I also wanted to try to drop a "seed" of peace, compassion and equality in the large World hoping that this seed could influence someone: also if it's one person only I am just happy, because this means that the world has became just a little better. I'm an atheist and what I say is not, in any case, related to religion, I want to make it clear. But I think humankind has a natural spiritual side that is, when united with rationality and science, our real strength. To understand what I'm talking about when I say "spirituality" you can do a little experiment by yourself: search "pale blue dot" in google images and do a little research about this theme…surely you'll get what I'm talking about if you listen to your feelings J
I see the song "Heart of the World" begins with a drum solo: nice one, Perseo!! Do you play the drums each time the same when you rehearse as a band, or is there room for "creative interpretation" within the tracks? Do you get much time to rehearse together?
Thank you very much! I'm really happy I can say something about that drum solo: someone could hear a "quote" from a famous drum solo by Cozy Powell. Do you remember the solo Cozy does as an intro to the song "Stargazer" in the Ritchie Blackmore's Rainbow album called "Rising"? The drum solo I do in "Heart of the World" is specifically composed to be a variant of THAT drum solo and it's my tribute to one of my favourite drummers of all the time: Mr Cozy Powell! I love his rock-solid drumming and I wanted to pay tribute to such an inspiration for me. However the drum solo in "Heart of the World" is composed by two parts: the first is my tribute to Cozy, the second (starting when the guitars kicks in) is a much more subtle tribute to another drum legend and another of my top 3 favourite drummers: Mark Zonder of Fates Warning. The second part of the drum solo is freely inspired by the drum parts that Mark plays in the song "Pale Fire" by Fates Warning in the album "Inside Out". Excuse me if I wanted to make public this tribute that I, with maximum respect, decided to pay to those great drummers…but it's important for me! J To finally answer your question, as the drum solo is composed with this in mind, I usually play it the same every time and it's the same for the majority of the other drum parts in the various songs even if there is, in some specific parts, enough room for interpretation and for having fun playing drums live. As a band we usually group together to rehearse 2 days a week and we group together in our studio another 1-2 days a week to write new material, to record demos, arrange new songs etc..normal band activity! J
It was quite brave to include a 9 minute ballad on such an EP! It seems at a listen that "Silent Thoughts" represents the end of the main part of the album, and the last track seems a bit different (not to mention short compared to the other songs). What was the intention of adding this acoustic track onto the end of the album?
Yes, "Silent Thoughts" represents the end of the concept "Last Day of the Earth" (for this reason it's a lengthy song) and "Invisible Tears" (Acoustic Version) is a so-called bonus track : Lunocode is our new monicker and the previous band monicker was Anima. With the monicker Anima we published a demo-cd, called "Birth" that contained 4 songs (I think you can find it online somewhere). The song that, in various reviews, was elected as the best song of the demo was "Invisible Tears" as so, in our debut EP, we wanted to put a reference to our past by adding, as a bonus track, an acoustic version of the best song of our old demo. We rearranged and reworked the song and put it at the end of our EP: I think it's a good ending theme for the CD.
Daphne, no matter how great a band are musically, fans are often drawn to the front-person as a focal point for the band. Please tell us what kind of a person you are, and what are the things that interest you and make you happy?
Daphne: Oh, I'm sociable and I love to laugh (Perseo can confirm it…maybe I've hit a new world record in knowing the largest number of quotes from sarcastic and demented films!). The things that make me feel happier are: sharing good moments with the people I love (especially in concerts), singing on stage with Lunocode and having the possibility to meet people with the band, to talk with them, to exchange opinions and emotions.
With such as strong musical opus behind you, are there any plans to bring the music to the live stage soon? If so, would it be limited to just Italy, or would you like to set your sights further afield?
Perseo: Yes, we made our first show with Daphne in a small but beautiful pub called "Rock Highland" in Arezzo, Italy, last March (there is actually one video on YouTube) and we played "Heart of the World" and "Universal Plan" as well as some brand new songs. We'll play in Rome at Pictures of Prog festival (April 23, 2011) and in Barletta (Bari, June 19, 2011) at A.Live Rock Festival : you can find all the updates on our social network profiles (we have Facebook, MySpace, Last.fm, ReverbNation, Twitter…search for us!). It would be really fantastic to play outside Italy but, as we're working on a new EP and on our FL, we're actually concentrating on studio work. In future, maybe, we'll also travel outside Italy: we really hope so!
Finally, let me just give a big thank you from all at Femme Metal, and we wish you success with any new plans for Lunocode!!
Daphne: Thank you so much for the occasion you gave us to talk about our experience to you and to people who read your great site. Bye!
Perseo: We thank you for this great interview and we hope you all stay connected with us because we have some news to share during next months! To all the readers interested in us: for everything about the band check www.lunocode.com. Thank you again and goodbye!
Links
MySpace * Facebook * Twitter * Google Plus * Site
Interview by Miriam C.
For the second time in this webzine we give space to the Italian progressive power metal band Lunocode promoting their latest work "Celestial Harmonies". This time the questions have been replied by drummer Perseo Mazzoni and singer Daphne Romano. Just a curious info – this interview was scheduled to be face to face but 'cause of the bad weather our editor Alessandra didn't make to be at the location by the way at the end it come out a real nice, as always.
Hi Perseo and Daphne, welcome to Femme Metal Webzine and how are you??
Perseo: Fine thanks, a bit tired but happy. The last two weeks have been great with two concerts, the first in acoustic, at Teatro di Anghiari with the show "C'è Vita intelligente sulla Terra?" (Is there intelligent life on Earth?) togheter with Francesco Cecconi and the last, just two days ago, in Rome, with Ivory Moon and Blind Horizon. We discovered that our acoustic side works very well and playing in a theater is something very special, something magic.
Daphne: Yes, two different and exciting gigs. The acoustic set in particular: I have to admit that it's been really thrilling.
Well, first of all, do you mind give us more insights about your biography?
Perseo: Lunocode formed in 2004 under the name "Anima". We played mainly cover for about 2 years and had another singer. Then we started writing new material and in 2006 we released the demo "Birth". The demo went well and we continued writing new material. At the end of 2010 we gained a contract with Spider Rock Promotion and in January 2011 we released the EP "Last Day of the Earth" that also went very very well. At the end of 2010 our previous singer left the band and we found Daphne. After releasing "Last Day" we continued writing and in January 2012 we released our debut album, titled "Celestial Harmonies". And here we are.
According the site, the band's name "lunocode" is a wordplay between Lunokhod and the english word Code. From where did you get it?
Perseo: I was watching a documentary about this Russian rover sent on the moon. It's been the first radio controlled rover to be sent on another planet. I thought it was very interesting and I proposed this name to the band. Giordano came out with the wordplay and everybody liked it so we took it as the new band name.
In your discography we can count the demo "Birth", the "Last Day of the Earth" EP and your debut "Celestial Harmonies". As I remember "Last Day of the Earth" EP was a stand-alone piece of concept. This time with "Celestial Harmonies", as your label states "It's a moving journey thru the Cosmos with the purpuose to search the origins and life's origins" although you declare that the album is not a proper concept. Can you tell us more about the album's lyrics?
Perseo: "Celestial Harmonies" is not a concept in the sense that we're not telling a single story that starts on a song and continues through the other songs of the album like a concept album usually do. "Celestial Harmonies" has a fil rouge, a loose connection between every song, but it's not a concept. Every song tells something about humankind, the cosmos, life or nature and things like that so, in a sense, is a trip through cosmos, a voyage by which we can explore the meaning of life, the universe, the pain and the joy of being alive.
"The Origins of Matter and Life" is a suite long almost 30 minutes. What insight can give us about it and also are the suite's lyrics a concept ?
Perseo: "The Origins of Matter and Life" is actually a story which develops through the songs "On Matter and Mind", "High", "The Cosmic Architect", "Tree of Life", "Crossing the Line" and "Albert II". Is a fictional story about a character (at the very end his identity will be revealed) who starts thinking and, by this act, gives birth to a universe in which he finds himself in. He then starts exploring this new world and he asks himself questions about what's happening all around him and even to himself. Following this questioning the story of this suite unfolds till the end when a dramatic turn of events occur. I prefer not to explain all the details of this story, as I think everyone, if interested, has to discover the message by himself.
For what I get the album was mastered by Ronan Chris Murphy, that has worked with legends like King Crimson, Steve Morse and Ulver. When and how you have contacted him and why work specifically with him?
Perseo: I followed him on internet, on his YouTube channel, on his Facebook and as I think he is a great engineer and producer, I asked him if he was interested in working with us. This was happening in 2010, during the "Last Day of the Earth" mixing sessions. He said yes and I sent him all the audio bounces. As I find myself very confortable working with him, I contacted him again in 2011 and asked him to master "Celestial Harmonies". Again, he said yes and I sent all the material. He made a great work and he was surprised about the songs quality and the big step forward we made in songwriting during the last year. Working with him has been so great!
"Celestial Harmonies"'s cover transmit a feeling of peace. Do you mind explain the meaning's cover building into your personal opinion about it?
Perseo: I too think so and this sense of peace was one of the goals I wanted to achieve with this cover I developed. The airplane you can see on the cover has a particular meaning to me, as actually is a wheater vane my grandfather has built. The cover is in fact a photo and not a computer generated image.
What are the band's influences?
Perseo: I think we are working hard to find and extract our real self so for sure there are influences but I think they are becoming more unconscious day after day. If I had to name just one band, I would name Anathema.
What difference you can see between the debut EP "Last Day of the Earth" and "Celestial Harmonies" in matter of musical style and lyrics? Do you feel more mature?
Perseo: There are big differences but, at the same time, the differences are not so big. In both albums the writing style of the lyrics remains the same, maybe in "Celestial Harmonies" our acoustic side is more prominent, but even in "Last Day of the Earth" there is a completely acoustic song called "Invisible Tears". Maybe in "Last Day of the Earth" the songs sounded more heavy but even in "Celestial Harmonies" we have heavier songs, like "The Cosmic Architect" or "Sin Cara". I think "Celestial Harmonies" is a more mature work, and a natural evolution from "Last Day of the Earth".
Daphne, what are is your musical background? Did you ever do any vocal training?
Daphne: I like different kinds of music like rock, metal and electronic. About my influences, I can say Freddie Mercury, Anneke van Giersbergen and Lisa Gerrard have always been a great inspiration for me. Today I found with Lunocode some new colours in my voice and in my soul that I've never suspected to have. I think I'm evolving…but, who doesn't? I studied opera singing for 1 year, years ago. Now I'm studying modern singing with a great Italian singer. I think singing is a vast world where you can always discover something new: I'm curious, I have a thirst for knowledge and I think exploring the voice potentialities is one of the most stimulating and satisfying elements of singing.
What we can expect next? I read in the website an East European tour with Theatres des Vampires…
Perseo: Yes, we've been on tour with TDV and JTR Sickert and it's been a great adventure and a great experience for the whole band. They are smart and nice people and we enjoyed very much visiting East Europe and Turkey! Then, two weeks ago, as I already said, a dream came true for me, to play with Lunocode in a real theater, in acoustic. We played 10 songs in Teatro di Anghiari (Tuscany, Italy) for about an hour of show. We re-arranged some songs from "Celestial Harmonies" and "Last Day of the Earth" in acoustic and we even played "The Origins of Matter and Life" from start to end! The show has been recorded so maybe we will use those recordings in the future! Other plans for the future? We have some ideas to record a new album, you will hear from us soon!
Daphne: Yes it's been amazing and crazy sometimes! Cool musicians and stuff, great audience, life on the road and foreign countries.
Well, Perseo and Daphne, I really thank you for this interview, I hope you like it! Please greet our readers (and your fans) freely! Thanks again!
Perseo: Thank you for your time, hope to see you at our shows! If you want, you can buy our cds at www.lunocode.com or follow us at www.facebook.com/LunocodeFan
Daphne: Thanks to you and all the readers of Femme Metal Webzine! See you soon!
Links
MySpace * ReverbNation * Facebook * Google Plus * Twitter * Site
Label : Spider Rock Promotions
Review by Tony Cannella
The Italian heavy prog, power metal band Lunocode, introduced themselves to the metal world via their debut 6-song EP in 2011 called "Last Day of the Earth", now they return with their debut full length "Celestial Harmonies". Even though there are less songs here than on their initial EP, "Celestial Harmonies" clocks in at about 57-minutes long, not bad for an album that only has 5-songs. Yes, Lunocode are most definitely prog metal, but you will definitely also find some power metal influences as well, as the pounding guitar driven opening track "Sin Cara" more than proves. Lunocode slows things down a lot with an acoustic version of "Heart of the World", a song which appeared on their debut EP. The next track "Indifference" is almost 10-minutes long and one of the proggier tracks on "Celestial Harmonies". This features an incredible melody and manages to maintain a hard rock edge with a thundering guitar riff that is pretty consistent throughout the song. This song also includes a guest appearance by Olaf Thorsen from Labyrinth and Vision Divine. Next we have "Misty Visions of an Ordinary Day", which once again slows the pace down a bit – aside for some blasts on heavy guitar. This leaves us with the epic – and I do mean epic – prog metal masterpiece, the 29-minute "The Origins of Matter and Life". This is a brainy, concept song that is divided into six parts and undoubtedly the most grandiose thing the band has done in their short career. Throughout this masterwork of a song, some of it is reminiscent to movie soundtrack music; it definitely has got that feel to it. With "Celestial Harmonies" these Italians have really out done themselves, especially on the amazing final track. Lunocode have set the bar incredibly high for future releases, but for now in 2012, they have released an album that they can and should be proud of.
Rating – 86/100
Tracklist
Sin Cara

Heart of the World

Indifference

Misty Visions of an Ordinary Day

The Origins of Matter and Life ( I.

On Matter and Mind; II. High; III. The Cosmic Architect; IV. Tree of Life; V. Crossing the Line; VI. Albert II)
Line Up
Daphne Romano – Vocals

Paride Mazzoni – Electric & Acoustic Guitars, Keyboards

Giordano Boncompagni – Electric & Acoustic Guitars

Francesco Rossi – Bass

Perseo Mazzoni – Drums & Vocals on "Albert II"
Links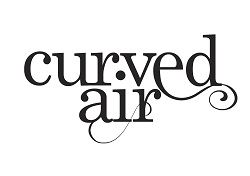 Interview by Matteo Bussotti
It's always an unfathomable emotion every time we have a musician of great importance here on Femme Metal. This time we are really, really proud to have Sonja Kristina, Curved Air's lead singer on our website. Her answers to my questions are simply stunning, and it is an incredible opportunity to interview an artist who's been in the music industry for such a long time. Of course I had to ask her questions about the past, but also the present and the future. Her answers are an insight about how music's world has changed through these decades. It is with great that I, once again, introduce to you Sonja Kristina. I hope you enjoy this interview as much as I enjoyed making it.
Hi Sonja! I must say it is really an honor to have such an important musician here on Femme Metal! My first question is an obvious one: how does it feel to be back on stage?
Thank you, it feels surreal.. timeless and timely.
You are just about to release a live album, "Live Atmosphere". Do you have any plans on recording new material, after your 1976 last album, "Airborne"? (I'm not counting "Lovechild" as your latest album because it was recorded before "Airborne")
This band is very diverse in its influences and also respects the Cuved Air legacy. Yes we will create fine new material together. My first task is to know what I want to say in this time for these times. Each song must explore and express truthful experience – once a song is born it seems so natural but some births are easy some require more gestation.
In which ways do you think Curved Air has changed in this 40 years of career? You can talk as much as you want, feel free to say whatever you want!
I think the first album was very atmospheric and powerful and carried in it the experience of many live performances during which the songs developed. Each album was innovative due to the style and talent of the composers, Darryl Way and Francis Monkman. The second album contained "Back Street Luv" and the great show stopping piece "Young Mother" Darryl became more drawn to melodic simplicity with perfect beautiful arrangements while Francis took the music into more involved and intricate experimental places . This is how they grew apart. After Darryl and Francis and Florian went their own ways, Eddie Jobson at 17 was a perfect replacement to satisfy the expectations that Curved Air produce classic dramatic progressive music. Francis's alter ego within the original line-up was his brilliant edgy guitar virtuosity – also a hall mark of Curved Air. Kirby Gregory took over that role… also young he kept the rock energy high and was a very exciting performer. Mike Wedgwood contributed a couple of songs which added to the album's diversity and I am very pleased with these interpretations of my songs, "Easy" and "Elfin Boy". This album, "Aircut" is my next favourite after "Air Conditioning". Then when the original group reformed and we recorded our live performances something was revealed that was not on the studio album. "Live" caught me in full flight, raw and abandoned… out of control, not fettered by expectations of perfection. It is a great imprint of the power of Curved Air in the moment. "Love Child" is sketchy… my four songs were recorded as ideas for the next Curved Air album after "Aircut" but the band had disbanded, I am happy that they are available now though. "Midnight Wire" was a strange period, it had a more American bluesy influence from the new players . Darryl enjoyed this colour and his melodic pop inventions were embroidered with riffs and funky elements, I was in a dark place so my friend Norma was my voice lyrically, speaking my reality, I couldn't write a sensible sentence at the time. "Airborne" was in my opinion a collection of diverse styles – a band with no direction, different writer's statements, I like "Broken Lady" best, an intimate personal song.In 1990 after years of our individual projects the original band re-grouped and played two shows : the first of which, a magical, historic night was recorded through the sound desk and became "Alive 1990″. It was a confident dynamic reminiscence and it is good that it exists as a very rough recording. Curved Air today is a cauldren of potential. We are truly truly alive : new players, Paul Sax, Robert Norton, Chris Harris and Kit Morgan adding nuances and fresh interpretations of the best of Curved Air's history and forming new masterpieces to add to the future albums and for the audiences who have welcomed us and are hungry to hear this music again played live to to hear what will be created next. This was why we recorded "Live Atmosphere".
And…what about the music industry? How was in the '70s? And how it's changed now? You don't have to be "gentle", if you think something, tell us, I give you the permission to be as nasty and honest as you want!
In the 60s and 70s great independant rock groups and artists were very fertile but there were not so many bands and recordings available as there are today. There was a great thirst for the exciting and inspiring material that people were hearing on the new independent and pirate radio station. Radio Luxemberg was very influential and the 'underground' scene that spawned psychedelic, cosmic and progressive fusion bands as well as singer songwriters and folk influences. Then there was Lou Reed and David Bowie. The New York charged Punk era was a different colour of stripped down direct communication and theatricality. The Eighties were weaned on the sixties and seventies and kept the punk theatrics and pop explorations and launched the mighty robotic Art of Noise bass and snare sound, new voices. The Police, the Smiths…. The Nineties was the era of Ibiza house dance computer white label DJ music, everyone was the star at the raves and clubs, always little fringe clubs too with all kinds of genres being explored in the back ground… in the foreground rap and Damon Albarn, Nirvana and Oasis. Now there is so much diversity from Radiohead to Sigur Ros. However the media generated X Factor etcetera is a talent contest that seems to regurgitate and reproduce and never find the soul of this generation listening to the past great performers and waiting for inspiration.Today everyone can broadcast themselves, record themselves, everyone one has a voice and there is so much that is not transporting or truly inspiring : Justin Bieber and Lady Gaga and the boy bands and girl bands are charismatic entertainers amplified and adored but this in not all that people want?
Sonja, how did you get started? Why and when did you start singing?
As a young child aged 7 I used to recite poetry at school and loved creative writing. Both I found put me in an altered meditative state that I enjoyed, as a result of intense imaginings, I learned to play a little piano and then a little guitar and learned songs from a book of 101 American Folk Songs. When I sang them people became entranced and were encouraging, so it was a rewarding activity also there was much of interest in acoustic music folk styles and blues and songs and singers – I heard Buffy Sainte Marie and her passion and beautiful delivery and songs were a big revelation, the Incredible String Band later, Robin Williamson's unique melodies especially delighted me, Bob Dylan's word weavings. I also was a fan of Dusty Springfield and the early Rolling Stones, I learned songs I liked and began to write some of my own and found folk clubs were places where people like me could show up and sing..
What was the main reason that got you say "Ok, let's do this, let's get back on stage" back in 2009?
Darryl Way had been asking for several years if we could try a reunion tour and Francis and Florian were up for it. However I was busy writing and recording with Marvin Ayres as MASK and I felt I couldn't divide my creativity.Then in 2008 Marvin and I had finished our second album "Technopia" and Darryl asked again so I thought that it would be a positive time to try taking Curved Air out and continue what we had started so many years ago. Francis however wanted to start again with new devised material and not deliver past songs and Darryl wanted to perform the best of our old material. They could not agree so Francis dropped out. After a few months of touring Darryl found it all too stressful and became unwell so he dropped out too. However we had already a wonderful guitarist and bass player, Kit Morgan and Chris Harris, and to replace Darryl I invited two musicians I had worked with in the late '80s /90s., violinist Paul Sax and Keyboard player Robert Norton, this is a group of virtuoso players who are happy to tour. Florian Pilking Miksa, the original Curved Air drummer has never played better and this lineup is a godsend for both of us…
You career spans for decades. If you had to pick…let's say 5 favorite moments of it, which ones would they be?
Playing the RoundHouse in Camden Town in 1970 and all our concerts there; The opening night of "Hair" at the Shaftesbury Theatre, London in 1968 and the entire run; Running my psychedelic wednesday nights at the troubadour club in Earl's Court in 1967; Playing with my Acid Folk Band on the Acoustic Stage at Glastonbury Festival in 1990 and all through till 96′; Playing in New Orleans in a sweltering arena supporting BB King and all the other US stadiums in 71/72.
And what about the songs? Can you list some songs (as many as you want) to whom you're really attached, for any reason?
David Bowie – "Five Years", "Wild is the Wind", "Golden Years"; Buffy Sainte Marie - "Until Its time for You to Go". Guess who I saw in Paris Janis Joplin: "Me and Bobby Mcgee", "Summertime"; Edith Piaf - "La Vie en Rose"; Jeff Buckey - "So Real"; Dusty Springfield "Snow Patrol" – "Chasing Cars"; Seal – "Kissed by a Rose".
Back in the 70s, why did you choose prog-rock? What attracted you to this musical genre?
I didn't chose it, it came to me. Curved Air needed a singer, I enjoyed their sound.
Can you remember the (almost) exact time when you were aware you were one of the most important prog-rock bands of your time? How did you feel at that time?
When we were rehearsing our set and Darryl played "Vivaldi". It was exciting, I felt this music was important like I knew "Hair" was groundbreaking theatre before the show opened in London and I was privileged to be part of it. I felt the same about this band.
You had lots of line-up changes. What have you learned from every Curved Air's member, how did every one of them influence the band as a whole? Of course, you don't have to list everyone (but you can if you want!), but maybe the most relevant ones (no offense intended for the other, of course!)
Francis Monkman was three things: an innovator of sound manipulation – a fearless guitarist and beautiful keyboard player; Darryl Way played violin in a true classical rock style and immersed himself in the latest technology for sound modulation for the violin and wrote great tunes; Rob Martin was a melodic bass player who also contributed beautiful pieces to "Air Conditioning"; Ian Eyre – flamboyant and dexterous bass player; Eddie Jobson - precocious brilliance, courage; Kirby Gregory – cool, hypnotic – true rock n roll attitude; Mike Wedgwood – loyal, solid great bass player; Phil Kohn - witty , quirky, funky; Mick Jacques – cool, expressive, kind, a real gentleman; Stewart Copeland – anarchic, ambitious and driven, very creative drummer.
Among your seven studio albums, what was the most difficult to record? Or, maybe, the one you're attached emotionally the most?
The most difficult to record was "Midnight Wire" – our first recordings were rejected by RCA so producers were brought in who forced the band to rewrite and rerecord the whole album – a miserable experience.The original version was great unfortunately now lost.
What can you tell us about your involvement in the acid folk movement in the '90s? How did you get attracted by it?
I was relaunching my career in 1988 when my youngest child was three, I was looking for a musical scene where I belonged, to begin again in those times. I returned to the Troubadour club in Earl's Court London where I had heard a "new acoustic scene" was happening, I watched and felt excited by these new young singer songwriters playing without amplification with personality and attitude. I took my turn to sing like I did when thirteen years old : I felt the fear of intimate exposure and began to write new songs. I was invited to play a headline set and sang all new songs accompanied by my new friends then I heard of the psychedelic scene when all kinds of weird and alternative new bands and poets and performance artists were attracting the new traveller hippies and newage punks. I asked to play and was made welcome. I gathered a band of strong improvisers – two brothers who were wild – Simon who played drums and steel drum and Tim who sang and played deep dark acoustic guitar – a brilliant violinist who a friend had seen busking with a street band – Paul Sax (now the violinist with Curved Air) a five string bass player and a fifteen year old child prodigy cellist. We played clubs and bars and colleges and festivals, sometimes unamplified – without even a mike, at other times electric and loud, with an oil wheel lightshow even in the most serious folk clubs. We toured for 7 years.
And what about your solo career? Did you get the chance to express ideas and explore things you couldn't have done with Curved Air?
My solo career is just continuing what I did before Curved Air, writing songs… except creating with my own bands and musicians and lately with an inspiring modern- classical composer/ multi instrumentalist Marvin Ayres.
Progressive rock now is not very followed worldwide nowadays. Talking about your fans, do you see new faces at every gig, or do you have your "high-fidelity fans"? I mean, how do younger people react to your music? (Needless to say that as soon as you'll come playing to Italy you'll see my face among the crowd!)
I have been in Italy on Halloween October 31st at the Xroads club in Rome with your band Oak who play progressive rock of their own and also covers of other progressive songs and instrumentals, I have been their special guest and they have been playing some Curved Air songs and I have sung other songs with them.There are young progressive rock bands in the UK who have supported us at concerts and festivals. They heard progressive music when teenagers and started writing their own music, yes there are new fans and children of old fans and people who are seeing Curved Air play for the first time as well as those who have followed the band for many years.
What can you tell us about your experience with musicals? Did they influenced you as a musician, or maybe gave you "hints" on how to act and entertain the public on stage during your concerts?
I was lucky enough to be in the Rock Musical "Hair" which did transform me from a static singer into someone completely at home on the stage. I had acted and been to drama college for one year but this was completely different – it was about being free on stage rather than forma stage craft. So when I joined Curved Air it was this experience I brought with me. I think of performance as shamanistic rather than disciplined, an exchange of energy between audience and performers, working with imagination and inhabiting personas. I also played in a traveling show of cabaret style French Piaf and Brel and other beautiful classic songs with strong English translation, "The French Have a Song for It ". Marsha Hunt, who also starred in Hair, wrote a musical and I played the female lead in that in 1982, I acted and sang in a musical play for TV in 1980 "Curiculee Curiculaa": I found these all enjoyable, not least because I love being part of a company, a group of people engaged in entertaining an audience and telling a story through Drama. I have played in theatre in straight plays also.
Now, a more "general" and more difficult and serious question. What do you think about how the world's changed in all these years? In all these years, you've seen some big revolutions, both political and intellectual (and musical, of course).
Yes, we are in times of great change and innovation, on the brink of great upheaval in lifestyles and government. The 60′s hippie dream seems far away but also integrated into the present time with "green" policies yoga, Tai chi, meditation, vegetarianism and rapid social changes between now and then that now seem unextraordinary. Such as women, gay and racial equality and the and the all seeing Internet.
Now that you're fully back on the scenes, what are your plans for the future, both as a person and as a musician? Do you have any upcoming important projects as "Sonja"? I mean…let's say, just to make an example…maybe you're organizing some big event? Just saying, it would actually be great to see a big festival full of important bands' reunions, like a big prog-rock fest!
I just look to get through every next day with an open heart and clarity and joy, to be free to jump into new arenas. This Curved Air band of superb players' development is important to me and also the potential of continuing my work with Marvin who is now the Curved Air producer too, I would like to do some quality film drama work and theatre too, plays rather than musicals.
Well…there would be lots of other things to talk about, but I think for now it's all! Thank you so much for your time, good luck for everything…and I hope to see you soon in concert!
Thank you Matteo – Curved Air "Live Atmosphere" has been released on 12th of November .
Links
Interview by Gaia Stella Rotondi
Transcription by Alessandro Narcissus
Intro by Miriam C.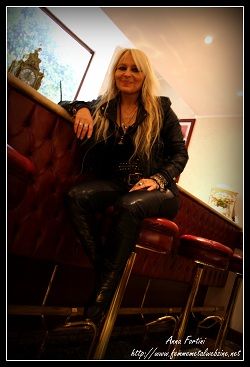 On a hot summer day (to be precise on the 12th September) we've met in a hotel in the centre of Milan during the promo day dedicated to "Raise Your Fist", the German metal queen Doro. Let's hear directly from her the latest news. Some words dedicated to the memoir of the late Mr Ronnie James Dio are present and we join with her to his memory publishing this interview.
Today Femme Metal is pleased to have the metal queen Doro Pesch as guest. Hi Doro, how are you?
Hi there, I'm very good! Thank you for the interview, it's great to be here in Italy!
We know that your new album, "Raise Your Fist", produced by Nuclear Blast Records, will be released on October 19. Could you tell us something about it?
We've worked for over half a year on it. We recordet it all over the world, from New York and New Jersey to Hamburg, we've mixed it in Danmark with Jacob Hansen, who'se the producer and engeneer for all of it. I wanted to make sure that the sound is hard, powerful and really, really good. The first song, "Raise Your Fist in the Air", I kind of had the feeling it might be the first single. So I sent it out to many people, everybody mixed it, and then it was hard to choose 'cause many were really good, but when I heard Jacob's work I said, "Okay, you're the one!". There are some special guests on the record: I sing a duet with Lemmy (Kilmister from Motörhead Ed.) on one of my favourite songs, "It Still Hurts", which is a very touching and emotional ballad, and I love it so much, and I also love Lemmy for the longest time, he's great! Then we have another guest, Gus G, the guitar player of Firewind, and he plays a solo on "Grab The Bull (Last Man Standing)". A good friend of mine made contract with Alex Krull from Atrocity and Leaves' Eyes, and he's a guest on that song as well. Then there is "Hero", which was the first song we wrote for the record, and it's a tribute to Ronnie James Dio: so many fans were totally heartbroken when he died – including myself, I was totally devastated and after all this time I still am! – so I really wanted to say thank you and pay respect to him.
Could you tell us something about the importance that Ronnie had in your life?
Yeah! Beside being an amazing singer, I think definitely one of the best, he was a great friend and my biggest inspiration! I had the chance to meet him many times, we toured together – actually my second big tour, back in 1987, it was with Ronnie James Dio and it was great because it was the peak of heavy metal with big venues and fans, it was unbelievable and really unforgettable! Then we had the chance to tour again a couple of times and one of the greatest experiences was the American tour in 2000, because, as you probably remember, in the Nineties grunge was big and heavy metal had a really difficult time; and then, in 1999 I felt it was coming back somehow and I did a song for Ronnie James Dio's new album, then he held a release party in New York and I was there and I went to say hi, and he was like "Hey, I like the song so much, it's magical!". And a couple of weeks later we had our record done – I was "Calling The Wild". We were in the middle of an interview with a radio station in Tennessee, and we were talking and they asked if we had any touring plans, I was like "Not yet, but of course we want either to open up for someone or do our own club tour", and then the lady said she was like "What about Ronnie James Dio?", and she was going to interview him in a hour so she suggested us to him! And a couple of weeks later we were on tour together and it was great! The last leg of the tour was in Florida and we always sang the encore together! He went to the monitor guy asking for a second microphone and came on stage. In 1987 I could not speak English that well, so we were just like "Hi, great show", but in 2000 we really got much closer and became really good friends.
In "Raise Your Fist" you had the chance to work with many other musicians. As you said, you collaborated with Gus G from Firewind and Lemmy from Motörhead. How did it feel to work with legendary and new generation artists at the same time?
It's great every time! It was a honour to work with somebody special like Lemmy. He's my hero, I love Lemmy! We played together in the very early 80′s and now we were on tour together two years ago, and it's great. He's very soulful and a total gentleman, a great talker, a great musician. With younger generations, when people love music there's always this common ground. With Alex Krull we always met in Wacken and he suggested that we do something together and his wife Liv Kristine, she was at my 25th Anniversary gig and performed on "Celebrate" along with all those great ladies that met on stage. And we all felt connected then. There is one song on the limited edition called "Strong And Proud" which I wrote to talk about this connection with all the female vocalists. I think it's pretty cool because we're all supporting each other and connected, there is a lot of unity.
An EP was released on August 3rd, to precede the upcoming album. The EP contains four songs and it includes also a French version of the single "Raise Your Fist in the Air". Would you like to talk about the reasons of this choice and about the EP in general?
After I recorded the demo of the song, I played it to some people involved with Wacken. When they heard it they were very enthusiastic about it and wanted me to play it at the festival. It was not finished yet, but they really wanted it, so I was like, ok, I can try. Then I played it and I got a great response. Everybody's fists were in the air. It was the first day and I played it in front of about 50,000 people, they all liked it, so I thought it could be a great single. Then I tried it out a couple of times when I played in Europe, in Moscow, and I also wanted to play it in Lyon, in France. I tried to say something in the native language, so I asked "How do you say 'Raise your fist in the air' in French?" and they told me "Lève Ton Poing Vers Le Ciel" and it was really cool! And then there is another story: one day I was introdued to a girl called Vanessa who really wanted to hear a song in her native language because she only speaks French. On my previous album I recorded several versions of "Herzblut", like in Spanish and in Portuguese, so I also made one in French and I dedicated it to Vanessa. She was really happy! She has two sons and said "When I have a girl, I will call her Doro!", which was really cool! I was very happy! So I decided to do another French version on this album.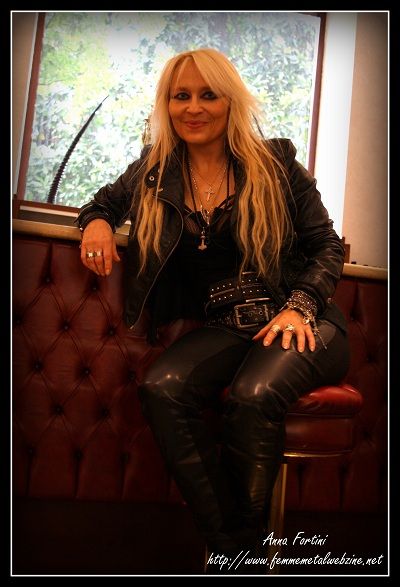 The guitar player on "Raise Your Fist" is Luca Princiotta, an italian musician. How did you meet him?
I met him a couple of years ago. I was in Italy doing a little appearance for Clairvoyance. There I met Luca and I knew he was a great musician. Then joined us for the keyboard when Oliver Palotai was busy touring with Kamelot. We really got along and played many gigs, so he joined in as guitarist for the new album.
You have released also a video for the single "Raise Your Fist in the Air". We know that you love the city of New York, but the video was shooted in the Bronx area. Why did you choose this place and how would you describe this experience?
It was quite an adventure, quite dangerous too! In New York it's very hard to fill in to get a permission and stuff. So we were like, okay, you know what? We just go there with our truck. We go everywhere we want and when the police comes we just get back on our truck and run away! We went all over and then elsewhere too. We went to all kinds of neibourghoods in the Bronx and in Harlem, and while I was singing, suddenly people were coming up to see what we were doing. At a certain point there was like a gang, and we were like, "Oh God, sorry, we were just shooting a little video!", but they liked the song although I think they were more into rap or that kind of music, so we asked them to join us and it was really cool! Everybody came in, we shot under a bridge, there were also some homeless people who showed up as well, even a guy who said he liked jazz but stopped all the same, and my band was in the video too, so… gang members, homeless people of New York, all united by music, it made all of it immediate. It was much fun!
You often play at metal festivals, such as the Wacken Open Air. What do you think about festivals and how is your relation with the fans during these events?
I love playing festivals. My first time playing in Wacken was in 1993 and there were maybe 2000 people. It was very small, just the area where now the bands' dressing rooms are. And since then every four or five years I came back, and a certain point there were 20,000 people and the whole thing was going bigger and bigger. What I love so much was that the organisers of the festival were two die-hard metal fans, because no one wanted to do metal festivals in the early 90′s, so it was a festival from fans to fans, you can still feel it today. And the village near it, everybody is very welcoming to all the metalheads, back then somebody even welcomed us to sleep, which is really great because, you know, all those guys with long hair and tattoos and stuff… So I specially love Wacken, but I also love Gods of Metal, Metalcamp… I love it all, every festival is special in its on way. People from everywhere come and enjoy so much music, you can see all your friends, all those bands, all the fans of other bands, everybody has stuff to do but you can reconnect with the fans.
In 2006 you made your cinematic debut in the film "Anuk". You returned to the set for the second part of this film that will be released at the end of 2013, and it is called "Anuk – The Path of the Warrior". Would you like to talk about this film and the shooting? Is it true that the soundtrack will contains music from the upcoming album?
Yes. The producer is called Luke Gasser. He asked me for the movie and then I did some more music for the film, very different in a way, for there is not only words. We were doing the music together and I just came back for shooting the movie. It was a little more difficult than usual because I also had to do the promotion then go on tour. This is the second part to end "The Path of the Warrior", it's an adventure, the good guys against the bad guys, it's set in 2000 BC. The first movie was a lot of fun! It's an independent movie, the budget is not big, it's just not like a Hollywood budget, but everybody put so much energy in it. It's very demanding, getting up every day in 5 o'clock in the morning, then working hard for 16-18 hours a day, there were 50 horses, many people who did the stunts, I was filming often in the water so I also hoped I would not get ill – but I didn't! On the last record, "I Lay My Head Upon My Sword" was for the movie.
You're on the metal scene since the early 80′s. Is it difficult to hold the crown of Metal Queen for such a long time? What is changed since the beginning of your career?
Well, it's so nice when people have good things to say about you, it makes me so happy! But actually I'm just a normal metalhead. I still love metal, I still love the fans. I just try to make the fans happy, which is the most important thing to me, it's my mission. For so many years it's been great and I owe much to the fans, they always support me in good and in bad times, like when grunge was big in music. I love my fans more than anything and it's my aim in life to make fans happy and to give them something they can believe in and enjoy, give them some positive power. Now, being called a "Metal Queen" is such a big word, I just work each day to make something nice, but it's only me, I still feel like when I started it all, when I was 22. It feels like 6-7 years ago, not certainly like 26 or 27!
Thank you so much for being here and replying our questions. Is there anything else you would like to say to your fans?
Yeah! The most important thing in this world to me, which will never ever change, is my love for them. I'm still there, I'm still giving 100%, and I want to say thank you to all of them! They give me all the energy and all the support, so… thank you so much, it's very important to love each other!
Credit Photos
Exclusive Photos shot by Anna Fortini
Links
MySpace * Facebook * Twitter * Site
Latest Multimedia
6 color styles available:

Style switcher only on this demo version. Theme styles can be changed from Options page.