Browsing articles tagged with " lead"
Label : Pitch Black Records
Review by Tony Cannella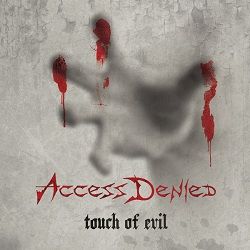 Cross Judas Priest with Accept along with some classic Iron Maiden thrown in for good measure, add a powerhouse female vocalist and you may come out with something like the Polish band Access Denied. After the ominous "Intro", the Accept-like riff of "Messenger of Death" shatters the serenity.
The vocals are not virtuosic by any means, but Agnieszka really delivers a strong and forceful style to the songs, and gives them just what they need. The duel guitar attack is reminiscent of K.K. Downing and Glenn Tipton from Judas Priest.
"Suicide Mind" is up next and keeps the power level high and is one of the biggest highlights. Musically and vocally, "Touch of Evil" pretty much holds true to their chosen sound, which is alright by me. Highlights include: "One Night", "My Dreams" and "Touch of Evil". With "Touch of Evil", Access Denied delivers 9-songs and 33-minutes worth of top notch power metal and should be required listening for fans of the genre.
Independent Release
Review by Davide Torresan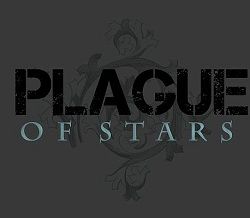 Let me start by saying that behind this project there is one of the most talentuous female singer in the metal scene: Melissa Ferlaak. I think that she is very well-known in the female fronted scene, but it is always good to do a little recap for the others. Melissa is a U.S. soprano singer, and she joined several famous bands in the gothic and symphonic metal world. She has been the lead singer of important bands like Aesma Daeva, Visions of Atlantis and Echoterra. Plus she can boast to have worked with many other bands. In the beginning of 2012 with some other renowned musicians, she decided to give birth to a new project: Plague of Stars. I have to admit that this news surprised me a lot, and also the ones that are used to listen to gothic and symphonic metal. The sound is a perfect union of death with doom metal and some small gothic hints. It's curious the description that this new group gives of itself. Indeed the members introduce themselves as some scientists that are engineering a new virus. This biochemical weapon will be released on Earth, if all is ok, on June of the next year. I can't deny that the first thing that came to my mind is a sort of correspondence with the story of the videogame Final Fantasy VII. In this one, there is Jenova, a sort of infection, virus, and it's described like a calamity from the sky, ready to destroy the world. Plague of Stars is the opposite, intended to be the cure. After this little nerd digression, let's talk about the two songs of this promo. The first is "When Morning Came", where Melissa shows us a completely different style from what we've always heard. There are some small hints of her operatic voice, but here she demonstrates her true skills with a rock voice. The guitar riffs are really heavy and there is also a solo in the middle of the song. Instead "In the Pines" has a completely different mood. If the first song can be included in death metal, this one embraces doom metal, so considerable space is given to slow and decadent rhythms. The thing that astonished me the most is that at a certain point Melissa's voice assumes a blues connotation. I am sure that I never heard her singing in this way, and at this point I'm curious to know what else she can do. Musicians that accompany her are really capable and skilled since they come from some famous bands like Aesma Daeva and We Are Legion. However, it must be said that the proposed cure by this project is not immediate. The band plans to release an album entitled "When Morning Came" in 2013, and it will be released if they will achieve a certain sum of money. Individual donors can bid to make sure that the album will see the light. What can I say? These two songs are really good and I can't wait to listen to a full lenght album. They're all good musicians, and they deserve a lot. What are you waiting to give them a hand?
Rating – 88/100
Tracklist
When Morning Came

In the Pines
Line Up
Melissa Ferlaak – Vocals

Will Maravelas – Guitar

Christopher Quinn – Bass

Aaron Lanik – Drums
Links
Interview by Ed MacLaren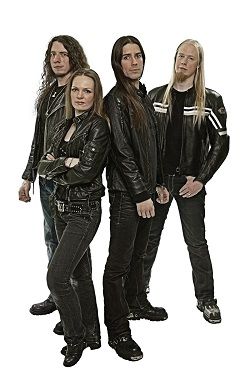 Blowing through the gates with their sophomore release "The Road Less Travelled", Norwegian prog metallers Triosphere hijack our musical sensibilities and overpower us with a metal tour de force that assaults the senses with its melodic power. Femme Metal jumped on for the ride with vocalist and bassist Ida Haukland to map the making of the album and getting on that road less travelled.
Thanks for talking to us Ida. "The Road Less Travelled" is a phenomenal album of unbridled power and energy. It's positively a joy to listen to. A to-date favourite for sure! Your comments on it first of all…
Wow! Well, thank you so much Ed –-that's just so amazing to hear! I'm so glad you like it!
"The Road Less Travelled" is aggressive, proggy and thrashy with tons of melody and more than a few nods to the classic anthems of 80s metal. How do you and the band sort all this out in the writing and recording process? It must be infinitely more difficult to come to a musical consensus with everyone contributing so many different musical influences.
It's not too difficult… We are a band with different musical tastes and influences, but we more or less "clicked" instantly when it came to our own music, so it all kinda works naturally! More importantly, Marius makes all the music and brings his ideas and arrangement to rehearsal, so the combination of the different elements is to a great extent his doing! The rest of us then contribute with our interpretations, and I work out all of the vocal-lines and lyrics, so the end result, as such, is a band-effort. That being said, all of us have always been very much "in tune" with each other! We seem to have the same understandings and preferences of what our own music should sound like. I feel this is a defining feature of the band, so it's maybe an annoying answer, but this blend of elements just comes "naturally".
"The Road Less Travelled" will shred speakers on first listen. Tracks like "Driven" and "The Anger and The Silent Remorse" along with the duel-ish guitar solo in "Death Of Jane Doe" were definite album highlights. Did you have a specific sonic goal set out when approaching the writing and recording of the record?
Yes, in a way, we did… Our debut-album "Onwards" was very much pedal-to-the-metal and we love the way that album sounds, but we knew from the beginning of writing "The Road…" that we wanted this one to be a lot more dynamic, both in context to intensity and tempo. In this way, we knew as the songs began to take shape that the album would be very different from "Onwards". This was actually a little scary as we've received very good feedback and rewards on "Onwards". Nevertheless, Marius worked consciously on letting the songs "move" more- let the extreme be more extreme and let the fragile parts almost break into pieces. He also left more "space" in the riffs for me to work on melodies in the vocals… We were conscious that we wanted this album to have a bit more focus on vocal-melodies, and I think it worked pretty well!
What did you want fans to get out of "The Road Less Travelled" listening experience?
Hopefully, the same as we do! We want them to hear an album that changes and evolves each time you listen to it; to hear songs that we've worked on quite a lot to give them depth and dynamics; lyrics that try to tell stories I find important. To make them excited, engaged, maybe even meditative on some issues and atmospheres. But hey, if they are just left with a feeling of wanting to hear the album again, then we really can't ask for more than that!
"Ignition" and "The Last Haven" really sound like a musical departure and arrival. Where did the road less travelled take us?
You know Ed, only the listener can really answer that. "Ignition" is meant to set the mood for the album, and also give a preview of the course of it; it's passionate, encouraging, intense and confident. The road less travelled takes you through the various atmospheres and states of mind that one might experience when facing the challenges in ones lifetime.
For us, the road less travelled is a journey towards improvement, so we, in many ways. feel that musically it's a very "positive" experience, but we've heard feedback on the album too that it has a quite melancholic and dark sound, so it really is up to the listener to say exactly where "The Road Less Travelled" takes them.
You've been tagged as a band to watch since your first album. Do you think you've fulfilled that expectation with "The Road Less Travelled"?
He! He! It's maybe a little early for me to say that yet, but judging by the mind-blowing feedback we've received so far from the international press we seem to have at least made a very decent start. As I mentioned a little earlier, we felt that this album came out sounding very different from "Onwards", hence we were a little worried on what kind of reception it would get. It's still too early to get a clear image of what the general public thinks, but if the reactions are anywhere near that of the critics then we are in for a very pleasant time indeed!
Women have held down the bottom end with some of the top metal bands for years. What is it with women and basses? Is it a rhythm thing?
Really? I must honestly say that I have noticed a few more female guitarists – Michelle Meldrum, Nicole Couch, Jennifer Batten, Susan Gerl – than bassists (obviously except Jo Bench of Bolt Thrower)… no? Besides, from my own perspective, I can't really answer the question as to why women apparently tend to take on the bass. Personally, I started out as a guitarist but wanted to learn all the "traditional" metal-instruments, so when a couple of guys who rehearsed next to my band asked me to take the position as a bassist in their band, I accepted without hesitation. As the years went by, I just felt more and more comfortable in this position working out the pulse of the music together with the drums. I also felt that I got in touch with the bass in a way that I never managed with the guitar, so it really was a natural choice for me!
Marius, T.O., and Orjan are fantastic players – it must be a blast to be on-stage immersed in all the synchronized instrumental chaos going on around you.
They are indeed! And I draw a lot of energy from them. I can always trust the guys to "deliver the goods". That really is a privilege for sure! BUT, we have been, and are constantly working very hard to be the best we can be, and we all expect this from each other; I expect the guys to work their asses off just like they expect me to do the same. We never take for granted the amazing opportunity we are given every time we get to be on stage, so we better do our very best to put on a worthy show! We often evaluate the gigs and discuss things that should have gone down more smoothly and in this way we hope to continue improving and evolving our live-performances.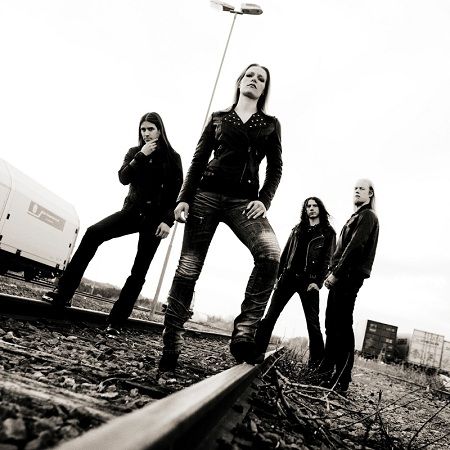 How hard is it to play bass, keep up with the changes and sing at the same time? Not everyone is Geddy Lee, right? Will you incorporating trigger pedals into your repertoire anytime soon just to keep your feet busy?
Ha! Ha! Yeah, I'm planning on attaching additional percussion as well. Ha! Ha! Nah, I think my hands are pretty full right now but I have always played an instrument and sung at the same time so I really can't imagine anything else. I was "just" a lead-singer in one of the bands I had some years ago, and I actually felt naked and somewhat idle without playing an instrument… Certainly, it can be a little challenging sometimes to get the right sound in both things when working on new material, but once I've got it sorted out it's just like riding a bicycle!
You not only have great bass chops but a classic rock and roll voice. Your singing has lots of power and attitude and you can turn on the emotion with tracks like "Worlds Apart" when you need to. You must tear that throat up during a gig!
Once again, thank you very much! It's really all about finding the right technique and I have worked consciously throughout the years to find a technique that takes full control of both the softer sound in my voice as well as putting on the heat (i.e. the vocal equivalent to distortion)… I'm still working on it! In essence, the voice is never supposed to be "torn up" or hoarse after a gig, and it never is in rehearsals. BUT in a live-situation where the adrenalin is pumping, boiling hot lights, maybe a little smoke and you want to put on the best show possible, some of the techniques go straight down the drain and I sometimes get hoarse. Ha! Ha! You never know, you just have to be careful! This is something I'm paying very much attention to. My goal is to manage to keep "cool" enough to never stress out the voice, even live, and to constantly expand my range and expression.
For Triosphere, what is your personal road less travelled? Is the album title an expression of Triosphere's musical or personal philosophy?
The main idea behind the album title is not directly linked to the band's musical or personal philosophy as such, but reflects a theme of daring to take chances and opportunities that lead you closer to your goals and ambitions even though it might seem unconventional or more challenging. This could be said to be a personal philosophy of all of us in Triosphere and musicians in general who put everything aside to pursue their musical ambitions in spite of financial, social (i.e. girlfriends and kids) and work-related challenges. I am personally convinced that if you keep present and alert in your life you will see that there are a million opportunities to take or miss out on and based on this, people must take greater responsibility for the course of their lives. It's never too late to change the pace and/or direction in your life and sometimes it is necessary to take the road less travelled in order to release your potential, but whether it's a personal message… that's uncertain!
Musically, I would say that we've taken a "road less travelled" by exploring a whole new dimension of dynamics and melody on this album. I myself have especially tested the softer parts and expression in my voice and not put everything in high gear from beginning to end (at least that's how I experience it), so there is that argument… Marius has stretched the extreme and the fragile borders and written the music towards a more vocal-oriented sound than "Onwards" was, so you can argue many different sides to the title!
How does this philosophy infuse itself into Triosphere's lyrics?
The lyrics try to tell stories of courage; choose something different and new for yourself even though you know you might not end up where you planned to. They're stories of how mankind relates to each other and its surroundings with a suggestion of a change of course. Inter-socially, "the road less travelled" could be something as simple as compassion and acceptance, and environmentally, it could be less ignorance and arrogance and daring to decide that the outlook of profit and welfare does not justify exhaustion of our physical surroundings. The various themes are, to a great extent, influenced by stories from the media, and how mankind often appears to be incapable of both co-existing and preserving its grounds for existence.
Triosphere has a strong work ethic when it comes to its music and performance as well as the business. How has that contributed to your ongoing success?
Thank you very much, that's really cool to hear! Yeah, we have a "run the business" side, certainly before we signed with AFM anyway, very consciously without any form of management or booking agency but it's always been natural to us and crucial for our progress that we put so many hours into the various administrative things and keep control over them. There are so many great bands out there that you really have to dedicate a lot of energy and time to your own band if you're going to have any shot at standing out!
At the same time, we've also been very focused and clear on our musical expression without making any compromises. We feel that the audience should get just as much of a visual experience as a musical one, and hence we try our best to constantly improve our stage performance. All those facets are important pieces in building a band worth paying attention to and we try our best to deserve just that!
Is the band ready to give up their day jobs yet, then?
Ha! Ha! I think it will take a few more years before we get anywhere near a financial situation that allows four people to quit their source of steady income but we dream! It's also a very different situation now than it was 5-10 years ago when it comes to earning money through music, and there are many reasons for this. One is the situation with illegal downloading; but I won't say anything more about this than the fact that those who download illegally under the impression that they are "fighting the greedy music industry" have seriously misunderstood a few things; it's really only harming the bands themselves!
You've played support gigs with Ronnie James Dio and have called him one of your biggest influences. The passing of such a legendary vocalist, performer, and gentleman was a shock and loss for the entire metal community. Do you have any personal thoughts or stories you'd like to share?
Well, there are so many things one could have say about this monumental man and the importance he has been to hard rock and metal musicians for almost five decades. As you correctly state, he has indeed been one of my most important influences and "teachers" though because I grew up singing covers of Rainbow, Dio and Heaven and Hell. For me, the way of the world seemed to be that he would always be standing on that stage, you know, inspiring and entertaining generations to come. So even though I knew he was sick with cancer, I was just as shocked as anyone else when I got the news that afternoon. He leaves us a great legacy and I do hope that his name is honoured with respect and decency without any "hidden agenda" for years to come!
People need to hear this album live. What's your touring schedule coming up? Any overseas dates planned? Pretty please?
Ha! Ha! Yes, I agree and we are planning loads of things at the moment but we can't confirm them right now. All we want to do is get out on the road (less travelled, he he) and present this album live, so we'll do our very best to make this happen as soon (and often) as possible!
(Famous) last words?
First of all… thank you – Mr. MacLaren – very much for taking interest in us and presenting us with this interview! And second – to all of your readers – please go get our album and give it at least a couple of spins before you cast your verdict! It's a layered album, and I hope with all my heart that you will enjoy it! Hope to see you all very soon from a stage near you!
Links
MySpace * ReverbNation * Facebook * Twitter * Site
Latest Multimedia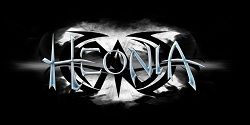 Interview by Lindz Riot
Progressive metal has finally started to emerge to the forefront for metal the past few years and finally from Lille, France we have Heonia! Breaking away from traditional metal and band styles, Marieke and Thomas wanted to create something new for metal without borders. Their debut release "Winsome Scar" is piece of mind for the metal head who is searching for something new and abstract while it sticks to strong metal roots. We are here with their powerful singer Marieke to hear Heonia's story.

I've listened to your newest release "Winsome Scar" and it's great stuff! It's very different from most metal but in a good way. How did Heonia come to be?

Thomas and I were in a band playing only covers before. When the band ended, we decided to create a new band playing its own songs and then, Heonia was born. The other members arrived from February to July 2006. And Cléo, our former bass guitar player, was the last one. In June 2009, Cléo quit the band and Christophe became the bass player of Heonia.

So how did you and Thomas come to agree on your sound and style? What is it like when you two write together? I think the style and sound of Heonia came quite naturally. This was the music we wanted to play. I'm not saying it has always been easy, each of us had to make concessions as, for example, Thomas is far more influenced by progressive metal than me but most of the time, our inspirations are the same. We don't really write together. We don't really write together. In general, one member of the band (more often Thomas) comes with an idea for a song and everyone works on it until we arrive to an almost definitive version. Then I start to write the lyrics that the music inspires me. For example, when I listened to the musical parts of "The Chase", I had immediately the feeling of someone running to save his life. From this came the idea of the lyrics of "The Chase". At the same time, I try to put the words on the music with the help of Damien and Thomas.

What was the whole experience of recording "Winsome Scar" like? Could you give us some background on the process and experience in the studio for Heonia?
The recording of "Winsome Scar" is one of my best memories with Heonia. And I think it's the same for all of us. Is there something better for an amateur musician to live like a professional during two weeks? During this period, I had only to think about how I will pass emotions through the lyrics of Heonia's songs. It was a really exciting period although it was quite hard because we had only two weeks to record the entire album.
So we recorded "Winsome Scar" in July 2009 at the studio Hangar à Son in the North of France. Then, during more than two months, we worked with Bertrand Charlet, the sound engineer, on the sound of the album and the mixing. In February, we went to l'Autre Studio near Paris to master the songs. Finally, we worked on the artwork with a professional from Evilcampbell.com. It has been a long process but each part was very exciting and interesting!
And what has your response been like so far to releasing the album? What have friends, family, and fans said?

We have had only good responses to "Winsome Scar" from friends, family and fans so far. We know that our songs are not perfect, it's a first album but people seem to appreciate our music and that's what is important. A surprising thing for us is that there is not only one song people prefer to the others. Some prefer "Broken Toys", for others it's "The Chase" or even "Mirror of Life".
So being from Lille, France, what is it like to live there? What is the music scene like?
The music scene and even more so the Metal scene is really active in the North of France even if the number of places where we can play is quite low.There are a lot of Female fronted Metal bands in Lille and we appreciate that the atmosphere between the bands is really good. I think we have played with almost all the Female fronted Metal bands of Lille and it has always been a great experience. We have a lot of fun together.
That's so awesome to hear! So from the time you began performing in 2007 how would you say Heonia's live performance has changed from then to now?

I think everybody is feeling better and better on stage. Sharing our music with people who came to see us is becoming easier as our number of shows grows. We feel free on stage so we can deliver a lot more energy and people seem to receive it well!
I noticed you have listed Heonia similar to Opeth and Epica on some websites. Have these band's styles really influenced Heonia?
The bands we have listed influence more or less Heonia. The members of the band have a wide range of influences and we can find them in a sense in Heonia. I think, musically, the biggest influence is Progressive Metal, so yeah, bands like Opeth… Concerning Epica, actually we are inspired by this kind of epic songs even if it's really tiny in our music. For my way of singing, I'm more influenced by bands like Lacuna Coil…
So for you Marieke, when did you become a singer and what is your musical background?

I started playing music at the age of 12 or 13 with clarinet so nothing really Metal!
With my Nirvana years I tried to learn guitar but I was not very good… At the same time, I've always sung in my bathroom, in my room… When I was 19, some friends of mine who were in a pop-rock band proposed me to become their second guitar player and to add some voices on their compositions. I was really, really shy and it was difficult for me to sing in public. But after some months, I became more confident and I was more the singer of the band than one of the guitar players…When this great experience ended, I decided to really learn singing and that's how I became a singer.
Where you in any previous bands before Heonia? What was it like?
As I said, I began in a pop-rock band of friends named BOD. We were playing covers of Placebo, Radiohead, Muse and some original songs too. It was really a funny period, we were really good friends with the same passion for music. After that, I tried several bands but we were not on the same wavelength. Then I found Chimeria, a cover band of Progressive Metal in which Thomas was the lead guitar player. We played together one year. When we decided to split off, as Thomas and I wanted to play our own compositions, we decided to create Heonia.

Who are some of your favourite singers and bands?
Wow! There's a lot! I will only site a few!
My favourite Metal singers are Cristina Scabbia (Lacuna Coil), Alissa White-Gluz (The Agonist), Serj Tankian (SOAD), Robb Flynn (Machine Head), Mikael Åkerfeldt (Opeth)…My favourite bands are Lacuna Coil, System of a down, Machine Head, To-Mera and also Diablo Swing Orchestra, The Agonist, Dirty Little Rabbits, Opeth… And for non-Metal Bands: Portishead, Björk…
Wicked! I like the added Trip hop element. Do you have any hobbies or side projects that you do either than music?

Actually, I'm finishing my PhD in Finance. I hope it will be my last year so I don't have much time for other projects. I play keys in a new death metal band with Thomas and Damien. I hope also to be part of a doom project this year but it's not sure at the moment.
Very cool! What is next for Heonia in 2011? What are some of your hopes for the future of the band?
In 2011, our aim is to promote "Winsome Scar" on stage perhaps in some music festivals we hope. We will also work on new songs, more powerful I think. We want to see a lot of head banging during our future shows!!! Our hope is to find a label or a distributor for "Winsome Star" in the future and to continue playing our own music on stage!
Well thanks for your time to do this interview Marieke! It was a pleasure and wishing you and Heonia all the best for 2011 and beyond.
Thanks a lot for this interview, I hope my English is not too bad… And thanks a lot for your support and for supporting Female fronted Metal scene!
Links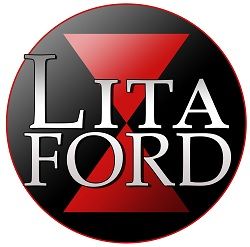 Interview by Tony Cannella
Lita Ford has built up an impressive body of work throughout her career which began almost 40 years ago with the seminal all female band The Runaways. With her latest album "Living Like a Runaway" she just may have recorded the finest work of her career. If it is not her best, it is certainly her most personal and aggressive. We recently caught up with Lita prior to her sound check on the Def Leppard/Poison tour – which she is opening. Here is what she had to say…
The new album, "Living Like a Runaway" is amazing. It's like a classic Lita album. How would you describe it to anyone who hasn't heard it yet?
You're definitely right, it is a classic Lita album, thank god for that. It is aggressive, it is emotional. It has some great guitar riffs on it; I love the dueling guitars, the harmony guitar parts. The lyrics are insane, they're so good, I don't want to blow smoke up my own ass but it is a killer album, probably the best one I've done yet.
I agree. I think this one of the best albums of the year so far and I think these are some of the best lyrics you've ever written.
Awesome. Awesome. Thank you. Yes, I really think so too. You know we really had God watching over us. I'm not religious but we really did have god watching over us on this record. Everything came together in the most mysterious way. It was almost like it was handed to us – the songs, the lyrics, the title, the guitar riffs, the arrangements – everything came together in such an incredible way. We really focused very hard on this record – when I say we, I mean me and Gary Hoey – we really focused on this record and we never lost focus until after the album artwork was done, we kept focus right through until the artwork was finished. We wanted to tie the artwork into the album and the emotion behind the album. I didn't wanted to put some polished, sexy, beautiful album cover on this record because the album tells a story of a journey, a journey through life and we wanted to give that impression with the railroad tracks. The people who decide to download the album, it's kind of a drag because the packaging is amazing, it has all the lyrics in it, it has some beautiful photographs, even my own handwriting where I actually wrote the lyrics and then scribbled them out. We took the lyrics from the recording sessions and we used them in the album artwork – it's pretty cool – it really is my handwriting those are the actual lyrics from when we were writing the album.
How did you choose Gary Hoey as producer and what did you like about working with him?
Well, the one thing I liked about Gary is he's a guitar player and when he first called me and offered me his studio, the fact that he is a guitar player came to mind. I knew he would be able to relate to me on that level, whereas a lot of the other record producers I've used in the past aren't guitar players. They might be able to strum a few chords, but that's the extent of it, I mean Gary Hoey's a monster on guitar and I thought "Wow, how cool would that be ?". He also has an incredible voice so he can help with background vocals; he sang lead on "Luv 2 Hate U", the male voice is Gary (on that song). I just love his voice. He's just incredible behind the equipment – pro tools. It's his studio, he knows how to run it, and he put his all into this record, this is his record, it's his baby. I just respect him so much as a producer, a guitar player and as an artist. We're approximately the same age and we've both been through a lot in our lives and I think we were able to relate to each other's feelings and we were able to take those feelings and incorporate them into this record.
Getting back to the lyrics. They are more personal than you've done in the past, was it difficult to open up as much as you did or was it cathartic?
It was absolutely therapeutic for me to be able to just sing my heart out, literally. I think it is also something lyrically that can be applied to anybody; I'm sure a lot of people have gone through hell in their lives, whether it's coming home from work, having a bad day and hating your boss or something so simple as homework – or your teachers at school. I had a chat with a girl on Facebook – maybe 14 or 15 years old – and she told me she was in school and she was listening to my CD and the teachers had told her to turn off that devil music – and she said "bite me". So they took her to the principal's office and they expelled her from school, so I'm thinking somebody like her, she can relate to "Living Like a Runaway" on her level as a teenage girl going through school, there's stuff in there for everybody on this record lyrically.
Where did the title "Living Like a Runaway" come from and why did you choose that as a title?
That came from my songwriting partner Michael Dan Ehmig – he's a lyricist – lyrics are his specialty. The hardest part of writing a song – I think – is the lyrics, anybody can put together a guitar riff, but it's really the lyrics that make it come to life and the melody and the hook, the phrasing. He came up with "Lita you're really living like a runaway" because I just ran away from home, I just filed for divorce – In order for me to escape my current relationship I had to run away from home. He said to me "you're living like a runaway" and I thought, 'oh my god, what a great song title', so we stuck with it and used it – it definitely works. So when I wrote this song I went through the decades of my life, starting with The Runaways, until today, you know, fans like you, people that make my dreams come true. It's kind of cool.
Are you happy with the critical response you've received for "Living Like a Runaway"?
Oh yeah, it's been amazing. It's been really wonderful. The press in Europe rates you on a scale, like some magazines are 1-10, some from 1-100, they vary. Say if its 1-10, my rating has been like 9 – one point away from 100%, which to me is fucking awesome.
You are currently on tour with Def Leppard and Poison. How's that been going?
It's eventful (laughs). Definitely eventful. Def Leppard has a very, very huge stage set and in front of them is Poison's stage set and in front of Poison is us, so Def Leppard pretty much takes up the bulk of the stage and doesn't leave us a whole lot of room. These venues that we're playing, they're amphitheaters and sports arenas, so there is a time curfew on them, so you have to be on stage at a certain minute and you have to be off stage by a certain minute, if you don't, it bleeds into – it's like the domino effect – it can roll down into Poison's set, which rolls down into Def Leppard's set and if Def Leppard comes off stage any later than 11:00 they start getting fined $1,000 dollars a minute, so if they go five minutes over their time that's five grand that gets taken out of their paycheck. We actually go on early so we can get more time to play so it doesn't interfere with Def Leppard's set, I would hate for that to happen because of me, so we go on early. It's really eventful. It's a challenge, you try to give it all you got, you kick ass with the bare essentials and we do.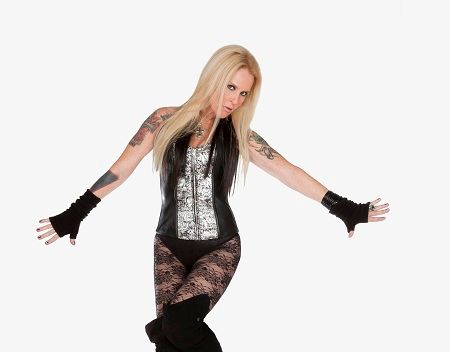 How have the fans been responding to the band on this tour?
Fucking awesome. Really fucking awesome. They're so happy to have their Lita back and it shows. The set starts off with people scrambling like crazy to get to their seats and by the end of the show we've got everybody standing up with their hands in the air. It's really been great. I'll come off stage and run into one of the Poison guys and I'll say, "well they're warmed up, they're ready for you" (laughs). It's been great.
Who is in your touring band?
I've got Mitch Perry on guitar. Mitch has played with Edgar Winter, Asia, he's played with Cher, Heaven and he's played with everybody. I've got Scott Coogan on drums. Scott Coogan has played in Ace Frehley's band, He was in The Brides of Destruction with Nikki Sixx and he was in Lynch Mob. I've got Marty O'Brian on Bass. Marty has done three Ozzfests. You've got to find somebody who has been onstage in these arenas, because these arena shows are a lot different than club dates; they're a whole different animal. Marty is just a monster on bass, which is what I wanted. I didn't want some foofy little bass player, I really wanted a heavy hitter on bass and Marty is. I've got a great band. We left the keyboard player at home on this tour; we wanted to limit the keyboards. Mitch actually plays "Kiss Me Deadly" on guitar, because it has a keyboard intro and there is a little bit of keyboards on "Close My Forever" on the album, but Mitch doubles me on guitar, so it works great.
What are your plans following this tour?
We're going to do some club dates. We are going to record a live album during those club dates. We are going to do the Monsters of Rock cruise in March. We've got some dates coming up here and there, and we're just waiting for after the holidays and hopefully we'll hit Europe.
I'm sure the fans in Europe will be happy to hear that.
I get asked on a daily basis. I think we'll be going to Europe. We do have a couple of shows booked over there already but I think we'll probably end up doing a full blown tour over there.
Are you already working on new music or is it too early to think about?
I actually have been. Since "Living Like a Runaway" took me so long to write, it took me a year to write "Living Like a Runaway". I remember when my flight landed at Gary's, I landed with the first snow fall of the year, it actually started snowing when the plane was coming down and when I finished the album it was the last snow fall of the following year. It took me almost one year to the day – maybe a little longer, so I'm planning on this next album probably taking me a year. I've started it already; I actually started a song with Phil Collen from Def Leppard which is pretty fuckin' rocking. I've got a few ideas; this is going to be a tough album to follow up.
I agree, this is a great album. How do you follow this one?
With great difficulty (laughs)? It got to be correct; it's got to be the right record, to follow this one up.
How does it feel to be back on stage after being away for so long?
Fucking awesome!
Thank you Lita for taking the time for this interview. To wrap things up is there anything you would like to add to this interview?
I've just got to say that it's great to be back. It's great that people are digging to the new CD so much, I'm so happy for that. I hope everyone missed me as much as I missed them.
Links
MySpace * Facebook * Twitter * Site
6 color styles available:

Style switcher only on this demo version. Theme styles can be changed from Options page.