Browsing articles tagged with " leff"

Interview by Matteo Bussotti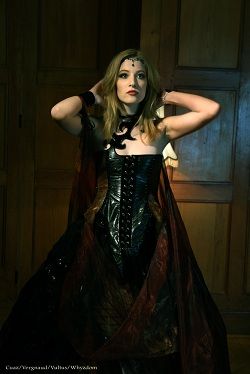 It's not an usual thing to have such a young singer in a successful band. Nonetheless, this is what happens in Whyzdom. Their career just took off with the release of their latest album, "Blind?", and so we felt obliged to ask their singer some question! Talking to her has been a real pleasure, and although her young age, we can foresee a great future for Elvyne. So, ladies and gentlemen, enjoy our interview with Elvyne Lorient, from Whyzdom!
Hi Elvyne and welcome to Femme Metal! My first question is a simple, personal one: at what age did you start singing? Did you immediately fall in love with music, or did you take the "musical path" later in your life?
Hello Matteo ! I started singing at the age of 6 I think. It was my father who made me sing with him… and I never stopped since then. So it has become a part of my life very early.
I think your band's name, Whyzdom, is an interesting game of words, isn't it? Can you explain it to us?
Oh, since I joined the band only this year, I'm not sure that I know everything about this. Vynce told me once that it was based on several words : Wisdom, Why, Kingdom… so, well, for me it evocates a contrast between the quietness of wisdom and our music which is full of energy. Continue reading »
Independent Release
Review by Lithium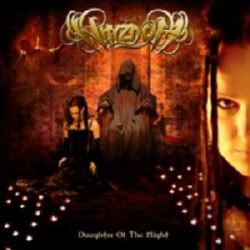 A common interview question is one in which the interviewer asks the band to describe their sound in three words or less. For the vast majority of bands this is a daunting if not impossible task. In the case of Whyzdom, however, it's not only possible but fairly easy. If this four-track debut is any indication, Whyzdom has perfected a sound that can only be described as bombastic symphonic metal. And I do mean bombastic in the best sense of the word. In fact, the outstanding quality of these songs makes "Daughter of the Night" a symphonic-metal force to be reckoned with. The next logical question is whether the music leans in a progressive or in a Gothic direction. The answer here is gothic, a verdict to which the rich sound of this EP will attest. Lush orchestrations not only are the order of the day, but include a full ensemble of instruments and choral voices. Opening track "The Witness" includes a nice brass segment, while bagpipes begin and end "On the Wings of Time". Meanwhile, the guitars are of the soft-yet-crunchy variety that Gothic-metal fans have come to know and love. All of these elements fit nicely together to make the musical compositions the EP's greatest strength. Yet another strong point is the lyrics, which quite suitably are much more ookie-spooky than they are achy-breaky. The high point for me was "The Train", which follows in the rich tradition of train songs laid down by such metal greats as Ozzy Osbourne ("Crazy Train", 1980) and Lita Ford ("Hellbound Train", 1991). Vocalist Telya Mélane has a strong, clear voice that is always in key and delivered in a direct, modern style rather than soprano. Extreme male vocals are used to a limited extent and done tastefully. Rather than harsh death growls, the ones featured here are more akin to hisses and whispers. Even the heaviest vocalizations on this recording have been dipped in white chocolate, rolled in crushed Macadamia nuts and served up with a raspberry-currant side dressing. Though I could go on for pages about the strengths of this EP, suffice it to say that Vynce Leff et all have succeeded where so many others might have failed. With that having been said, the lofty aspirations of "Daughter of the Night" are such that its few shortcomings unfortunately become all the more noticeable. For one thing, some listeners may find Telya's vocals less than consistently pleasant. In some places Telya sounds absolutely stunning, while at other times she well doesn't. My ears picked up a definite nasal tone on some of the higher notes that detracted from the overall performance. Also, some nice guitar fills seemed to get lost in the mix, especially on the closing track. However, these are but minor quibbles that in a discussion of lesser works would not even garner so much as a mention. Both in terms of ambition and execution, "Daughter of the Night" commands high praise and a serious listen. Not only is this bombastic symphonic metal, but it also happens to be very good bombastic symphonic metal. Male vocals: Limited, both clean and growled.
Rating – 80/100
Tracklist
The Witness (Demo Version)

Daughter of the Night (Demo Version – Short Version)

The Train (Demo Version)


On the Wings of Time (Demo Version)
Line Up
Telya Mélane – Vocals

Vynce Leff – Lead Guitars

Régis Morin – Rhythm Guitar


Marc Ruhlmann – Keyboards, Piano

Tristan Demurger – Bass

Nico Chaumeaux – Drums
Links
MySpace * ReverbNation * Facebook * Twitter * Site
6 color styles available:

Style switcher only on this demo version. Theme styles can be changed from Options page.