Browsing articles tagged with " legends"
Label : Auerbach Tonträger/Prophecy Productions
Review by Luisa Mercier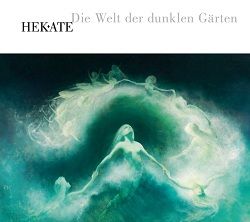 Hekate is a German ensemble which delivers us a quite eerie Folk, Neoclassical sound mixing it with lyrics that draw from history, myths and legends. Some of them are inspired by nineteenth century (Romanticism and so on), others by the events that took place in the Middle Ages. The present album is inspired mostly by Romantic poetry as the reference in the title "Byronic Hero" might suggest and it is sung in three languages: English, German and French, even though the first two have a main role. The music can only be defined as sweeping, dreamy, thin and the effect is obtained through the use of several instruments: gongs, kettledrums, drums, percussive devices, hurdy-gurdy, guitars, glockenspiel together with keyboards. The vocals, courtesy of Axel and Susanne, are sometimes recited ("Byronic Hero", "Jardin d'Anais") and sometimes sung. This, combined with very effective duets ("In My Garden"), gives a further contribution to the journey that their music can create. They work really well together. Susanne's vocals are delicate, sweet, Axel ones are slightly harsher and sometimes gloomier and create an hypnotizing effect. "Sanctus" is a beautiful hymn and shows the mystical side of the band. The Latin and the part spoken in Italian give to the whole composition a solemn atmosphere. Really epic. Another epic moment is "Per Aspera Ad Astra", a beautiful symphonic instrumental which really sums up the idea of "Sturm und Drag", the storm and the torment is really well portrayed in the composition. The more modern sounding is perhaps "Die blaue Blume" with an ethereal, electronic background pointed by keyboards while Susanne sings in German. It is quite different from the rest of the album and it is one of the highlight of the record, in my opinion."Die Welt der dunklen Garten" is a really varied (and very well produced) album that cannot be fully grasped with only one listen; it is multifaceted since it contains folk, atmospheric, sometimes a more modern sound. Let it accompany you in your most relaxing moments after a tiresome day.
Rating – 75/100
Tracklist
Byronic Hero

Jardin d' Anaïs

In my Garden

Seelenreise

Sanctus

Die dunkle Wolke

Per aspera ad astra

Idilia Dubb

Oh du Welt der dunklen Gärten

Opportunity of Time

The Present Day

Die blaue Blume

House of God
Line Up
Susanne Grosche – Vocals
Axel Menz – Vocals & Percussions
Achim Weiler – Keyboards
Jörg Schickerath – Percussions

Dirk Diederich – Drums

Jörg Schickerath – Percussions
Links
MySpace * ReverbNation * Facebook * Twitter * Site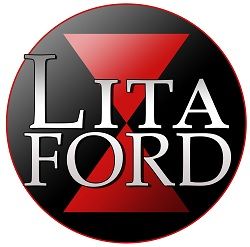 Interview by Tony Cannella
Lita Ford has built up an impressive body of work throughout her career which began almost 40 years ago with the seminal all female band The Runaways. With her latest album "Living Like a Runaway" she just may have recorded the finest work of her career. If it is not her best, it is certainly her most personal and aggressive. We recently caught up with Lita prior to her sound check on the Def Leppard/Poison tour – which she is opening. Here is what she had to say…
The new album, "Living Like a Runaway" is amazing. It's like a classic Lita album. How would you describe it to anyone who hasn't heard it yet?
You're definitely right, it is a classic Lita album, thank god for that. It is aggressive, it is emotional. It has some great guitar riffs on it; I love the dueling guitars, the harmony guitar parts. The lyrics are insane, they're so good, I don't want to blow smoke up my own ass but it is a killer album, probably the best one I've done yet.
I agree. I think this one of the best albums of the year so far and I think these are some of the best lyrics you've ever written.
Awesome. Awesome. Thank you. Yes, I really think so too. You know we really had God watching over us. I'm not religious but we really did have god watching over us on this record. Everything came together in the most mysterious way. It was almost like it was handed to us – the songs, the lyrics, the title, the guitar riffs, the arrangements – everything came together in such an incredible way. We really focused very hard on this record – when I say we, I mean me and Gary Hoey – we really focused on this record and we never lost focus until after the album artwork was done, we kept focus right through until the artwork was finished. We wanted to tie the artwork into the album and the emotion behind the album. I didn't wanted to put some polished, sexy, beautiful album cover on this record because the album tells a story of a journey, a journey through life and we wanted to give that impression with the railroad tracks. The people who decide to download the album, it's kind of a drag because the packaging is amazing, it has all the lyrics in it, it has some beautiful photographs, even my own handwriting where I actually wrote the lyrics and then scribbled them out. We took the lyrics from the recording sessions and we used them in the album artwork – it's pretty cool – it really is my handwriting those are the actual lyrics from when we were writing the album.
How did you choose Gary Hoey as producer and what did you like about working with him?
Well, the one thing I liked about Gary is he's a guitar player and when he first called me and offered me his studio, the fact that he is a guitar player came to mind. I knew he would be able to relate to me on that level, whereas a lot of the other record producers I've used in the past aren't guitar players. They might be able to strum a few chords, but that's the extent of it, I mean Gary Hoey's a monster on guitar and I thought "Wow, how cool would that be ?". He also has an incredible voice so he can help with background vocals; he sang lead on "Luv 2 Hate U", the male voice is Gary (on that song). I just love his voice. He's just incredible behind the equipment – pro tools. It's his studio, he knows how to run it, and he put his all into this record, this is his record, it's his baby. I just respect him so much as a producer, a guitar player and as an artist. We're approximately the same age and we've both been through a lot in our lives and I think we were able to relate to each other's feelings and we were able to take those feelings and incorporate them into this record.
Getting back to the lyrics. They are more personal than you've done in the past, was it difficult to open up as much as you did or was it cathartic?
It was absolutely therapeutic for me to be able to just sing my heart out, literally. I think it is also something lyrically that can be applied to anybody; I'm sure a lot of people have gone through hell in their lives, whether it's coming home from work, having a bad day and hating your boss or something so simple as homework – or your teachers at school. I had a chat with a girl on Facebook – maybe 14 or 15 years old – and she told me she was in school and she was listening to my CD and the teachers had told her to turn off that devil music – and she said "bite me". So they took her to the principal's office and they expelled her from school, so I'm thinking somebody like her, she can relate to "Living Like a Runaway" on her level as a teenage girl going through school, there's stuff in there for everybody on this record lyrically.
Where did the title "Living Like a Runaway" come from and why did you choose that as a title?
That came from my songwriting partner Michael Dan Ehmig – he's a lyricist – lyrics are his specialty. The hardest part of writing a song – I think – is the lyrics, anybody can put together a guitar riff, but it's really the lyrics that make it come to life and the melody and the hook, the phrasing. He came up with "Lita you're really living like a runaway" because I just ran away from home, I just filed for divorce – In order for me to escape my current relationship I had to run away from home. He said to me "you're living like a runaway" and I thought, 'oh my god, what a great song title', so we stuck with it and used it – it definitely works. So when I wrote this song I went through the decades of my life, starting with The Runaways, until today, you know, fans like you, people that make my dreams come true. It's kind of cool.
Are you happy with the critical response you've received for "Living Like a Runaway"?
Oh yeah, it's been amazing. It's been really wonderful. The press in Europe rates you on a scale, like some magazines are 1-10, some from 1-100, they vary. Say if its 1-10, my rating has been like 9 – one point away from 100%, which to me is fucking awesome.
You are currently on tour with Def Leppard and Poison. How's that been going?
It's eventful (laughs). Definitely eventful. Def Leppard has a very, very huge stage set and in front of them is Poison's stage set and in front of Poison is us, so Def Leppard pretty much takes up the bulk of the stage and doesn't leave us a whole lot of room. These venues that we're playing, they're amphitheaters and sports arenas, so there is a time curfew on them, so you have to be on stage at a certain minute and you have to be off stage by a certain minute, if you don't, it bleeds into – it's like the domino effect – it can roll down into Poison's set, which rolls down into Def Leppard's set and if Def Leppard comes off stage any later than 11:00 they start getting fined $1,000 dollars a minute, so if they go five minutes over their time that's five grand that gets taken out of their paycheck. We actually go on early so we can get more time to play so it doesn't interfere with Def Leppard's set, I would hate for that to happen because of me, so we go on early. It's really eventful. It's a challenge, you try to give it all you got, you kick ass with the bare essentials and we do.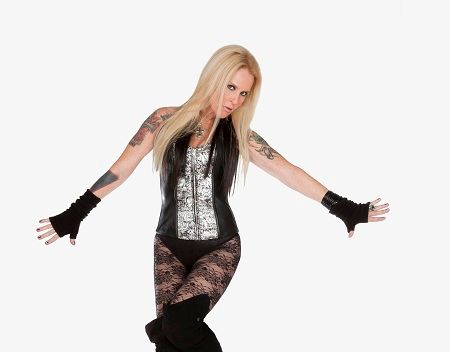 How have the fans been responding to the band on this tour?
Fucking awesome. Really fucking awesome. They're so happy to have their Lita back and it shows. The set starts off with people scrambling like crazy to get to their seats and by the end of the show we've got everybody standing up with their hands in the air. It's really been great. I'll come off stage and run into one of the Poison guys and I'll say, "well they're warmed up, they're ready for you" (laughs). It's been great.
Who is in your touring band?
I've got Mitch Perry on guitar. Mitch has played with Edgar Winter, Asia, he's played with Cher, Heaven and he's played with everybody. I've got Scott Coogan on drums. Scott Coogan has played in Ace Frehley's band, He was in The Brides of Destruction with Nikki Sixx and he was in Lynch Mob. I've got Marty O'Brian on Bass. Marty has done three Ozzfests. You've got to find somebody who has been onstage in these arenas, because these arena shows are a lot different than club dates; they're a whole different animal. Marty is just a monster on bass, which is what I wanted. I didn't want some foofy little bass player, I really wanted a heavy hitter on bass and Marty is. I've got a great band. We left the keyboard player at home on this tour; we wanted to limit the keyboards. Mitch actually plays "Kiss Me Deadly" on guitar, because it has a keyboard intro and there is a little bit of keyboards on "Close My Forever" on the album, but Mitch doubles me on guitar, so it works great.
What are your plans following this tour?
We're going to do some club dates. We are going to record a live album during those club dates. We are going to do the Monsters of Rock cruise in March. We've got some dates coming up here and there, and we're just waiting for after the holidays and hopefully we'll hit Europe.
I'm sure the fans in Europe will be happy to hear that.
I get asked on a daily basis. I think we'll be going to Europe. We do have a couple of shows booked over there already but I think we'll probably end up doing a full blown tour over there.
Are you already working on new music or is it too early to think about?
I actually have been. Since "Living Like a Runaway" took me so long to write, it took me a year to write "Living Like a Runaway". I remember when my flight landed at Gary's, I landed with the first snow fall of the year, it actually started snowing when the plane was coming down and when I finished the album it was the last snow fall of the following year. It took me almost one year to the day – maybe a little longer, so I'm planning on this next album probably taking me a year. I've started it already; I actually started a song with Phil Collen from Def Leppard which is pretty fuckin' rocking. I've got a few ideas; this is going to be a tough album to follow up.
I agree, this is a great album. How do you follow this one?
With great difficulty (laughs)? It got to be correct; it's got to be the right record, to follow this one up.
How does it feel to be back on stage after being away for so long?
Fucking awesome!
Thank you Lita for taking the time for this interview. To wrap things up is there anything you would like to add to this interview?
I've just got to say that it's great to be back. It's great that people are digging to the new CD so much, I'm so happy for that. I hope everyone missed me as much as I missed them.
Links
MySpace * Facebook * Twitter * Site
Interview by Roberta Ilaria Rossi
Pythia is one of the most famous British metal band and they come back in this 2012 with a new record for Golden Axe Records, called "The Serpent's Curse". We had the chance to exchange some little words with the amazing vocalist Emily Alice Ovenden and that's what she said to us!
Hi Emily, welcome to Femme Metal. Your new album, "The Serpent's Curse", will be released very soon. Would you like to share something with us?
"The Serpent's Curse" is brilliant! Buy it if you haven't yet!
In December, you released the single "Betray My Heart" and you also did a video clip for it. Why have you chosen this single to launch this new album?
We just felt it was the most immediate track and a good taster for the rest of the album. While I think there's plenty of variety on the album, this was as representative of the album as a whole as any of the songs on there. It was definitely a good choice as it's proved to be a big hit with fans live.
After the video, you streamed two more songs: "Just a Lie" e "Heartless", both taken from the new record. What can you tell us about those?
Those again felt like some of the catchier tracks on the album and seemed the right choice to get out there. They were our choices for tracks for the Rock Band game and as they were being made available that way, it made sense to stream them. They're also two of the fastest songs we've ever written so should be a challenge for people to perfect on Rock Band.
The album will be out on Feb 27th, via Golden Axe Records, who previously have released your debut album, "Beneath the Veiled Embrace". Have you had the chance to see (and to read) something from the critics and the press itself? If so, what was their reaction?
We've seen a number of reviews and so far the feedback has been overwhelmingly positive. Thankfully, most of the critics seem to be getting what the band is all about and enjoying how catchy some of it is but also finding out the layering and subtlety that we've put into the song writing. I'm also glad to read a lot of good feedback on my lyrics which I really put a lot into on this album and it's the best compliment to hear that people are really latching on to that.
Do you think that this album will be appreciated by Pythia fans?
We hope so! At this point, the album has now been released and it sounds as though the fans are really digging it. Without wishing to blow our own trumpet, I've heard nothing but positive feedback from the existing fans. And I think we've also picked up a few more fans since the album's release, which is just fantastic.
The artwork immediately caught my attention. Who created it?
It was done by a very well-known British artist called Brian Froud. I'm really lucky to have known Brian for a long time, since I was very young in fact and he was really up for doing the cover for us. He came up with a fantastic idea straight off the bat and was really open to our suggestions, leading to the final artwork we used on the album. I should also mention Gurdish Haugsdal who came up with the sleeve and inlay design, using Brian's artwork. Again, Gurdish did an amazing job of bringing our ideas to life so the end result was exactly what we were hoping for.
Where did the idea for the album title "The Serpent's Curse" come from?
It's a reference to the snake in the Garden of Eden, as well as retaining the serpentine theme of the name Pythia. One of the recurring themes of the lyrics on the album is the stand-off between Darwinism and the idea of Creation, so I suppose it's almost posed as a question to the listener – you decide!
If you were to define this new output with a word or an adjective, or even "a feeling", which word would you use to describe it ?
Metal!
Having given the album a quick, I felt I could hear it being influence by the Nightwish album "Oceanborn" album, mainly on the track "Cry of Our Nation". It seems like that maybe because of the keyboards who seem very "symphonic-oriented" or perhaps it is due to the hard and powerful guitars. Do you personally agree with this statement?
I don't think it's directly influenced, as none of us really listen to Nightwish or certainly haven't for a long time. As a metal band with a female singer we have unavoidably drawn those comparisons to Nightwish, so I guess we're closer to that earlier period of the band that was a bit thrashier – or so I've been told! I think if anything, we probably drew from the same influences that Nightwish did, so possibly that's why there are parallels.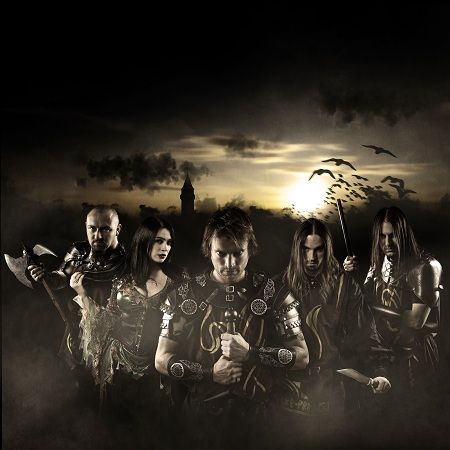 The record is quite multifaceted and quite catchy, sometimes it sounds like symphonic metal, but the thing that impressed me the most was the lyrical side of it. I know that write most of the lyrics for Pythia. What can you tell us about them? How's writing process been, where did the inspiration to write such lyrics come from?
I wrote all the lyrics and it's great to hear that they've come across well and people are enjoying them! I put quite a lot into them emotionally and in some ways it was almost a channelling process and I went to some very personal places with the lyrics. Really it all comes from my own experiences in life, love, relationships etc. As I mentioned before, there are also some philosophical questions in there, but again they come from my own personal perspective and view on the world.
Pythia is considered a metal band, even if I think personally that you're more gothic-classical oriented. Do you agree with this?
I think we are definitely a metal band at our core. The drums and guitars are unmistakably metal, particularly on the new album and I think it's something we're unashamedly proud of. As for the gothic and classical influences, those are also really important parts of our sound, but I think those are more closely tied to metal than a lot of people think. If someone like Beethoven had been alive today, I think he probably would have been writing metal as there are a lot of similarities in the virtuosity of the musicianship and the complexity and layering of the composition. As a lifelong fan of gothic literature, I think the gothic influence is also valid as I think, even sub-consciously, it influences my melodies and lyrics, at least.
Emily, I know that you also sing in Mediæval Bæbes and Celtic Legend. How do you manage to reconcile all your work commitments?
I only sleep 30 minutes a night! My secret is out! Seriously, it is hard work, particularly with now being a mother, but I think if you have the passion and enthusiasm for things, which I certainly do, then you make it all work and fit together. There's also the thing at the back of my mind that my voice isn't going to last forever so I want to make the most of it while I can!
You use an operatic singing style. What kind of vocal training did you have?
I started singing at a very early age and was very fortunate to go to a specialist music school when I was a teenager.
I know that this year you will play in London and as well as in Cardiff, along with Serenity. What do you think of this Austrian band?
They're a great bunch of guys and are deservedly making a name for themselves in Europe and over hear. Hopefully these shows should help them raise their profile further. I think what they're doing is very accessible but subtly different to a lot of 'power metal bands' in that they have a higher level of musicianship and a complexity in their songs that gives them an extra depth. A couple of the guys in Serenity actually collaborated with the Pythia boys on a charity concert in memory of Marc Dyos' brother Vincent, who sadly passed away in 2009.
What is your own relationship with the music you make and the stage?
As I mentioned before, I put a lot of personal emotion and energy into the lyrics, so I think I have a very close relationship with my music. As for the stage, it's really important to me to be able to perform my music as, while I think you can get a lot from listening on a CD or digital copy, you can only really feel the true energy of the music if you get to see it performed live.
I know that in 2010 you also played in Belgium, for an important festival called Metal Female Voices Fest, that has the only purpose to promote fronted female metal bands. Would you like to share something about this experience with us? How was it for you playing live in front of so many people that were coming for you from all over the world?
It was incredible! A really great experience and one that I hope we can repeat at some point in the future. It's a really well organised and put together festival and deservedly attracts a big, international crowd. It was amazing being able to interact with people from all over as well as share the stage with some great bands.
What do you think of fronted female metal genre? Is there any artist or band you like the most?
Apart from Pythia? Seriously, I don't really see it as a genre, as most of the bands that are classified as female-fronted metal sound completely different to each other. Aesthetically they may have similarities, but sonically Nightwish sound to me really different to Leaves' Eyes or Stream of Passion. And then I think we sound totally different to, say, Unexpected. I think the good thing about it being considered a genre is that it means people get to hear all sorts of different styles without maybe realising it. Hopefully they then go out and check out other bands in that genre, female-fronted or otherwise.
Your album will be released in Europe very soon. Is there something you would like to do after the promotion for the new record? Any hidden fantasy or dream?
Plenty of hidden fantasies, though none I'm going to share here

I'm hoping we get the chance to do more shows in Europe and spread the name around more. We've got a distribution deal in Japan so it would be dream come true if we got the chance to play out there at some point.
Are you going to go on a European tour soon? What future is in store for Pythia?
There are some things in the pipeline, but nothing that we can announce yet. Watch this space!
Thanks so much for the nice chat, Emily. Good luck with the band! Anything you'd like to say to your fans and our FM readers?
Check out "The Serpent's Curse" if you haven't already! See you on the road in the not too distant future…
Links
MySpace * ReverbNation * Facebook * Twitter * Site
Latest Multimedia
Interview by Miriam C.
And here we're for the second time promoting Evenoire. This time we have talked with Lisy about their debut album "Vitriol" that was published some months ago. I gladly invite you to enter this magical world made of ancient stories and legends. They are in need to be protected and chanted, as I call them Evenoire are the guardians of the last legends.
Hi dear Lisy, how are you? A lot of time passed since the last time we spoke.
Hello dear Miriam!! Thank you for giving me the opportunity to introduce you the debut album of Evenoire, it's a pleasure to be again on Femme Metal Webzine!
And about time that's passed, I would like to ask you what's happened between the release of "I Will Stay" EP and "Vitriol", sounds first of all a lot of line up changes and why "Vitriol" took so much time to be released?
Between the first EP "I will stay" and "Vitriol" we just played a lot of concerts in North of Italy and composed: we took all the time we needed to create our debut album and take care about each single song, with no pressure, because the deal with Scarlet Records came once we had already recorded. About the line up changes, after some bad experiences with keyboards players, we decided to collaborate with external musicians for "Vitriol": they composed and arranged for us keyboards parts. And after the recording of "Vitriol" we decided also to have a second guitarist in the band to strengthen the sound: so Toshiro Brunelli joined the family!
"Vitriol" is your first album released thru Scarlet Records on 26 March 2012, what you can share about its genesis and can you explain me the curious title??
The composition of "Vitriol" took us more that 2 years, we worked a lot in order to record a good debut album: everything came in a very natural way and the result is a sound full of influences relying from our different musical backgrounds. You find gothic atmospheres, oriental melodies, prog parts, symphonic keys, heavy guitars and a very distinctive medieval/folk approach. V.I.T.R.I.O.L. (Visita Interiora Terrae Rectificando Invenies Occultum Lapidem) is an acronym from alchemical literature that means a deep travel into ourselves, in order to discover a deeper dimension and purify our psyche from negativities, and the element is water, symbol of the unconscious and element of life. In fact, water and alchemy are the main themes of our lyrics. This kind of journey was obliged for alchemists: they had to purify themselves like also metals have to be purified. Vitriol is also an acid, its colour is a deep blue: alchemists used it in their formulas and magical practices and they recognized this element like a part of some magical creatures.
As stated before "Vitriol" is out on Scarlet Records, now I want to focus a little about the deal. When you signed the deal and how you manage to get it? Sounds a huge goal reached for a young band like Evenoire, I mean with the times we are passing…. so double congratulations from me and the webzine…
Thank you so much Miriam! In December 2011 I took part in the organisation of an event dedicated to Italian underground bands, and as a member of the staff I had the opportunity to meet Filippo and Enzo from Scarlet Records, they were in the jury. I talked to Filippo about Evenoire and he liked the project and the music, so he offered us a deal, and we are so happy about that!
For what I get "Vitriol" was recorded in Germany with Mario Lochert at Dreamsound Studios (Vision of Atlantis, Emergency Gate). First of all why choose this studio outside Italy and how was work with this team? And sorry for asking but what are the differences, in your vision, between an Italian and a German recording studio?
I met Mario at Metal Female Voices Fest in 2010, he told me about Dreamsound Studios in Munich where he works as sound engineer. I thought it could be very interesting to record in Germany together with him and Jan Vacik (Dreamscape), because they worked with band such Graveworm, Evergrey, Edenbridge, Leaves' Eyes, Visions of Atlantis etc. We had a lot of fun together in Munich, we found a very friendly ambience and a professional and great way of working. We also have good studios in Italy, but I think that in German you can find the best in recording a metal album and also it's a very interesting experience to collaborate with people outside Italy, it's a good opportunity to grow also as musician.
The cover of "Vitriol" in its essentiality totally got me. You have this tree coloured clear blue and the sky and rock grey. What you wanted to express with this cover? Any particular meaning and who's the cover's author?
The cover represents tree of life in a waterscape: it's an image of the travel I described to you, a deep journey into the unconscious where water is the key, in order to rebirth to an higher state of life. Blue is the colour of skies, lakes, rivers where our legends are set, and it's also the colour of one of our first songs, "Azzurrina" (in English "Blue Girl"), about the story of the ghost of Montebello Castle, near Rimini. The author of the cover is Francesco Bonetti, a graphic designer from our town Cremona.
On "Misleading Paradise" you sing along with the amazing Gaby Koss (Nota Profana, Haggard). When you've met her for the first time and how's born this duet?
We met on Facebook, she liked our music so we decided to collaborate: we were looking for a guest singer and what better than wonderful Gaby's voice? She also lives in Munich were we recorded "Vitriol" so everything was perfect! I enjoyed so much the experience, we became friends and had also a great Indian dinner at restaurant; when she comes in Italy we usually meet, it's great what music can do sometimes!
The curious fact that I've discovered reading a press article is about your lyrical themes present on "Vitriol" based on local popular legends, can you tell us more?
Yes, lyrics are about Italian legends, history and literature and we try to give life to these stories. For example "Minstrel of Dolomites" is about a legend from the beautiful mountains Dolomites and it talks about the mythical born of the small glacial Lake of Antermoia and about how Oswald von Wolkenstein became the most famous minstrel of that area. The single "Days of the Blackbird" is about a legend from Cremona called "The Three Days of the Blackbird", the coldest days of the year at the end of January. Lyrics explain one of the legends that originated this kind of folklore. It talks about a young couple that had to marry and reach the small town to the other side of the Po River. They crossed the icy river on foot, it was the end of January. After some days of celebration they had to come back home but this time the ice broke and they died, and during the next three days a blackbird cried to call the attention of the people. "Girl by the Lake" talks about a legend of Iseo Lake and explains how the terrible storm called Sarneghera originated: from a sad story of love and death. Italy is full of art and folklore and we like to rediscover forgotten legends, you know, here everything has got a legend: lakes, rivers, valleys, castles, buildings, foods, everything! And it's a piety that some of them are disappearing, so we keep them alive!
According to the latest line up, you are orphan of a keyboardist. What's happened to Michele Cattadori, your last keyboardist? I assume your still searching for a replacement for it, right? And who recorded the keys on the album?
He was simply not in line with our way of work; at the moment we are not looking for a replacement, the line up it's perfect now with one more guitar. We are a little unlucky with keyboards players so we decided to not loose time again and collaborate with external musicians Davide Bislenghi (solo artist), Simone Giorgini (Dark End, Hollow Haze), Marco Garau (Derdian) for the recording of the keys parts in "Vitriol".
Can you talk more about your other projects that you have : guest vocalist in Derdian (for what I've seen on your Facebook profile you have been in Romania and Maldives too) and The Whisper acoustic trio?
I was a guest in the last album of Derdian in 2009, "New Era Parts 3 – The Apocalypse", I recorded choirs and a duet with the singer Joe, called "Forevermore" plus a new version of one of their most popular song "I Don't Wanna Die". I also took part at several concerts with them like the festival "Rockin' Transilvania" in Romania and a private concert for a rich Ukrainian man in Maldives: it was an incredible experience because he paid us a whole week of holiday in a wonderful atoll and we could not believe that it was true…we had a lot of fun!! About The Whisper Acoustic Trio it was a little acoustic project made by me, Alessandro (guitarist of Evenoire) and a male singer: we played rock covers, it was just for fun. We kept it for many years but now we quit, too much work with Evenoire!
Instead what you can share about the recording session of new Secret Sphere album?
I took part in the recording of choirs for the new album of Secret Sphere in February 2012, it was a really positive experience, but after this unfortunately the singer Roberto Messina left the band and he was replaced by Michele Luppi that wrote from the beginning new vocal lines and recorded all again. So I think they won't kept nothing of the old choirs and this is really a piety because me and other 2 female singers worked a whole day and the result was amazing.
You happen to be part of the international project Eve's Apple, to who maybe don't know about this can you explain a little?
Eve's Apple is a worldwide community of professional female singers, designed to be a platform that informs about women's work in the world of music, supports new female fronted bands, and offers advice for navigating the music business world. It's formed from famous female metal singers like Lisa Middelhauve, Carmen Elise Espenaes, Marcela Bovio, Maxi Nil, Charlotte Wessels, Heidi Parviainen, Mariangela Demurtas and many more: I'm really proud to be part of it, it's like a music family where we can share our experiences and problems, in the name of our common passion: music. I can really say that I found musical sisters!! You can follow us on Facebook here.
Now when I interview an Italian artist I ask always about our musical situations about how is hard to playing live and do some promotion. What's in your idea that in Italy doesn't work? What's the first difficulty that a young band like you meet? It's the wrong mentality or is because the media don't care about metal (except in your case because I've seen that local newspapers support you really well and really care about Evenoire)? Well, just show us your idea about this topic…
Both I think: TV and radios don't give spaces to this kind of music, web is the only way to promote for a band now,and it's not easy because there are a lot of bands! Yes, our town Cremona support us and local newspapers give us space but usually it's hard even because in Italy there are few places where you can play: pubs prefer cover and tribute bands because it's easier to earn money and I think this is the first problem for young bands: the difficult to play live!
Well, my dear, we're at end just greet your fans as you want and horn up!!
Just keep to follow us, we are already working at the second album, so stay tuned and see you live somewhere! And for the ones that don't know us you can listen to our single here.
Links
MySpace * ReverbNation * Facebook * Twitter * Site
Label : Sound Age Productions
Review by Vard Aman
Rarog (the band) formed in 2004 in Moscow (although Shmel' had been writing material for some time already), released their debut album "Az Boga Vedayu!" in 2006 and then went a little quiet for a while, mainly due to a series of line up changes (Shmel' also played bass for Kalevala from 2007-2011). Now they're back with 2 albums in quick succession, "Vzoidi Solntse" in 2011 and now this one, "Syny Sokola"; and they're doing very well for themselves. Rarog play Slavic Folk/Pagan Metal – a unique subgenre of Folk/Pagan Metal that has gradually left its native lands and is now growing ever more popular in the Metal world abroad, thanks largely to its most iconic band, Arkona. For Rarog, comparisons with Arkona are inevitable but not entirely justified; they may both share the same musical roots, but both bands have their own unique distinctive sounds. Still, fans of Arkona are likely to enjoy Rarog too, and for those who have not yet been introduced to the subgenre of Slavic Folk/Pagan Metal, Rarog are as good an introduction to it as any. Rarog are also more versatile and progressive than many of the other bands in their subgenre, and this should make them more easily accessible to fans of other subgenres. Their musical style moves with ease from the typical Slavic folk progressions to a fast Pagan/Black Metal style with furious blast beats, to a slow melodic Doom Metal style without ever losing their distinctive sound. Like most Slavic Folk/Pagan Metal, Rarog makes use of several different traditional Slavic musical instruments to compliment their sound; and in Rarog's case, a few non-traditional ones as well, like violins and cello.
Their lyrical topics cover ancient Slavic myths and legends, the history of the Slavs and Slavic Paganism before the Christian invasion in what was then Rus. Since 2010 Rarog has been fronted by Aleksandra Sidorova (also a member of Moscow's Silver Voice choir), and it is her voice that gives Rarog its real edge – she is the beautiful Siren-like call of the Firebird (if I may mix up legends slightly). She is capable of many different vocal styles; the two that are most prevalent on this album are her Slavic folk style and her academic/operatic style. She excels at both; but what really makes Aleksandra an exceptional singer is the uniqueness of her voice and the emotion she is capable of generating. At times, her voice takes on an almost innocent childlike quality, at other times it is more plaintive, sometimes even desperately so – she can bring her voice to just about breaking yet stops just short, without ever losing her vocal control. It is haunting indeed. Few academic/operatic singers are capable of generating such emotion… or maybe it's just that they don't try, maybe they are concentrating so much on vocal control and projection that they end up forfeiting the emotion and become effectively singing machines. Aleksandra proves that an academic/operatic singer can have both total control and convey powerful emotion at the same time; and it is very, very effective! While I'm at it: if you want to hear how operatic vibrato can be used in such a way that it leaves the listener with gooseflesh and a lump in the throat (as opposed to making the cat go AWOL), listen to how Aleksandra uses it at around the 1:00 mark in "Serdechnaya". Seriously, wow!
Male vocals, both clean and growls (and battle cries), are provided by Shmel'; and he is also very good at what he does. The production is clear, similar to the previous album, but the songwriting on "Сыны Сокола" is better and it is a more mature album overall – Rarog is a band that is continuing to improve. Highlights from the album there are aplenty: "Syn Sokola", the first track is brutal and fast, with some beautiful violin melodies; "Ognenniy Mech" is a heavy Folk Metal song; "Rogneda" has a slow tempo in which Aleksandra's versatility and range of styles comes to the fore; "Perunova Ren" is fast and furious, good to have in the heat of battle (with a slight breather in the middle); "Veschiy Sokol" has a climatic feel to it as does the final (Rarog) track "Serdtse Voevody", which is a slow and powerful track where Shmel' gets to show his own versatility as well. But out of all the highlights on this album the biggest one is the third track, "Serdechnaya" – easily one of my candidates for song of the decade so far. It is a slow and powerful song with amazing melodies and harmonies, and features one of the best and most unique singers around delivering a performance of note! The album ends with "Krov Nashih Vragov", which is a Russian cover (in Russian) of "Blood of My Enemies" by Manowar.
Rarog make the song their own while staying true to the original. Lyrically, the gist of it is the same. Norsemen (Varyags) had a large influence on Rus up to the tenth century CE prior to the Christian invasion and occupied much of the Northern Rus states, so the Norse mythology that makes up the background to the lyrics of "Blood of My Enemies" is not really that out of place. How well the Varyags and the Eastern Slavs got along at the time (people being people) I do not know, that's a question for some genuine historians (and not a CD reviewer), but one thing that is known well enough is that what came next for both Slavic and Nordic Paganism was not exactly pleasant. But the legends and the cultural knowledge have survived and Rarog (and others) are here to tell you about them; and if you do not understand what they're singing about, no worries, just turn up the volume and admire the awesome power of the Firebird, and melt to its hauntingly beautiful call.
Rating – 90/100
Tracklist
Сын Сокола [Syn Sokola – Son of the Falcon]
Невидаль [Nevidal – Wonder / Far Far Away]
Сердечная [Serdechnaya – Heartfelt]
Пятый Снег [Pyatiy Sneg – The Fifth Snow]
Огненный Меч [Ognenniy Mech – Burning Sword / Flaming Sword]
Рогнеда [Rogneda]
После Победы [Posle Pobedy – After the Victory]
Перунова Рень [Perunova Ren]
Вещий Сокол [Veschiy Sokol – Prophetic Falcon]
Сердце Воеводы [Serdtse Voevody – The Heart of the Governors]
Кровь Наших Врагов (Manowar cover) [Krov Nashih Vragov – Blood of Our Enemies]
Line Up
Aleksandra "Rys'" Sidorova – Vocals – Vocals
Pavel Kuzmin – Guitars
Aleksandr "Shmel'" Shvilev – Bass
Vadim Semenov – Drums
Links
6 color styles available:

Style switcher only on this demo version. Theme styles can be changed from Options page.