Browsing articles tagged with " life"
Label: Black-Listed Records
Review by Tony Cannella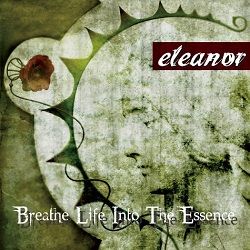 From Japan, Eleanor plays romantic melancholic metal with a neo-classical metal twist to it. Eleanor was formed in Osaka in 2005. They released their first demo in 2006, followed by another one in 2007 and finally their full-length debut "Circle of Lament" in 2008. Now the band returns with their second album, "Breathe Life into the Essence".
Musically Eleanor certainly has some virtuosity and that comes through in the 43-minutes worth of music provided here. Lead vocalist Shiori Vitus has a voice that's crystal clear and dramatic. Lead guitarist Ippei J. Malmsteen – and judging from the name, it's easy to see who one of his influences is – is a great guitar player in his own right. Continue reading »
Interview by Alessandra Cognetta
Here we are for another feature from overseas in our series of interviews with female-fronted Japanese bands. This time we move from Tokyo to the south of the country, specifically Osaka. Shiori is the lead singer of Eleanor, a gothic/melancholic metal band that will surely remind you of the Dutch act The Gathering. But there's much more than that in their music and we had Shiori as our guide to get to know more about Eleanor and their latest release, "Breathe Life Into The Essence", with in-depth analysis of the songs, the emotions the cultural influences and the people behind the music. You only have to scroll down and read!
Hello and welcome to Femme Metal, Shiori! We're glad to have another Japanese band on our webzine. So, how are you and how's Eleanor doing right now? Your latest album, "Breathe Life Into The Essence", has been released not long ago, what feedback did you get from the press and from your fans?
Hello. I'm the singer of Eleanor, Shiori. Thank you for the opportunity, and I would like to express my feelings of honor at being interviewed. As for the new album, we have been introduced by magazine reviews, radio programs etc., and through various sources of media we have been receiving favorable receptions from not only our fans, but also listeners who have never heard of us before, and I feel very happy about this. It could be due to the fact that before the release we posted free test plays from the album, and made the PV accessible, so that as many people as possible would have the chance to know a little bit about us.
"Breathe Life Into The Essence" comes four years after the release of your first album. What happened in these four years and how did this long pause away from studio recordings help or improve your relationship with songwriting?
The making of the second album began from the act of first putting a stop to the currentof our activities, and taking a second look into ourselves. The songs on the second album I think have increased in scale, compared to before. We do call ourselves a melancholic gothic metal band, but many songs take a widely altered course from what would be expected from the gothic metal genre. If we had not stopped the flow after the release of the first, we most possibly might have ended up making an album on the same track as before. Continue reading »
Independent Release
Review by Tony Cannella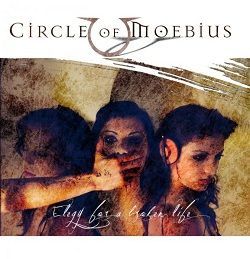 From Italy, Circle of Moebius was founded in 2003 by Paolo "P2K" Salvati. In addition to Paolo the band utilizes a wide array of musicians including two exceptional female singers Laura Prosperi and Eleonora Serafini. On their debut EP "Elegy for a Broken Life", Circle of Moebius offers up some conceptual progressive metal with some interesting lyrical content and cool guitar work courtesy of Paolo.
On "Elegy for a Broken Life", Circle of Moebius offers 7-songs 31-minutes of conceptual metal à la Queensryche. Also counted among their influences are Pink Floyd and Queen. You can definitely hear the Pink Floyd influence on "(Act 4) My Own Prison", but I'm jumping ahead. The songs are well written and the two female vocalists are quite good and they definitely work well together. They give the album something special, and they each bring their own style. After the opening intro "(Act 1) 08:29 p.m." the heavy riff on "(Act 2) Falling in the Dark" kicks in drives this energetic, kick ass song. "Kingdom Comes", the aforementioned "My Own Prison" and "Silent Dogma" are three other highlights. Continue reading »
Video footage of new AMBERIAN DAWN singer, 40-year-old Päivi "Capri" Virkkunen, performing a cover version of SKID ROW's "18 And Life" this past December 31 at Jack The Rooster in Tampere, Finland can be seen below.
AMBERIAN DAWN's new lineup is re-recording the "best" songs from its first four albums — "Circus Black" (2012), "End Of Eden" (2010), "The Clouds Of Northland Thunder" (2009) and "River Of Tuoni" (2008) — for a compilation album, to be released in 2013.

Interview by Erwin van Dijk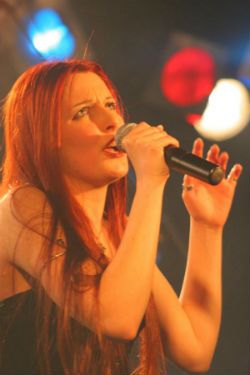 An in-depth chat with Chiara, the soprano singer of the well-promising Italian Gothic Metal band Lust for Oblivion about their debut demo "Black Moon" and their musical future.
Did you always want to become a singer?
I've always loved music and my first experience with it was at the age of nine, when I started playing the piano, but I've always loved singing, too, since when I was a child, so, some years ago, I started taking opera singing lessons.
And to what kind of music do you listen yourself?
I listen to classical music, especially opera and piano compositions and also to metal music.
And who are your favorite bands and musicians?
Bands like Dark Tranquillity, Moonspell, Within Temptation, Lacuna Coil, Tristania are my favorite, but I've surely forgotten some…obviously I adore Tarja Turunen!!!! My favorite classical musicians are W.A.Mozart, F.Chopin and K.Orff.
6 color styles available:

Style switcher only on this demo version. Theme styles can be changed from Options page.