Browsing articles tagged with " lilja"
Label: Livewire/Cargo Records
Review by Tony Cannella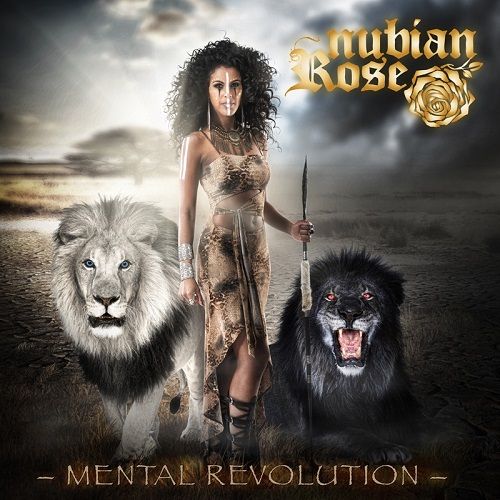 Wow! To say that the Swedish powerhouse metal band Nubian Rose has released their best album would be an understatement. Granted this is only their second record but it is miles ahead of their 2012 debut "Mountain" in terms of production, writing and presentation. I thought "Mountain" was a good enough debut but with their new album "Mental Revolution" the band has really turned it up a notch (or several).
"Mental Revolution" is a high energy, power packed sophomore record with a guitar sound that is just freakin' massive. When the monstrous riff that accompanies the opener "War" kicks in it's time to buckle in and enjoy the ride. Sofia Lilja's vocals are huge throughout the record and soars with the music. Continue reading »
Label : Funklord Dynasty Records/Rambo Music
Review by Tony Cannella
There is a definite charm and like-ability factor when it comes to the debut album, "Mountain" from the Swedish melodic rock band Nubian Rose. The band is fronted by vocalist Sofia Lilja and has an affinity for the 80s. "Mountain" does recall the late 80s – and I don't think that's a bad thing at all, in fact, it's quite refreshing. The opening duo of "Ever See Your Face" and "Mountain" gets us started. "Mountain" in particular, is one of the heavier songs and opens with a raw, monster guitar riff. Lead vocalist Sofia Lilja has a voice that is kind of reminiscent of Ann Wilson from Heart at times. "How Am I" is a heartfelt piano driven power ballad – Sofia really sings her heart out on this one. "Living for Tomorrow" is another guitar oriented number and features a guest solo courtesy of ex-Europe guitarist Kee Marcello. "Get Ready" has a 80s Heart vibe to it and is one of the highlights. Nubian Rose covers the Lita Ford classic "Close My Eyes Forever" which was quite a surprise. Of course Lita did it as a duet with Ozzy Osbourne and here Sofia performs it as a duet with Swedish vocalist Mats Leven (ex-Yngwie Malmsteen). Nubian Rose has written some cool songs with an up-beat, infectious, ready-for-radio style. The 80s influence is there, there's no denying it, but on "Mountain" Nubian Rose is able to fuse the best of the 80s with modern day AOR melodic hard rock influences.
Rating – 71/100
Tracklist
Ever See Your Face

Mountain

Living for Tomorrow

How Am I

Get Ready

Your Love

Once Bitten

Reckless

Close My Eyes Forever (feat. Mats Leven)

Sisters
Line Up
Sofia Lilja Åkerlund – Vocals

Christer Åkerlund – Guitar

Thomas Lindgren – Guitar

Frederick Åkerlund – Keyboards

Henric Uhrbom – Bass

David Algesten – Drums
Links
Independent Release
Review by Luisa Mercier
I already knew Eilera and had appreciated their second album "Fusion". The following "Darker Chapters and Stars…" features the characteristics that made this band quite known in female fronted metal. A nice blend of prog, gothic, folk and extreme metal that you can hear since the beginning "Marching Towards Dawn". The drums are very martial as if they were really marching and spoken vocals plus synth make the atmosphere quite gloomy. "Don't Go Fight" has a powerful bass line which mixes with violin, guitars and Eilera vocals. She is quite unique in metal scene, since her voice would be more suitable for pop/electronica but once you get used to it, it is quite easy to enjoy it. In the end folk suggestions take the lead. "Fly" is a real prog track full of tempo changes and a cello can be heard in the backgoround, courtesy of Max Lilja, former Apocalyptica member. "Passport Please" is a short track but full of rhythm too: it starts gently to become much more energetic. Definetely pop/folk is "Lucie After War" and it fits perfectly Eilera vocals, while "Celtic" is indeed a celtic tinged song. It would have not sounded bad on an Enya album. Back to metal with "Slow Down Metal". The intro is very heavy and the song reveals itself as a gothic metal track with some atmospheric moments. Really creepy. "Rob My Soul" is again gothic metal with a lot of keyboards that acquires a symphonic, epic twist in the ending. "So What?!" is a song with a strong focus on vocals. Eilera is very expressive here and it is accompanied by powerful riffs and strings. The sample at the beginning of "At a +- Roads" seems coming out a Western movie and the song that follows is a mid-tempo with folk-symphonic elements. Last song is "From Pink to Black" is a power ballad with a nice solo in the middle. It gets heavier in the second half, never losing his emotional feeling. This album is definetely very, very varied. It spans from pop to celtic to gothic metal and I can say that it can be enjoyed by almost everybody out there.

Rating – 80/100
Tracklist
Marching Towards Dawn

Don't Go Fight

Fly

Passport Please

Lucie After War

Celtic

Slow Down Time

Rob My Soul

So What?!

At a +-Roads

From Pink to Black
Line Up
Eilera – Vocals

Loïc Tézénas – Guitar

Jan Sormo – Bass

Max Lilja – Cello (Additional Musician)

Laura Airola – Fiddle (Additional Musician)

Tony Canton – Fiddle (Additional Musician)

Yoann Le Gall – Drums (Additional Musician)

Jean Ferry – Drums (Additional Musician)
Links
6 color styles available:

Style switcher only on this demo version. Theme styles can be changed from Options page.