Browsing articles tagged with " limited"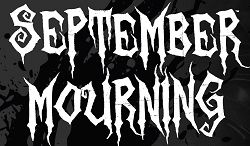 Interview by Ed MacLaren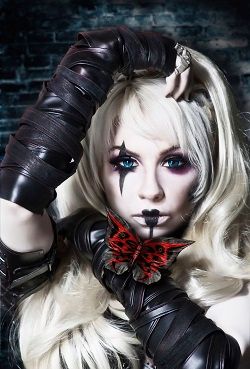 Deep within the dark purgatory between life and death lurks September, a young girl whose soul acts as a desolate bridge between life and death. She also serves as the inspiration for one of the most intriguing art concepts of this new century - September Mourning. Walking the distorted line between light and darkness is Emily Lazar, September Mourning's lead vocalist and the creator and architect of this dark fantasy. Taking this art concept to the ultimate 21st century extreme, September Mourning is set to be unleashed upon the world in a massive transmedia project including music, graphic novels and Internet video. Emily and Femme Metal Webzine got together recently to talk about September Mourning's most recent album, "Melancholia", her vision for the project and how this far-reaching concept came together.
You've been focusing on the musical aspect of September Mourning for the last couple of years. Now it looks like there's finally going to be some forward motion on the MTV Geek webisodes and of course the comics. This is great news for you and especially your fans! Continue reading »

Interview by Alessandra Cognetta
In this interview we get to know more about Chaostar with the help of their lovely vocalist Androniki Skoula. Trying to describe Chaostar's music is a demanding task, a bit like telling your friends about a really good book you've read without spoiling the sudden twists or surprises. When you approach their music you have to prepare for the unexpected, the wonder, the emotions and lots of talent. Their latest masterpiece is "Anomima" (which we reviewed here already, a recommended read if you want to get an idea of how it sounds), released through Season of Mist at the beginning of May. Androniki gave us an in-depth overview of the creation process behind the new album, her own path as a singer with Chaostar and as a person, Eve's Apple (I'm always more than happy to talk about it!) and the immortal women of Greek tragedies like Medea and Antigone, but also the Greek philosopher Hypatia of Alexandria, who some of you may remember from the 2009 film "Agora". But enough with the spoilers, scroll down and start reading! Continue reading »
Interview by Roberta Ilaria Rossi & Miriam C.
Young and talented, with a big desire of doing lots of new things, the Canadian band Mortillery is proud their second album "Origin  of Extinction", a pure thrash old school metal quite inspired by Overkill sound. In occasion of the official release sponsored by Napalm Records, we've got the chance to exchange a few words with the frontwoman of the band, Cara McCutchen, who brought us in a world of powerfull riffs and guitars that spit fire. Here's our chat!
Today our website has the great pleasure to welcome Cara McCutchen from Mortillery. Welcome Cara. How are you doing?

I'm doing awesome! Thanks so much for having me here!
For those who still don't know anything about you, would you like to introduce a little biography of yourself/of the band?
Sure! I am the singer for the band Mortillery from Edmonton, Canada. I started singing in metal bands 10 years ago. It has always been my and Mortillery's intention to play old school thrash metal. Continue reading »
German Symphonic Gothic metal band CORONATUS today publish the new digital compilation "Best Of 2007-2011″
Starting today, December 21st, you can download your copy for 5€ only here: http://www.amazon.de/dp/B00A21RYME
But don't wait too long, the limited offer ends this Sunday (December 23rd)!
www.coronatus.de | www.facebook.com/CoronatusOfficial
Opera di recupero per il demo "Spectra" datato 1985 di Hurtful Witch, band di culto antesignana del metal occulto ed estremo, capitanata dalla singer torinese Roberta "Morgana" Delaude. La data prevista per l'uscita è gennaio 2013 in solo vinile e tiratura limitata.
I tre pezzi originali "We're fire", "Lost Angel" e "Behind my eyes" sono stati remasterizzati mantenendo però il fascino ruvido di quegli anni che hanno segnato la storia del metal underground.
Contatti e ordini:
https://www.facebook.com/HurftfulWitch
————————–
In order to recover the debut demo Hurtful Witch's "Spectra" dated 1985, Italian cult band precursor of an occult, extreme metal, fronted by Roberta "Morgana" Delaude" on January 2013 will released on vinyl only and in a limited press.
The three original songs containted in the demo "We're fire", "Lost Angel" e "Behind my eyes" have been remastered but preserving that rough sound that have marked the history of Italian metal underground.
Here below the trailer
Orders and infos:
https://www.facebook.com/HurftfulWitch
6 color styles available:

Style switcher only on this demo version. Theme styles can be changed from Options page.