Browsing articles tagged with " lisy"
Label : Scarlet Records
Review by Tony Cannella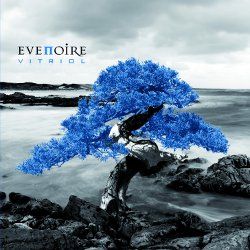 The Italian band Evenoire has been with us since 2006 and in 2009 they gave us a decent four song EP called "I Will Stay". Now the band returns with their full-length debut "Vitriol". It is a well known fact that the country of Italy has give us many, many great female fronted bands and with "Vitriol" Evenoire are sure to add to the Italian tradition of great metal. On "Vitriol", Evenoire really doesn't create any boundaries for themselves, they aren't beholden to any one style, and that is refreshing. They combine the best elements of symphonic, folk, gothic and progressive metal with a medieval vibe in some of the songs to create one of the best albums of the year thus far. Vocalist Lisy Stefanoni's has so many layers to her vocals and is a powerful presence throughout the album. As far as pure singers go, she is one of the best that I have heard in a long time. Of course opinions are all subjective but I would put her in the same class as Floor Jansen, Simone Simons, Sharon den Adel and Tarja Turunen, she is that good. The intro "Vitriol" is a quiet piano and symphonic piece that leads into the symphonic "Days of the Blackbird"; this track features blasts of heaviness and changing tempos to deliver an excellent opener. Lisy sings in both an operatic and soaring rock style, something she is able to do throughout the album is sing in a number of different styles in one song. "Misleading Paradise", opens with a flute played by Lisy (which is prominently featured throughout the album), before the crunching power riffing of guitarists Alessandro Gervasi and Toshiro Brunelli joins the fray. Damn, this song is just so infectious it is impossible not to like. Aside from the flute this is actually a pretty straight-forward rock/metal tune. This is just pure awesomeness. "Forever Gone" is next and has a slower heavy tempo to it, and features some death grunts (just a little bit) in the background. The intro "The Prayer" (featuring only acoustic guitar and soft vocals from Lisy) leads into the folk-ish beginning of "Girl By the Lake" which is one of two songs over 7-minutes long (the other is "Misleading Paradise"), this song fast became my favorite – it kind of reminded me of "Mother Earth" era Within Temptation with Lisy sounding a bit like Sharon den Adel at times. Next is "Minstrel of Dolomite" which kind of has a Blackmore's Night vibe to it at the start, but quickly evolves into a song that is unmistakably Evenoire. After the final two songs "Alchimia" and "Wise King" closes out the disc, there is really nothing I can criticize about it. In the last three years between the EP and "Vitriol" the band has grown so much and in doing so has delivered a fantastic debut and proves they are a band to be taken seriously. I can talk or write about "Vitriol" till I am blue in the face, but mere words will not do it justice, it must be heard.
Rating – 100/100
Tracklist
Vitriol

Days of the Blackbird

Misleading Paradise

Forever Gone

The Prayer

Girl By the Lake

Minstrel of Dolomites

Alchimia

Wise King
Line Up
Lisy Stefanoni – Vocals and Flute

Alessandro Gervasi – Guitars

Toshiro Brunelli – Guitars

Marco Binotto – Bass

Daniele Foroni – Drums
Links
MySpace * ReverbNation * Facebook * Twitter * Site
Interview by Miriam C.
And here we're for the second time promoting Evenoire. This time we have talked with Lisy about their debut album "Vitriol" that was published some months ago. I gladly invite you to enter this magical world made of ancient stories and legends. They are in need to be protected and chanted, as I call them Evenoire are the guardians of the last legends.
Hi dear Lisy, how are you? A lot of time passed since the last time we spoke.
Hello dear Miriam!! Thank you for giving me the opportunity to introduce you the debut album of Evenoire, it's a pleasure to be again on Femme Metal Webzine!
And about time that's passed, I would like to ask you what's happened between the release of "I Will Stay" EP and "Vitriol", sounds first of all a lot of line up changes and why "Vitriol" took so much time to be released?
Between the first EP "I will stay" and "Vitriol" we just played a lot of concerts in North of Italy and composed: we took all the time we needed to create our debut album and take care about each single song, with no pressure, because the deal with Scarlet Records came once we had already recorded. About the line up changes, after some bad experiences with keyboards players, we decided to collaborate with external musicians for "Vitriol": they composed and arranged for us keyboards parts. And after the recording of "Vitriol" we decided also to have a second guitarist in the band to strengthen the sound: so Toshiro Brunelli joined the family!
"Vitriol" is your first album released thru Scarlet Records on 26 March 2012, what you can share about its genesis and can you explain me the curious title??
The composition of "Vitriol" took us more that 2 years, we worked a lot in order to record a good debut album: everything came in a very natural way and the result is a sound full of influences relying from our different musical backgrounds. You find gothic atmospheres, oriental melodies, prog parts, symphonic keys, heavy guitars and a very distinctive medieval/folk approach. V.I.T.R.I.O.L. (Visita Interiora Terrae Rectificando Invenies Occultum Lapidem) is an acronym from alchemical literature that means a deep travel into ourselves, in order to discover a deeper dimension and purify our psyche from negativities, and the element is water, symbol of the unconscious and element of life. In fact, water and alchemy are the main themes of our lyrics. This kind of journey was obliged for alchemists: they had to purify themselves like also metals have to be purified. Vitriol is also an acid, its colour is a deep blue: alchemists used it in their formulas and magical practices and they recognized this element like a part of some magical creatures.
As stated before "Vitriol" is out on Scarlet Records, now I want to focus a little about the deal. When you signed the deal and how you manage to get it? Sounds a huge goal reached for a young band like Evenoire, I mean with the times we are passing…. so double congratulations from me and the webzine…
Thank you so much Miriam! In December 2011 I took part in the organisation of an event dedicated to Italian underground bands, and as a member of the staff I had the opportunity to meet Filippo and Enzo from Scarlet Records, they were in the jury. I talked to Filippo about Evenoire and he liked the project and the music, so he offered us a deal, and we are so happy about that!
For what I get "Vitriol" was recorded in Germany with Mario Lochert at Dreamsound Studios (Vision of Atlantis, Emergency Gate). First of all why choose this studio outside Italy and how was work with this team? And sorry for asking but what are the differences, in your vision, between an Italian and a German recording studio?
I met Mario at Metal Female Voices Fest in 2010, he told me about Dreamsound Studios in Munich where he works as sound engineer. I thought it could be very interesting to record in Germany together with him and Jan Vacik (Dreamscape), because they worked with band such Graveworm, Evergrey, Edenbridge, Leaves' Eyes, Visions of Atlantis etc. We had a lot of fun together in Munich, we found a very friendly ambience and a professional and great way of working. We also have good studios in Italy, but I think that in German you can find the best in recording a metal album and also it's a very interesting experience to collaborate with people outside Italy, it's a good opportunity to grow also as musician.
The cover of "Vitriol" in its essentiality totally got me. You have this tree coloured clear blue and the sky and rock grey. What you wanted to express with this cover? Any particular meaning and who's the cover's author?
The cover represents tree of life in a waterscape: it's an image of the travel I described to you, a deep journey into the unconscious where water is the key, in order to rebirth to an higher state of life. Blue is the colour of skies, lakes, rivers where our legends are set, and it's also the colour of one of our first songs, "Azzurrina" (in English "Blue Girl"), about the story of the ghost of Montebello Castle, near Rimini. The author of the cover is Francesco Bonetti, a graphic designer from our town Cremona.
On "Misleading Paradise" you sing along with the amazing Gaby Koss (Nota Profana, Haggard). When you've met her for the first time and how's born this duet?
We met on Facebook, she liked our music so we decided to collaborate: we were looking for a guest singer and what better than wonderful Gaby's voice? She also lives in Munich were we recorded "Vitriol" so everything was perfect! I enjoyed so much the experience, we became friends and had also a great Indian dinner at restaurant; when she comes in Italy we usually meet, it's great what music can do sometimes!
The curious fact that I've discovered reading a press article is about your lyrical themes present on "Vitriol" based on local popular legends, can you tell us more?
Yes, lyrics are about Italian legends, history and literature and we try to give life to these stories. For example "Minstrel of Dolomites" is about a legend from the beautiful mountains Dolomites and it talks about the mythical born of the small glacial Lake of Antermoia and about how Oswald von Wolkenstein became the most famous minstrel of that area. The single "Days of the Blackbird" is about a legend from Cremona called "The Three Days of the Blackbird", the coldest days of the year at the end of January. Lyrics explain one of the legends that originated this kind of folklore. It talks about a young couple that had to marry and reach the small town to the other side of the Po River. They crossed the icy river on foot, it was the end of January. After some days of celebration they had to come back home but this time the ice broke and they died, and during the next three days a blackbird cried to call the attention of the people. "Girl by the Lake" talks about a legend of Iseo Lake and explains how the terrible storm called Sarneghera originated: from a sad story of love and death. Italy is full of art and folklore and we like to rediscover forgotten legends, you know, here everything has got a legend: lakes, rivers, valleys, castles, buildings, foods, everything! And it's a piety that some of them are disappearing, so we keep them alive!
According to the latest line up, you are orphan of a keyboardist. What's happened to Michele Cattadori, your last keyboardist? I assume your still searching for a replacement for it, right? And who recorded the keys on the album?
He was simply not in line with our way of work; at the moment we are not looking for a replacement, the line up it's perfect now with one more guitar. We are a little unlucky with keyboards players so we decided to not loose time again and collaborate with external musicians Davide Bislenghi (solo artist), Simone Giorgini (Dark End, Hollow Haze), Marco Garau (Derdian) for the recording of the keys parts in "Vitriol".
Can you talk more about your other projects that you have : guest vocalist in Derdian (for what I've seen on your Facebook profile you have been in Romania and Maldives too) and The Whisper acoustic trio?
I was a guest in the last album of Derdian in 2009, "New Era Parts 3 – The Apocalypse", I recorded choirs and a duet with the singer Joe, called "Forevermore" plus a new version of one of their most popular song "I Don't Wanna Die". I also took part at several concerts with them like the festival "Rockin' Transilvania" in Romania and a private concert for a rich Ukrainian man in Maldives: it was an incredible experience because he paid us a whole week of holiday in a wonderful atoll and we could not believe that it was true…we had a lot of fun!! About The Whisper Acoustic Trio it was a little acoustic project made by me, Alessandro (guitarist of Evenoire) and a male singer: we played rock covers, it was just for fun. We kept it for many years but now we quit, too much work with Evenoire!
Instead what you can share about the recording session of new Secret Sphere album?
I took part in the recording of choirs for the new album of Secret Sphere in February 2012, it was a really positive experience, but after this unfortunately the singer Roberto Messina left the band and he was replaced by Michele Luppi that wrote from the beginning new vocal lines and recorded all again. So I think they won't kept nothing of the old choirs and this is really a piety because me and other 2 female singers worked a whole day and the result was amazing.
You happen to be part of the international project Eve's Apple, to who maybe don't know about this can you explain a little?
Eve's Apple is a worldwide community of professional female singers, designed to be a platform that informs about women's work in the world of music, supports new female fronted bands, and offers advice for navigating the music business world. It's formed from famous female metal singers like Lisa Middelhauve, Carmen Elise Espenaes, Marcela Bovio, Maxi Nil, Charlotte Wessels, Heidi Parviainen, Mariangela Demurtas and many more: I'm really proud to be part of it, it's like a music family where we can share our experiences and problems, in the name of our common passion: music. I can really say that I found musical sisters!! You can follow us on Facebook here.
Now when I interview an Italian artist I ask always about our musical situations about how is hard to playing live and do some promotion. What's in your idea that in Italy doesn't work? What's the first difficulty that a young band like you meet? It's the wrong mentality or is because the media don't care about metal (except in your case because I've seen that local newspapers support you really well and really care about Evenoire)? Well, just show us your idea about this topic…
Both I think: TV and radios don't give spaces to this kind of music, web is the only way to promote for a band now,and it's not easy because there are a lot of bands! Yes, our town Cremona support us and local newspapers give us space but usually it's hard even because in Italy there are few places where you can play: pubs prefer cover and tribute bands because it's easier to earn money and I think this is the first problem for young bands: the difficult to play live!
Well, my dear, we're at end just greet your fans as you want and horn up!!
Just keep to follow us, we are already working at the second album, so stay tuned and see you live somewhere! And for the ones that don't know us you can listen to our single here.
Links
MySpace * ReverbNation * Facebook * Twitter * Site
Independent Release
Review by Tony Cannella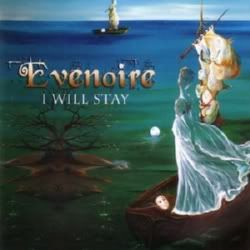 Is Italy fast becoming the capital of the female fronted metal world? It sure seems that way. Another great band to emerge from that country is Evenoire. They have just released their new EP titled "I Will Stay" and man I have to say, that after one listen, I was rendered speechless and that is no easy feat. The band is fronted by vocalist extrodinaire Elisa Stefanoni who also plays flute. The band is completed by Giada Delmiglio (Keyboards), Alex Gervasi (Guitars), Marco Binotto (Bass) and Daniele Foroni (Drums). The music is a heady concoction of power metal, progressive metal and bit of folk metal thrown in for good measure, it all comes together perfectly to produce one great CD. The first song "Azzurrina" really sets the table for what is to come. The song starts off with an eerie keyboard intro before a heavy guitar riff joins the fray. The vocals of Elisa Stefanoni are very good and energetic. She has a great range and excellent sense of melody. The song speeds up a bit and continues with a heavy guitar riff and is a melodic metal masterpiece with a lot of changes in the tempo. This song is a great opener and one of the best tracks this CD has to offer. Near the end of the track Elisa goes into an opera style which is quite astonishing. She certainly has a lot of range and can pull off various styles. The next song "Mirror Lies" is another solid number. It begins with a dreamy, ethereal vibe and again evolves into just a great melodic metal track. Check out the fantastic guitar solo by Alex Gervasi at the end of this track. After another brief keyboard intro, the song "Aries" kicks in. Elisa's powerful vocals lead the way here, near the end she once again adds her opera touch. It is hard to believe that it is the same singer (I believe it is, since no other vocalist is listed on the notes for the CD). She doesn't over-do it with the opera style and that gives it an even bigger impact once it is employed. Final track is the 7-minute title track "I Will Stay". I have to admit that I am partial to longer, epic type numbers, provided they keep the listener interested. "I Will Stay" does just that. Musically the track reminds me a bit of Blackmore's Night, only heavier. The flute – also played by Elisa – is featured prominently throughout the CD and provides a nice touch. It's been awhile since I have been this excited about a new band, but I am pleased to say that Evenoire really are worth getting excited over and are one of the best new bands I have heard in quite some time. The songs and the production are very good with each musician given equal opportunity to shine. I can't say enough good things about this band. Each member is extremely talented and Elisa Stefanoni is one of THE best vocalists I've heard in a long time. After listening to these 4-songs and 25-minutes worth of music, It is my hope and belief that Evenoire with be heard from in a big way.
Rating – 100/100
Tracklist
Azzurrina

Mirror Lies

Aries


I Will Stay
Line Up
Elisa Stefanoni – Vocals & Flute

Alex Gervasi – Guitars

Giada Delmiglio – Keyboards

Marco Binotto – Bass

Daniele Foroni – Drums
Links
6 color styles available:

Style switcher only on this demo version. Theme styles can be changed from Options page.