Browsing articles tagged with " lithium"
Independent Release
Review by Lithium
When one thinks of metal, the words 'sophisticated' and 'sexy' are not exactly the first that spring to mind. In the case of Greek metallists Darcode, however, these descriptors are not only acceptable but altogether fitting. Darcode play an interesting brand of what I would describe as jazz-influenced, progressive metal. Their self-titled, seven-track demo includes six original songs and a cover version of Sade's "No Ordinary Love". This choice of cover tune provides a glimpse into what what Darcode is all about; if you look in the dictionary under the words 'sophisticated' or 'sexy,' you will find a picture of Sade. The basic sound on this recording is eclectic and rather unique. Guitar and bass blend together into a distorted, sometimes non-descript buzz, as keyboard-driven melodies and haunting vocals float above the menacing turmoil. Opener "Never Alone" is a good example and one of the demo's high points. A catchy, repeating piano part anchors the song as the irresistible vocal melody joins in. Meanwhile, the sinister low-end riffing lets us know that this is, in fact, metal. Another high point is "Wall of Demons". Its spooky array of voices gives shape to the composition, as guitars dispense nifty, rhythmic pulses in bursts of three. Jazzy rhythms, sinister-sounding electronics and the plinkity-plink of a piano add to the other-worldly atmosphere and give the song a very creepy edge. Vocalist Elina Marquise delivers a first-rate performance that is both memorable and convincing. Her soft, evocative tones vary from soothing to frightening and back again, as she weaves her ethereal web, traps you in it, and devours you with the deliberateness and efficiency of a Black Widow spider. In "I Do Not Breathe" a choir is added to the usual mix of sounds to create a yet even more-ominous atmosphere for Elina's chilling refrain: "I can hear your thoughts. They pierce my brain. I can feel your fears. They drive me insane." Not what you would call typical metal lyrics, but Darcode is not your typical metal band. In fact, my only real complaint with this recording is with respect to the sound production. I thought the guitars could use more air in them, while the drum sound struck me as a bit hollow and thin. At times it seemed as if there were holes in the mix, and the whole thing sounded too bright. Still, with this demo Darcode has produced a fine piece of work. Their talent, creativity and potential are on full display on this disc, and with it they have proven themselves worthy of serious attention. Though their approach and sound ultimately may turn out to be a little too hip for the metal masses, this effort earns high praise and a positive recommendation. Male vocals: Minimal and limited mainly to a few brief choral parts. No growled male vocals.
Rating – 70/100
Tracklist
Never Alone
Walls of Demons
Play Dead
I Do Not Breathe
A Sea of Whispers
Calling
No Ordinary Love (Sade Cover)
Line Up
Elina Marquise – Vocals & Lyrics
Antony Cyan – Guitars & Programming
Links
Independent Release
Review by Tony Cannella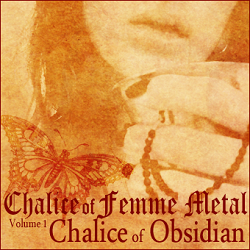 The new compilation from Chalice of Femme Metal is a pretty varied collection of songs from ten bands on the current Femme Metal scene. Among the 10-songs/bands presented here, the quality remains remarkably high throughout the 48-minutes. Things get off to a slower tempo start with "Salvation" by the always excellent Apparition. The orchestral Akoma is up next with "Forgotten Hero". The power metal riffing of Pythia highlights the next song "Tristan". "Shadows on the Tide" by Tainted Grace starts off with a cool, eerie guitar intro before the band joins in all guns blazing. Omega Lithium provides a modern metal sound with "Andromeda". Mask of Judas picks up the heaviness and intensity even more with the machine gun riffing of "To I Your Conscience". Fateless Tears showcases their brand of progressive Goth on "My Endarkened Self". Rhode Island Red brings more of a blazing hard rock slant with their offering "Kerosene". The symphonic Goth of Therion is up next with "Hellequin". A live bootleg recording of "World of Glass" by Tristania from Stuttgart in 2005 with Vibeke Stene on vocals is a great way to bring this compilation to a close. On "Chalice of Obsidian" I was familiar with some bands and others were new to me, which is always the best thing about compilations. With so much music out there and not enough hours in the day to listen to all of it, compilations such as these provides a great service to metal fans.

Rating – 90/100
Tracklist
"Salvation" – Apparition

"Forgotten Hero" – Akoma

"Tristan" – Pythia

"Shadows on the Tide" – Tainted Grace

"Andromeda" – Omega Lithium

"To I Your Conscience" – Mask of Judas

"My Endarkened Self" – Fateless Tears

"Kerosene" – Rhode Island Red

"Hellequin" – Therion

"World of Glass (Live)" – Tristania
Label : Drakkar Records
Review by Tony Cannella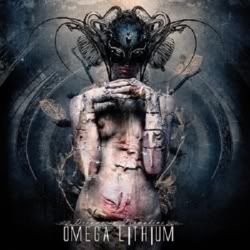 Croatia is not a country you would normally associate with metal, but it does seem like some good bands are coming from that part of the world these days. Omega Lithium are one such band. The band is fronted by Mya Mortensen on lead vocals. She is joined by Malice Rime (Guitars, Synths and Backing Vocals), Zoltan Harpax (Bass) and Torsten Nihill (Drums). The band play industrial gothic with strong metal overtones. All of that can be heard on their debut CD "Dreams in Formaline". "Infest" starts things off and it has a definite hard edge to it and as an opener it is pretty successful. All the elements are there that should please metal fans. It's heavy and has a good pounding rhythm and rock solid vocals from Mya Mortensen. The band also utilizes various computer like sounds that gives it it's industrial vibe. Male vocals are also provided by Malice Rime on this one. The next track "Stigmata" is about as good as it gets on this CD and would make a great single, in my opinion. It's got a great mid-tempo beat and it is a song that sticks in your head long have you've heard it and has you hitting the replay button. A solid melodic tune, instantly infectious. "My Haunted Self" keeps the momentum moving forward, with it's rhythmically haunting feel to it. More male vocals are featured here and they are of the brutal variety, but they meld quite well with Mya's approach. "Dreams In Formaline" is next and it is a pretty cool change of pace. The first verse's lyrics are spoken by Mya before launching into a beautifully catchy chorus, actually the whole song is quite catchy. Other highlights include: "Andromeda", "Nebula", "Hollow March" and "Point Blank". On the whole "Dreams in Formaline" is quite an impressive debut from this Croatian upstart band. One of the impressive things about it is the diversity of the songs. They have the ability to go in many different directions and convey different emotions. The 12-songs and 38-minutes worth of music showcased here, show a band that is quite confident and carry themselves like a veteran band.
Rating – 80/100
Tracklist
Infest

Stigmata

My Haunted Self

Dreams in Formaline

Andromeda

Nebula

Snow Red

Hollow March

Factor: Misery

Angel's Holocaust

Point Blank
Line Up
Mya Mortensen – Lead Vocals

Malice Rime – Guitars, Synths and Backing Vocals

Zoltan Harpax – Bass

Torsten Nihill – Drums and Percussion
Links
Independent Release
Review by Lithium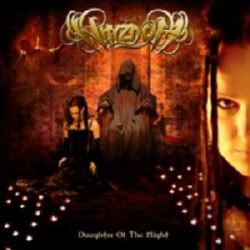 A common interview question is one in which the interviewer asks the band to describe their sound in three words or less. For the vast majority of bands this is a daunting if not impossible task. In the case of Whyzdom, however, it's not only possible but fairly easy. If this four-track debut is any indication, Whyzdom has perfected a sound that can only be described as bombastic symphonic metal. And I do mean bombastic in the best sense of the word. In fact, the outstanding quality of these songs makes "Daughter of the Night" a symphonic-metal force to be reckoned with. The next logical question is whether the music leans in a progressive or in a Gothic direction. The answer here is gothic, a verdict to which the rich sound of this EP will attest. Lush orchestrations not only are the order of the day, but include a full ensemble of instruments and choral voices. Opening track "The Witness" includes a nice brass segment, while bagpipes begin and end "On the Wings of Time". Meanwhile, the guitars are of the soft-yet-crunchy variety that Gothic-metal fans have come to know and love. All of these elements fit nicely together to make the musical compositions the EP's greatest strength. Yet another strong point is the lyrics, which quite suitably are much more ookie-spooky than they are achy-breaky. The high point for me was "The Train", which follows in the rich tradition of train songs laid down by such metal greats as Ozzy Osbourne ("Crazy Train", 1980) and Lita Ford ("Hellbound Train", 1991). Vocalist Telya Mélane has a strong, clear voice that is always in key and delivered in a direct, modern style rather than soprano. Extreme male vocals are used to a limited extent and done tastefully. Rather than harsh death growls, the ones featured here are more akin to hisses and whispers. Even the heaviest vocalizations on this recording have been dipped in white chocolate, rolled in crushed Macadamia nuts and served up with a raspberry-currant side dressing. Though I could go on for pages about the strengths of this EP, suffice it to say that Vynce Leff et all have succeeded where so many others might have failed. With that having been said, the lofty aspirations of "Daughter of the Night" are such that its few shortcomings unfortunately become all the more noticeable. For one thing, some listeners may find Telya's vocals less than consistently pleasant. In some places Telya sounds absolutely stunning, while at other times she well doesn't. My ears picked up a definite nasal tone on some of the higher notes that detracted from the overall performance. Also, some nice guitar fills seemed to get lost in the mix, especially on the closing track. However, these are but minor quibbles that in a discussion of lesser works would not even garner so much as a mention. Both in terms of ambition and execution, "Daughter of the Night" commands high praise and a serious listen. Not only is this bombastic symphonic metal, but it also happens to be very good bombastic symphonic metal. Male vocals: Limited, both clean and growled.
Rating – 80/100
Tracklist
The Witness (Demo Version)

Daughter of the Night (Demo Version – Short Version)

The Train (Demo Version)


On the Wings of Time (Demo Version)
Line Up
Telya Mélane – Vocals

Vynce Leff – Lead Guitars

Régis Morin – Rhythm Guitar


Marc Ruhlmann – Keyboards, Piano

Tristan Demurger – Bass

Nico Chaumeaux – Drums
Links
MySpace * ReverbNation * Facebook * Twitter * Site
Label : Insomnia Media
Review by Lithium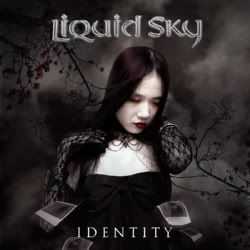 Whenever I listen to an album for the first time I'm always interested to see what my reaction will be. Sometimes all I can do is to ask, "Why ?". Other times I might ask, "Why not ?". In the case of "Identity" from Liquid Sky my initial reaction was simply, "Hell Yeah !". It's what I would describe as classy British metal with a progressive edge. Not overly complicated, not overwrought with unfounded angst, not over-anything, really. Just good, solid, traditionally based British metal done the way it should be done – the British way. "Identity" is one of those discs that doesn't waste any time getting right down to business. After a brief instrumental comes the album's high point, "Titan". Its opening riffs feature some nice artificial pinched harmonics (aka squealy riffs) that immediately let us know that something truly special lies in store. In fact, it's apparent from the very outset that this album has more to do with late-period Whitesnake and Martin-era Black Sabbath than it does with anything from the Gothic side of the femme-metal scene. Yes, there is a female singer and yes, there are some keyboards. But, the singer is not like the others and the keyboards lean slightly more progressive than they do Gothic. The first words sung on this album are "Read My Hidden Thoughts". The interesting thing about this is that vocalist Hecate Taglietti sings 'hidden' as 'hid on'. But she does this so naturally and so convincingly that one gets the impression this is exactly how she talks. When combined with her sweet voice and touching delivery, the effect is quite endearing. Still, in opener "Titan" it is guitarists Jonathan Craven and Andy Midgly who steal the show. They trade scorching leads that seem to keep coming at you without letting up. And just when you think they are finished, they somehow manage to kick things into an even higher gear that you never suspected was there. As impressive as that may be, it is still Hecate who is the important one here. She won't split your eardrums or make you want to slit your wrists. But, if you're not careful, she just might melt your heart. Hecate infuses a genuine sweetness and vulnerability into her lyrics that are so unlike the over-the-top soprano histrionics we sometimes hear. Rather than some illusory opera diva in a ball dress, what we find instead is the girl next door. A real person with the same feelings, emotions and problems as we have. "Dreamstate" for example features the refrain, "When I dream of you, it feels so true. I'm wishing that's the way it was". Not exactly what one would consider typical metal fare, but Hecate sells it so well that one gets the impression she is not selling it at all. My only negative reaction to this CD began in response to some faint croaking sounds I heard on "Stitches". I immediately thought to myself, '"No! They didn't!" Well, yes they did. Another otherwise-perfectly-fine song piled onto the scrap heap of otherwise-perfectly-fine songs that have been ruined by some dude trying to sound like a scary monster. This is not the least bit pleasant, it's not dramatic and it's not even interesting. It's ridiculous and annoying, and in this case extremely out of place. Instead of this joker/croaker, listeners would have been much better served by some nice vocal harmonies from Hecate. In fact, by the time the next song, "Laid to Rest", had finished my reaction was, "Leave her alone, Cookie Monster, or I just may have to kick your sorry ass all the way back to Sesame Street". Other than that I liked everything about this album. Fortunately, only one other song featured extreme male vocals. Overall, "Identity" is a very worthy effort. The songwriting is strong, the musicianship is first-rate and the vocals of Hecate are nothing short of flawless. Recommended for all fans of femme metal. Male vocals: Moderate amount of growled vocals featured on three songs.
Rating – 75/100
Tracklist
Tranquillity Base

Titan

Dreamstate


Echo

Stiches

Laid to Rest

Love Labours Lost


Watch the Ocean

Ghost in the Shell

Salvation

Dawn's Pale Light
Line Up
Hecate Taglietti – Vocals

Andy Midgley – Guitars

Jonathan Craven – Guitar


Rick Ogden – Keyboards

Den Constable – Bass

Anthony Marginson – Drums
Links
6 color styles available:

Style switcher only on this demo version. Theme styles can be changed from Options page.