Browsing articles tagged with " liva"
Label: Century Media Records
Review By Tony Cannella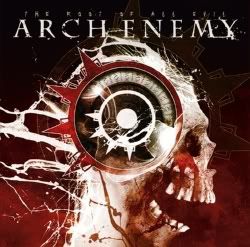 First of all, the obligatory disclaimer, this is not a release of new music by the Swedish technical thrash band Arch Enemy. Instead the band went in the studio a re-recorded some of their older classics with Angela Gossow on vocals. The band has really reached new heights of popularity since Angela joined the band in 2000 (has it really been almost a decade already?) replacing original front man Johan "Liva" Axelsson. At the time it was viewed as a risky move, replacing the popular front man with a female, but Angela quickly put those doubts to rest with her awesome vocals and the band were well on their way. As I mentioned earlier "The Root Of All Evil" is an album of Johan era tunes re-recorded with Angela Gossow on vocals and some of the bass parts have been re-worked. The opening track is the only new piece on the CD and is the intro track "The Root of All Evil" that lasts for about of minute before launching into the great track "Beast of Man". The band run through such classics as "The Immortal", "Diva Satanica", "Bury Me An Angel", 'Dead Inside", "Pilgrim" and probably the highlight of all highlights for me is the final track "Bridge of Destiny". This song incorporates all the elements that make Arch Enemy such a great band, and the guitar work of the Amott brothers is really breathtaking. One thing I have always admired about Arch Enemy is their ability to mix the most chaotic of thrash metal with melodic bits and some traditional metal parts – they maintain just the right balance to make them accessible to a wide range of metal fans while still managing to please their dedicated long time fans, that element of the band is quite obvious when listening to these great songs. The songs on "The Root of All Evil" definitely retains their ferocity and technical brilliance and Angela definitely adds her own stamp to the songs. This is an essential release for the die-hard Arch Enemy fan or if you are just a fan of technical thrash and you have not checked out this great band, this is a good place to start and see what you've been missing. Of course Arch Enemy has gone on to record some classic stuff in the post Johan era with Angela at the helm, so why re-record these legendary songs? That's a good question and open for debate, but the fact remains that Arch Enemy are a positively lethal metal band with plenty of great songs. This collection is a testament to that fact.
Rating: 85/100
Tracklist
The Root of All Evil (Intro)

Beast of Man

The Immortal

Diva Satanica

Demonic Science

Bury Me An Angel

Dead Inside

Dark Insanity

Pilgrim

Demoniality (Instrumental)

Transmigration Macabre

Silverwing

Bridge of Destiny
Line Up
Angela Gossow – Vocals

Michael Amott – Guitars

Christopher Amott – Guitars

Sharlee D'Angelo – Bass

Daniel Erlandsson – Drums
Links
6 color styles available:

Style switcher only on this demo version. Theme styles can be changed from Options page.