Browsing articles tagged with " live"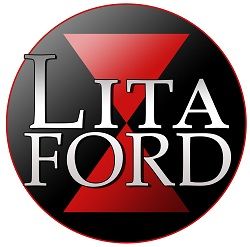 Interview by Tony Cannella
The Queen of Metal is back (again)! After her breakout LP "Living Like a Runaway", Lita comes back with a kick-ass live album called "The Bitch Is Back… Live" so we have took the occasion to get more updates about this fantastic live CD and her next projects! 
Hey Lita. I was just listening to the new live album, "The Bitch is Back… Live" and I think it's really awesome. Are you pleased with the way the live experience came through on the record?
Yeah, I am. You know, live albums are tricky. You can feel everything that goes on and hear everything that goes on, you really can't cover shit up on a live album, so it better damn well be real. This album has a lot of energy, it has true energy. We are truly happy to be playing and truly happy to be on that stage rocking and it shows. It's kind of a funny album; too, it has a little twist of humor to it. We're really happy with it.
Yeah, it definitely sounds like there is a lot of enjoyment. You left in a lot of the between song stage banter which is pretty cool. It does come across as an authentic live album.
Continue reading »
Label: SPV/Steamhammer
Review by Tony Cannella
When rock legend Lita Ford released her album "Living Like a Runaway" on an unsuspecting public, there was really no reason to expect greatness. I mean, she had been out of the limelight for many years and her previous album "Wicked Wonderland" did nothing to elicit any kind of excitement in the metal buying public at large. Then came "Living Like a Runaway" and not only was it the perfect "true" comeback album, but I would put it right up there with all of Lita's classics. So what's the next step? For Lita, it's releasing an equally exciting live album that captures the excitement and energy surrounding Lita's return to form on the "LLAR" tour. "The Bitch is Back… Live" is a continuation of "Living Like a Runaway" with Lita and her killer band in all their live glory. Continue reading »
Label: Kscope
Review by Luisa Mercier
Last year in September, Anathema held a special event, a very special event: a concert with the Plovdiv Philarmonic Orchestra in the Roman theatre in Philippopolis, among ancient ruins. Now that event has been captured into "Universal", the DVD recently released.
Upon watching it, I feel compelled to say that was one f the most mystical experiences of my life and one of the best shows I have ever seen because of the feeling and of course, the Anathema music.
The setlist is mostly comprised of tracks from the last two masterpieces " We Are Here Because We Are Here" and "Weather Systems" plus some other songs from their recent past. Only "Fragile Dreams" is the witness of their past, coming from "Alternative 4". The set was divided into a main one with the orchestral part, while the final 30 minutes are devoted to rock only with four pieces played in the usual way. Continue reading »
Live Report & Photos by Erwin van Dijk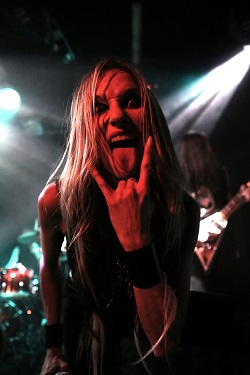 Huntress and Gold are two bands which qualify the describtion "Female Fronted Metal" but are worlds apart musicwise. The two bands did share the stage at the 013 venue in Netherlands on a hot saturday night. The 013 is one of the larger venues in the Netherlands. Bands like Therion, Kamelot and Dragonforce visited the venue in the past. In fact, Huntress was the opener for Dragonforce some time ago. The Stage1 is of course not as big as the main hall of the 013 (the Stage1 would fit on the stage of the main hall) but as Milton said it's "Better to reign in Hell than to serve in Heaven" and a headliner gig is more fun than a couple of songs in front of an audience who are waiting for the headliner. It's also the second gig for Gold at the 013. The band did a gig at the very prestigious Roadburn Festival.
Gold (from the city of Rotterdam) decribes themselves as a "comtemporary rock band that's heavy because of the songs, not the sound". The band has only time for 6 songs (see setlist) from the "Interbellum" album. Continue reading »

Interview by Grace Méridian, Kassandra Novell & Lindsay Schoolcraft
Video by Mary Zimmer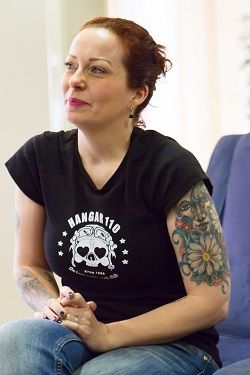 Here what we present you is a special interview done by the Eve's Apple (Don't you know what is? Just take a peek

here

!) members Grace Méridan (

Lifeaftergod

), Kassandra Novell, 

Lindsay Schoolcraft

 & Mary Zimmer (

Luna Mortis

). First of all I thank the girls for this awesome interview and if you wanna enjoy the video experience, please check out

here

but we must warn we that there's a little mistake that we cannot fix, we hope you like it the same.
Then we come to the special guest – we're talking about Anneke Van Giersbergen. The fantastic Dutch singer, after her departure from The Gathering, has slowly built a solo career with her 5 albums. The girls interviewed Anneke during her short trip in US, on March in Chicago. Beside the girls, I want to personally thank Mr.Rob Snijders for helping us setting this interview up. Well, after this short intro it's time to read the interview, so enjoy it!
Grace: I'm Grace Meridan and we're here interview Anneke van Giersbergen for Femme Metal and Eve's Apple. So, Hi Anneke, pleased to meet you. Continue reading »
6 color styles available:

Style switcher only on this demo version. Theme styles can be changed from Options page.