Browsing articles tagged with " living"
Label : Funklord Dynasty Records/Rambo Music
Review by Tony Cannella
There is a definite charm and like-ability factor when it comes to the debut album, "Mountain" from the Swedish melodic rock band Nubian Rose. The band is fronted by vocalist Sofia Lilja and has an affinity for the 80s. "Mountain" does recall the late 80s – and I don't think that's a bad thing at all, in fact, it's quite refreshing. The opening duo of "Ever See Your Face" and "Mountain" gets us started. "Mountain" in particular, is one of the heavier songs and opens with a raw, monster guitar riff. Lead vocalist Sofia Lilja has a voice that is kind of reminiscent of Ann Wilson from Heart at times. "How Am I" is a heartfelt piano driven power ballad – Sofia really sings her heart out on this one. "Living for Tomorrow" is another guitar oriented number and features a guest solo courtesy of ex-Europe guitarist Kee Marcello. "Get Ready" has a 80s Heart vibe to it and is one of the highlights. Nubian Rose covers the Lita Ford classic "Close My Eyes Forever" which was quite a surprise. Of course Lita did it as a duet with Ozzy Osbourne and here Sofia performs it as a duet with Swedish vocalist Mats Leven (ex-Yngwie Malmsteen). Nubian Rose has written some cool songs with an up-beat, infectious, ready-for-radio style. The 80s influence is there, there's no denying it, but on "Mountain" Nubian Rose is able to fuse the best of the 80s with modern day AOR melodic hard rock influences.
Rating – 71/100
Tracklist
Ever See Your Face

Mountain

Living for Tomorrow

How Am I

Get Ready

Your Love

Once Bitten

Reckless

Close My Eyes Forever (feat. Mats Leven)

Sisters
Line Up
Sofia Lilja Åkerlund – Vocals

Christer Åkerlund – Guitar

Thomas Lindgren – Guitar

Frederick Åkerlund – Keyboards

Henric Uhrbom – Bass

David Algesten – Drums
Links
Interview by Roberta Ilaria Rossi
Symphonic metal is one of the most fashionable among the music metal genres and surely it has got a very special care, becoming the "landmark" for lots of emerging bands. This surely is the case that concerns the Croatian metal band Downcast Art which recently brought its music around Croatia and now is trying to enlarge the boundaries. Here's what the lovely Jelena revealed to us.
Hi Jelena and welcome to Femme Metal.net. Let's start our interview talking about the project Downcast Art. Would you like to introduce some more detail to our readers?
Of course!

We are a symphonic metal band from Croatia and this year we released our first album called "Forbidden Memories". The band consists of five members, Kristijan (guitar and vocals), Davor (bass guitar), Zdravko (keyboards), Lukas (drums) and me (vocals).
Downcast Art is a Croatian band which makes symphonic and opera metal music. How did this band start?
The band was formed by our keyboard player, Zdravko, in 2005. During the first few years, they played covers of the well-known bands of the genre, but with time, they started to develop their own musical expression. I've been in the band since 2011, so I don't know too much about the years before, only some general stuff the guys told me

The band was formed in 2005, the path was long but before releasing the debut album, something happened in the band: there were a lot of lineup changes, you've released an EP, "Downlight", containing 3 songs only and then, you've found a stable line up. How is going on your musical path at the moment?
Well, I'd say. We have live concerts often enough to promote our debut album. Along with live shows, we are working on some new songs and ideas.
Before your entrance in the band, there was another singer, Iva Grdić. How did you get in touch with the band?
We got in touch via a Croatian forum dealing with music, instruments and playing in bands. I wasn't registered there (I did not know the site even existed), but my best friend decided that I needed a band, and made a post on the forum about a certain classical singer searching for a band, preferably symphonic metal

Zdravko saw the post and contacted me, I listened to their music, liked it, and before you know it, I was having rehearsals with them.
Let's talk about your album. It's called "Forbidden Memories". Could you please tell us how was this record born and could you please say something about the album title?
When I came in the band, the music was finished, only the vocal lines had to be completed. All the instruments were already recorded (only a few things had to be fixed in the studio), so I got the lyrics and the music and started working. In five or six rehearsals (lasting 3 to 5 hours each :)), I sketched the vocal lines with the help from the guys (sitting on the floor and saying: "Yes, that's it!!!" or "No, could you do it…. somehow different" :)). It was recorded and mastered, and after finishing the booklet, the album was complete. Its title refers to the idea which binds all of the songs together: something lost, perhaps living in the past, where all the things are brighter; our memories of that place and everything in the present that connects us to it.
Did the record obtain good reviews and good feedbacks from medias and fans?
It did, we are still extremely proud of the American review in which we received 11 of 10 points, and other reviews, from Canada and Croatia, where the number never went below 8 of 10. The fans are great, they are mainly getting in touch with us and commenting our music on the band Facebook page after the live shows.
I've noticed that there is a lyric in your mother tongue, called "Miris Prošlosti" and the remaining ones are written in English. What about this choice?
Well, so that we could say there is a symphonic metal song in Croatian. 😀 Just kidding, there was the idea of translating the song to English, but it just sounded better in Croatian, I suppose. The other songs are in English so they are understandable to the fans in the world. And our songwriter likes to write in English

In the track "Miris Prošlosti" we can see and read these lines: "Drugi svijet u tišini vremena, sve, sve što sanjam ja, negdje u meni, Čuva tajnu zvijezde daleke". What do they mean?
Literally translated: "Another world in the silence of time, everything I am dreaming of, somewhere in me, keeps the secret of a faraway star". As you can see, it also has a reference to the past and the secrets it keeps.
"Forbidden Memories" is the song that gives a name to the record and it sees a duet. What could you tell us about this song?
As much as I know about the process of making of that song, it was made to be a "catchy" song

Thematically, it deals with memories defining who you are, which defined you as a person, your individuality.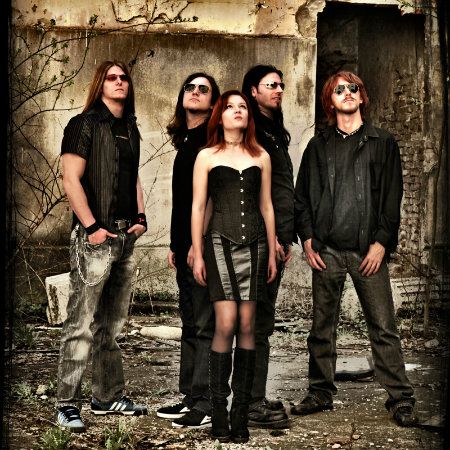 The lyrics of this record are well-written and they show off a very good skill in writing. How does a lyric branded Downcast Art come to life?
The only person writing the lyrics in the band is Zdravko. Since I joined the band after all the lyrics for the first album were written, I can tell you only that, at the moment, we have a great amount of music and ideas for the second album, but the lyrics are kept in secret until the very end.;
If you could pick a song taken from this record to identify the sound of the band at its best, what song would you choose? I would say "Whisper of a Dying Rose"…
Hmm, I'd choose "Home of Silence". It is soft and sad at the beginning, it gives you hope on the chorus and it fully awakes the whole band (and the audience) after the guitar solo.
"Chants from the Deep" is an instrumental track and it fits well on the album. What could you say about this song? Who did compose it?
That song is made to recall the song of the lost captains and sailors of the seabed. A deeper meaning would be that it's a song from the bottom of the heart, pure and untouched by empty words of this world. It was composed by Kristijan and Zdravko.
You mainly are a soprano, what did your adventure in music start?
It started off at the age of 7 at the School of Music in my hometown, where I studied piano and music theory. At the age of 15, I changed my major from piano to classical singing and vocal techniques. After finishing high school and the School of Music, I continued my education on the Faculty of Humanities and Social Sciences in Zagreb, thus completing my formal musical path.
What were your biggest influences?
Classical opera singers had the biggest influence over me and my singing, mainly Maria Callas, Anna Netrebko, Cecilia Bartoli… Their tone and the ability to portray a huge number of completely different characters in the opera inspired me to think, to act and to feel as a protagonist of the songs I'm singing on the stage. It is the most important task of the singer, to be in the song and to pass it on to the audience.
Now that the album has been released, what are your future goals?
In the near future, we would like to perform live as much as possible, especially outside the Croatian border. Also, at the moment, we are trying to improve and fill in our merchandise offer with T-shirts and similar stuff. Later in the future, we are planning to release the next album, of course

What could you say about your fanbase? Are you accepted by the Croatian public?
Pretty much, yes. Croatia is not the country where metal and symphonic metal are popular and well accepted music genres. With that in mind, we are receiving surprisingly positive feedback from many people who aren't even fans of the genre, but still like to listen to our music in the car, or at home relaxing after work, for example

That is a great compliment, if you ask me, to satisfy the needs of the people who aren't used to the sound of metal and operatic voice.
What about the European one?
We still didn't present the material from the album live in Europe, but judging by the reviews and individual feedback we got, the European public might like us 😉 I'm very optimistic.
Will we ever see Downcast Art touring Europe one day?
Oh, I certainly hope so

It will probably be an exhausting and beautiful experience and I can't wait for it to happen!
Ok this was my last question. Thanks for your time Jelena. Do you want to say and share something with our readers and your fans out there?
Thank you for the interview and for your interest in our music! To readers and fans: listen to good music, love and respect each other and visit www.downcastart.com every now and then

Links
MySpace * Facebook * Twitter * Site
Interview by Miriam C.
Trascription by Kassandra Ortmann
I know, I know what are you gonna say "What's this, that's too short and we want more!". I totally understand you but the occasion was too much inviting to let it go so I took the chance, also for really short but quite, I admit to say, inviting interview with Lzzy Hale from the American new hard rock sensation Halestorm during their unique Italian gig in Milan. For sure there will be another occasion to do an interview but for the moment enjoy this exclusive! For this interview I really thanks for her collaboration and help Mrs. Morandi Anna Marzia from Roadrunner Italy/Warner Italy.
I was asking you about your second album, "The Strange Case of..". I am wondering when you started to compose this album?
Ah well, we um, we didn't have a whole lot time to think about this record and to prepare for it. We had been touring on the last record, um for nearly three years and basically got off tour, had 24 hours to pack and then went right to California to start making the record. We had a handful of ideas, ah, none of them were really finished yet. We had a couple of serious songs. We didn't really know what we were doing yet. Basically we just had to dive in and chase after whatever got us excited. And try not to think to hard about the pressure of making a record. Um, we ended up doing for the first half of the record writing probably the most aggressive songs we have ever written. A lot of riff driven songs, I'm being obnoxious and screaming my head off. And then uh, half way through um, I started really opening up and writing some of the most intimate songs that we've ever written. And it ended up to be, the finished product ended up to be this strange duality of sorts. And just the light and dark, the soft and strong but somehow it still all went together, which was surprising to me. And hopefully the message on this record is that you can be both. (LAUGHS)
I have read here and there some of your lyrics, and some of them are really straight-you-in-the face? What are the facts or things that inspired you during the song writing process?
Oh, it can be anything. First of all I live with uh, anywhere between four to nine boys at any given time, so there is always (LAUGHS) something strange going on (LAUGHS), that sometimes the guys will say something that I will have to write down because it is a little over the top. But um, to be honest, a lot of the recent inspiration especially for this record, came from the fans actually. And uh, we definitely keep in touch with our fans with Twitter and Facebook, and all of the social medias but um we started to get physical letters actually to the studio while we were making this record. And it just so inspiring to hear their stories, to hear what are fans are going through and what our music means to them. I think when we went in to make this record we really had a great idea of who we were actually singing to and um they were giving us alot of fuel in order to make a record they really deserved. In all honesty, Inspiration can come from anywhere though. I mean, I love watching people and I consider myself an observer and a sponge of sorts. So really it could be anything somebody says to you, you write it down, or somebody will be telling you a story and you say "Ja, I should write a song for them". In a lot of ways whether it's my personal experience or somebody else's, it's fun, it's fun because there is no real one way that you can write a song.
I saw "Private Parts" is a bonus track. It features the participation of James Michael. Who was working in singing with him?
He is wonderful, I love James so much. Originally he wasn't planning on singing on the record. He and I wrote the song together. And uh, he had all these ideas about who could sing this song with me was excited to see who it ended up being. And at the last minute I called him up and saying, "You know what James, nobody can sing this as well as you can". Because it is from his heart as well, so um, he ended up singing it with me and it was just wonderful cause he has such an amazing voice and he's such a great guy. So it was a great bonding experience actually.
The "Strange Case of", in the US was published by Atlantic Records and in Europe by Roadrunner Records. How about this collaboration. Any plans for the European market to re-release your past discography. For example, your debut self titled album?
Yes, I definitely think that will happen in Europe. The wonderful thing about Roadrunner Records overseas is that they are such amazing people. Even though things are kind of shaken down right now, (LAUGHS) everybody is so talented. They really knew what they were doing overseas. So the partnership between Atlantic and Roadrunner, really helped give us a leg up in Europe. Because we had come over here a couple of times with different bands and I noticed we had never really had a whole lot of press (LAUGHS) until we started working with Roadrunner Records. And uh, then we came over here for the last tour, and everyday we had something to do, and we were meeting all of these people and doing all these meet and greets. And I was like. "WOW! This is how its supposed to be!". So, I definitely think that more of our material to be released in Europe, especially considering we most likely will be doing a live CD as well as another EP. You can't really limit us to any one thing I think we, uh, we start itching to do something new after every couple of months. So there will be definitely more coming over here.
I don't know if you heard the question about Nightwish and the former singer. I don't know if you read the news. It happened that the singer has quit the band because of too long tours. I ask you, aren't you afraid to feel physically and mentally drained. I read on your website that you do a lot of touring. Are you not afraid to be tired mentally and physically?
Uhm, its definitely a battle, in fact as we speak right now I actually have a cold. But the show must go on, and we're gonna do a show tonight and rock it out anyway. Um, I think that for me the hardest is making sure that you take care of yourself, and you're honest with yourself. That when you are tired you go to bed instead of staying up till 4 AM. (LAUGHS) Or um, making sure you remember that your body is your instrument. A lot of it is just common sense, you know. If it hurts don't do it, uh, you know you try to eat right, try to get a little bit of exercise in everyday. That type of thing. Because unfortunately for singers, and this what I feel with Jacob and a lot of the other singers that are struggling now, is that you cant just go to a music shop and get a new one. (LAUGHS) We don't have that technology yet! (LAUGHS) Like a guitar player if a string breaks, you replace the string, but with singers you can't really replace whats yours, what is inside of you and your body. So, um, its just something you have to keep in mind. I know in past years I struggled, because I am very stubborn at times. So I'll want to be invincible, like, "No! I can do it!", you know, I'll stay up all night and I'll party and do the show. Maybe I could have down that when I was a young teenager (LAUGHS), but not anymore! (LAUGHS)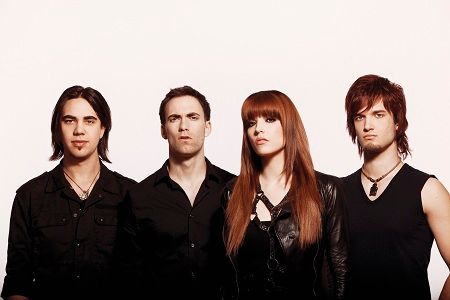 Congratulations for winning the "Hottest Chick in Hard Rock" . How do you feel about it?
I am actually quite flattered. I know there are a lot of women that look at that in a negative light. I never really did. I enjoy the attention. I enjoy dressing up. Um, obviously I am no stranger to the high heels and the short skirts. But I do have one rule and that is to make sure that if I am getting all of this attention for you know, being a girl and being sexy and the rock and roll then I have to make sure that I take care of myself. And that I am good at my instrument and good at what I do. Um, and have something to back it up! You know, because we cant ride solely on the sex because that is going to go away at some point. And one point in time I am going to be a sixty five year old woman and no one gonna want to see me in a short skirt. (LAUGHS) So I have to make sure I am good at what I do!
So you take the advantage now for the time being?
Yeah! (LAUGHS)
Unfortunately we are at the end. We thank you for this short interview and I am really, really happy to have had this talk with you? So … thanks again.
Thank you so much for taking the time for me darling. Its been an absolute pleasure talking to you.
Thank you so much!
Hopefully I will get you meet you one day!
Me too, I hope to meet you but unfortunately today I am not in Milan, I am quite far away from Milan but the best I can get today is to interview you!
No worries, we will be back. I promise you that!
So we are at the end, thank you so much?
Thank you so much! Darling. Bye.
Credit Photos
Photos by Chris Phelps & Alex R. Kirzhner
Links
MySpace * Facebook * Twitter * Site
Latest Multimedia
Label : SPV/Steamhammer
Review by Tony Cannella
In 2009 after many, many years of musical inactivity, hard rock legend Lita Ford returned with "Wicked Wonderland" which was met by… derision, confusion and just plain apathy. It certainly didn't seem or feel like a Lita record which her die-hard fan base that had waited years for new music was only too eager to point out. Now, in 2012 Lita has released what many consider to be her real comeback album, "Living Like a Runaway" the cleverly titled album is a nod to her musical past with the seminal all girl group The Runaways as well as where she is headed in the future. I have to admit. When it comes to Lita I thought her first two solo albums "Out for Blood" and "Dancin' on the Edge" were her best (or at least my favorites). Even though I was not a huge fan of what came after I thought she still did some really cool songs ("Falling in and Out of Love" and "Hungry" are two of my favorites). On "Living Like a Runaway" Lita mixes the best of both worlds. She has definitely toughened up her sound compared to her last few – and the guitar sound is stellar and in-your-face, which should be no surprise considering the album was produced by Gary Hoey who is a guitar-god in his own right – he also contributes his guitar talents to the album. This is Lita doing what she does best; she still has that unique, like-able voice. Lyrically Lita has bared her soul like never before. There really is no wasted time on "Living Like a Runaway", as the heavy riffs of the opener "Branded" gets things kick started. "Hate" opens with a very dark bass line and the subject matter is heavy as well (this is as far as you can get from "Kiss Me Deadly"). The 3rd track "The Mask" is especially venomous and just a powerful song. My favorite track is the moody; emotionally heart wrenching "Asylum". "Luv 2 Hate U" starts with an acoustic intro before developing into a catchy melodic rock song. The album is completed by the Nikki Sixx (of Motley Crue fame, of course) penned "A Song to Slit Your Wrists By", which has kind of a hard rock industrial feel to it. "…Runaway" is available in a number of different limited edition formats featuring bonus tracks and different packaging, etc. Lita Ford is a survivor and the lyrics convey that perfectly, still there are moments of reflection with the lyrics that are powerful and heavy like on the ballad "Mother". "The Devil in My Head" has a great, melodic chorus that is instantly memorable. To be honest, I was really surprised at how much I liked "Living Like a Runaway". This is probably the best Lita album since "Dancin' on the Edge" – but I am sure that will be up for debate. And as for "Wicked Wonderland"? Let's just pretend that it never existed. "Living Like a Runaway" is the comeback that the fans and Lita deserve.
Rating – 95/100
Tracklist
Branded

Hate

The Mask

Living Like A Runaway

Relentless

Mother

Devil In My Head

Asylum

Luv 2 Hate U

A Song to Slit Your Wrists By
Line Up
Lita Ford – Vocals, Guitar

Gary Hoey – Guitar, Bass, Backing Vocals

Matt Scurfield – Drums
Links
MySpace * Facebook * Twitter * Site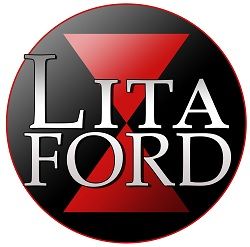 Interview by Tony Cannella
Lita Ford has built up an impressive body of work throughout her career which began almost 40 years ago with the seminal all female band The Runaways. With her latest album "Living Like a Runaway" she just may have recorded the finest work of her career. If it is not her best, it is certainly her most personal and aggressive. We recently caught up with Lita prior to her sound check on the Def Leppard/Poison tour – which she is opening. Here is what she had to say…
The new album, "Living Like a Runaway" is amazing. It's like a classic Lita album. How would you describe it to anyone who hasn't heard it yet?
You're definitely right, it is a classic Lita album, thank god for that. It is aggressive, it is emotional. It has some great guitar riffs on it; I love the dueling guitars, the harmony guitar parts. The lyrics are insane, they're so good, I don't want to blow smoke up my own ass but it is a killer album, probably the best one I've done yet.
I agree. I think this one of the best albums of the year so far and I think these are some of the best lyrics you've ever written.
Awesome. Awesome. Thank you. Yes, I really think so too. You know we really had God watching over us. I'm not religious but we really did have god watching over us on this record. Everything came together in the most mysterious way. It was almost like it was handed to us – the songs, the lyrics, the title, the guitar riffs, the arrangements – everything came together in such an incredible way. We really focused very hard on this record – when I say we, I mean me and Gary Hoey – we really focused on this record and we never lost focus until after the album artwork was done, we kept focus right through until the artwork was finished. We wanted to tie the artwork into the album and the emotion behind the album. I didn't wanted to put some polished, sexy, beautiful album cover on this record because the album tells a story of a journey, a journey through life and we wanted to give that impression with the railroad tracks. The people who decide to download the album, it's kind of a drag because the packaging is amazing, it has all the lyrics in it, it has some beautiful photographs, even my own handwriting where I actually wrote the lyrics and then scribbled them out. We took the lyrics from the recording sessions and we used them in the album artwork – it's pretty cool – it really is my handwriting those are the actual lyrics from when we were writing the album.
How did you choose Gary Hoey as producer and what did you like about working with him?
Well, the one thing I liked about Gary is he's a guitar player and when he first called me and offered me his studio, the fact that he is a guitar player came to mind. I knew he would be able to relate to me on that level, whereas a lot of the other record producers I've used in the past aren't guitar players. They might be able to strum a few chords, but that's the extent of it, I mean Gary Hoey's a monster on guitar and I thought "Wow, how cool would that be ?". He also has an incredible voice so he can help with background vocals; he sang lead on "Luv 2 Hate U", the male voice is Gary (on that song). I just love his voice. He's just incredible behind the equipment – pro tools. It's his studio, he knows how to run it, and he put his all into this record, this is his record, it's his baby. I just respect him so much as a producer, a guitar player and as an artist. We're approximately the same age and we've both been through a lot in our lives and I think we were able to relate to each other's feelings and we were able to take those feelings and incorporate them into this record.
Getting back to the lyrics. They are more personal than you've done in the past, was it difficult to open up as much as you did or was it cathartic?
It was absolutely therapeutic for me to be able to just sing my heart out, literally. I think it is also something lyrically that can be applied to anybody; I'm sure a lot of people have gone through hell in their lives, whether it's coming home from work, having a bad day and hating your boss or something so simple as homework – or your teachers at school. I had a chat with a girl on Facebook – maybe 14 or 15 years old – and she told me she was in school and she was listening to my CD and the teachers had told her to turn off that devil music – and she said "bite me". So they took her to the principal's office and they expelled her from school, so I'm thinking somebody like her, she can relate to "Living Like a Runaway" on her level as a teenage girl going through school, there's stuff in there for everybody on this record lyrically.
Where did the title "Living Like a Runaway" come from and why did you choose that as a title?
That came from my songwriting partner Michael Dan Ehmig – he's a lyricist – lyrics are his specialty. The hardest part of writing a song – I think – is the lyrics, anybody can put together a guitar riff, but it's really the lyrics that make it come to life and the melody and the hook, the phrasing. He came up with "Lita you're really living like a runaway" because I just ran away from home, I just filed for divorce – In order for me to escape my current relationship I had to run away from home. He said to me "you're living like a runaway" and I thought, 'oh my god, what a great song title', so we stuck with it and used it – it definitely works. So when I wrote this song I went through the decades of my life, starting with The Runaways, until today, you know, fans like you, people that make my dreams come true. It's kind of cool.
Are you happy with the critical response you've received for "Living Like a Runaway"?
Oh yeah, it's been amazing. It's been really wonderful. The press in Europe rates you on a scale, like some magazines are 1-10, some from 1-100, they vary. Say if its 1-10, my rating has been like 9 – one point away from 100%, which to me is fucking awesome.
You are currently on tour with Def Leppard and Poison. How's that been going?
It's eventful (laughs). Definitely eventful. Def Leppard has a very, very huge stage set and in front of them is Poison's stage set and in front of Poison is us, so Def Leppard pretty much takes up the bulk of the stage and doesn't leave us a whole lot of room. These venues that we're playing, they're amphitheaters and sports arenas, so there is a time curfew on them, so you have to be on stage at a certain minute and you have to be off stage by a certain minute, if you don't, it bleeds into – it's like the domino effect – it can roll down into Poison's set, which rolls down into Def Leppard's set and if Def Leppard comes off stage any later than 11:00 they start getting fined $1,000 dollars a minute, so if they go five minutes over their time that's five grand that gets taken out of their paycheck. We actually go on early so we can get more time to play so it doesn't interfere with Def Leppard's set, I would hate for that to happen because of me, so we go on early. It's really eventful. It's a challenge, you try to give it all you got, you kick ass with the bare essentials and we do.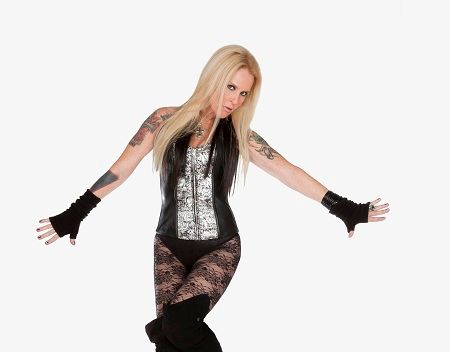 How have the fans been responding to the band on this tour?
Fucking awesome. Really fucking awesome. They're so happy to have their Lita back and it shows. The set starts off with people scrambling like crazy to get to their seats and by the end of the show we've got everybody standing up with their hands in the air. It's really been great. I'll come off stage and run into one of the Poison guys and I'll say, "well they're warmed up, they're ready for you" (laughs). It's been great.
Who is in your touring band?
I've got Mitch Perry on guitar. Mitch has played with Edgar Winter, Asia, he's played with Cher, Heaven and he's played with everybody. I've got Scott Coogan on drums. Scott Coogan has played in Ace Frehley's band, He was in The Brides of Destruction with Nikki Sixx and he was in Lynch Mob. I've got Marty O'Brian on Bass. Marty has done three Ozzfests. You've got to find somebody who has been onstage in these arenas, because these arena shows are a lot different than club dates; they're a whole different animal. Marty is just a monster on bass, which is what I wanted. I didn't want some foofy little bass player, I really wanted a heavy hitter on bass and Marty is. I've got a great band. We left the keyboard player at home on this tour; we wanted to limit the keyboards. Mitch actually plays "Kiss Me Deadly" on guitar, because it has a keyboard intro and there is a little bit of keyboards on "Close My Forever" on the album, but Mitch doubles me on guitar, so it works great.
What are your plans following this tour?
We're going to do some club dates. We are going to record a live album during those club dates. We are going to do the Monsters of Rock cruise in March. We've got some dates coming up here and there, and we're just waiting for after the holidays and hopefully we'll hit Europe.
I'm sure the fans in Europe will be happy to hear that.
I get asked on a daily basis. I think we'll be going to Europe. We do have a couple of shows booked over there already but I think we'll probably end up doing a full blown tour over there.
Are you already working on new music or is it too early to think about?
I actually have been. Since "Living Like a Runaway" took me so long to write, it took me a year to write "Living Like a Runaway". I remember when my flight landed at Gary's, I landed with the first snow fall of the year, it actually started snowing when the plane was coming down and when I finished the album it was the last snow fall of the following year. It took me almost one year to the day – maybe a little longer, so I'm planning on this next album probably taking me a year. I've started it already; I actually started a song with Phil Collen from Def Leppard which is pretty fuckin' rocking. I've got a few ideas; this is going to be a tough album to follow up.
I agree, this is a great album. How do you follow this one?
With great difficulty (laughs)? It got to be correct; it's got to be the right record, to follow this one up.
How does it feel to be back on stage after being away for so long?
Fucking awesome!
Thank you Lita for taking the time for this interview. To wrap things up is there anything you would like to add to this interview?
I've just got to say that it's great to be back. It's great that people are digging to the new CD so much, I'm so happy for that. I hope everyone missed me as much as I missed them.
Links
MySpace * Facebook * Twitter * Site
6 color styles available:

Style switcher only on this demo version. Theme styles can be changed from Options page.