Browsing articles tagged with " long"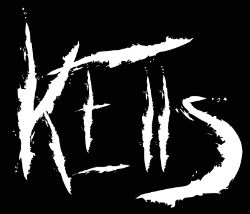 Interview by Ary R.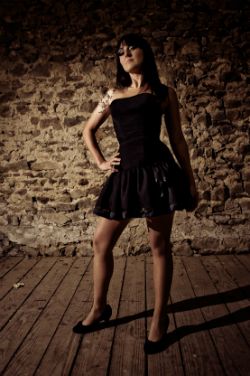 They rocked Europe last year with Leaves'Eyes and Tarja Turunen, and with Epica and ReVamp the former year as well. Now they're back on the music scene with the upcoming album, "Anachromie", that will reveal some other music features of the French rock band Kells. Just read with us what the front-woman Virginie Goncalves told to us!
Hi Virginie. Welcome to Femme Metal. How are you doing? Recently, you've released the new Kells album, "Anachromie". How are the feedbacks from your fans going?
I'm fine, thanks! "Anachromie" has been out for a month now, and it seems that both the press and the fans have praised this record. We are very happy about that because somehow we had chosen to take artistic risks, not to repeat ourselves and to renew our image, and people liked it!
I've been surprised about the title you've chosen for the album, as I've been amazed by the artwork as well. Would you like to talk about them? Who has created the cover and how was the choice for the name of the album born?
In this album, everything in the lyrics is written in a disjointed way, the space-time notion is broken, the reality mixes up with the dream, as in the surrealist genre… Globally, the lyrics are anachronistic. Also, I use many adjectives of color (ochre, silver, gold, amaranth, blue, white, black, saffron, amber, sapphire, sandy…), which gives the lyrics a very pictorial aspect. It is the mixture of these 2 concepts, the chromia and the anachronism, that gave birth to "Anachromie". The cover artwork has been made by Blackthorns Design. We appreciated what he had made for other bands, this mixture of surrealism and modernity, that's why we decided to work with him. The frontcover and the booklet are an illustration of the lyrics… the girl with her bridal veil, with all her dreams, the tortured childhood, the nightmares and the anachronism always there, with the hours of the clock, the tracklist in disorder … as in the surrealist universe, where nothing has any reasonable landmarks or points of reference.
The recording and the creation of the album have been quite challenging. How long did it take to put down all the material, to record it and to mix it properly?
We recorded this album in November 2011, more than a year ago already! We went to Mon Studio in Nancy, to work with Yann (MyPollux). We began with the recording of the drums, then the basses, the guitars, the strings, the choir, keyboards, electro music, to finally end up with the vocals, at the end of November. So it took almost one month, because we prefer taking time! Yann then attacked the mixing in December, and we eventually sent it all in New York to the Sterling Sound Studio for Ted Jensen to master it in february 2011.
Label : Termo Records/Better Place Recordings
Review by Luisa Mercier
Third release for the English Rhys Marsh and his big orchestra. Based in Norway, the band features members from a moltitude of other musical projects like The Irrepressibles, In Lingua Mortua, The Divine Comedy and many, many others. So influences are really varied and it is difficult to fit the music in just one genre. I would say that is Prog with Jazz, Ambient and Symphonic hints, so lovers of this kind of music should enjoy "The Blue Hour". It is a record that should be listened in the quiet, at sundown. It is made of slow tempo songs with male and female vocals that entertwine. "Broken Light" is a perfect example. Expect long instrumental parts and a lot of brass and woodwinds, relaxing moments and a little bit of psychedelia. Definitely not a release for everyone, since listening to the album can result hard for a first time approach to such refined music, but lovers of this kind of music, will appreciate it for sure.
Rating – 70/100
Tracklist
And I Wait

Read the Cards

The Movements of Our Last Farewell

Broken Light

Wooden Heart

Further from the Truth

The Place Where You Lay

One More Moment
Line Up
Rhys Marsh — Voice, guitars, piano, mellotron, pedal steel, organ, zither, & orchestrations

Trude Eidtang — Vocals

Jess Bryant —

Vocals

Åsa Börrefors —

Vocals

Nicklas Barker — Mellotron

Lars Fredrik Frøislie — Chamberlin, hammond, moog, autoharp & celeste.

Akira Rabelais — Electronics

Timbre Cierpke — Concert Harp

Gaute Storsve — Guitar

Steve Honest — Pedal Steel

Ketil Vestrum Einarsen — Flute.

Mia Silvas — Flute

Tuva Hatlelid Mortensen — Oboe

Kirsti Jacobsen — Clarinet

Henning Wien — Bass Clarinet

Jørgen Vie — Bassoon

Tetsuroh Konishi — Trumpet

Hayden Powell —

Trumpet

Erik Johannessen — Trombone

Kristoffer Lo — Tuba & flugabone

Anna Giddey — Violin

Charlie Stock — Viola

Natalie Rozario — 'Cello & orchestrations

Jo Fougner Skaansar — Double & electric bass

Francis Booth — Bass

Andy Raeburn — Drums

Takashi Mori — Drums

Mattias Olsson — Drums, celeste, mellotron & orchestron.

Iver Sandøy — Drums

Martin Horntveth — Drums & orchestral percussion.
Links
Label : Spider Rock Promotions
Review by Tony Cannella
The Italian heavy prog, power metal band Lunocode, introduced themselves to the metal world via their debut 6-song EP in 2011 called "Last Day of the Earth", now they return with their debut full length "Celestial Harmonies". Even though there are less songs here than on their initial EP, "Celestial Harmonies" clocks in at about 57-minutes long, not bad for an album that only has 5-songs. Yes, Lunocode are most definitely prog metal, but you will definitely also find some power metal influences as well, as the pounding guitar driven opening track "Sin Cara" more than proves. Lunocode slows things down a lot with an acoustic version of "Heart of the World", a song which appeared on their debut EP. The next track "Indifference" is almost 10-minutes long and one of the proggier tracks on "Celestial Harmonies". This features an incredible melody and manages to maintain a hard rock edge with a thundering guitar riff that is pretty consistent throughout the song. This song also includes a guest appearance by Olaf Thorsen from Labyrinth and Vision Divine. Next we have "Misty Visions of an Ordinary Day", which once again slows the pace down a bit – aside for some blasts on heavy guitar. This leaves us with the epic – and I do mean epic – prog metal masterpiece, the 29-minute "The Origins of Matter and Life". This is a brainy, concept song that is divided into six parts and undoubtedly the most grandiose thing the band has done in their short career. Throughout this masterwork of a song, some of it is reminiscent to movie soundtrack music; it definitely has got that feel to it. With "Celestial Harmonies" these Italians have really out done themselves, especially on the amazing final track. Lunocode have set the bar incredibly high for future releases, but for now in 2012, they have released an album that they can and should be proud of.
Rating – 86/100
Tracklist
Sin Cara

Heart of the World

Indifference

Misty Visions of an Ordinary Day

The Origins of Matter and Life ( I.

On Matter and Mind; II. High; III. The Cosmic Architect; IV. Tree of Life; V. Crossing the Line; VI. Albert II)
Line Up
Daphne Romano – Vocals

Paride Mazzoni – Electric & Acoustic Guitars, Keyboards

Giordano Boncompagni – Electric & Acoustic Guitars

Francesco Rossi – Bass

Perseo Mazzoni – Drums & Vocals on "Albert II"
Links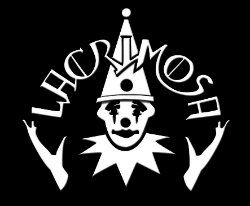 Interview by Miriam C.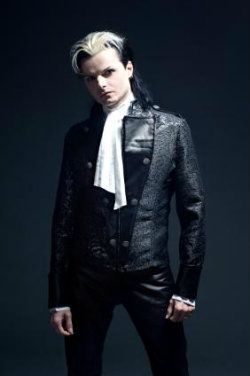 After four three of silence gothic/darkwave Swiss duo Lacrimosa are back! So we took the chance to ask a few question to the mastermind Tilo Wolff about on "Revolution", the new album out on Hall of Sermon.
Hi Tilo, first of all thank so much for reply at our questions. How are you??
Pretty fine. We are on tour in Germany right now, have the last five shows ahead and so far we are pretty happy with everything that happend during the tour!
"Revolution" comes after a three year break with "Sehnsucht", how was the album's genesis, when have you started to nail down the first lyric?
Actually the first lyric for "Revolution" was "This Is the Night" which I wrote in Bejing right after we played there in 2009. So the first seed for this album was planted while we were still on tour with "Sehnsucht" which might also be the reason why this new album sounds like the conclution of the previous one.
For this last album you have worked with Mille Petrozza (Kreator) and Stefan Schwarzmann (Accept), how's this collaboration was born and how was working with them?
It was quite spontaneous. Mille was at my house visiting me and I played him the track "Revolution" in a version recorded by myself. He instantly liked it and asked if this would be the final version. "Why?" I replied and he said that he'd like to play this song himself. Of course I had nothing against it and then he played more and more songs getting really into it! Afterwards I asked Stefan if he'd like to participate on the production since we already some time ago talked of doing something together, and well, so it developed.
Will you shoot any videoclip from the "Revolution" album? What songs will you choose?
Yes, we made a short clip for "Irgendein Arsch ist immer unterwegs" and a live clip for "Revolution" which is in the post production right now.
How is to be your self entrepreneur of your music? What are, in your opinion, the pros and cons? Also I've read that you have taken the decision to not sign anymore external band like has happened with Sandra Schleret's Dreams of Sanity, why?
The pros are that there is no-one telling me what I shall do and what I shall not do. I can write and produce exactly the music I want to free from any commercial aspects! This is essential for me! The cons are that I don't have much free time. This is also the reason why it always takes so much time from album to album. While other bands are on tour their record labels are preparing the next album and taking care of the promotion while I'm just busy traveling and playing.
Between "Sehnsucht" and "Revolution" are passed 3 years, there's something that you'll change in "Sehnsucht" and, in your order of ideas, what are the differences between the last album and this one?
I improved in the production and mixing matter but I love "Sehnsucht" as it is. Pure and majesticaly unpolished while the new one is straight, direct und uncompromising – so far my favorite album!
What is the lyric in "Revolution" that you are more fond of/attached to? And why?
"Weil Du Hilfe brauchst". Here it all comes together for the album. If we don't realize that we have needs that need to be fullfilled and that there are people around us that might need our help, if we don't realize that we all are sitting in the same boat and will only survive if we row together and not against each other, than we might be lost!
In your long musical career what is/are the thing(s) that you regret the most and there's something that you'll change?
Of course when you are doing all by yourself and have no adviser you make mistakes here and there but all in all I am pretty happy with everything and if things would have been different I wouldn't be where I am right now and where I am right now makes me thankful, so no need to regret anything so far!
How should consider the status of your other band Snakeskin? Something is going on or all is quiet and would be for a long long time?
Well, it's all a question of time. Since years I want to make a new album for Snakeskin but I just don't come to it. Maybe in the end of next year, let's see.
Maybe this question can sound harsh to you but I hope to explain well what I would like to ask : what you can tell me about Anne's musical background and, if I recall right, in 1994, what was triggered the decision to insert/add her in the line up? In the end what was the thing that you have been hit/intrigued about her?
Since I started with Lacrimosa I was trying to find a female voice suiting my voice. Already on the first album I recorded with some but never was so completely happy. When I heard Anne plus she playing after I never had a good live keyboarder I asked her in for some test recordings and musically and personately it worked perfectly.

Well, dear Tilo, I really thank you for this interview, hope you'll finding it entertaining and interesting. I would ask you now to greet your fans and our readers. Thanks
Thank you and take good care!
Links
MySpace * Facebook * Twitter * Site
Interview by Gabriella Chiodo

We have reached Julie Kiss, singer of UK Prog Metallers To-Mera, for let you know to our readers all the latest news in the house.
For who don't know yet, what is the meaning and the origin of the bandname To-Mera? Where do the idea comes from?
Well, according to some sources it is how the Ancient Egyptians used to call Egypt. I found it in a book I read about the association of sophisticated technology with magic in Egypt.
Could you describe the band briefly? Could you describe the style of the band? Could you quickly present what his To-Mera music?
That's not as easy task partly because To-Mera's music has never been too easily definable and partly because it has evolved a lot through the years. Perhaps you could say that from a mixture of goth-prog-symphonic-thrash-death it evolved into something a lot more heavy, melodic and rhythmically complex with some slight jazzy overtones…
Which music genres influencing the composing work of music and lyrics?
Musically it really depends on what Tom's been listening to, which has recently been a lot of jazz & classical music as well as bands like Textures, Pain of Salvation…lyrically it's a mixture of personal thoughts/feelings/events entwined with deeper philosophical and more recently socio-political content. In the beginning there was also an influence of dark gothic literature such as Poe and Lovecraft.
Most of the tracks are long around 8 minutes. Is it a choice or is it a spontaneus event?
It's spontaneous in that Tom will develop a song until he feels like it's complete. This apparently seems to happen around 8 minutes.

How do you see yourself compare to the others female fronted metal bands?
Well, I like to think the music of To-Mera is a fairly unique concoction within the metal scene in general be that female or male fronted bands. Going from our experiences at the Metal Female Voices festival, we've certainly raised a few eyebrows while impressed others. That's just how we are – an odd bunch I suppose.
Let's talk about the new EP "Earthbound": what's the evolution on To-Mera music from the first album?
Arguably it is still the same band, however the style has changed quite a bit. The song writing is much more polished and the music a lot more homogenous in a way. Influences from in and outside the metal scene are still present but are a lot more subtle. So interestingly although the music in a way is more accessible from a song writing point of view, from the opinions around it seems the EP is one of those records that need a few spins before they reveal their true selves.
Could you tell which themes are present on the songs of the EP? How would you describe the general feeling and atmosphere of "Earthbound"?
I think it's a lot more 'laid back' and confident but with a sinister duality – it's passionate and uplifting yet it also slightly subdued and disillusioned, which perhaps is not surprising considering the last couple of years…The lyrical themes, as usual, are a mixture: The starting song "Mesmerized" is basically about the blindness of society which has integrated in itself a system of consumerism which it follows with an almost animalistic determination. Everything is fair game, everyone's disposable, all that matters is profit. It knows that it's not making it happy/happier yet it blindly follows anyway even if it eventually leads itself towards self-destruction. The 2nd song "Arcane Solace" is then quite a contrast. It's plainly and simply about being terrified of falling in love…In the face of a 'mystery too great to deny' however, there is no other choice but to give in and let yourself burn whether it elevates or consumes you. "Earthbound" was literally inspired by my extreme difficulties in getting out of bed in the mornings!;) Of course there is a lot more to it and in fact it's probably my favourite set of lyrics on the EP. It's about waking up and realising that your dreams have changed that you as a person have changed…that things that you dreamt of are just not important in the same sense anymore and yet it still hurts to let them go. The final song "Another World" then sort of runs along similar lines as "Mesmerized" but on a lot more personal level. It's about realizing that you're not powerless as an individual and wanting to take an active part in changing the world or..well, just to live as you feel is right as opposed to what's expected by society.
The last question : why, after 2 full lenght, you have decided to split from Candelight Records?
It's simply that we couldn't agree on the particulars of the new deal so we decided to just go and do our thing…a bit of an experiment if you like.

Links
MySpace * Facebook *Twitter * Site
6 color styles available:

Style switcher only on this demo version. Theme styles can be changed from Options page.